Best of Brick
Where seniors can find luxury independent living residences with resort-like amenities plus 24/7 personal care
Rents at most residences cover amenities and meals at on-site restaurants
Independent living studio rents range from $7,395 to $17,200 a month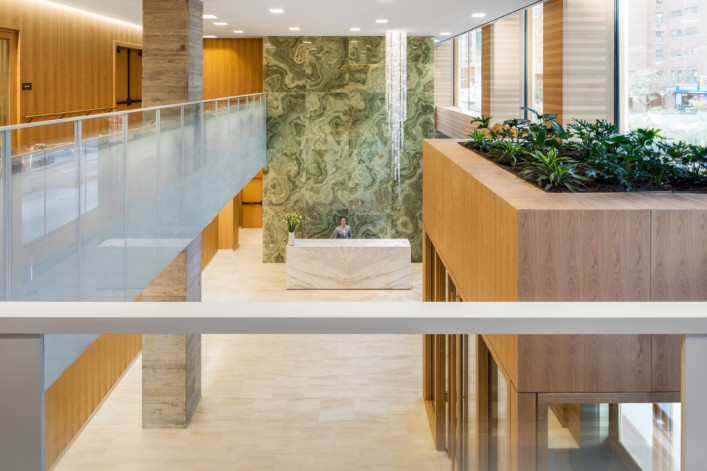 Courtesy Inspīr Carnegie Hill
Aging in place takes on new meaning thanks to developers who are building luxury independent living residences in New York City.
These shiny new rentals—aka communities, the buzzword of the industry—are meant to serve as alternatives to traditional assisted living facilities and provide the same (or better) level of care but with a higher standard of living. 
The landscape is lucrative: Over 1.2 million NYC residents—some 15 percent of the total population—are 65 or older, and that number is projected to grow over the next decade during the expected silver tsunami.
---
[Editor's Note: A previous version of this article was published in November 2022. We are presenting it again as part of our summer Best of Brick week.] 
---
For upscale New Yorkers who prefer not to give up their lifestyle, companies are marrying high-end design with best-in-class amenities and round-the-clock care services. If you didn't know better, you'd think these sleek spaces were just another luxury condo development. 
But these full-service facilities do what condos don't: They provide all-day dining at their own stylish restaurants plus enrichment programming that taps into all the city has to offer with classes, lectures, and concerts. No wonder these buildings have been likened to cruise ships or Club Meds. They aim to meet seniors' needs entirely on the premises—only including assistance with daily living. And they are strategically situated so residents can remain connected to the neighborhood, with excursions to nearby cultural institutions.
"The luxury senior living property in Manhattan is a recent endeavor and across the board, you can expect to see more of these communities opening here," says Denise Falco, senior vice president of operations for Sunrise Senior Living, which manages two such locations. "Based on our extensive research of the NYC market, there's a significant population that has been underserved." (Note that Sunrise does not technically offer independent living but all are welcome at these assisted living residences, with pricing as noted below.)
No surprise, she found that NYC residents absolutely demand a higher level of service than other areas. So these properties offer more than other Sunrise locations in Staten Island, Westchester County, Long Island, and New Jersey (more on those extra services in a moment). 
Individualized care is another big part of the experience. Need your car repaired? Check. Have a dog that needs walking? You got it. From food shopping to gift wrapping and packing for a trip—this is hands-on housing to the nth degree.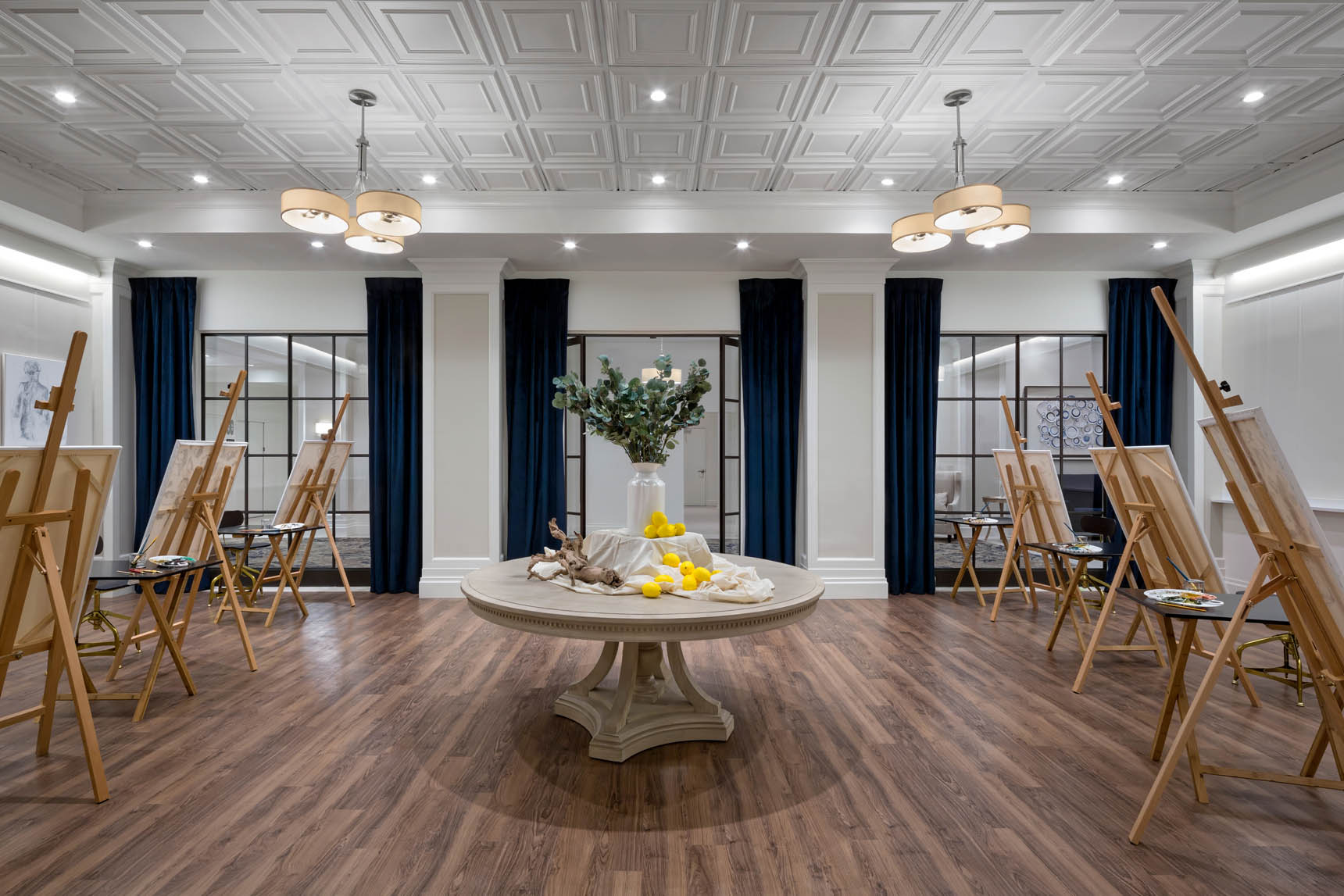 How do these places differ from a traditional assisted living facility? 
The senior living communities listed below are all licensed as assisted living facilities by New York State, meaning they can do whatever those places can do. That includes offering memory care services to people with some form of dementia; these residents are typically grouped on designated floors with enhanced staffing, smaller dining rooms, specific programming, and specially trained staff. 
"We share the same focus on helping with all activities of daily living, from simply reminding residents of their schedule to more hands-on help with bathing and getting dressed," says Joanna Mansfield, general manager of Coterie Hudson Yards. (She is also a registered nurse who formerly worked for the New York State Board of Health before moving to Atria Senior Living, which manages Coterie.) 
Also different: Even though they are licensed facilities, these properties also cater to seniors who are seeking a lifestyle-focused experience without requiring any assistance. So-called "independent living" residents get all the perks—housekeeping, transportation, adventurous dining—and can opt in to all the rest, too. You can even customize these lifestyle packages to cover favorite activities and outings. (And should you ever need assistance, you can just add that to your service.) 
Rents are the same for independent living and assisted living residents, whereas memory care residents pay more for a higher level of care.
Ultimately, Mansfield sees Coterie and other next-level residences as helping to reinvent the way seniors are cared for. "These people have a lot to offer and we should keep them in the forefront and allow them to continue to have the same or even better quality of life." 
Ready to join the club? Read on for Brick's low-down on five buzzy upscale options for NYC senior living.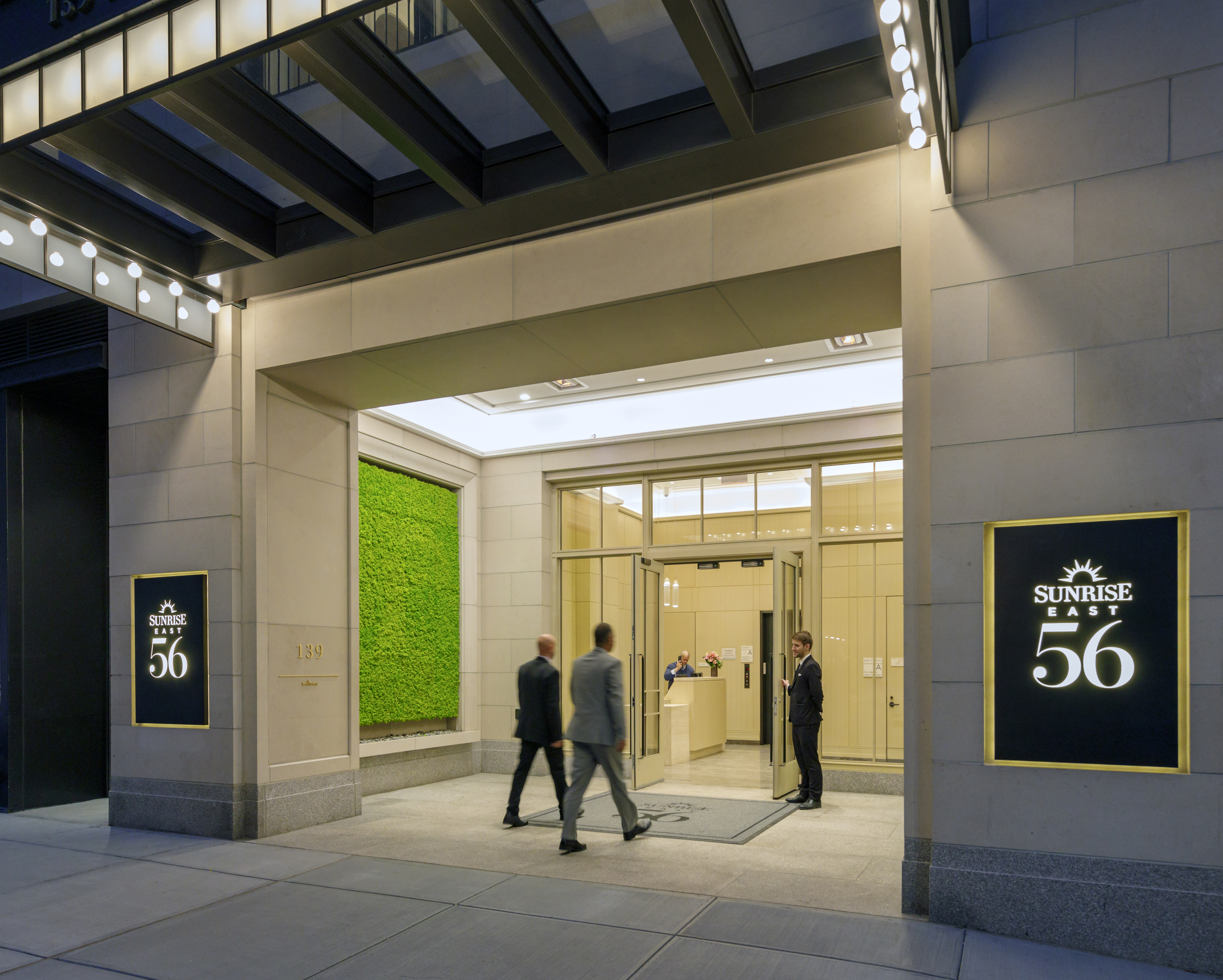 Overall vibe: Located at 139 East 56th St. between Lexington and Third avenues, the brand-new building opened in December 2021 and has an exclusive Upper East Side look and feel—you enter a spacious lobby with a doorman and security guard and then take an elevator to the main floor. Sunrise East 56 was developed by Hines (the folks behind 40 Mercer, One Jackson Square, and other super-luxe condos) and Welltower (which invests in senior living housing) with care by Sunrise Senior Living. The interiors are by Champalimaud Design, known for high-end hotel design—this is their first senior living community. 
Amenities: These include a 24-hour door attendant, concierge service, weekly housekeeping, and transportation services as well as a full-service salon, wellness suite, art studio, and theater. Sunrise's "Live with Purpose" programming partners with cultural organizations in the area such as Juilliard and MoMA, both of which offer on-site performances and exhibits along with hosting events at their own venues. Dining options include a casual café, grab-and-go bistro (with sandwiches and pastries), and formal restaurant serving breakfast, lunch, and dinner.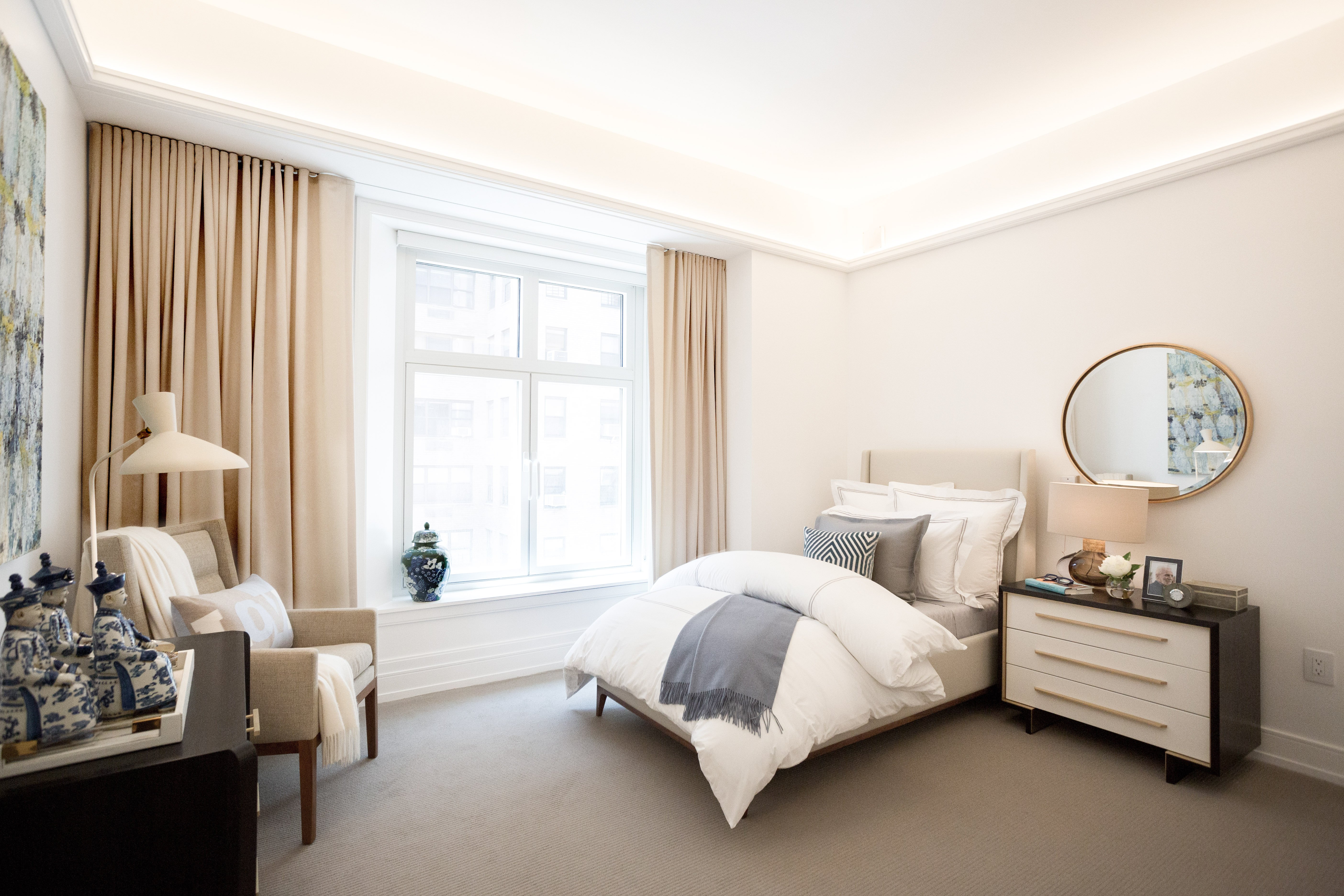 Units and pricing: There are 150 units, with independent and assisted living studios and two bedrooms starting at $14,650 and $21,300 per month respectively. Starting prices for memory care units are $24,205 for studios and $35,000 for two bedrooms. Prices are all-inclusive (no additional membership fees).
According to Falco, the units are about equally split between assisted living and memory care. About half of all assisted living units are rented by independent living residents. Some couples and singles have combined suites in the assisted living floors to make even larger residences but most memory care residents opt to live in single residences.
The memory care program has smaller neighborhoods and more intimate dining with specialized equipment and life skill stations that are specific to experiences they would have had growing up. "This allows them to reminisce about things from the past because with these diseases people tend to remember longer-term things rather than recent events," Falco says. (Hence, Sunrise calls its memory care Reminiscence.)
Personal care: Besides having 24/7 on-site nursing, Sunrise East 56 has partnered with Northwell Health (the largest healthcare system in the state). Residents can opt to see an attending physician who is there certain days each week as their primary care physician (with a medical hotline for issues that crop up at other times). 
And there's a dedicated paramedical number for the community that will send paramedics to treat residents at home rather than having to go to the hospital. (This is one of those only-in-Manhattan services offered by Sunrise.)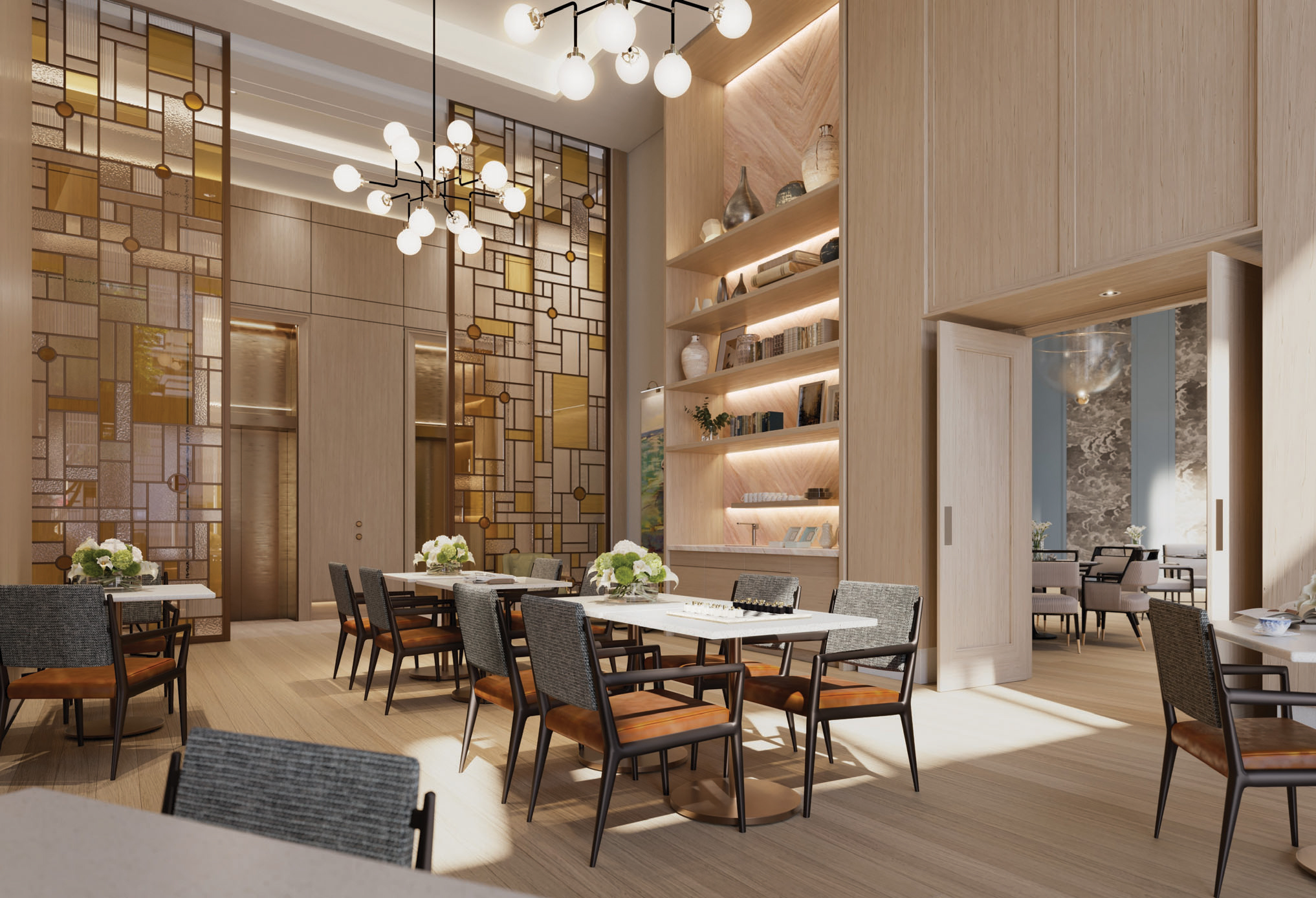 Overall vibe: Another collaboration between Hines, Welltower, and Sunrise Senior Living (and with interiors by Champalimaud Design), The Apsley is slated to open in mid-2023. Falco says the community is designed to fit into its Upper West Side neighborhood—at 2330 Broadway between 84th and 85th streets. "You walk right into the main floor, and the restaurant will open up onto the sidewalk just like other restaurants in the area." 
Amenities: The building features a spa, healthcare center, dining bistro, art studio, theater, and landscaped outdoor terraces. The programming will be similar to what is offered at Sunrise East 56 but with a nod to its UWS community and culture through partnerships with the Metropolitan Opera and Lincoln Center for on-site classes and performances as well as outings to the venues. There's also an in-house library curated by a local bookseller and residents can join book clubs and attend readings by NYC writers, among other literary (read: UWS-ish) events.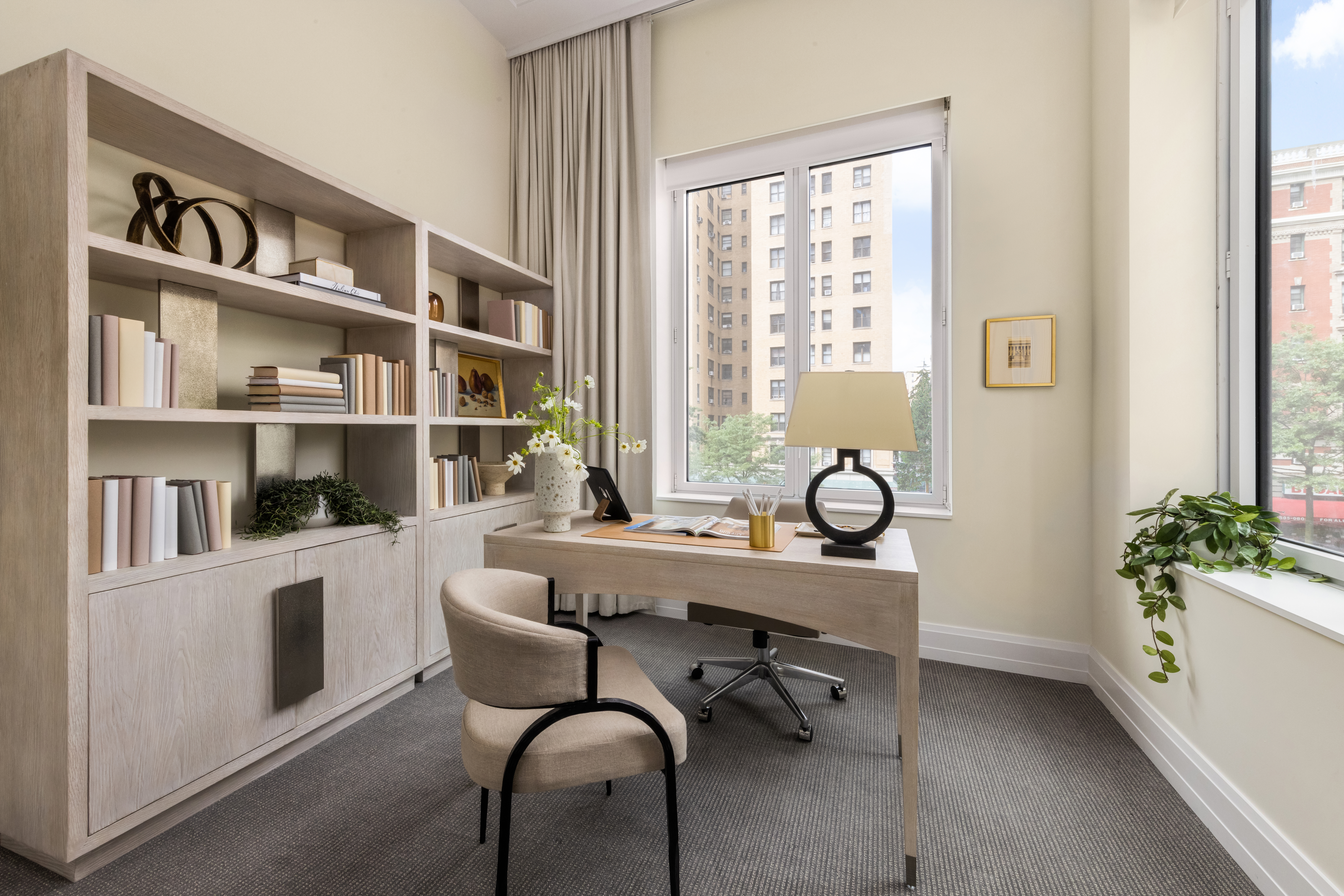 Units and pricing: Units in the 19-story building are divided between 76 independent/assisted living and 80 memory care homes. Independent/assisted living residences start at $17,200 per month for a studio and $23,400 per month for two bedrooms. Memory care studios start at $24,800, two bedrooms at $33,200. This all-inclusive cost (the priciest of the bunch) covers the apartment fee, personalized care, services, and amenities (including meals). 

Personal care: The Apsley offers 24-hour care with the option for individualized services, depending on needs, and a dedicated care center that incorporates memory care. Residents will also be provided with the latest in smart healthcare technology that makes use of voice-activated commands (similar to the others listed here).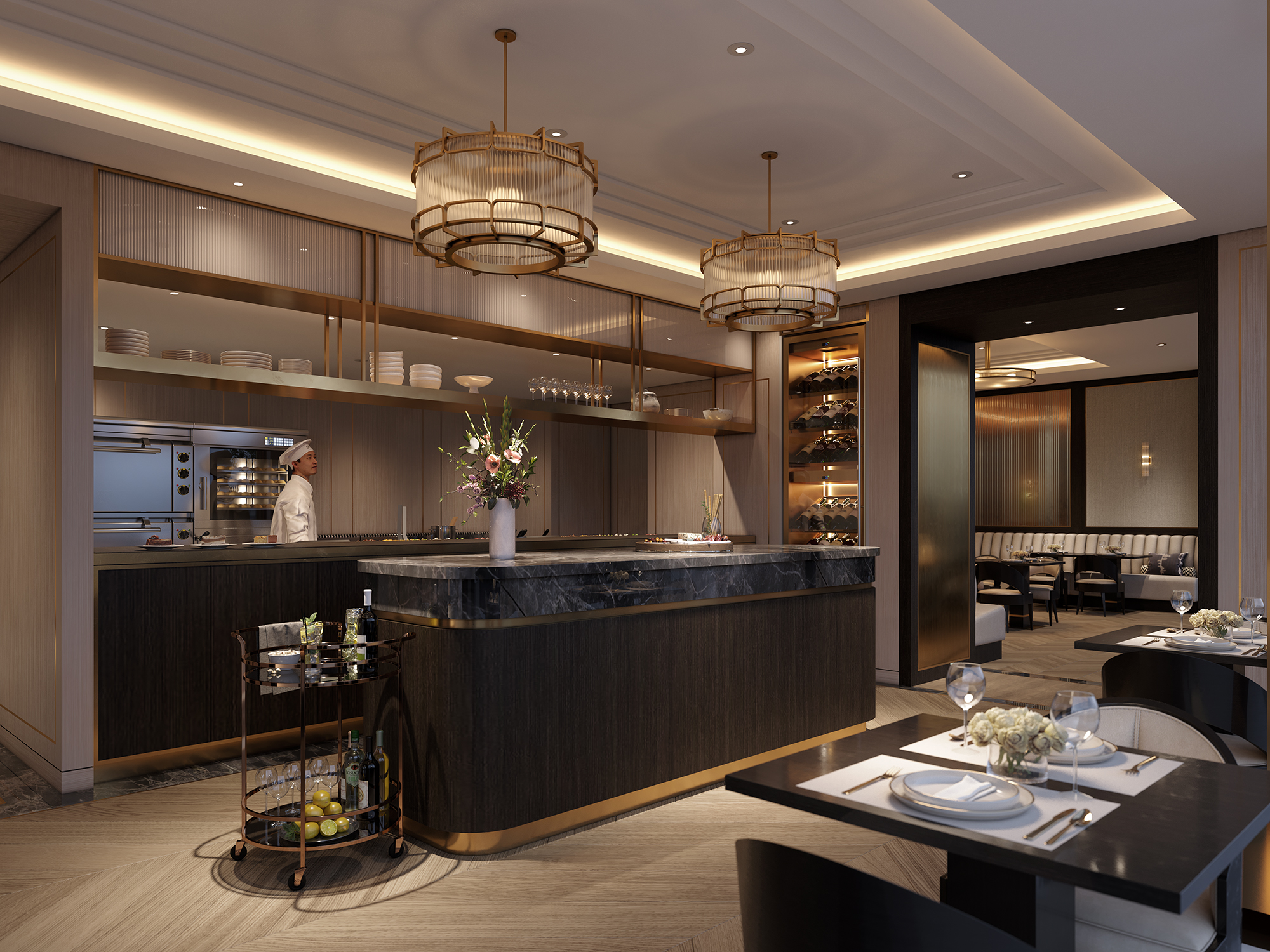 Overall vibe: Coterie is a joint venture between Atria Senior Living and Related Development. (The first Coterie property to open is in San Francisco.) "The Coterie brand is a natural extension of Related's existing luxury residential portfolio," says Hailey Sarage, vice president at Related. "There is a significant need in urban areas for senior living communities that offer exceptional care, hospitality, and an unparalleled lifestyle. We know that many older adults will want to stay in urban environments to age in place with the conveniences and level of service that they are used to."
The community, which just opened its doors in November 2022, takes up the lower 13 floors of the new, 44-story residential tower (at 505 West 35th St. between 10th and 11th avenues).
And though this is Related's first foray into the senior living space, "Atria had a heavy hand in making sure the building is senior-friendly," Mansfield says, adding that it's significantly more staffed than a typical residential building. "The design is still very thoughtful, with discreet handrails in the bathroom and furniture layouts that allow an easy pathway for the mobility impaired." (The interiors are by MAWD, known for outfitting exclusive hotels.) 
Note that if you are familiar with Atria West 86, which opened almost 20 years ago, this is a completely different experience. "That's a prewar building conversion with a broader range of rentals, whereas because Coterie is a purpose-built community, we were able to take our time and be very strategic about what we were putting into place and the way our services are rendered." 
Meaning you have choices, just like any other NYC renter: "You can go in the direction of new development luxury buildings or, if you like the charm and charisma of a pre-war building, you can go in that direction. We all serve our place in the ecosystem here, we all have our specialty and flair, so in the end there's something for everyone."
Amenities: According to Sarage, "Amenities are focused on holistic wellness and include on-site private healthcare facilities with industry-leading treatment and diagnostic capabilities, and access to a tailored nutrition and diet plan complemented by master classes for learning and curated programs to nourish each resident's mind, body, and spirit. There's also a library, theater, and activities room with attached bakery for cooking classes."
In plain speak, Coterie offers the usual high-end perks—24/7 hospitality services, fitness center, yoga studio, meeting space, and theater, as well as a hair/nail salon (operated by Oscar Biondi). Culinary offerings include a restaurant with outdoor terrace serving breakfast, lunch, and dinner; piano bar/lounge; juice bar; private dining room; and room service. All menus are crafted in collaboration with the Mayo Clinic.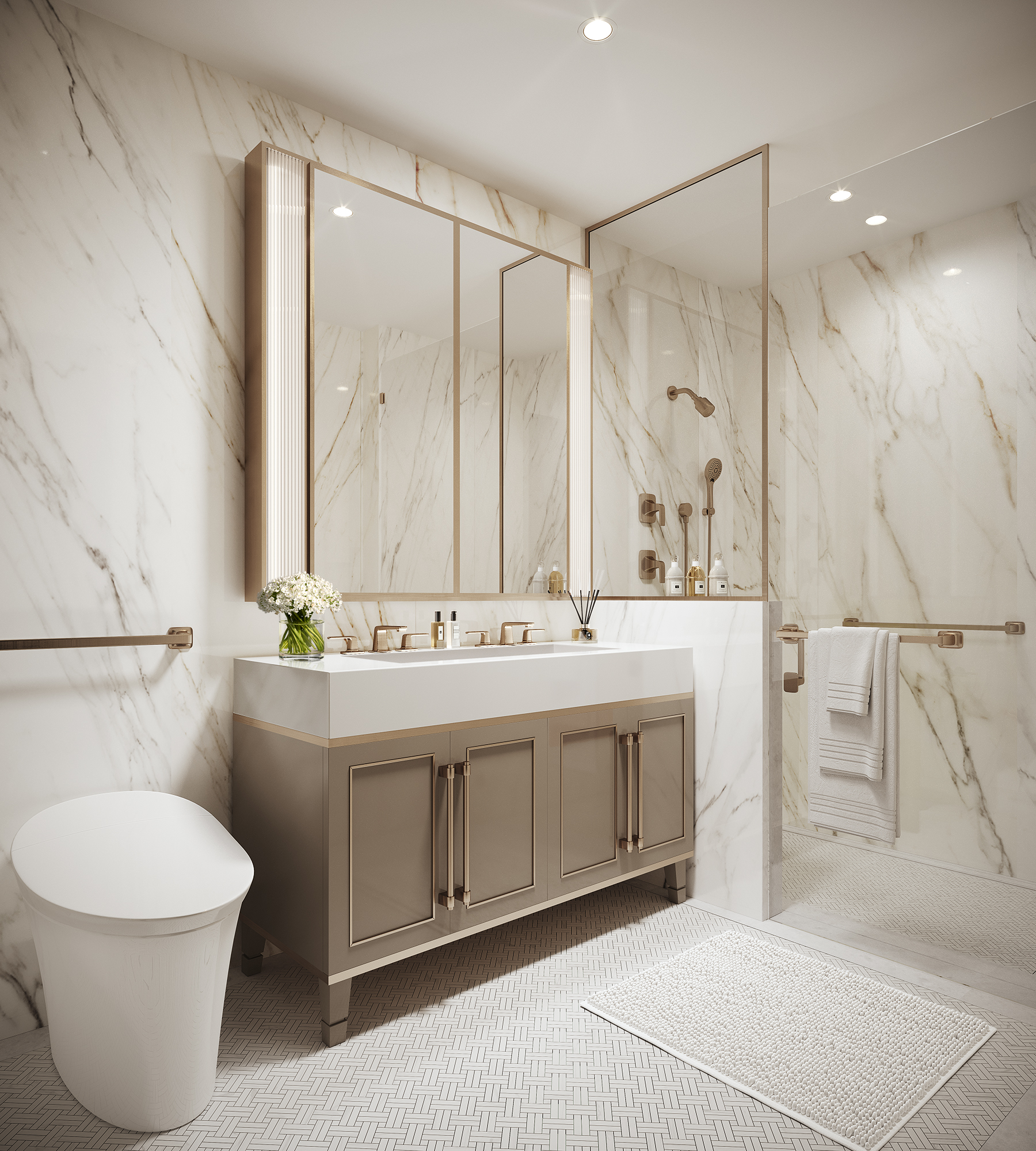 Units and pricing: Of the 126 units, 36 are within secured, self-contained memory care neighborhoods across two floors. "We encourage our memory care residents to feel like there is no disruption even though their cognition is declining. They deserve the same quality of life as the rest of us," Mansfield says. Rates for the memory care studios, which feature integrated circadian lighting to help regulate sleep and mood, start at $15,000 a month.
Independent living and assisted living residences range from studios (starting at $11,100 per month), one bedrooms ($15,600 per month), and two bedrooms ($25,500 per month). Prices are all-inclusive and there is no membership fee.
Personal care: Residents still need to have a primary care physician, which they can see in Coterie's on-site exam rooms (with Mayo Clinic-approved equipment) or using cutting-edge telehealth technology. It has also partnered with Sollis Health, which is taking tenancy on the second floor, to provide concierge emergency services that "can address everything short of trauma," Mansfield says. It can also perform routine lab tests—"gone are the days of having to go across town."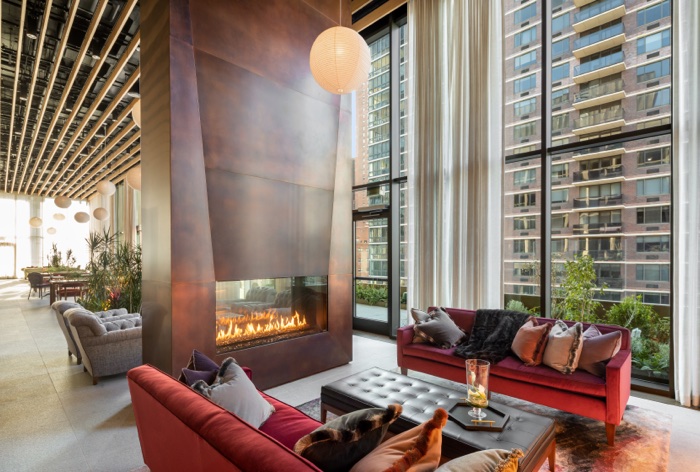 Overall vibe: Developed by Maplewood Senior Living and Omega Healthcare Investors, Inspīr is another new venture in the senior living space—the only other Inspīr community is on Embassy Row in Washington, D.C. The 23-story building (by Handel Architects), at 1802 Second Ave., is banking on its Carnegie Hill locale with ultra-luxe interiors—from the impressive hand-blown Italian chandelier and gleaming white oak floors in the soaring lobby to the custom millwork, bespoke furnishings from London, and floor-to-ceiling windows in the units. Multiple dining options also befit its UES address, mere blocks from Museum Mile. Need a lift? A Mercedes-Maybach house car is at your beck and call. 
Amenities: Highlights include an attended lobby, concierge, fitness center, heated indoor saltwater pool, library, limousine service, and lots of culinary cred: there's Onyx, a casual bistro on the 17th floor; the Espresso Bar and Lounge; 1802, its signature formal restaurant serving breakfast, lunch, and dinner; and SkyPark Lounge, an indoor/outdoor area with city views. Private dining is also available. According to a spokesperson, this is a popular option during the holidays—"it's much easier for families to convene in one of our spaces rather than having a resident travel elsewhere through the snow."
For regular programming, there's horticultural therapy with NYU Langone Health's Rusk Rehabilitation, the "Broadway Series" involving post-dinner chats with stage actors, and "On the Town Experiences" where residents head out to local hot spots and iconic institutions.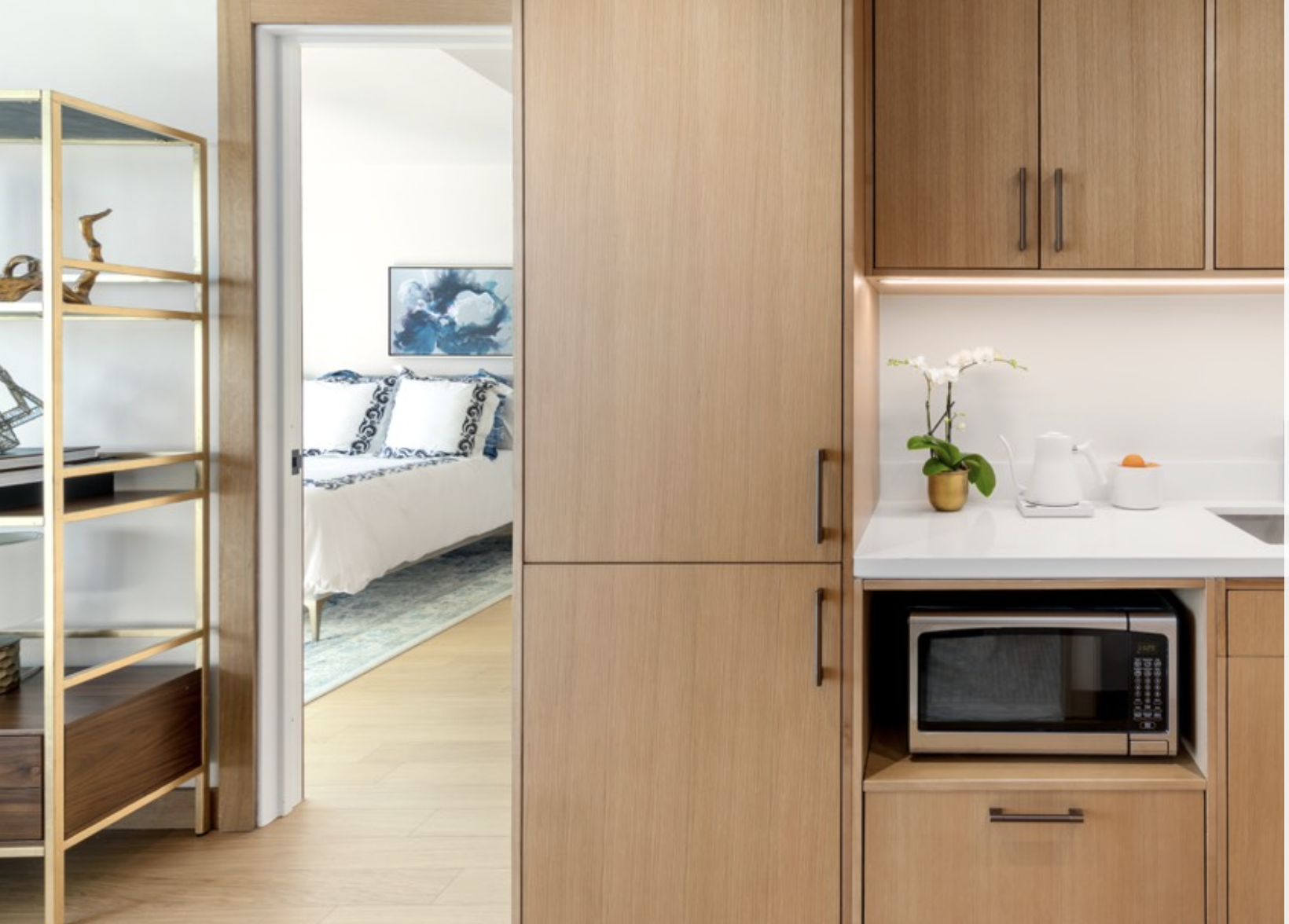 Units and pricing: The 215 residents range from studios to two bedrooms and a select number of penthouses, all grouped by level of care—Sol (independent/assisted living), Terra (enhanced care), and Oceana (memory care). Costs are kept hush-hush, but studios start at over $13,500 per month. 
Personal care: Inspīr's Integrated Care Model involves a staff team (nurses, social workers, lifestyle coaches, nutritionists, and dementia specialists) that works with outside providers, including collaborations with Mount Sinai, VNS Health, and Spear Physical Therapy.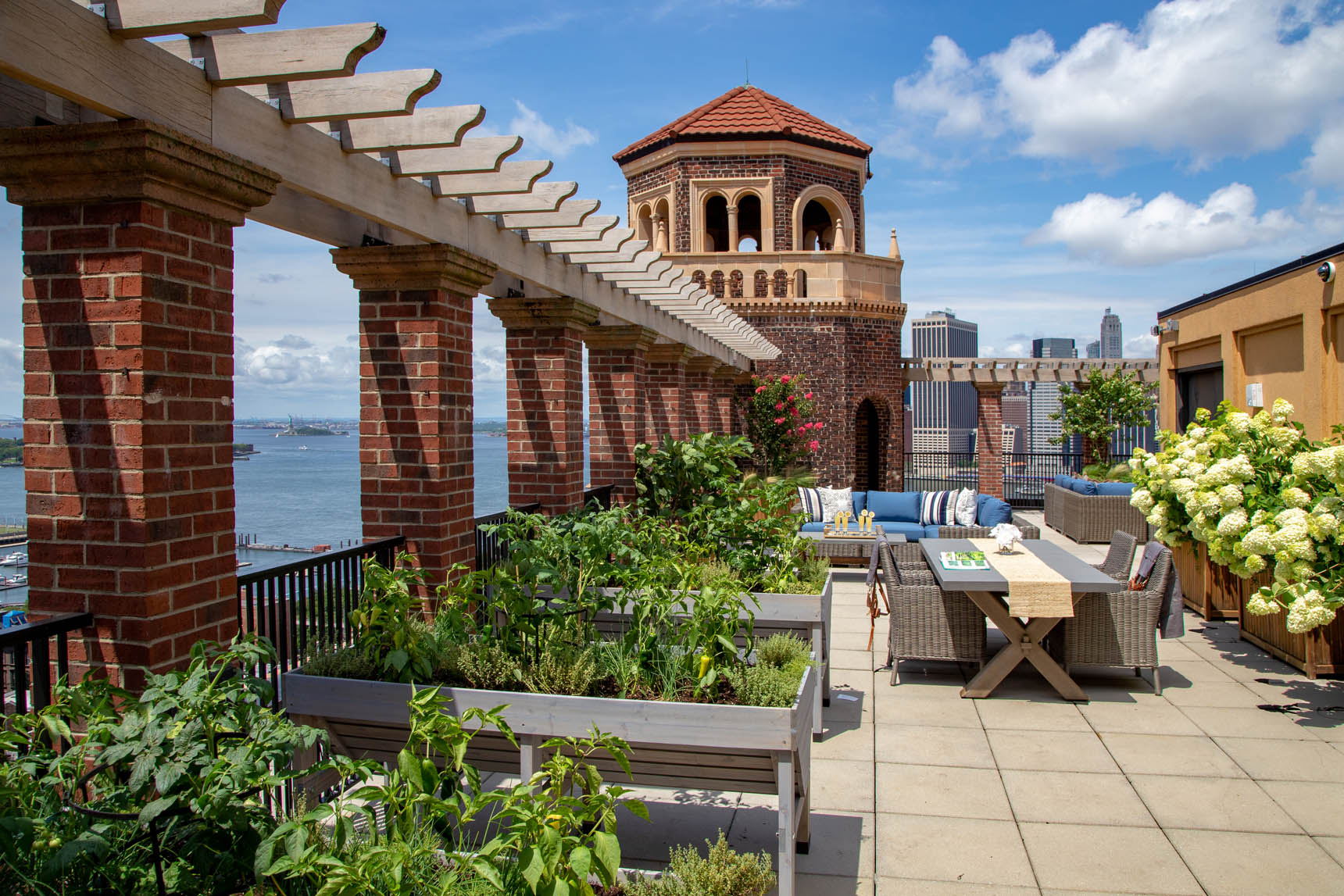 Overall vibe: Watermark Retirement Communities, which has been managing assisted living communities nationally for over three decades, opened this location in October 2021 as part of its Élan Collection that promises a luxury lifestyle. It's the first Watermark property in NYC—and the first and only to date high-end option for seniors in the borough. The Brooklyn Heights locale is a key selling point. Per the website, "the neighborhood is known for hip destinations, historic structures, and notable residents." It's also affluent—"the owners most definitely identified a number of income-eligible residents in Brooklyn Heights who would thrive in an environment created by Watermark," says Rocco Bertini, executive director.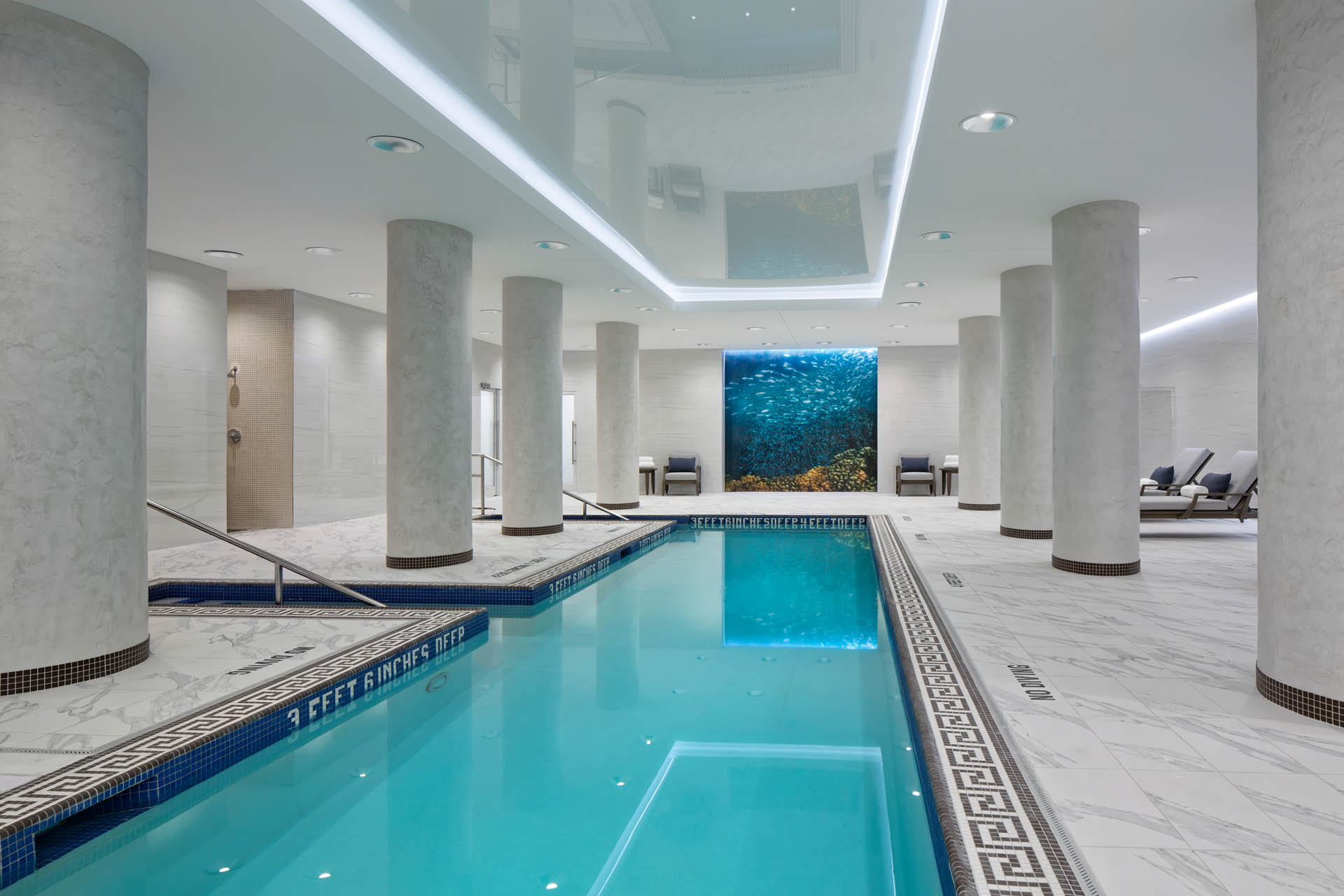 Amenities: What sets this place apart is its Integrative Wellness and Fitness offerings, complete with indoor pool and movement studio for yoga, Pilates, and Tai Chi. Plus its three dining options use produce from the rooftop garden (like jam made from its own fig tree). Gustoso & Family is a Mediterranean-style restaurant; Willow + Clark features to-go fresh-roasted coffee, tea, sandwiches, and light bites along with house-baked dessert; and The W Room's classic comfort food—pasta dishes, burgers, and savory sandwiches—is popular for breakfast, lunch, and dinner. Oh, and you can sip craft cocktails at Biblio Library and Wine Bar. 
Similar to other buildings mentioned here, Watermark offers on-site arts and cultural events. "We are partnering and affiliating ourselves with a lot of businesses from the community, including the Brooklyn Academy of Music, Brooklyn Conservatory of Music, and Brooklyn Heights Association," Bertini says.  
Units and pricing: Of its 275 apartments, 42 are dedicated to memory care, 88 to assisted living, and 145 to independent living. Memory care residents have their own courtyard, as well as circadian lighting in their residences, which helps encourage healthy sleep cycles.
Semi-private memory care units start at $8,995 per month, studios at $13,495 per month. Assisted living rates start at $7,395 for studios and $8,845 for one bedrooms; two bedrooms top out at $20,695.
Independent living studios start at $6,465, one bedrooms at $7,845, and three bedrooms at $15,220. If a couple or two friends want to share a unit, there's a "second occupancy rate" of $1,495 per month. 
There's also a one-time membership fee, currently equal to one month's rent. 
Personal care: Nurses and associates are available 24/7 for all care levels, and the support system includes medication management and wearable medical technology. Watermark's memory care program features caregivers called "Nayas" (meaning "guide" or "person of wisdom" in Sanskrit), which feels right in step with its Brooklyn community.
Brick Underground articles occasionally include the expertise of, or information about, advertising partners when relevant to the story. We will never promote an advertiser's product without making the relationship clear to our readers.