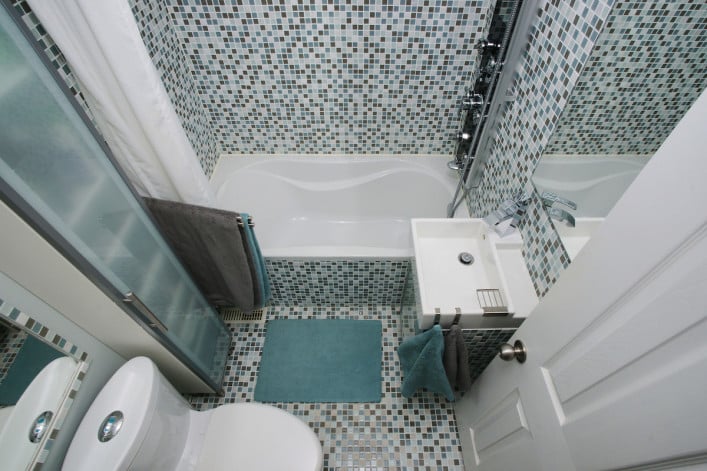 Newcomers to New York City are often surprised by just how tiny apartment bathrooms are here. How tiny is tiny, you might ask? In my first apartment, for example, you could touch the door from the shower. In my second, you couldn't fully stretch your arms out over the toilet and tub, which were crammed next to each other, and you almost always whacked your elbow on the wall while brushing your teeth over the teensy sink. 
These small baths come with the territory, and if you're a renter, you have to grin and bear it, and maybe keep the door open as much as possible to fend off claustrophobia since renovating your NYC bath is not an option. 

But that doesn't mean you can't make a super-tiny bath work for you. Here are a few things I've learned along the way and some helpful hints from NYC-based organizer Meryl Starr. 
The purge 
When I moved to NYC, I left behind the greatest—and biggest—bath I've ever had. It used to be a bedroom before the house was converted into a two-family duplex. It had a vanity with storage, a slim closet next to the shower with tons of shelves, a gigantic armoire, and a big closet with even more shelves. I could cry just thinking about all the space I took for granted.
With so much space came a lot of stuff, some of which I admit I barely even used. Despite downsizing for the move, that first tiny NYC bath was quickly overwhelmed by my must-haves—and that was before we even unpacked my husband's stuff. There was no storage beyond a very narrow medicine cabinet, not even a vanity since it had a pedestal sink, so we stacked bottles in the corners of the tub and crammed them into a shower head caddy. 
It got old very quick, so I scaled back even more. Since the apartment only had one small closet in our bedroom, towels had to be kept somewhere in the bath. We got a chintzy metal over-the-toilet shelving unit, which didn't fit well because of the curve of the radiator pipe next to it. Luckily, we were able to jam it into a weird niche in the opposite wall. We put baskets on it to hide our toiletries. We had just enough room on the floor for a hamper and a basket to hold rolled-up towels. Not ideal, or my personal aesthetic, but we made it work for the year we lived there. 
For a client facing a similar storage struggle, Starr hung an Ikea medicine cabinet to supplement the existing one, which definitely could have been a great option for us. This cabinet with open shelves on either side is $99 and would have been ideal for us. 
Vanity revamp 
Unless you're renting a NYC apartment in a new-ish building, you're likely going to have an older, well-worn bath and fixtures. If you're lucky enough to actually have space on top of your vanity, but it's dated or not in the best shape," use a neutral-colored decorative tray on top of bathroom counters to cover up unsightly tile," says Meridith Baer, interior designer and luxury home stager. "Top it with fluffy towels, a pretty candle, or a bouquet of fresh flowers."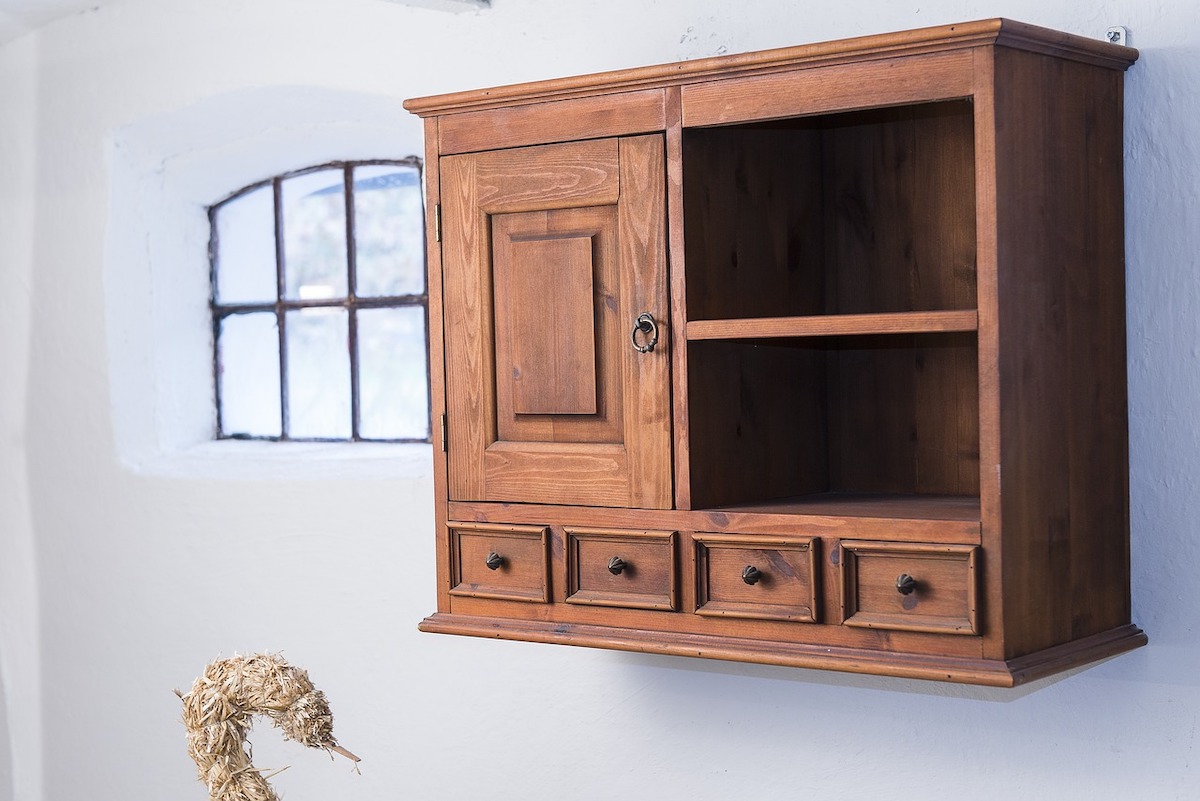 Consider the walls  
You might not be able to change much about the fixtures or layout in your tiny NYC bath, but "a fresh coat of paint is the easiest and most inexpensive way to transform a space, and lighter shades can help a tight bathroom space feel much larger," says Baer, who previously suggested this shade of white to Brick Underground readers. "For a bolder look, try removable wallpaper to add personality and texture." 
Get hooked 
"I love hooks, so wherever there's a door, I put hooks to save space," Starr says. 
Hooks, which run pretty cheap and can be found just about everywhere, can go on the back of the door to hold robes, towels, or even a hair dryer. Inside medicine cabinets, Starr suggests using suction hooks for your toothbrushes, brushes, hair ties, etc. to save space on your sink. (This Ikea version is $5 and would also be a great option to hold a razor in the shower.) 
Embrace everyday items
If you have things you need to keep within arm's reach, you don't have to clutter up your countertop. "Maximize your storage by adding open shelving, and put everyday items like cotton swabs or pretty soaps in glass jars out on display," Baer says.
These $35 white rope swing shelves from Home Depot are less than 8 inches deep and easy to install and remove if you move. 
Go behind the door
Beyond hooks, there are lots of ways to maximize that back-of-the-door space. The Container Store has some great door racks; I especially like this $92 one that has four adjustable shelves and a utility board. Even this $13 durable pocket shoe bag from Amazon could work for holding rolled-up towels, bottles, etc.
Starr loves using mirrors "because they make a small space look large," and the back of the bath door is a great place to put a full-length one if you don't need the space for hooks.
Capitalize on the commode
If you've got the space, shelving units over the toilet can be great space savers. Amazon, for example, has tons of options under $100, and some feature both cabinets with doors to conceal items and open shelves, where you can add decorative items or baskets for even more storage. 
Don't shower with clutter
"In the shower, so many people keep so many things there, it's overwhelming, and you have no space," Starr says. "Less is more. When you have less things in a space, it feels larger." 
If you have a tub, try to leave the outside ledge empty. If you just can't part with all your products, she suggests rotating them out periodically instead of keeping them all in the shower. 
One easy and fairly inexpensive way to create more storage is to use a caddy that hangs from the shower head. I use one with shelves for bottles and hooks on the bottom for hanging loofahs and washcloths (just make sure to get one with a rubber gripper on top so it doesn't slip). You could also get a suspension caddy for the corner of the tub. Many come with both baskets and bars to hang things. 
Stay neutral
When it comes to choosing a shower curtain for your small NYC bath, think plain. 
"If you walk in and see a bright shower curtain, it kind of pushes you back," Starr says. "But if you do something very subtle and plain and white that blends in with the walls of the apartment, it's not so overwhelming."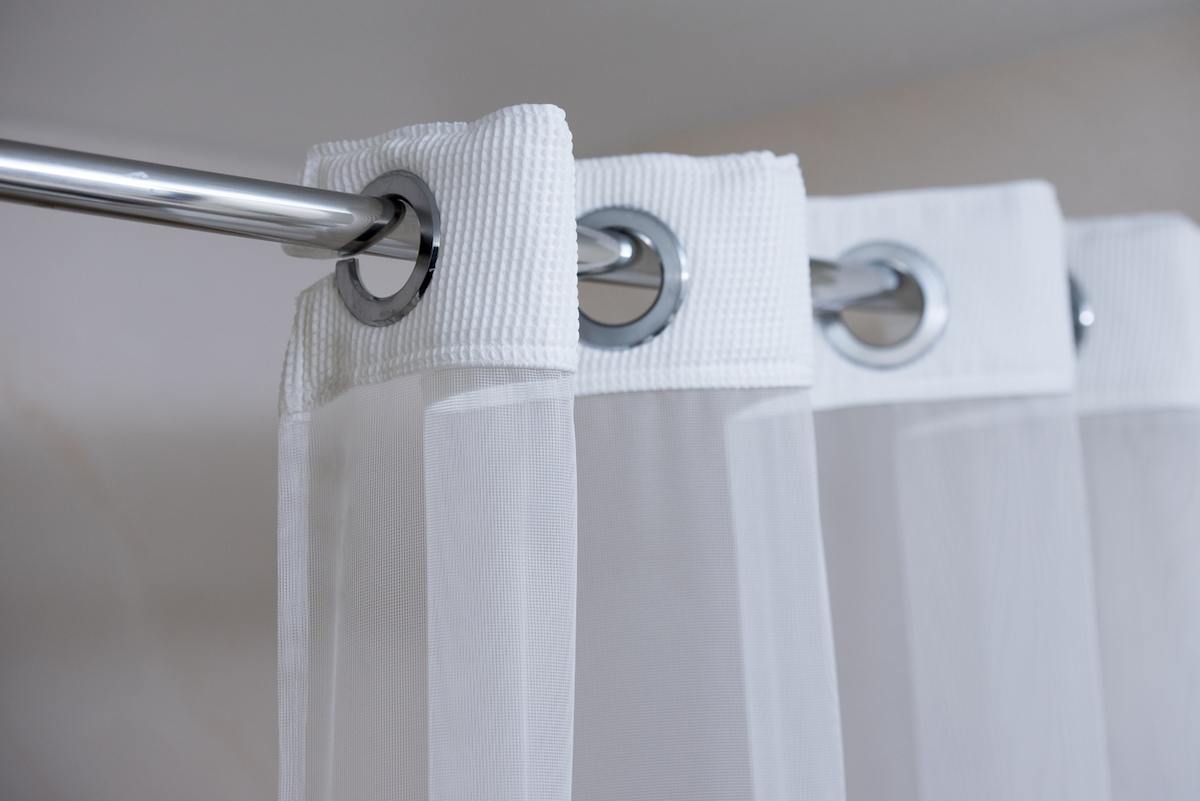 Under the sink 
Even though we now have a bigger bath, I'm happy to say I've (mostly) kept my bathroom necessities to the bare minimum. That doesn't mean that the cabinet under the sink is empty, though, since I do like to have backup lotions and soaps. To keep those organized, I use wicker baskets to house things I don't need often and cheap stackable shelves for the things I need regularly but don't keep out all the time. The Container Store also has a $40 expandable under-sink organizer that works around the pipes and has two pull-out bins for easy access. 
Brick Underground articles occasionally include the expertise of, or information about, advertising partners when relevant to the story. We will never promote an advertiser's product without making the relationship clear to our readers.