Subways, schools, food, and safety—all these play a part in deciding which neighborhood you'll land in if you're moving to New York City, but it's likely affordability will be the factor that sways you in the end. A new report by relocation experts Nestpick suggests how much you need to earn a month in order to afford an apartment in various city neighborhoods, and the numbers are pretty depressing.
Downtown Manhattan tops the list as the city's most expensive area for a single person. You need to earn $9,666 a month to be able to rent the average apartment in the area, or $115,992 annually. For families, Midtown is the most expensive area, where a monthly salary of $17,316 would cover living and rental costs for the area, or a steep $207,792 annually.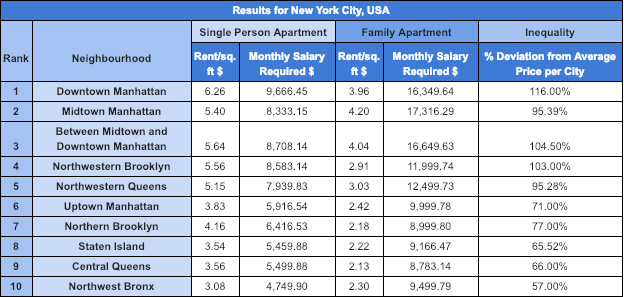 Neighborhoods are identified fairly broadly in the study so an area described as Northwestern Brooklyn, which stretches from Williamsburg to Park Slope, is the most expensive area in which a single person can rent, outside Manhattan. You need a monthly salary of $8,583 to rent there. For families, it's Northwestern Queens that's the most expensive area beyond Manhattan. A monthly salary of $12,499 would be able to cover median rental costs there.
An interactive map accompanies the research and while some neighborhoods appear to be missing, it's likely because they've been broadly renamed based on real estate maps, so Long Island City is Northwestern Queens (ranked 5th above) and Central and Northeastern Brooklyn, from Prospect Park to Fort Hamilton, come in as the 13th most expensive areas, where a family would need a monthly salary of $8,316 to make ends meet. 
Stark gaps in affordability and income are revealed by the data—something New Yorkers already know. Downtown Manhattan is 16 percent more expensive than the median, while The Rockaways is nearly 50 percent cheaper.
The study looked at 700 neighborhoods around the world and identified, New York City as the fourth most expensive city overall in the index, only less expensive than Monaco, Hong Kong, and San Francisco.
Brick Underground articles occasionally include the expertise of, or information about, advertising partners when relevant to the story. We will never promote an advertiser's product without making the relationship clear to our readers.