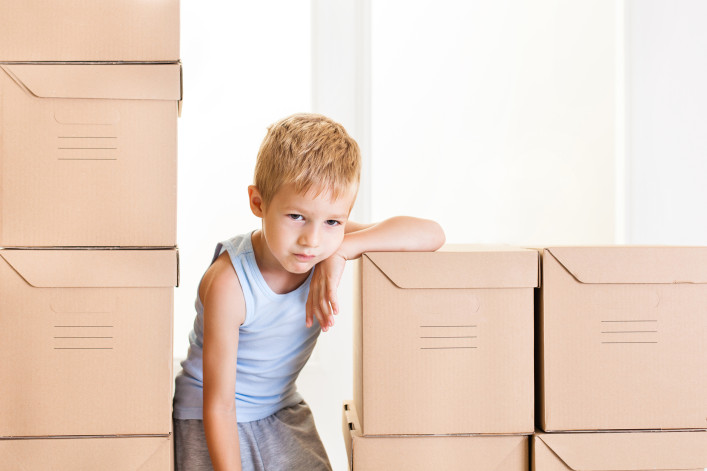 Moving to NYC with kids is its own messy beast. While parents handle the logistics of changing jobs, housing and schools, a child who's already started elementary or middle school will have their own set of worries, centered mostly on the friends they'll be losing and the neighborhood they'll be leaving. Experts recommend talking honestly (but positively) to kids, in an age-appropriate way, about a forthcoming move.  
My own move from California to New York was met by howls from my 10 year old. Trying to impress upon him that he'd grow and make new friends and might even love New York City didn't reassure him. If he'd heard from kids who had already made the move, and settled into schools and made friends here, it likely would have helped calm some fears. 
We spoke to kids who transitioned, from both within the U.S. and internationally, to New York City and asked them to share their experience, and even offer advice to others doing the same thing. Here's what they said:
You'll have lots of parks
"I miss San Francisco because it was my home but you can always make new friends and New York has lots of parks. You won't have much space but you'll have parks and the people are nice." —Max, 12 
"New York is dirtier than San Francisco and it can be really cold or really hot. In the summer, the parks have fountains so you can have water-balloon fights." —Jack, 8 
Halloween is better and you get snow days
"Halloween is much better than in London because you get so many sweets and the houses are decorated for weeks before. We really miss our friends but we've created a WhatsApp group so we stay in touch and we FaceTime our best friends at weekends. It surprised me how quickly we made new friends at school. My suggestion is to be yourself." —Stevie, 9
"There's tons of people in New York so you'll make lots of friends. You should be excited because you get snow days which means you can skip school. We didn't have that in California. And in the summer the ice rinks become roller skating rinks." —Oliver, 10
Other kids will like your accent and you will make friends
"I was anxious the first day of middle school and didn't want to go in when I saw all the students waiting outside, but I have a good group of friends and they like my [British] accent and my glasses!" —Jakob, 12
"I found it hard when we moved here from London and was worried about making friends but everyone was kind and made me feel welcome."—Lukas, 10
"The taxis are yellow instead of black, like London, and there are a lot of people on the streets, but I like my neighborhood and there are lots of trees. I was really nervous before I moved, but making friends was easier than I thought. We went to seven playgrounds when we got here this summer. There are kids from everywhere and lots of them moved from other countries too." —Nico, 6
There's so much to do in NYC
"When I moved to New York I was sad about losing my friends at school and I really liked where we lived in Philadelphia. In New York City, there's a bunch of things to do compared to Philly and the other thing is, my friends live really near my school now and that wasn't the case in Philadelphia—everyone lived far away from each other. In general you can probably find new friends and some of them will become your best friends." —Krishan, 13
"New York has lots of amazing sights like the Empire State Building, Freedom Tower and Chrysler building. We love Dumbo, and Coney Island in the summer is great. We went on the log flume four times! There is also an amazing Lego store near the Flatiron building. The bread is a bit weird, and school lunch is horrible, so we have packed lunches instead. Also, people here are a lot louder than in London. The classroom can get really noisy sometimes!" —Camille, 9
Brick Underground articles occasionally include the expertise of, or information about, advertising partners when relevant to the story. We will never promote an advertiser's product without making the relationship clear to our readers.