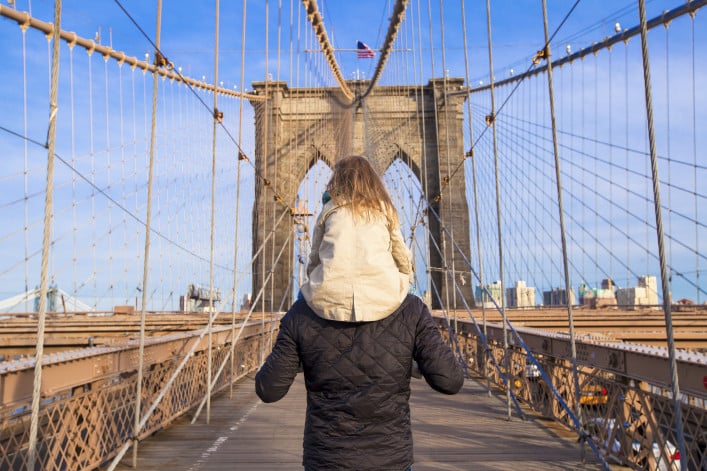 I've moved out of the city more times than I can count. First to Paris, which seemed impractical, since my husband doesn't speak French and neither he nor I nor our kids are citizens or hold EU passports. Then it was back to San Francisco, where our middle child was born, then Los Angeles, where we had family, and onto Montclair and Maplewood, New Jersey (as is the wont of many New Yorkers raising kids). Most recently, there was Falls Church City, a suburb of Washington DC, where a good friend was sounding the siren call with promises of biking trails, good schools, and cheaper camps at the nearby Air & Space Museum, no less. 
All these moves are in my mind; the rest of me, and my family, are still firmly ensconced on the Upper West Side in our two-bedroom makeshifted into a three-bedroom, anchored by our building and its sometimes-nosy closeness; public schools we fought so hard to get the kids into (which included scounging for intel on all the options and signing them up to take various tests); and a deep love for my neighborhood and its parks (Riverside Park, I want to marry you). But our housing costs, just like those of many other New Yorkers, eat up too much of our take-homes, our apartment sometimes feels overly cramped, and my husband and I often end our days wondering just how long we can keep juggling so many balls to keep this satisfying-but-delicate existence work. Living in New York City is exhilarating. It's also exhausting, expensive, and emotionally draining. And it requires compromises and sacrifices. (Last year, the New York Times reported on families who made do with too-small apartments to stay close to neighbors who've become like family.) 
As it happens, we're not alone. Many of our friends toe the same thin line between loving and loathing living here with kids. "Should we stay or should we go?" is a constant refrain. For every Stacy (our Washington DC-loving friend) who doesn't look back, there's a Teri (who happens to be the publisher of Brick) who left for the suburbs, found them wanting, and came back loving NYC more than ever. 
So how does one come to a decision one way or another? We spoke with New Yorkers former and current to see how they finally made their choice. 
Getting schooled 
Amanda Cunningham, director of operations for an education company, was born in NYC, went to school here, and stayed for college, and never dreamed she'd leave it for good. She and her husband had even tried out Westchester for a year—they'd just had a baby, and after the first year, it seemed as good a time as any to try the suburbs out since they were paying market-rate rents—but "I didn't like the town we moved to, I didn't like the people, I didn't like feeling isolated," she remembers. 
So they returned to Manhattan, where her mother and sister were; her husband, too, was a born-and-bred New Yorker, and they'd both missed the city. Fast forward seven years and one more child later, and they were itching to leave once more. Her oldest, a girl, was in a school that wasn't a good fit and they were on a hunt for another. "We'd applied to 12 different schools and she had done five standardized tests by the time she was 4, but none of the options felt like they were good for the right reasons. She took every test she had to take," she explains.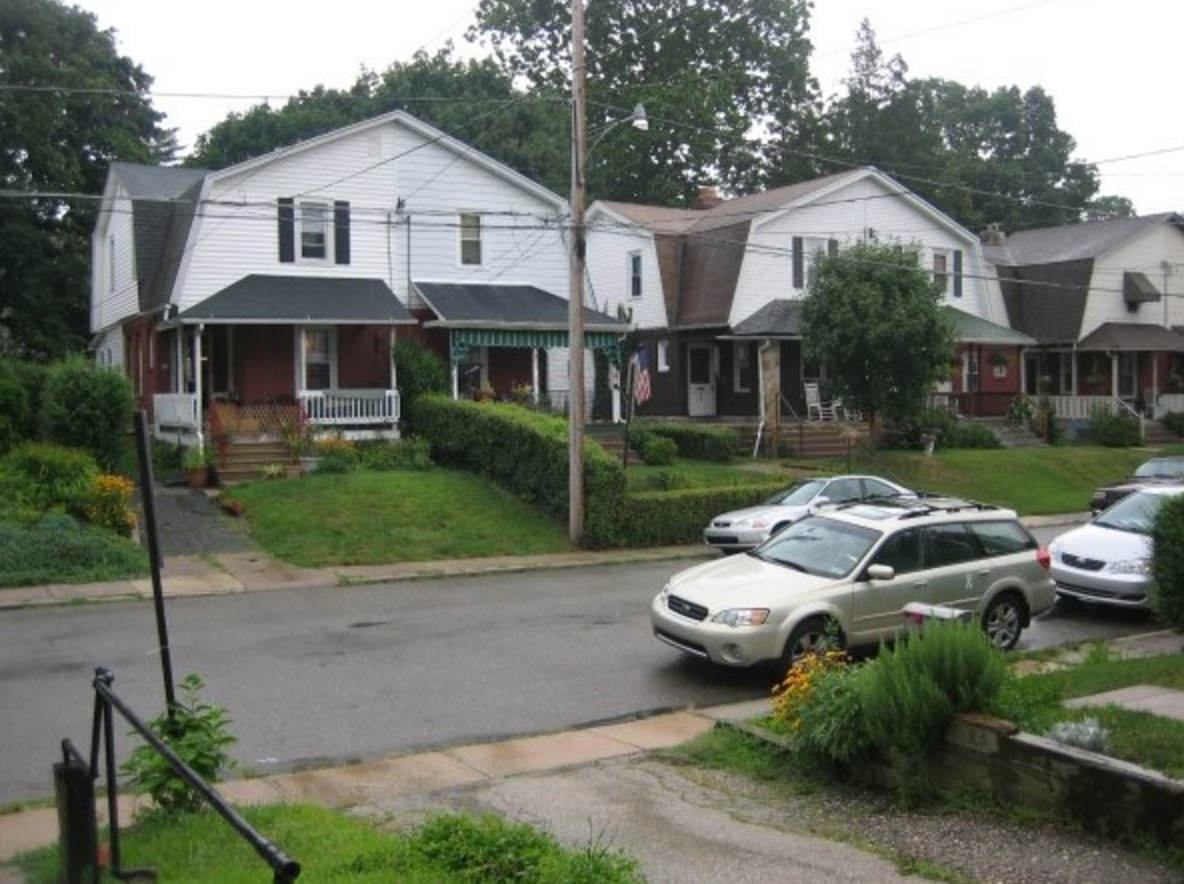 A view from the porch of Amanda's first house in Narberth, Pennsylvania; her block was teeming with former New Yorkers.
Their younger child, a boy, was in preschool and the kindergarten process loomed. "I hit my breaking point," she says. "Even if you're in a quote unquote good public school, you're still in a big bureaucracy. You're so trapped in this endless cycle of thinking about schools, reading about schools, looking at schools."
Tired of the way things were, Cunningham, a former teacher, took to the Web to research towns with stellar schools for which enrollment didn't demand jumping through many hoops or paying the equivalent of a college tuition to attend. She had other considerations, too, including wanting a town that was down-to-earth (nothing too fancy), walkable (sidewalks make a difference), and easily accessible via trains so her NYC family could visit. They also needed a place where she could find work. (Her husband's job was flexible.) And because their children were of different genders, they knew separate bedrooms for them would be necessary sometime in the future, so more space at a fraction of NYC real estate prices was important. 
Still, great public schools topped her list. They narrowed their choices to the suburbs near Philadelphia; though the city was appealing, the public schools there seemed just as difficult to navigate—perhaps even more so—than in NYC. After a few visits to Narberth, Pennsylvania, a borough just 15 minutes from city center, including tours of the local schools and the playgrounds (to make sure they were well-used and full of activity, unlike playgrounds in many suburbs), the Cunninghams were sold. ("It felt less like a suburb and more like a mini-Upper West Side," she says.)
Years later, she has no regrets. "There's nowhere else on earth like NYC, yes, but there are lots of great places that aren't NYC," she says.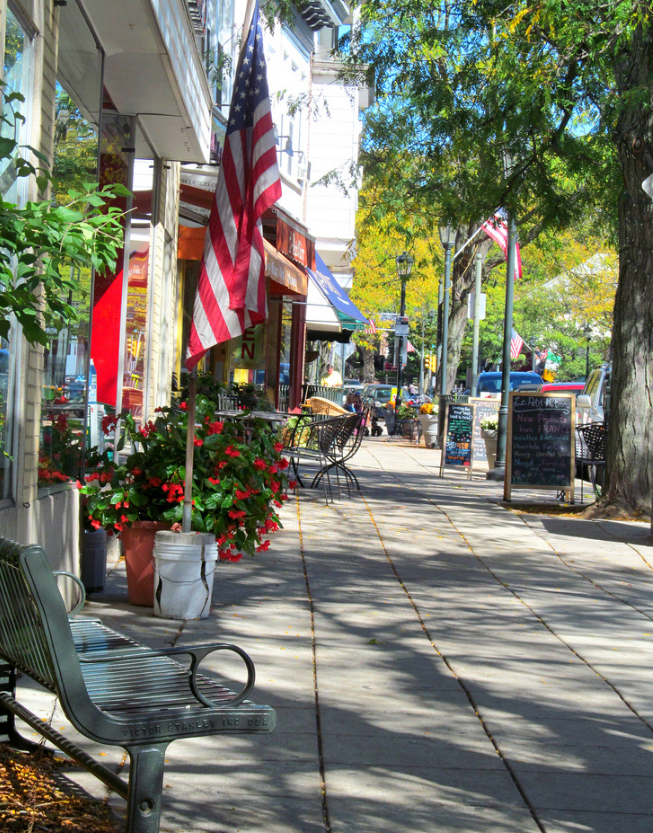 A sidewalk in Narberth, PA. (Flickr/Alexis Lewis)
Room to breathe
For Kate (who asked not to use her last name), a journalist who lived in Park Slope and has since moved to suburban Atlanta, the schools weren't the problem. Her two daughters were enrolled in great Brooklyn schools. They were firmly entrenched in their neighborhood, proud of the life they'd built there. "It felt like a small town, it had a wonderful community, but it felt like I didn't have an infrastructure to interact with the community in the way I wanted," she says. "I had all the people, the schools were good, but I didn't have the space." Her two-bedroom was too small for big gatherings. "I always wanted to have dinner parties, and we could barely have them with a family with just one kid," she explains. "It just all felt so on top of each other, and I really didn't enjoy that." 
When her husband decided to apply for a job in Atlanta, she was nervous but also excited. "We were open to a move," she recalls. And when he did get the position, she found herself looking forward to the change even though she was also "scared" to leave her community. Nonetheless, she has built a new one in the town they live in on the outskirts of Atlanta, a neighborhood progressive enough, she says, to sort of recall Park Slope. And she now has the lifestyle she didn't know she was missing until she finally found it. "When we came down here to look at houses, I was standing on a porch and smelling flowers and hearing the sounds of nature and I thought, "Oh my gosh, I want this. I grew up with this," she says.
Moving into a house with a yard—that didn't run in the unreachable millions of dollars (as they do in Park Slope), mind you—also gave her "more bandwidth and patience for parenting," she says. "I think parenting is easier—just [the bigger] space alone makes things easier." And she doesn't find herself too overwhelmed by day-to-day living to actually enjoy herself and the cultural events that nearby Atlanta has to offer. "I find I'm less burdened in my everyday life," she says. "I've been 100 percent happy with this change. Not that I don't miss Brooklyn and my friends. But I find great peace in living a life that's easily more outdoor-focused, where my kids just run outside barefoot. It was something I really needed and didn't know."
Conquering the real estate conundrum
Though no one keeps track of statistics (and perhaps someone should), anecdotal exit polls point to real estate as one of the biggest reasons—if not the biggest—New Yorkers finally break up with the city. According to Marketwatch, which looked at data compiled by the Economic Policy Institute, NYC is the fourth most expensive place to raise children, and much of the expense can probably be atttributed to housing costs. (If you're floored that the city has only placed fourth, you're not alone; in fact, Nassau and Suffolk counties in Long Island, as well as Westchester County and Washington DC placed higher, due to childcare and transportation costs, as well as taxes.) 
John Houlihan, an operating engineer at Lincoln Center who hosts the radio show/podcast, LivefromtheBarrage.nyc, wanted nothing else but to remain in the city 14 years ago when he and his wife had a baby. But the street where they lived in Flushing was loud and raucous. "I would have to go across the street in my pajamas and close the door to the bar," he remembers. "We could hear our neighbors, and there was a car painting business next door and an exterminator on the ground floor. There was always noise." And other city options were beyond their budget, especially since they wanted a house with a yard. They had a bead on a property in Greenpoint, which, at the time, wasn't as expensive as it is now, but that, too, was out of reach financially. "We couldn't afford anything in the city," he says. The high rents and asking prices drove him then to look on Long Island, specifically in Levittown, but "it was depressing. There's no basement, and it felt like being resigned to living in bad suburban Long Island. Every house was a kit, and it all felt the same."
Family to the rescue: Houlihan says the main reason he and his wife have been able to stay in the city is "a lucky break." His parents decided to move to Long Beach and sold him his childhood home in a quieter part of Flushing at a "slight discount." Though it only has one bathroom, the four bedrooms, two-car garage, and yard—plus the basement—have given his family enough room to stay rooted in NYC. "If I didn't catch this break, I'd probably be in Levittown with no basement and regretting it a bit," he says. "They put you out to pasture there."
He says he definitely empathizes with anyone struggling with the decision to stay or go; the numbers, after all, have to work. "If you're handcuffed by the cost, there's not much you can do but move out," he says. "It's tough and it's just getting worse."
Kids playing on an NYC sidewalk. (Photo: IS_ImageSource/iStock)
Diversity rules
For Alison Mazer, an event planner who also works in arts management, leaving NYC has never been a serious consideration. Like Cunningham, she grew up in the city and, like Houlihan, was fortunate to find an apartment that's not only spacious enough for her family of three, but rents for slightly under market rate. "I only have one kid so I don't have pressures that other parents with more than one child have [with needing more bedrooms]," she says. "I feel very lucky, and we got him into an incredible public school, too."
She loves how she can navigate the city without a car. "I'm a very physical person, I have to be able to walk. My sister-in-law lives in a small town in Massachusetts where there are no sidewalks," she says. "They don't even have a shoulder on the road, everyone's lawn goes right to where the road is. When she gave birth to her twins, she couldn't even take them for a walk. When she steps out of the door to go anywhere, she has to get into a car."
But the biggest reason she's staying put is the city's diversity, which she feels she can't find anywhere else–not to the extent she does here, anyway. "I've traveled quite a bit to a lot of other cities in this country and I've never been in a place as diverse as NYC," she says. "I live on an actual physical block where there are people in public housing, wealthy people in penthouses, middle-income, two-parent working households with kids in public school, and everything in between. In other cities, it feels more segregated." (Diversity, in fact, is the one thing New Yorkers won't find in other places, says Cunningham—at least not to the degree that you find it here in the city. "Diversity is a huge concern, and if that's your number one concern, do not move to the suburbs. It was important to us, and that's why we chose the community we chose [here in the outskirts of Philadelphia]," she says, but even that town isn't all that diverse—certainly not like New York.)
Growing up in a city as multi-faceted as NYC, says Mazer, has allowed her to raise a son who's not just tolerant but welcoming of everyone. "I believe that ignorance creates fear, and that a lot of fear creates violence. I don't want my son growing up in a place less diverse, because I don't want him growing up with any fear of people being different," she says. "He's learning that different is fine, that there's nothing wrong if you're different: gay, straight, atheist, your age, your weight, it's a non-issue for him, and I love that. I just can't imagine any kind of person he'd be uncomfortable working with or dating [when he's older]. He has already met so many different kinds of people." And while it's true that in an increasingly gentrifying city, diversity in all its forms is becoming a casualty, Mazer says you still are exposed to a bigger variety of cultures, languages, and experiences here than anywhere else.
In the end, she says, where you wind up may have a lot to do with what you grew up with and how you felt about it, and how it has shaped your vision for your own family. "It is really specific to the couple, to the person. If they have a different childhood and they loved it, then they might feel differently and want to raise their kids the same way. I grew up here and loved it, and the city was way more dangerous back then. It's all relative," she says. "I can't live anyplace else less diverse, and I don't just mean black and white, but gay, straight, young, old, all sorts of socioeconomic levels. I grew up with it and it's incredibly important to me that my child grow up [the same way]."  
**This story originally ran on July 13th, 2016.**
Brick Underground articles occasionally include the expertise of, or information about, advertising partners when relevant to the story. We will never promote an advertiser's product without making the relationship clear to our readers.