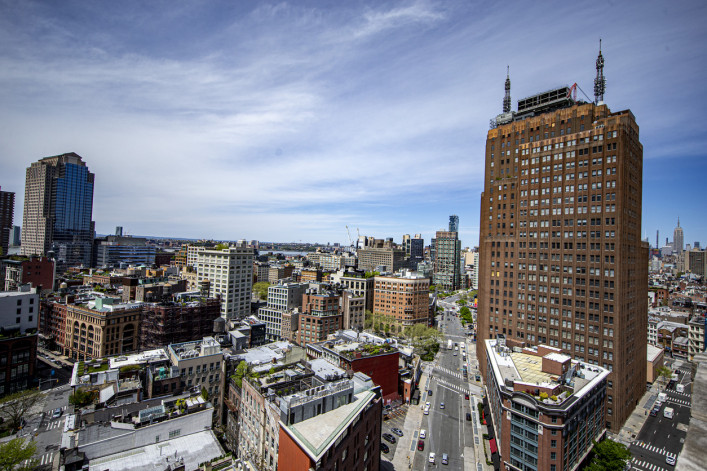 If you were hoping rents were going to fall in New York City, you are not going to like the April snapshot of the rental market—which found rents trending upwards. But apartment hunters should keep in mind a snapshot doesn't tell the full story.
First, the seemingly bad news: Many of the metrics used to measure rents in New York City hit new record highs in April—the first full month of data during the coronavirus pandemic–according to the Douglas Elliman April rental market report for Manhattan, Brooklyn, and Queens.
Manhattan, for example, saw the highest net effective median rent, average rent, and average-per-square-foot rent ever recorded. The median rent of an apartment with a concession was up 4.8 percent to a record $3,540.
Here's where it gets a little twisty—and where renters looking for an apartment may take some comfort: These record high rents don't indicate a majority of landlords raised rents in April. Instead, they reflect the fact that some expensive apartments were rented in April—like brand new luxury developments, which skewed the data.
"There's a dramatic shift in the mix," says Jonathan Miller, president and CEO of Miller Samuel and author of the report. "It doesn't mean rents are rising." In fact, he says, "there's downward pressure on prices," because of the pandemic—which has resulted in showings and moves in many buildings banned.
And there's another dramatic shift in April's data: The number of new leases in Manhattan fell through the floor in April, dropping 70.9 percent to the lowest level in a decade. A similar story played out in Brooklyn and Queens, where new leases fell 66.8 and 64.9 percent, respectively.
Generally, a drop in new leases is interpreted as a rise in lease renewals—meaning instead of moving to a new apartment and signing a new lease, renters are staying put. But how can you assume what happened in Manhattan in April was a "surge" in lease renewals, as Miller describes it, given the layoffs that are happening as a result of the pandemic? Could a drop in new leases also indicate the renters are fleeing the city?
It's not possible to know for sure what happens between a landlord and a tenant after a lease is up, Miller points out. It is possible that some tenants are leaving, or some negotiations are resulting in tenants choosing to go month to month because of job insecurity. 
But he is skeptical that a record drop in new leases indicates a high number of New York City renters are leaving the city. He says there are multiple indications that tenants are inclined to renew their leases.
For starters, many buildings are not allowing moves, and seeing places in the suburbs is difficult at best. Nor does he see technology as filling the gap. "People aren't renting or buying, for that matter, solely based on virtual tours," he says.
Miller says the types of jobs being lost—for hourly wage, gig, and independent contract workers—are a stark clue to what is happening with lease renewals. The city is expected to lose about 900,000 jobs by June, according to New York City Comptroller Scott Stringer.
"If you are worried about your job, are you really going to move to the suburbs?" Miller asks. He says the answer is no—NYC renters will be inclined to stay in place and try to make the best of the situation.
Looking at the numbers In Manhattan, the median rent rose by 4.9 percent to $3,650. The vacancy rate was up 2.42 percent, the highest April vacancy rate recorded in at least 14 years.
Brooklyn saw the net effective rent (meaning rent with concessions factored in) for new development reach a new record and the median rent was $3,259, up 14.4 percent
The number of new leases fell year over year by the most significant percentage tracked in over seven years in Queens, the report said. The median rent rose by 4.2 percent to $2,970. April saw the lowest share of new development leases in Queens in four and a half years.
Other market reports
MNS released April rental market reports for Manhattan, Brooklyn, Queens, and the Bronx. The reports drill look at rents for doorman and non-doorman buildings, and found the largest monthly increases include, for example, a drop of 10.6 percent for non-doorman two bedrooms in Soho.
Brick Underground articles occasionally include the expertise of, or information about, advertising partners when relevant to the story. We will never promote an advertiser's product without making the relationship clear to our readers.