The Search
Need to choose an independent living community in NYC? Here's a checklist
You need to weigh the location, staff, amenities, dining options, and activities
Bear in mind that monthly rent ranges from $6,500 to over $17,000 for a studio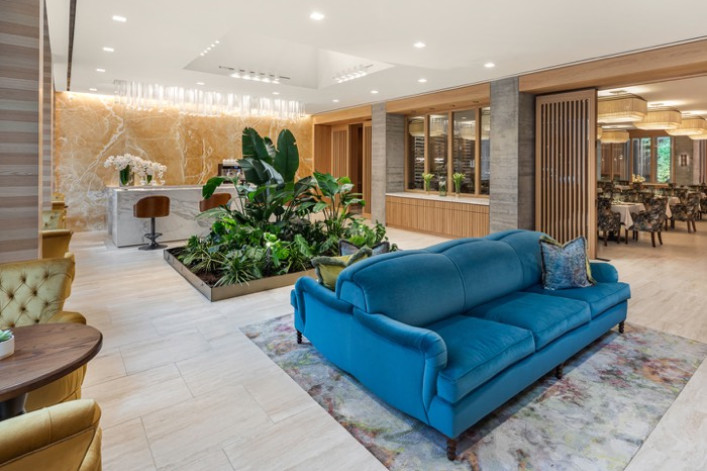 Courtesy Inspīr Carnegie Hill
Now that more independent living residences are opening in New York City, you may be wondering how they stack up.
This life-stage transition involves more than the usual considerations like location and cost, though those factors remain important. Amenities, dining options, and other creature comforts come into play, as do the quality of the staff and the surroundings. 
Fortunately, there's no one-size-fits-all senior living solution. You have choices, especially now that developers are tapping into the large and lucrative 65-plus bracket with upscale independent living developments. But choices require making tough decisions, and it can be hard to know how these places compare.
Brick is here to help. The following checklist walks you through the key selling points of an independent living community. Use it when calling or preferably visiting different buildings in person.
Indeed, the journey starts there: A lot can be gleaned from seeing the interaction between staff and residents up close—and also how transparent the management team is in showing you all aspects of the community.

What is the neighborhood like?
As with any apartment search, location is often the number one criterion. Lifelong Upper West Siders may well want to stay in the area. Maybe the top priority is being close to family or within walking distance of parks. Or perhaps the goal is to have fresh start in a different neighborhood (or borough!). 
Developers are banking on this by putting the location in the name (Inspīr Carnegie Hill, The Watermark at Brooklyn Heights.) Besides lending the place cache, it signals what the building is all about.
Denise Falco, senior vice president of operations for Sunrise Senior Living, says its two Manhattan communities reflect the neighborhoods they are in—Sunrise East 56 makes an exclusive UES impression by having the main lobby reached by elevator, whereas The Apsley by Sunrise fits into its UWS locale with an open ground-floor lobby and outdoor dining. 
"Everything is individualized—the programming, design of the building, how we connect with the outside community," she says. "We focus on making this community someone's home and everything we do centers around that." 
The location also dictates the views from the unit, fitness center, and outdoor spaces. 
What type of building is it?
Similarly, you may want to stick with a classic prewar building or go with a brand-new high-rise. You have options for both, even under the same management. 
Atria Senior Living for instance manages both Atria West 86, a prewar conversion that opened almost 20 years ago, and Coterie Hudson Yards, a new construction that opened in November 2022. "We all serve our place in the ecosystem here, we all have our specialty and flair, so in the end, there's something for everyone," says Joanna Mansfield, general manager of Coterie.
That said, new constructions are built specifically to be senior residences whereas older facilities might not be as seamless in the design—or have all the same bells and whistles. 
It all boils down to your preference for time-worn charm or cutting-edge sparkle and shine—and their respective price points (discussed below).
Of course, not all new developments are equal either. Some exude ultra-modern cool, others old-world opulence, and then there are those that lean into an urban lodge ambiance. If the lobby resonates, odds are the rest of the building will too.
What is the staff like?
According to resident reviews, the relationship with management is often the tipping point when deciding between developments. 
Take it from Iris: "I had interviewed a few residence before making my decision. After coming to Sunrise at East 56th to see the community, and meeting with Lisa (director of sales), I knew this was the right fit for me. Everyone here is so kind and professional." 
Companies like Atria and Sunrise have decades of experience in the senior living space; same for Brookdale (Brookdale Battery Park City), Watermark (The Watermark at Brooklyn Heights), and Maplewood (Inspir Carnegie Hill). 
Experience aside, it's about connection. Is the staff warm and welcoming? Do they interact with residents in a friendly way? 
You can also ask about the staff-to-resident ratio. It takes a lot to run these buildings so you have a right to know. Mansfield says these communities are "significantly more complicated and more highly staffed than your typical residential building."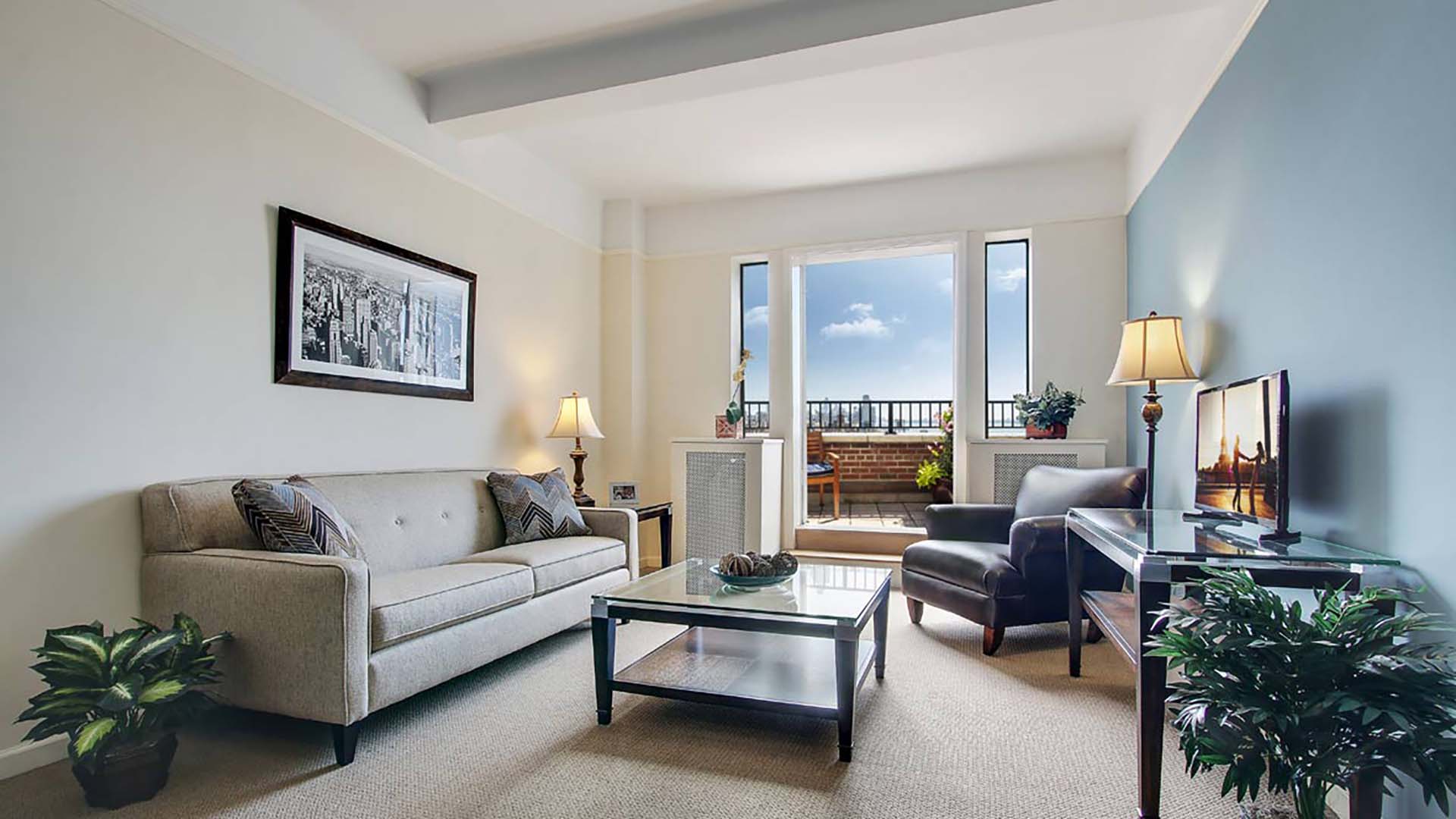 What are the units like?
Here again, the aesthetic depends on the age and style of the building, with newer buildings using higher quality materials like Carerra gold marble in the bathrooms and custom millwork in the kitchens. 
In all cases, you'll have a choice of (unfurnished) studios and one-bedroom units for single occupancy. Newer buildings also have two- and three-bedroom apartments and even penthouses. That's true too if you want to combine smaller units, whether or not for sharing. 
If living on certain floors matters, know that in developments that also house assisted living and memory care residents, independent living units will be on certain (usually higher) floors.
How much is the rent?
Rents vary, and by a lot, with $6,500 for a studio at The Watermark on the low end and over $17,000 at Sunrise East 56. Even older residences like Atria West 86 start at over $8,000. 
But you can get a lot for your money at these places. At a minimum, the monthly rent should include:  
24/7 hospitality services

utilities

amenities

weekly housekeeping and linen services

three chef-prepared meals daily (plus beverages but not alcohol)

daily curated calendar of social, cultural, and fitness offerings

transportation to personal appointments and outings

wearable emergency alert system technology
Laundry may or may not be included; salon and spa visits are likely extra. Same for coffee drinks if there's an espresso bar, though It pays to ask each development for a list of what's covered and what the extras will run you. 
Some developments charge a one-time membership fee on top of the monthly rent, so be sure to ask. Both The Watermark at Brooklyn Heights and Brookdale Battery Park City charge a one-time fee that's equivalent to one month's rent, whereas The Apsley and Coterie do not. 
Likewise, if you plan to share an apartment, be sure to ask about any "second occupancy" fees—even if your roomie is your spouse. (For instance, The Watermark charges $1,495 a month per extra person.)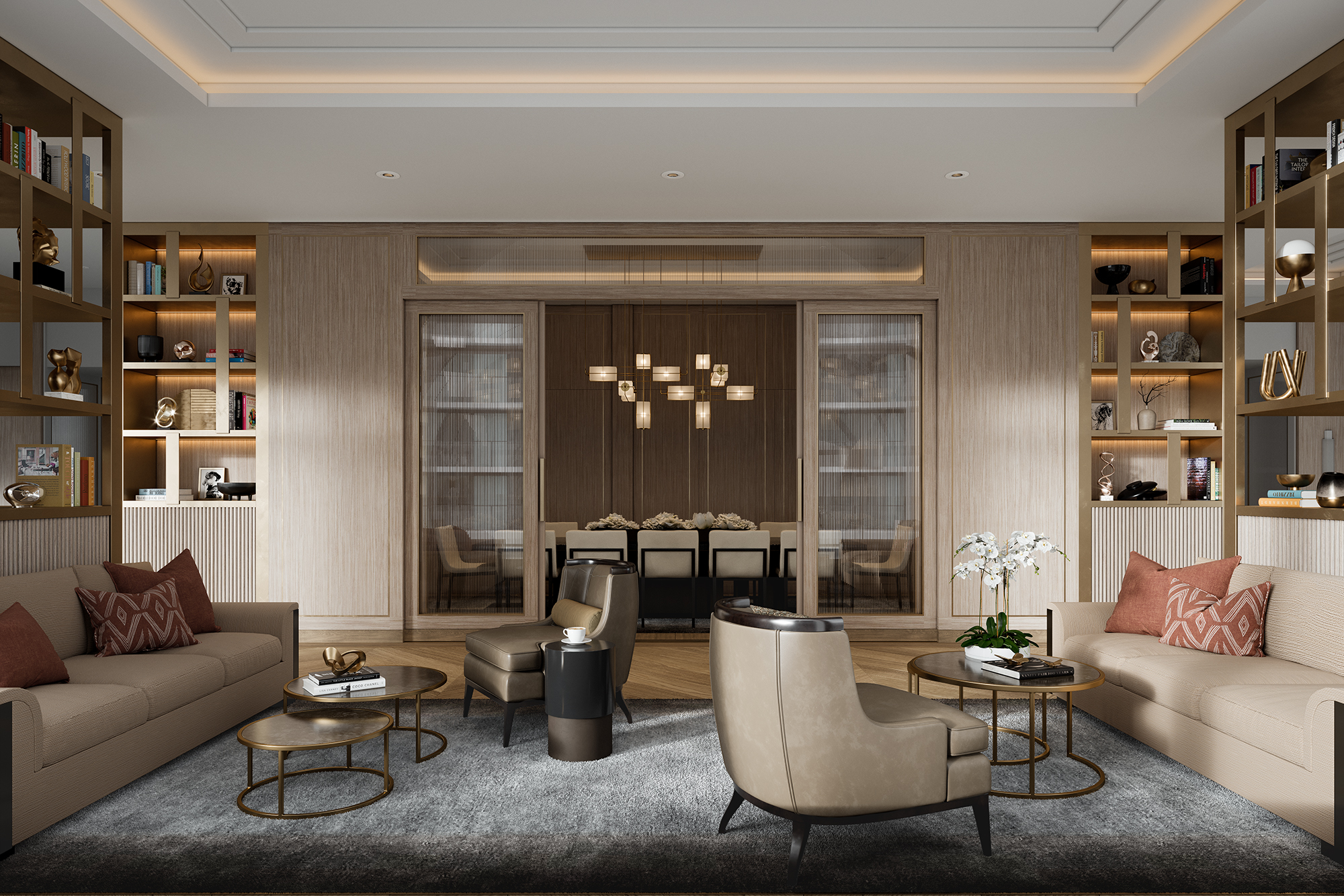 What are the dining options?
Of all the comparison points, this one really speaks to New Yorkers. 
Given that meals are included, it pays to be selective. Is there just one "formal" restaurant for breakfast, lunch, and dinner? How will you feel eating in that same space day after day? 
Why settle for monotony when places are rounding out the options with casual cafes and grab-and-go options, espresso and juice bars, and restaurants that spill onto a terrace with views of the city, or allow you to sit at the counter and see the chef in action. Piano bars and cocktail lounges are also common. 
Ask about room service and private dining, too.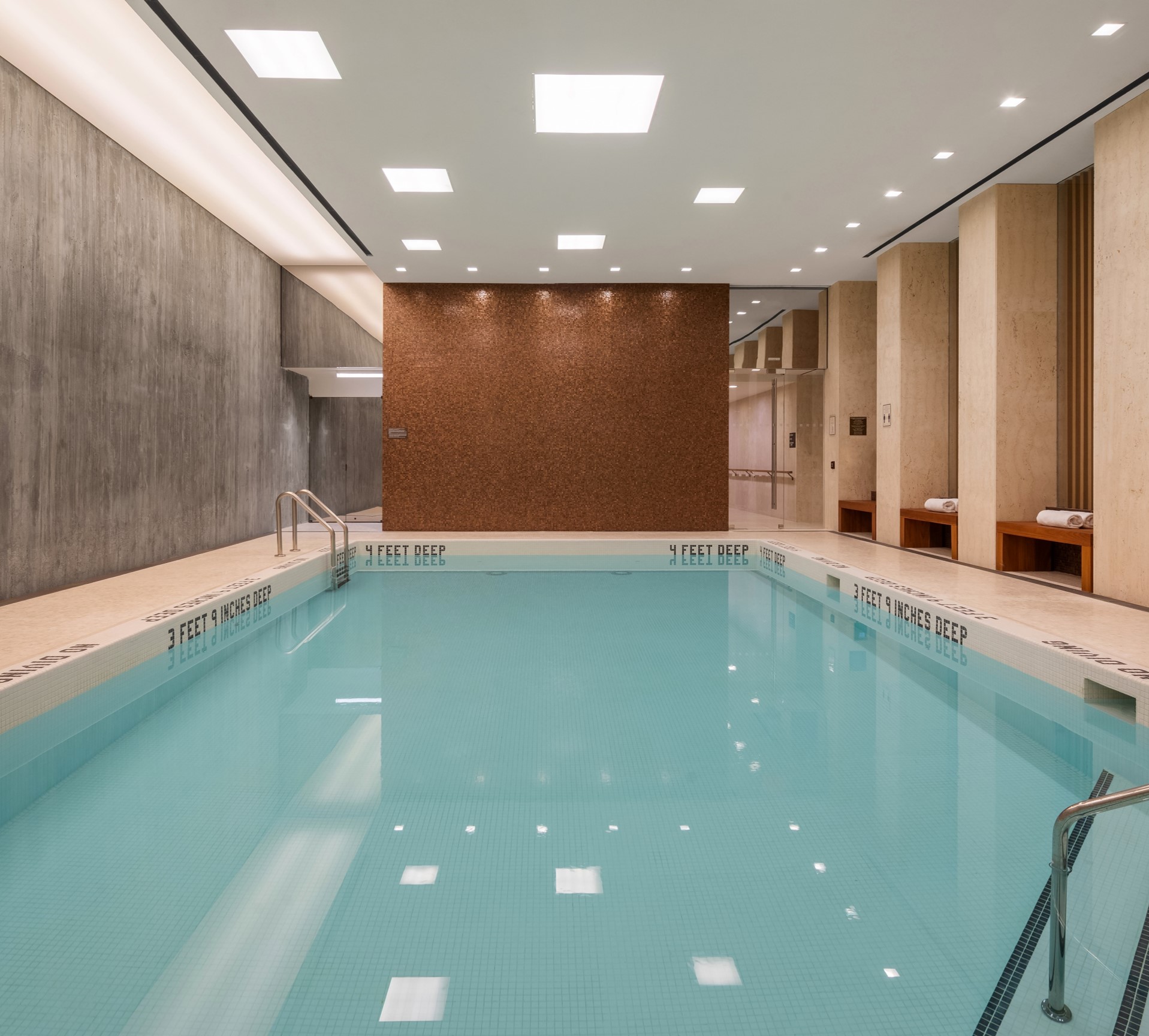 What sort of amenities are available?
Welcome to resort-style living smack dab in NYC. These developments rival luxury condos in creating a robust experience for residents—fitness centers, indoor swimming pools, libraries, mini movie theaters, and transportation are all common. 
But recent entrants are raising the bar by adding movement studios (such as at The Watermark), stylish house cars (like the Mercedes-Maybach at Inspīr), and an in-house library curated by a local bookseller (The Apsley).

What kinds of activities are offered?
Programming is another way senior living developments create a curated experience and social interaction, with a daily schedule of events that residents can pick and choose from. Fitness classes, guided meditation, classes in art or cooking, and the like are all on deck. Partnerships with cultural organizations yield special performances, either on the premises or at the venue. 
Each place has its own niche (horticulture therapy and post-dinner chats with Broadway actors at Inspir, book clubs and author readings at The Apsley). 
Find out if they are open to ideas. "Inspīr has monthly meetings where residents can suggest activities that are not already in place and the team works hard to integrate them into the schedule of events—from chocolate tastings to award-winning author visits, jazz nights to a specific film screening," says Kim Bragoli, director of marketing.  
What level of personal care is available?
Independent living usually comes with a minimum of personal care unless the development also provides assisted living—as all new ones seem to be doing. 
This may be important if you do not want to have to move should assistance be needed at some future point with daily tasks (grooming, getting dressed, etc.) or more advanced care for dementia. For example, the memory care program at The Watermark features caregivers called Nayas (meaning "guide" or "person of wisdom" in Sanskrit) who must be certified dementia practitioners. 
Plus licensed developments will offer 24/7 nursing care for basic medical attention including medication management and collaborate with third-party providers for concierge emergency services or opt-in primary care for residents. Coterie for one provides access to round-the-clock medical care through a partnership with Sollis Health, which is located on the second floor (and open to the public too).
Brick Underground articles occasionally include the expertise of, or information about, advertising partners when relevant to the story. We will never promote an advertiser's product without making the relationship clear to our readers.