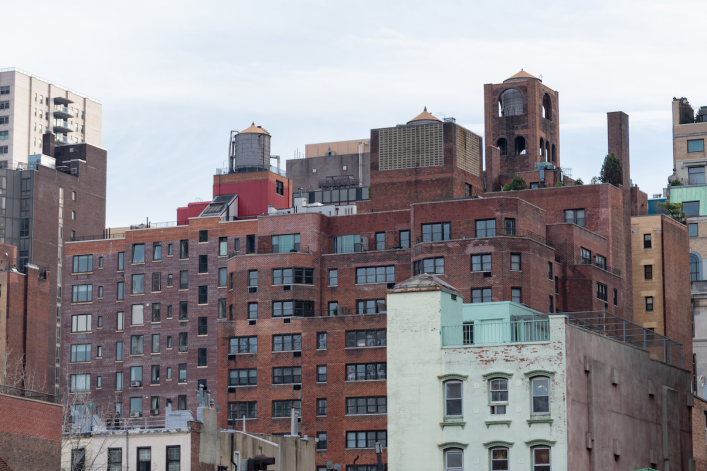 New York State's Emergency Rental Assistance Program could be the backstop for tenants facing eviction now that the state's moratorium on evictions is expiring. (Governor Kathy Hochul is facing pressure to extend the ban.)
Approximately $2.7 billion was allocated to the rental assistance program, which is designed to help low- and moderate-income households that are at risk of eviction or homelessness due to unpaid rent and mounting utility bills. Eligible New Yorkers get a one-time subsidy that goes directly to their landlord. Landlords who agree to accept the funds must agree not to evict tenants for a year.
---
[Editor's note: A previous version of this post was published in June 2021. We are presenting it again in case you missed it.]
---
The Office of Temporary and Disability Assistance is the agency in charge of distributing the funds and there are a dozen community organizations offering free assistance for those who need support in order to apply. 
As well as money for the unpaid rent, funds have been set aside for community groups to help New Yorkers with their applications and a call center offers assistance every day from 8 a.m. to 7 p.m. at 1-844-691-7368. Information about the paperwork you need is available in several different languages via the agency website. 
Eligibility requirements
To be eligible for the program, you need to show that your household gross income is at or below 80 percent of the Area Median Income (AMI). This varies by county and household size; for example, a family of four with a household income of $95,450 or less (including unemployment and Social Security benefits) would qualify in New York City.
You also need to show that on or after March 13th, 2020, as state lockdowns were mandated, a member of the household received unemployment benefits or experienced a loss of income or financial hardship as a result of the pandemic. In addition, you need to show you are being asked to pay rent or that rent is overdue at the apartment where you live. 
There are no immigration status requirements to qualify for the program—so you can still apply if you are undocumented and you don't need to provide a Social Security number unless you have one. 
Applications for eligible households are being processed on a first-come, first-served basis until the funds run out.
Paperwork and information
In order to access the funds you'll need to provide a photo ID, passport, EBT/Benefits Issuance card, birth certificate or school registration for everyone living in the apartment. Anyone with a social security number will have to provide it.
To prove the rental amount you owe, you'll need to present your lease, even if it's expired, or a rent receipt. If you don't have the paperwork, your landlord will need to get involved to show some kind of evidence that you've been living in the apartment without paying rent. You also need to prove that you currently live in the apartment you are claiming the rent for, whether that's with a lease, utility bill, bank statement, or driver license. 
Documenting your income is also a requirement and can be done through pay stubs, bank deposits or tax forms. If you don't have these, there may still be workarounds and you should reach out to one of the designated organizations or the call center for support. If you're applying for help with utilities, you will have to show a copy of your bill. 
Once you have the information it can be uploaded digitally via the application portal. If access to the internet or with uploading information is a problem the city organizations are there to help. 
Benefits
If your application is approved, your landlord will receive up to 12 months of unpaid rent accrued since March 13th, 2020. You will also get up to three months of additional rent assistance paid to your landlord if your household is rent burdened (ie: spends more than 30 percent of income on rent). Up to 12 months of electric or utility payments will also be paid back for those who are approved. 
The money will go directly to the landlord or utility company, although tenants will be notified about how much was paid on their behalf. The funds will be held for 180 days (six months) to make sure a landlord who is difficult to locate can be found. 
In accepting the funds, your landlord must also agree to waive any late fees accumulated during the period in which you are eligible for relief. A landlord must also agree to certain protections for tenants including not increasing your rent for a year and not evicting you for a year based on an expired lease or a holdover tenancy. (There's an exception if you are renting an apartment in building with four or fewer units and the owner has a family member who wants to live in the apartment full time.)
Landlords and property owners
Your application has the best chance of speedy approval if you are working with your landlord. Landlords can help by providing information, including a completed W-9 tax form, evidence of the tenancy in the form of a lease, documentation of rent due from the tenant, plus details of the bank account in which they want the direct deposit to be paid. 
Brick Underground articles occasionally include the expertise of, or information about, advertising partners when relevant to the story. We will never promote an advertiser's product without making the relationship clear to our readers.