The Market
Airbnb's suit against NYC's Local Law 18 gets dismissed. What's next for hosts?
Local Law 18 requires hosts to apply for a registration number to display on short-term rental listings
In her ruling Justice Arlene Bluth notes that Airbnb has 'known about these regulations for months'
Enforcement is set to begin September 5th; hosts who break the rules could face fines as high as $5,000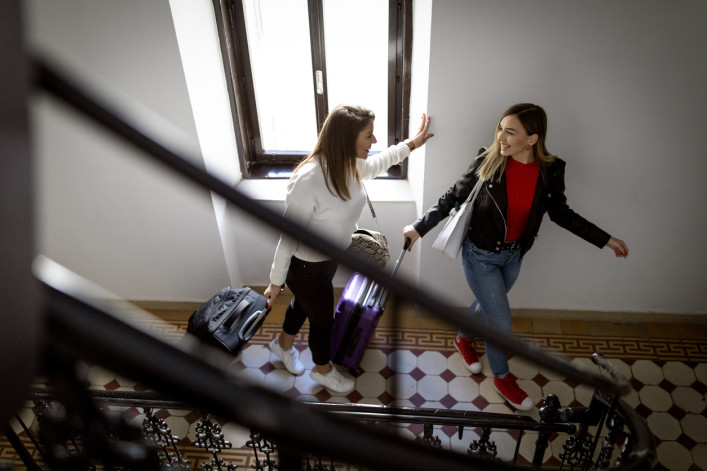 Now that a New York Supreme Court justice swatted down a pair of lawsuits brought by Airbnb and three hosts against New York City over new registration requirements for short-term rentals—what's next for hosts and tourists?
On Tuesday, State Supreme Court Justice Arlene Bluth dismissed Airbnb's attempt to block implementation of Local Law 18, which requires hosts to apply to the Mayor Office of Special Enforcement (OSE) for a registration number to display on short-term rental listings.
Enforcement is set to take effect as of September 5th. Fines for hosts who break the rules could be as much as $5,000 and platforms could face penalties of $1,500, Brick has reported.
Why Airbnb sued NYC
When it filed the lawsuits in June, Airbnb posted a letter on its website that referred to the new rules as "punitive and burdensome," resulting in a "de facto ban" on short-term rentals. "The city also requires hosts to certify compliance with several confusing city codes and does not allow hosts in private homes to rent their whole space while they are away," it said.
In its motion to dismiss, the city argued that the current affordable housing crisis is exacerbated by illegal short-term rentals. It points out that Local Law 18, adopted at the end of 2021, does not change long-standing rules for short-term rentals in NYC.
In her ruling, Justice Bluth notes that Airbnb has "known about these regulations for months" and has had lots of time to explain them to hosts.
She says the regulations "give Airbnb a very simple way to make sure it is no longer facilitating – and making money from—unlawful activity. All Airbnb has to do is properly verify potential listings."
In a statement responding to the judge's ruling, Theo Yedinsky, global policy director for Airbnb, says that the city's rules will hurt tourism and New Yorkers who rely on home-sharing for income.
"The city is sending a clear message to millions of potential visitors who will now have fewer accommodation options when they visit New York City: you are not welcome," he says.
What do hosts need to know?
If you're a host who hasn't registered your short-term rental because you were betting the lawsuit would go the other way, you can apply here. Be aware that Airbnb contends that OSE is processing applications at a "glacial pace," which means getting your registration number could take some time.
You need the registration number to display on your listing. Platforms such as Airbnb, VRBO, Booking.com, and others will be prohibited from posting listings for unregistered short-term rentals. 
You should also bear in mind that some NYC buildings may be on the Prohibited Buildings List. These are rental, co-op, and condo buildings that have told OSE they do not allow short-term rentals in their buildings, and registration requests from these buildings will be denied. (Buildings can add themselves to the list here.)
Will short-term rentals become long-term rentals?
Local Law 18 is modeled on similar legislation in cities around the U.S. The goal, according to the lead sponsor of the bill, former council member Ben Kallos, is to return illegal short-term rentals back to the housing market to alleviate the housing crisis.
Exactly how many units is hard to tell. An Airbnb spokesperson says NYC will lose thousands of accommodation options for visitors. More than 80,000 guests have booked stays starting on or after September 5th, including 10,000 guests whose stays land the first week of enforcement (September 5th-12th), the company says.
It's not entirely clear why hosts prefer short-term over long-term rentals. With NYC rents at record highs, there's a financial incentive to offer a traditional lease term. In December, Airbnb released a study by Boston University Professor Dr. Michael Salinger that found that most Airbnb hosts could likely earn more money renting their listings out on a long-term basis.
"Hosts presumably have other reasons for not renting out their homes on a long-term basis, and discouraging hosts from offering their units on a short-term basis is unlikely to make them add their units to the supply of permanent housing," he says.
On the other hand, those reasons could include a wide range of safety factors, including compliance with NYC housing and zoning codes.
In the city's response to the suit, Christian Klossner, executive director of OSE, says that "[r]egistration and verification also prevents illegal units, such as entire homes, illegally converted cellars, and illegal subdivided units, from being listed and incentivizes the return of those units into the housing."
Brick Underground articles occasionally include the expertise of, or information about, advertising partners when relevant to the story. We will never promote an advertiser's product without making the relationship clear to our readers.