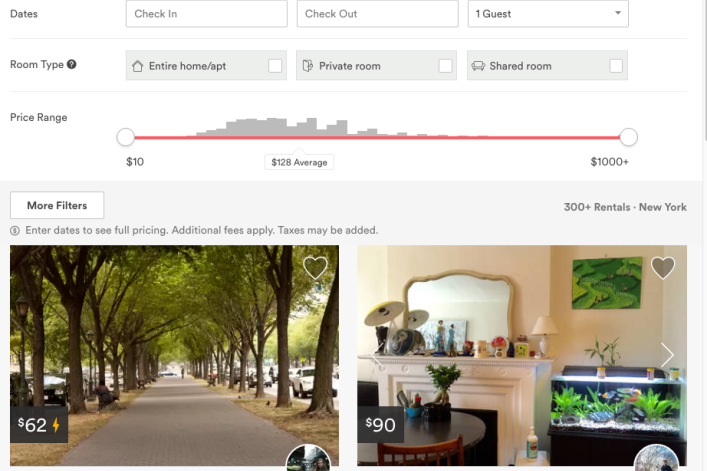 Bad news for Airbnb in NYC, or at least it really looks that way. On Friday, the New York State Senate passed a bill to ban short-term listings in the city. First-time offenders would be fined $1,000; a third infraction would cost $7,500.
In an editorial in the New York Daily News last week, Linda Rosenthal, a Democrat and sponsor of the bill, said the "crackdown on illegal hotels would force serial lawbreakers who profit from the depletion of our affordable housing stock to pay hundreds of thousands of dollars in fines. In addition, the bill will enable us to potentially recapture thousands of residential housing units that could be made available for real, hardworking New York families." 
Airbnb has long had a tumultous relationship with NYC politicians, who say that the short-term rental site takes away affordable housing from full-time New Yorkers and actually raises prices (landlords who know they can get more money per month with short-term rentals opt to do that instead of offering their apartments for long-term renters, they claim). Some New Yorkers also say that Airbnb hosts make their buildings feel more like hotels. And any rental that's less than 30 days violates the city's Multiple Dwelling law.
Airbnb has frequently claimed that extra income from Airbnb actually helps New Yorkers afford their apartments, and that the vast minority of Airbnb hosts have more than one property on the short-term rental listing site (though their numbers have been disputed too).
In a statement, Josh Meltzer, head of New York public policy at Airbnb, says: "It's disappointing—but not surprising—to see politicians in Albany cut a last-minute deal with the hotel industry that will put 30,000 New Yorkers at at greater risk of bankruptcy, eviction, or foreclosure. Let's be clear: This is a bad proposal that will make it harder for thousands of New Yorkers to pay the bills."
Plus, he says, "dozens of governments around the world have demonstrated that there is a sensible way to regulate home sharing and we hope New York will follow their lead and protect the middle class."
It's now up to Democratic Governor Andrew Cuomo as to whether to approve or veto the bill. A spokesperson for the governor told the Wall Street Journal only that his office will review the legislation.
Brick Underground articles occasionally include the expertise of, or information about, advertising partners when relevant to the story. We will never promote an advertiser's product without making the relationship clear to our readers.