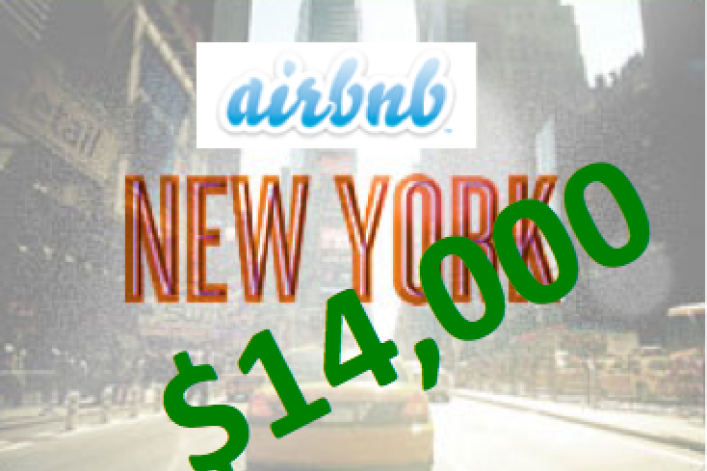 The rent for my 225-square foot, one-bedroom apartment in a Murray Hill non-doorman building is $1,525 a month. When I travel, I offset my costs by renting out my apartment by the night (three-night minimum) through AirBnB.com. Yes, I let total strangers stay in my place—42 guests in two years. I've collected $14,000 (after AirBnB takes its cut). And I recommend it highly.
Here's what you need to know, in case you'd like to try it yourself. [Ed.'s note: Before you do, remember that it's illegal to rent out a NYC apartment for less than 30 days.]
Frequent traveler's dream
I travel a lot, and my trips guide my AirBNB use, since my apartment is my primary residence and is too small for me to both host people andstay here myself. As soon as I've booked my latest jaunt, I make the dates available on the AirBNB site—even if I'm only going to be gone for a week. I charge $99 a night, with a three-night minimum and a three-month maximum. Last year I went to Spain for three months, and I had people stay in my place the whole time. That's almost $9,000.
Generally speaking, people stay for a week at a time. So if I'm gone for three weeks, I may have three separate sets of  visitors here—some staying for five nights, some for seven, some for nine. They overlap.
Key Problems
The key thing has been my sticky wicket. It's been a complete pain in the ass. I haven't figured out a good system for that yet. Sometimes I have a trusted friend in the neighborhood handle the delivery and pickup, but she's a real Chatty Cathy, and if the guests are getting in at 2 a.m., I don't want to frustrate them by making them have to deal with talking to her for an hour.
Other times I've used my local diner, but there have been miscommunication problems. If the night-shift manager doesn't talk to the day-shift manager, the guest may not get the keys at all. Then I have to get my super involved from wherever I am, which is not ideal.  To make up for the inconvenience, I'll make him some bread or give him some cash. He likes me, so I'm lucky.
If I had a doorman, it'd be a different story, but legally, doormen aren't supposed to pass people keys. (It's against their code of honor, or something.) About fifteen times, I've had doormen in my neighborhood pass the keys on, but I've had to put the keys in a pouch or bag first so they don't know they're keys. Some doormen are like, "What's going on with this pouch?!" I just try to play it off. Others are like, "It's keys! I'm not going to give it to anyone for you!" So yeah—the key thing is a problem.
I first got involved with AirBNB five or six years ago, when I shared an apartment in Carroll Gardens. Having an agreeable roommate made the whole thing a lot easier. I would pay somebody a key fee to facilitate things, if I could. There's a great business to be had there for someone....
Guest plan
I prefer to rent to Europeans, because they understand small-space living. Americans are like, "How could you live here?! It's too small!" I'm like, "Go fuck yourself. Don't stay with me, then!"
In my AirBNB description, I'm super clear when describing my apartment. I say there's a maximum of two adults allowed—period, amen, no exceptions. I'm brutally honest: "There's no TV. Yes, there's WiFi. It's a tiny apartment; the reason the price is low is because it's a launching pad. You're not staying here to watch TV."
I put together a welcome packet with instructions written in English, Spanish and French. (I need to get them in Italian too!) Basically, these relate the apartment's quirks: "The water in the bathroom gets really, really hot. Be careful! The overhead light in bedroom is behind the door; you have to go in and shut the door to find it. There's coffee and eggs and bacon in the fridge. Help yourself—you don't have to replace it. Please replace wine and chocolate, though. Help yourself to the towels. When you leave, strip the bed and put the dirty sheets and towels on the floor, so the cleaning lady knows what to swap out." (I have the cleaning lady come before and after each guest.) 
I've made room in my dresser and my closet for guests to put things, and I decided to pay for permanent WiFi. I have my welcome packet of maps. I also invested in high-thread-count sheets, hotel-grade pillows and a great bed, because that's what I prefer.
Screening
When people ask to rent my place, I do vet them. I look at their AirBNB profile and then e-mail them, saying, "Tell me about yourself. Who are you traveling with? Why are you coming to New York City? Why are you using AirBNB?"
That dialogue gives me more info about their trip, who they are, what they do for living. If they don't have their AirBNB profile filled out fully, I'm even more rigorous in my questioning. And I kinda don't rent to anyone under 30, just to be a little safer.
Other than my laptop (which I always have with me, because of my digital-advertising job), I just leave everything in my apartment. I don't hide anything. I kinda don't care. I operate under the assumption that people in the world are good, and if you expect good things from good people, you are usually rewarded with good things.
Yes, I even leave my jewelry out. I don't have anything expensive, but I do have some nice costume pieces. Nobody has ever touched it. In all my years of doing this, not one guest has ever stolen anything—a dish, a book, an item of clothing. Nothing.
AirBNB recently changed their insurance policies, so they cover tons of damage now. It's good to know that if someone trashes your place, you're covered. Ten or twelve years ago, I totally would've used Craigslist, too, but now there are too many idiots with Internet access.
Two small things do stand out in my mind. I have a book called The One-Hour Orgasm, and once I noticed it'd been pulled out of the bookshelf. I thought, "Good for you!" Another time, someone cracked the remote to my Bose docking station when trying to change the battery. It cost me $9 for a new one. Big deal.
In fact, instead of people stealing from me, they have left me nice gifts! I've been given some jamón from spain, olive oil from Italy, a beautiful book about New Zealand. And here's a funny thing: I have found that guys tend to leave one dirty sock behind. I don't get it. Maybe they want to come back?
Virgos would go insane at all this, probably. But if you're the kind of person who says, "What about my stuff?" I say, "Shut up. Don't use AirBNB."
Bugaboos
No, I have never had bed bugs from my AirBNB guests. I'm not really worried about it. And no one has ever asked me about bed bugs. Believe me: I don't take the issue lightly. I survived having bed bugs in Brooklyn six years ago, and it was awful. But I don't worry about it. I just don't.
I have been inconvenienced exactly two times. In the first instance, my English-speaking French guests—a couple—were supposed to leave the day I came back. I arrived at my apartment to find that the guy was freaking out because he'd lost his passport. He was like, "Holy shit! What do I do?!" I had to talk him down from the ledge: "Stay calm. You'll be fine." I called a friend who spoke French and had him explain everything clearly: "This is what you need to do. This is where you need to go. Good luck." They had to stay an extra day; I stayed with a friend. I didn't charge them, because the poor guy was beside himself.
Another weird incident occurred when one guest—a Brazilian guy—wanted to leave late in the day, and the overlapping guest—an Italian guy—arrived earlier. The Brazilian was supposed to be out by 1 p.m. and was still there when the Italian arrived at 7. It was a clusterfuck because there wasn't room for both of them.
To top it off, I was having an ant problem at the time, and my Hispanic housekeeper was trying to deal with that. So you had a Spanish-speaking housekeeper, a Portuguese-speaking guy and an Italian-speaking guy all trying to deal with each other. Meanwhile, I was Skyping them from another country, trying to fix this shit and placate everybody remotely.
I felt sorry for the Italian guy and ended up comping him a night. I told the housekeeper to get some Raid. And I e-mailed the Brazilian guy and told him he was out of line for staying in the apartment too long and inconveniencing other people. I gave him a bad review on AirBNB, too—my first and only one. 
Finances
As far as getting paid goes, AirBNB does it all through Paypal. The visitor pays AirBNB, they hold the funds in escrow, and when the guests leave, I get paid.
My place always rents out really fast, I think because my rate is so low. (I don't think it's fair to charge people more for such a small apartment.) I always end up having to turn people away. My apartment is in a primo location for tourists. If you walk out the door, you can see the Empire State Building and the Chrysler Building. Grand Central is a ten-minute walk. They're here to see the sights, so they love it!
In summary, I see abundance, not scarcity. The best thing about AirBNB is, it makes you a citizen of the world. You're looking out for other people, and if you look out for them, they'll look out for you. In other words, you get the opportunity for reciprocity. I've been invited to Malaga, to stay with a couple in New Zealand.... I often stay in touch with people beyond just the rental period, especially if they stayed in my place for an extended period of time. It's great!
Related posts:
Yes, it's still illegal to rent out your apartment for less than a month
A few safeguards for furnished sublets
The first 36 responses to my Craigslist ad for my $750/month share
Craigslist scam buster: Check AirBnB.com before handing over the cash
Brick Underground articles occasionally include the expertise of, or information about, advertising partners when relevant to the story. We will never promote an advertiser's product without making the relationship clear to our readers.