The Search
An agent tried to trick me with a sublease instead of lease. Here's how I responded
Michelle became suspicious when the agent made inappropriate and unprofessional comments
She realized she wasn't dealing with the primary owner and asked to see the original lease
The agent got angry and informed Michelle and her roommates they were no longer approved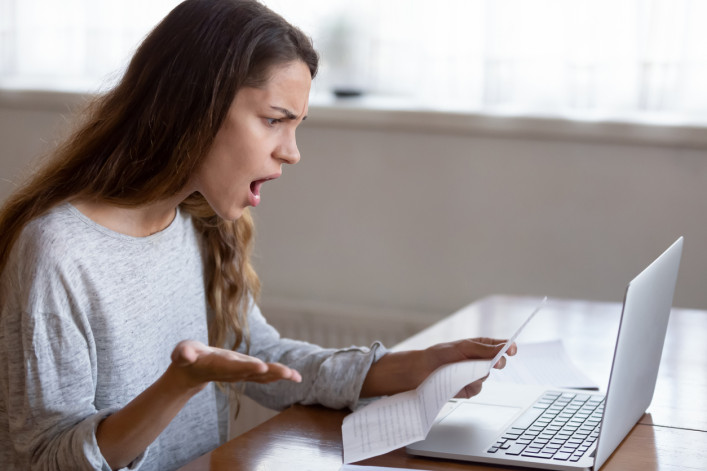 When searching for her second apartment in New York City, Michelle scoured StreetEasy for months and finally found the perfect place for herself and two other roommates in Crown Heights. But the agent's strange behavior raised red flags. And when she saw that the lease was actually a sublease, she knew something wasn't right.
I had been living in my apartment for a year when I decided I wanted to pay less rent and move somewhere bigger. And I was kind of over the East Village-new graduate experience. We found a nice, modern, and renovated apartment…but after I found out it was a sublease, they wouldn't tell me if it was legal for the tenant to sublet it.
---
[Editor's Note: Brick Underground's Inside Stories features first-person accounts of dramatic, real-life NYC real estate experiences. Have a story to share? Drop us an email. We respect all requests for anonymity.]
---
I had been living on HotPads and StreetEasy, checking them every 15 minutes to see if something came up. I saw this listing that was pretty good—I think around $4,000 for a three bedroom—and it was 1,400 square feet and was just renovated. It was super nice. It looked like a really good place and a convenient location. So I was excited about it.
The agent was a bit weird. He asked if he could message me on WhatsApp to show me videos of the apartment, even though we were texting. But I said sure, so I messaged him on WhatsApp. And he responded, "You like me to tell you why I offered you to watch the video? [sic]" 
No, I was not wondering why—he's an agent. Of course he's going to offer to show me a video. But I said sure. He responded: "Because you have a very lovely name which is my favorite. Deserve to watch a beautiful apartment, let me know if my guess was right! [sic]"
So he's speaking a little broken English, and I'm thinking maybe this is a scam. I thought maybe I shouldn't go to tour it. What if he tries to kidnap me? Eventually, he texted me again to ask if I still wanted to come to the apartment. Because I was so desperate I said yes. He told me his partner was going to show me the apartment and I went.
It was the same apartment from the video and the photos. And the other agent was nice. I remember he was wearing the Jacquemus and Nike collaboration sneakers. (I noticed them because those are really expensive sneakers).
The place seemed normal
The apartment was nice, modern, renovated, the only downside was it was up three really big flights of stairs. But it was a good deal relatively. So I texted my roommates and said the apartment is great, we should apply, so we did. We put down a $500 good faith deposit. The agent said after we pay the deposit, we're not going to show the apartment to anyone else. We're not going to accept applications from anyone else. So I sent them the money and we applied.
The agent calls me and both of my two roommates with questions about our paperwork—everything seems normal. Then they email me saying you can have the apartment, and send me the lease. I open it, and it says it's a sublease agreement.
I assumed it was a mistake. Everyone has talked to the agent, I've met the agent, we've had so many interactions—why had no one said it was a sublease? I emailed him back to ask: what is this? 
I got a phone call from the original agent who said yes, it's a sublease. The guy who lives there is out of the country for school for a couple of years so he's subletting. But no one said anything about it until I literally opened the lease. Did they expect that I just wasn't going to notice?
No assurances
I didn't want to sublet. I was looking for somewhere that I could live for a while so that I wouldn't have to move in a year or two. I told the agent, "We're paying you a $4,000 broker fee. You didn't mention this at all. That is not okay."
He says he just forgot, and was not very nice. He said you can't guarantee that you're going to live anywhere for a long time. What if you move into an apartment and the owner wants to sell the building? But an owner selling a building seemed a lot less likely than someone coming back to live in their apartment. And if you can't guarantee that this person isn't going to come back next year, then I would have paid a $4,000 broker fee for no reason. 
The agent was angry—whatever. I asked him if he could lower the broker fee. He said no, and that he actually had other people who had put a deposit down, so he could move onto the next person. But he told me that if I paid the deposit, he'd stop showing it and wouldn't take other applications. So what was the point of me paying the deposit? 
I told him I needed to talk to my roommates and I did some research. I asked the agent to send me the original lease agreement. I wanted to make sure the renter has the ability to sublet it. Then we got another email from the brokerage company saying we were no longer approved for the apartment. They said the lease is private paperwork, and couldn't show us. They said they'd return our money instead. 
That was the end of it. It seemed really sketchy. I don't know why they couldn't show us the lease. But I feel like we made the right move. Sure, it might have been okay; they had offered us a two-year lease instead of one year. Maybe if they had been upfront about it I would have felt differently, but there was already so much lying and being sneaky. Who knows what else they would lie about?
Lesson learned
So make sure to read your lease. If there's anything in the lease that seems weird, ask them about it. If it seems sketchy, it's probably better to back out. Luckily, nobody lost any money in my case. 
Also if you have an agent that you think is a little bit creepy, try not to go alone. And definitely tell someone where you're going.
Brick Underground articles occasionally include the expertise of, or information about, advertising partners when relevant to the story. We will never promote an advertiser's product without making the relationship clear to our readers.