If you're looking for a sleek, modern apartment in a building with all the bells and whistles (you know, wine cellar, game room, the works.), this $1,625 true one-bedroom in Woodside, Queens is probably not for you. But if you're looking for an affordable one-bedroom with some space to move (especially in the kitchen), you may want to consider it.
The apartment is a third-floor walk-up in a prewar multi-family. It happens to be equally close to the LIRR and 7 train, which offers you two different types of commutes. 
We'd imagine that as the L train shuts down service in coming years, apartments on the 7 line like this one will go up in price.
So is it worth making a move now? We asked our experts (and veteran renters), real estate research and analytics firm NeighborhoodX founder Constantine Valhouli and freelance writer Lambeth Hochwald, to weigh in with me on this week's Take It or Leave It.​
The apartment:
Size: One-bedroom, one-bath
Location: 39-12 61st Street (between 39th and Woodside) 
Monthly rent: $1,625/month
Flexible layout: Yes
Days on the market: 3
Subway: 7 at Woodside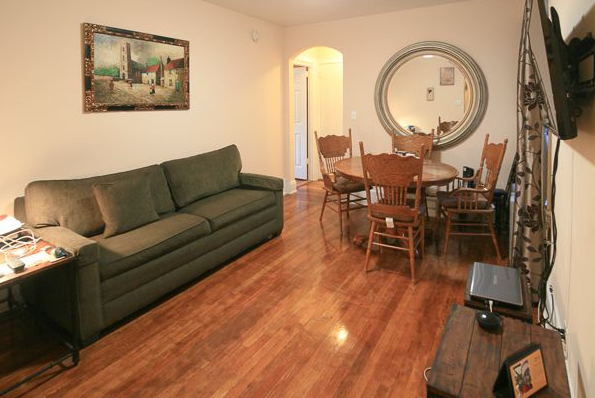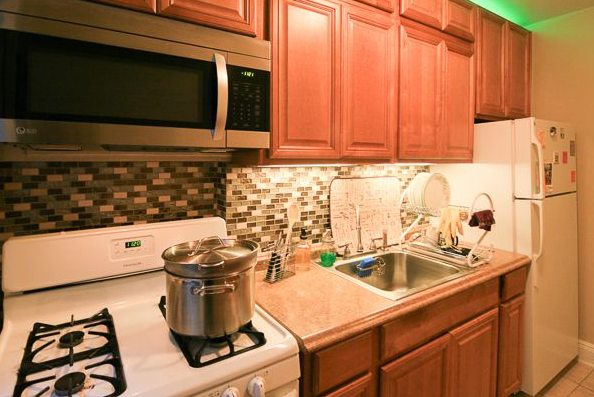 Pros and cons:
"I appreciate the generous size of the kitchen, and apparently the bedroom is big enough to fit both a bed and a crib (as per the photo), so that's worth noting. Of course, this isn't a fancy apartment and it's likely not a fancy building and it's not in one of Queens' hipper neighborhoods. That said, Woodside is bustling and close to the subway with an easy commute into the city. You could do worse." —Lucy
"Pros: A 30-minute commute to Midtown for a renovated one-bedroom asking $1,625 per month — especially given that the average for one-bedrooms in the neighborhood is closer to $1,825/month. But, the listing does not include square footage, which makes it difficult to make a truly informed decision. And the photos aren't of the actual unit, but of a similar unit in the building." —Constantine
"Calling this Queens one-bed 'gorgeous' is a wee bit of a stretch, though I do like the kitchen backsplash. Thing is, the place feels a little cookie-cutter for my taste despite the fact that it's basically right in the heart of Woodside." —Lambeth
Who this apartment would be perfect for:
"A recent graduate (in good shape) who really wants to live roommate-free." —Lucy
"Woodside, like Yorkville, is becoming a destination for young professionals who are looking to live relatively affordably without roommates. This one-bedroom seems to highlight the bargains that can still be found in the neighborhood. It also lends itself more to someone who works in Midtown rather than downtown, as this could add about 15 to 20 minutes to the commute. (Also, it would be well-suited to someone without pets)." 
—Constantine
"A single who works near the 7, R or M train who wants a quick and easy commute into Manhattan." —Lambeth
The verdict(s):
TAKE IT: "First make sure that the actual apartment looks like this (and that the kitchen renovation is as nice)." —Lucy
TAKE IT: "And look forward to a year of exploring the burgeoning museum and dining scene in Queens." —Constantine
LEAVE IT: "Sorry to say—it's nothing special and a third floor walk-up at that.." —Lambeth