Transitions
Woodside, Queens to Bay Ridge, Brooklyn: Better restaurants, a more residential area, and a tougher commute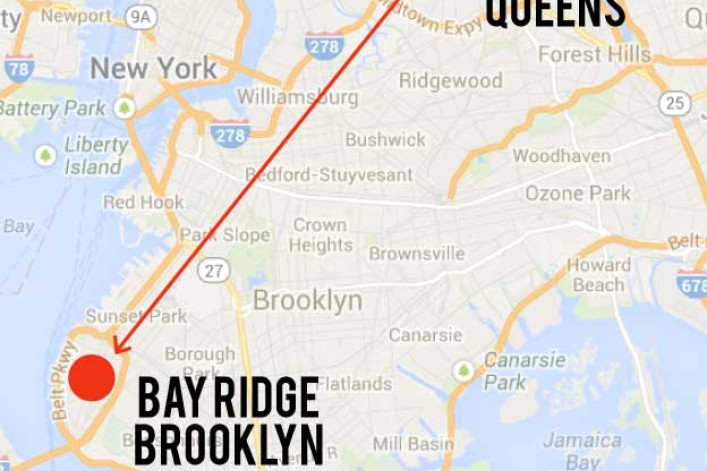 When I moved to Woodside, Queens in May 2012, I was fresh out of an undergrad program at NYU and basically broke after paying $1,200 a month for my shoebox bedroom (11ft x 6ft) in Alphabet City for a year.
In no position to pay a broker's fee or spend weeks looking at different locations, my boyfriend and I decided the best option would be for me to move into his Woodside apartment and split the rent with him and his two roommates.
Located on 55th Street between Woodside and 39th Avenues, the apartment was on the first floor of a multi-family home in a quiet neighborhood. We shared the space with a close friend and a random person from Craigslist, who had his own entrance and was rarely seen or heard. Our landlord and his family occupied the apartment above us.
In total, we were paying $1,850 for the massive 3-bedroom, which included a separate eat-in kitchen and a spacious living room. The bedroom that I shared with my boyfriend was approximately 11ft x 15ft with two very large closets. We split the $675 cost of our room and, with utilities, I was paying around $400 a month.
Despite the affordability, the apartment wasn't in the greatest condition, nor was it aesthetically pleasing. Our bedroom walls were covered in hideous wood paneling and we had a drop tile ceiling—a 1970s nightmare. A running list of repairs included poor water pressure, faulty pipes, rotting doorframes and shoddy patchwork done by a hobbyist repairman landlord.
Though I wasn't enamored with the apartment, I did come to love the neighborhood. Historically Irish, the main stretch along Roosevelt Avenue is still dotted with pubs and lilting accents, though the area today is much more diverse. Woodside's population is comprised of Filipino, Thai, Korean, Bangladeshi, Pakistani, Indian, and Latino, and all groups bring their unique flavors to the local cuisine.
Among my favorite eateries were TJ Asian Bistro, a small but lovely restaurant specializing in some of the freshest sushi I've ever tasted, and De Mole, an inexpensive, authentic Mexican restaurant with savory tamales, lively ceviche and spicy Micheladas. Donovan's Pub is a fixture and serves one of the most delicious burgers around, and Ayada Thai's signature dishes all pack a seriously spicy punch. Surprisingly though, we were unable to find a decent pizzeria or Chinese restaurant.
One of the absolute best things about the neighborhood was its accessibility. We lived in close proximity to the Northern Blvd stop for the M and R trains and the 61st Street stop for the LIRR and 7 train. Getting around Queens and Manhattan was no problem at all, and I generally made it to my office in Chelsea in 35 minutes.
Traveling to Greenpoint or Williamsburg in our car was fairly quick and painless, but if we couldn't be bothered to drive, we'd have to deal with the mind-numbing wait for the G train at Court Square or take the hour and a half ride on the R train.
In June 2013, it came time for us to part with Woodside. We both liked the neighborhood, but a change of scenery seemed nice and we had heard great things about Bay Ridge, Brooklyn from friends. Most of all, we didn't want to have roommates anymore. Before we began our search, we drove through the area and really liked the vibe. It had the quiet, residential charm and wide array of cuisines that Woodside had offered but with a bit more attitude. Woodside is the sort of neighborhood that feels like it's there to be molded by you, a true example of the "it's what you make it" mentality. Bay Ridge, on the other hand, has its own energy and personality--that aura of old Brooklyn.  
In a stroke of dumb luck, we signed on the first apartment we viewed in Bay Ridge: A 1-bedroom, 2nd floor walk-up with a terrace and separate kitchen for $1,300 a month. Well-kept in a quiet 12-unit apartment building, it came in at several hundred dollars under our budget and offered over 600 sq. ft., an outdoor space and tons of natural light.
Our new place is just off of the BQE, on the edge of Bay Ridge and Dyker Heights. Just a couple of blocks from the main strip of 86th Street, we have access to large chains like Century 21, Brooklyn Industries, Aldo, TJ Maxx, Starbucks and New York Sports Clubs, among others. Local vendors and family-owned restaurants are primarily located on 3rd, 4th and 5th Avenues.
The neighborhood was once primarily Irish, Italian and Norwegian—all evidenced by the popular local pubs, great pizza joints (yes!) and delectable bakeries—but Greek, Russian and, most recently, Middle Eastern populations have since made the area home.
While the food was great in Woodside, we find the restaurants in Bay Ridge to be generally more interesting and of better quality. A few of the gems we have discovered include California-style tacos at Ho' Brah; a neighborhood staple of beer and wings at The Kettle Black; authentic Moroccan food at the tiny seven table Casablanca; farm-to-table dishes and beet ketchup at Brooklyn Beet Company; delicious and affordable takeout at Something Greek; and yummy treats at Leske's Bakery.
Our grocery store is a newly renovated and family-owned Foodtown located at 91st Street and 3rd Avenue. It's a 12-minute walk or a 5 minute drive away, so the location isn't as convenient as our old Stop & Shop, but the quality is on par. We haven't tried any of the other smaller groceries around, but we've heard good things.
Bay Ridge also offers stunning views. The Verrazano-Narrows Bridge is always a lovely sight as I'm walking to work in the morning. Heading north along the Shore Road Parks Conservancy, there are great views of New York Bay and Staten Island.
Unfortunately, the transportation doesn't quite measure up. We're a 10-minute walk from either the 86th Street or 92nd Street R stations, so our options are limited. I switch from the R to the N train at 59th Street in Brooklyn every morning, since the R tunnel is under construction for the next year. 
Depending on delays, I make it to work in 40-45 minutes, so it's a slightly longer, more annoying commute. Even still, I find our relocation to Bay Ridge worth it for the price, amount of space, great neighborhood and best of all…no roommates.
---
Transitions highlights New Yorkers' first impressions as they transition from one neighborhood to another. Want to tell us your transition story? Drop us an email.
Brick Underground articles occasionally include the expertise of, or information about, advertising partners when relevant to the story. We will never promote an advertiser's product without making the relationship clear to our readers.