Buy Curious
Should you buy in Woodside or Sunnyside BEFORE the L train shutdown makes them more popular?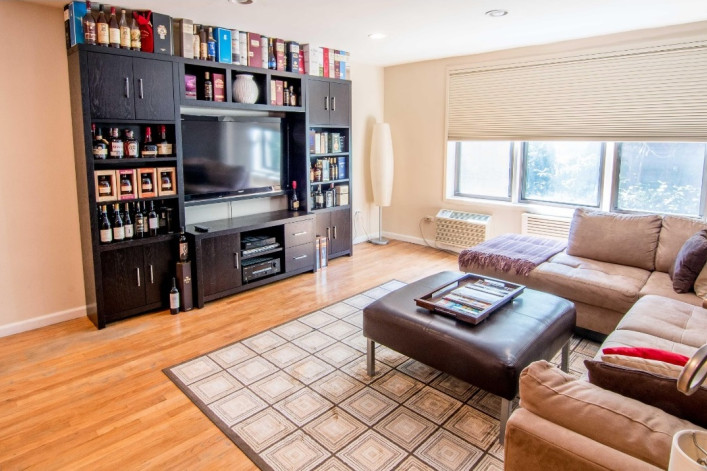 Queens neighborhoods along the 7 train line—including Sunnyside and Woodside—are expected to experience a real estate boom thanks to the MTA's plans for an 18-month shutdown of L train service between Manhattan and Brooklyn starting in 2019, according to a recent report from Ariel Property Advisors.
In this week's Buy Curious, Jai Lee of Mdrn. Residential, Jessica Escobar of Citi Habitats, and Susanne Gutermuth of Douglas Elliman talk to us about how to determine which of these "side" neighborhoods, if any, might be right for you.
The proposition:
I've been hearing a lot about Sunnyside and Woodside. Can you tell me more about each of these neighborhoods so I can decide if and when I ought to move there?
The reality:
"People are now learning about Sunnyside and Woodside and considering them as cost-saving options to [continue] living in New York City," says Mdrn. Residential's Lee, who is familiar with both "side" neighborhoods. Here's more info on each locale:
Sunnyside
What makes it a great place to live?
Sunnyside, which is roughly a half-square-mile long with a population of 27,000, is "an excitingly diverse neighborhood with a farmer's market, lots of playgrounds, and local stores and restaurants," says Douglas Elliman's Gutermuth. "People know their neighbors, and care about each other."
Located in western Queens, Sunnyside's boundaries include Skillman Avenue (to the north), the Brooklyn-Queens Expressway (to the south), Newtown Creek (to the west), and 52nd Street (to the east).
The 7 train stops at multiple stations in Sunnyside—33rd Street, 40th Street-Lowery Street, 46th Street-Bliss Street and 52nd Street. Riding the train from Bliss Street to Grand Central Terminal takes roughly 20 minutes. In addition to the 7 train, there are a slew of buses that service the area. Additionally, the planned East Side Access project includes a new Long Island Rail Road station in Sunnyside at Queens Boulevard, which will provide easy access into Midtown Manhattan. 
Last year, the New York Times ran a profile on the Queens region, calling it "an old-fashioned New York neighborhood of squat prewar apartment buildings, rowhouses and shopping streets that still have mom-and-pop businesses."
It is noticeably different from other areas of Queens that have been gaining in popularity recently—such as Long Island City. Whereas LIC is all glass towers and in-your-face modernity, Sunnyside is brick buildings and a sense of history. It isn't flashy, but then again, neither are the folks who live there.
Although it was once an Irish-American enclave, the working-and middle-class neighborhood has welcomed individuals from a raft of other nations in recent years. According to this Department of City Planning report from 2013, immigrants from Ecuador, Colombia, China, Korea, Bangladesh and Mexico now call Sunnyside their home.
Gutermuth adores the melting pot that ensued, resulting in such varied options as Greenpoint Avenue's Thalia Hispanic Theatre, which touts itself as "the only bilingual Hispanic theatre in Queens," and Nita's European Bakery—also on Greenpoint—which specializes in Romanian-style cakes and pastries.   
Gutermuth also notes that "there is also a big emphasis on arts and community with events like the Sunnyside Gardens Flea Markets and street fairs, art crawls, etc."
She says she especially loves that the "public spaces under that 7 train have been turned into seating areas, with live music every third Thursday" at Bliss Plaza.
In addition, Gutermuth notes that the area has "a great community center for the elderly (the Sunnyside Community Center for Active Older Adults), a newly renovated library" and the Thomas P. Noonan, Jr., Playground, which has basketball and handball courts, new play equipment, swings and a toddler area. Gutermuth calls it "the best playground in Queens."
What's available housing-wise?
"We have a beautiful kaleidoscope of properties," says Gutermuth. "The jewel of Sunnyside is Sunnyside Gardens." This Sunnyside subsection was built in the 1920s. Each private home there has a small front garden, as well as a private garden in back. There, "you get that 'old New York' neighborhood feel, with big trees framing the streets," says Gutermuth. "There are attached row houses with community gardens, mainly single-family houses, with some two-and three-family units mixed in." 
In Sunnyside proper, Gutermuth says most of the larger buildings are pre-wars erected in the 1930s and 1940s, and are a mix of rentals, condos, and co-ops. There are also some newer buildings, which are primarily condos. "Most of the apartments in Sunnyside are one-bedrooms, so the two- and three-bedrooms are very sought after and can demand a premium," explains Gutermuth. 
What's pricing like?
According to appraiser Jonathan Miller, "the real price trend is seen through the eyes of co-ops" here. For Sunnyside, "the co-op median sales price [this year] was $300,134, up 19.6 percent from [last year's] $250,875."
Gutermuth notes that, "Sunnyside Gardens houses go from the high $900,000s to $1.2 million, depending on the level of renovation and the size. Outside the Gardens, you can still find one-family houses for a little less. One-bedroom co-ops range from $200 to $400K, depending on the location and size. The closer to the subway, the more desirable."
Adds Lee: "You can find great places for less than half the price you would pay in Manhattan."
What are the most significant changes that have occurred in Sunnyside in recent years?
"Restaurateurs are starting to discover Sunnyside as viable locations for their restaurants," says Gutermuth. New eateries include The Lowery Bar & Kitchen, which serves modern American cuisine and craft beers; Venturo Osteria & Wine Bar, an Italian joint where the bread is baked in-house; and Blu Orchid, which dishes up modern interpretations of classic Thai dishes.
In addition to all the new places to dine, Gutermuth has noticed other upscale businesses arriving in Sunnyside, including a Starbucks and a Caffé Bene that have opened in the last few years. Also, "the supermarkets in the area have really stepped up their game, with renovations and with more options for organic produce and products."
But not everyone has been happy with the changes that Sunnyside has been seeing. Some residents have in fact become so upset by what they've seen happening in their neighborhood that they formed the Queens Anti-Gentrification Project last year. Made up of a group of folks from Sunnyside, Woodside and Jackson Heights, the Project aims to try and avoid what has already occurred in Brooklyn. "The hardworking people who make these [Brooklyn] neighborhoods… are now being forced out because of higher rents," co-founder Dan Raymond told the Sunnyside Post. "The small immigrant businesses are disappearing and the big stores are moving in."
Lee explains that she has personally witnessed mixed feelings among locals. "I've met owners of investment properties who are happy with the rise in rental prices and the value of their units. I've also met residents who are unhappy with the rising prices and competition for desirable units."
Woodside
What makes it a great place to live?
Woodside, a residential and commercial region of western Queens, is bordered by the Grand Central Parkway (to the north), Laurel Hill Boulevard (to the south), the Brooklyn-Queens Expressway (to the east), and 49th, 50th, 51st and 52nd Streets (to the west).
It "is an already developed neighborhood with middle-class residents from all over the world," says Escobar of Citi Habitats, who grew up in Sunnyside, but has lived in Woodside for the last 15 years. "We have an amazing diversity of cuisine," she says, noting the recent openings of two new upscale brunch places, including Cote Soleil, a French eatery on Skillman Avenue, and Karu Café on Roosevelt Avenue, which serves Venezuelan and Paraguayan fusion.
The 7 train stops at several stations in Woodside—52nd Street, 61st Street and 69th Street. The R and M stop at Northern Boulevard. The ride to midtown Manhattan should take about 30 minutes. There are also numerous buses that service the area. Additionally, there's a Woodside station of the LIRR connected to the 61st Street subway stop.
The early 20th century saw a flood of immigrants of Irish, German and Italian descent to Woodside. But more recently, the region has drawn folks from Central and South America, as well as Asia. There is also a large Filipino population in Woodside, who have created an area known as Little Manila along a section of Roosevelt Avenue from 62nd to 71st Street. There, you'll find a slew of Filipino-owned businesses, including shops, restaurants, beauty salons, medical and dental offices and more.
There still aren't a lot of big-box retailers and restaurant chains in Woodside, so the region has "a true neighborhood feel with a lot of old-school businesses that have been around for generations… And unlike some areas, like the Long Island City waterfront, for example, it has all the retail infrastructure (pharmacies, dry cleaners, fruit and vegetable markets) that make living here super-convenient," says Escobar.
It also "offers a variety of types of living—tree-lined block with cute houses or apartment complex with amenities," adds Lee. "You are also close to Astoria, Long Island City, Flushing and Brooklyn. Plus, you're not far from Manhattan."
What's available housing-wise?
"Woodside is more a mix of commercial and residential than Sunnyside," says Lee. "You can find quiet blocks with detached single-family homes and other blocks with towering co-ops. You'll see many pre-war [buildings offering] generously sized rooms. Because of the shortage of condos and new developments, they often go for above asking prices and bidding wars [often occur] within a week of [a property] going on the market."
Escobar concurs. "There is very limited inventory and people who want to sell will get multiple offers and expect to trade above ask."
What's pricing like?
Prices in Woodside have "gone up in the last couple of years but you get a lot more space and value then in neighboring Sunnyside," says Escobar. 
According to Jonathan Miller, "the co-op median sales price [in Woodside this year] was $285,500, up 9.8 percent from [last year's] $260,000."
What are the most significant changes that have occurred in Woodside in recent years?
"We are starting to see more people who are moving from Manhattan for the extra living space and who value the idea of a true neighborhood," reports Escobar. "Several years ago clients wouldn't have been willing to expand their search beyond Astoria or Long Island City. I now have clients asking me about Sunnyside and Woodside all the time. When they see how close these neighborhoods are to the city and how much activity and vibrancy these communities have—they are sold." 
Escobar also notes that "the types of restaurants [in Woodside] are changing. There is more variety and a more upscale atmosphere," such as the aforementioned Cote Soleil and Karu Café. Lee adds that she's noticed new gyms, including a Blink Fitness that opened on Roosevelt Avenue last year, as well as dog day cares, which she terms, "another sign of gentrification." 
But while some Woodside locals are overjoyed by what's been happening in their area, others are less than ecstatic. "Long-time residents have mixed feelings," says Escobar. "On one hand, it's giving everyone more choices and a variety of new restaurants and businesses—many of which are still locally-owned. It's not 'invasion of the chain stores' yet. I'd think locals who live in apartments with market-rate leases (not stabilized) would be the most nervous as their rents have the potential to rise the most to meet the increased demand for housing."
Check out these listings: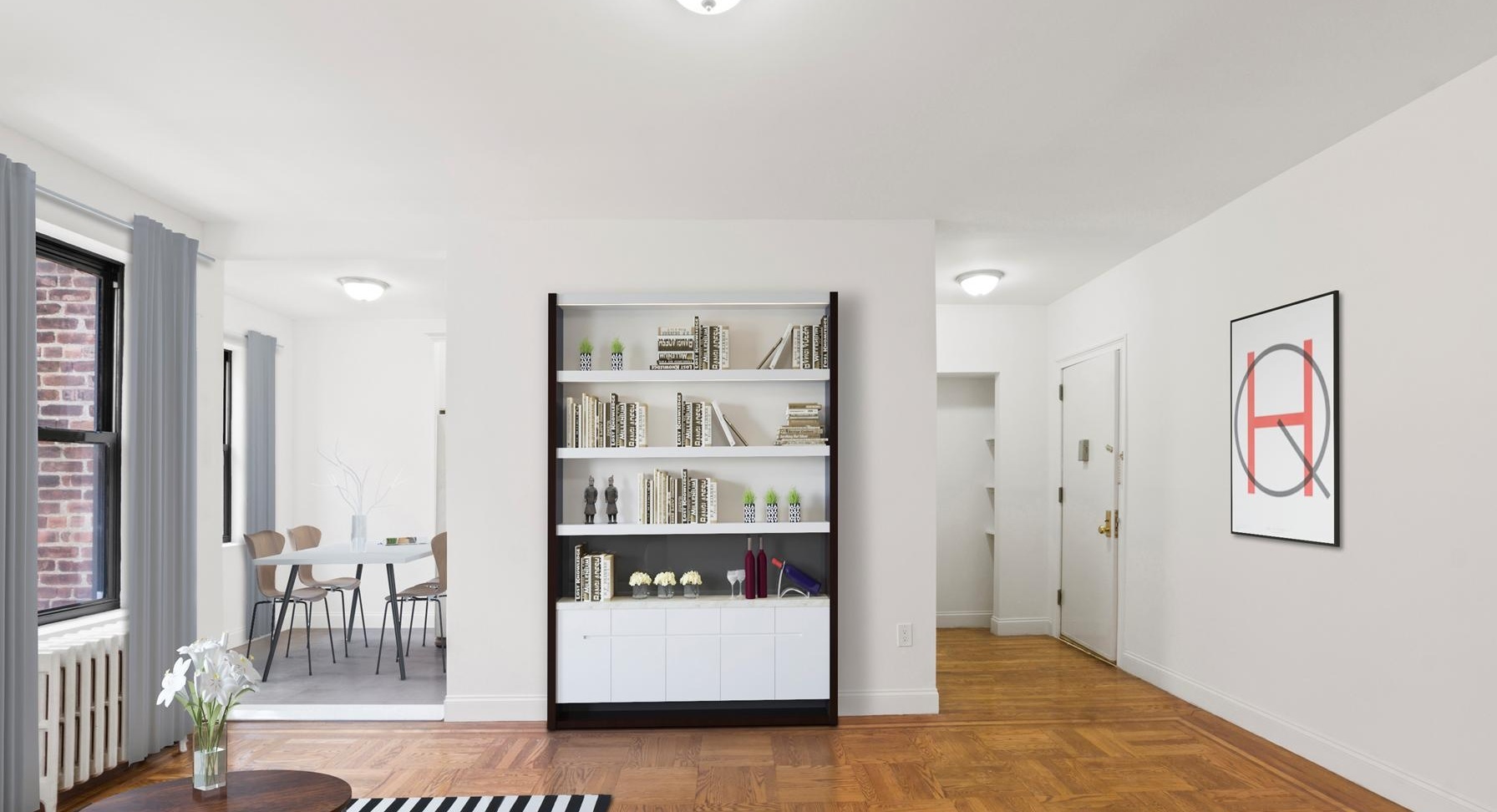 Woodside one-bedroom, one-bath condo, $535,000
: The Woodside Court Condominium, a prewar building at 61-09 39th Avenue between 61st and 62nd streets, converted to condo earlier this year, and offers the best of both new and old worlds. The unit has prewar details, such as hardwood floors and high ceilings. But the building's hallways and lobbies were recently renovated.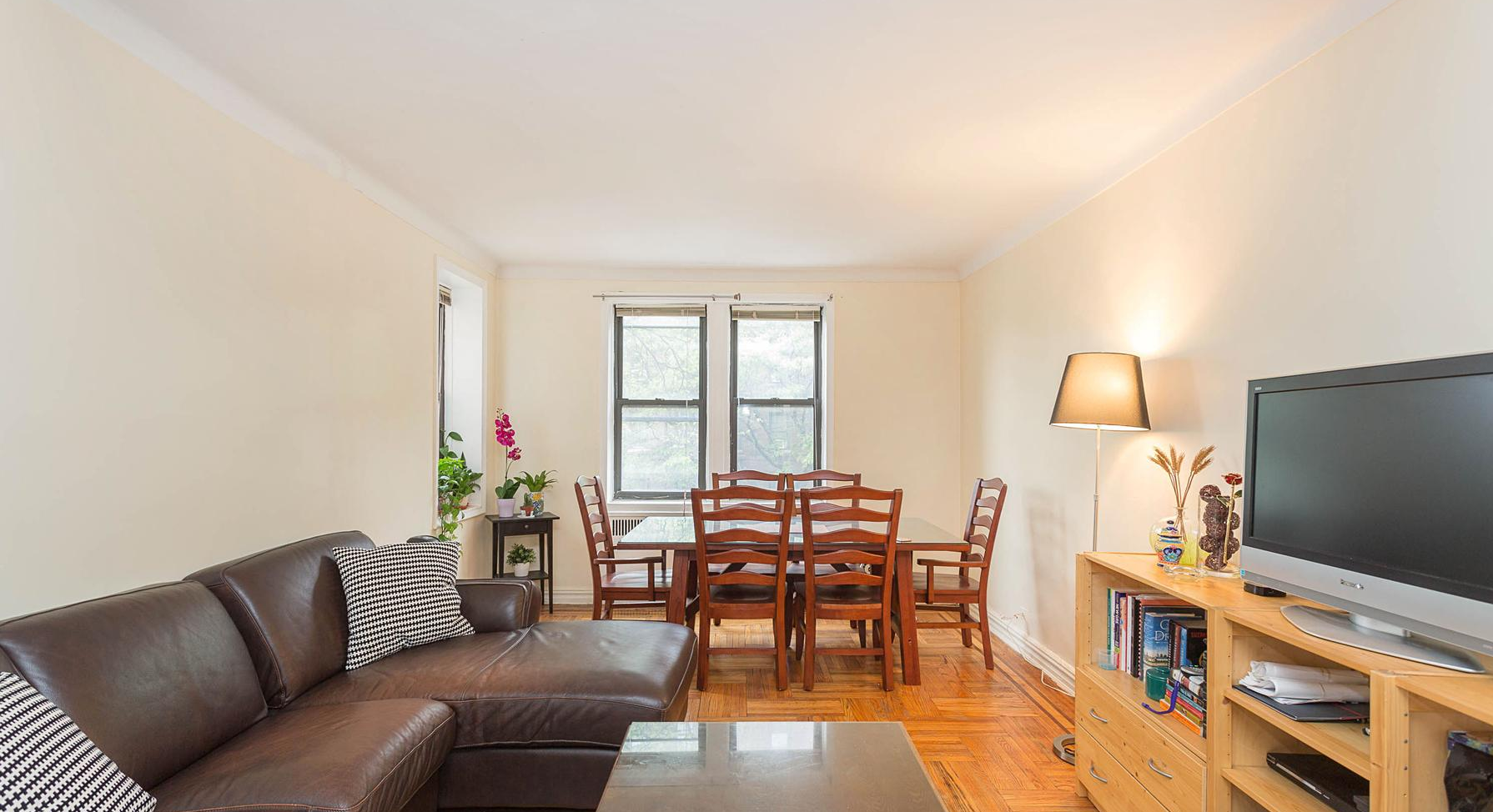 Sunnyside one-bedroom, one-bath co-op, $315,000
: This 720-square-foot one-bedroom at 43-25 43rd Street between 43rd Avenue and Queens Boulevard has oversized windows, an open kitchen, and a large bedroom with ample closet space.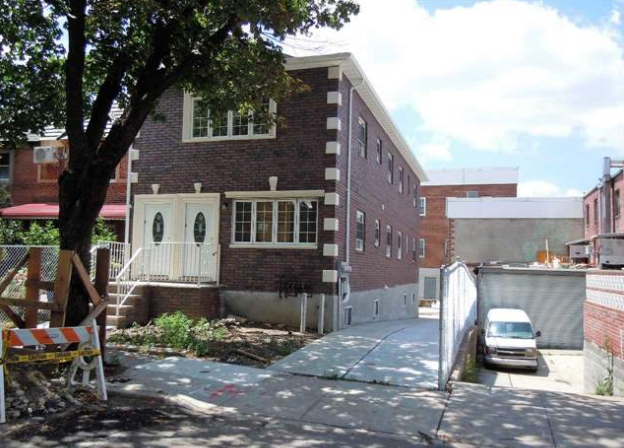 Woodside six-bedroom, four-and-a-half-bath multi-family house, $1.348 million: This newly constructed two-family home at 48-24 63rd Street between Laurel Hill Boulevard and 53rd Avenue has two separate central air units and a basement with high ceilings.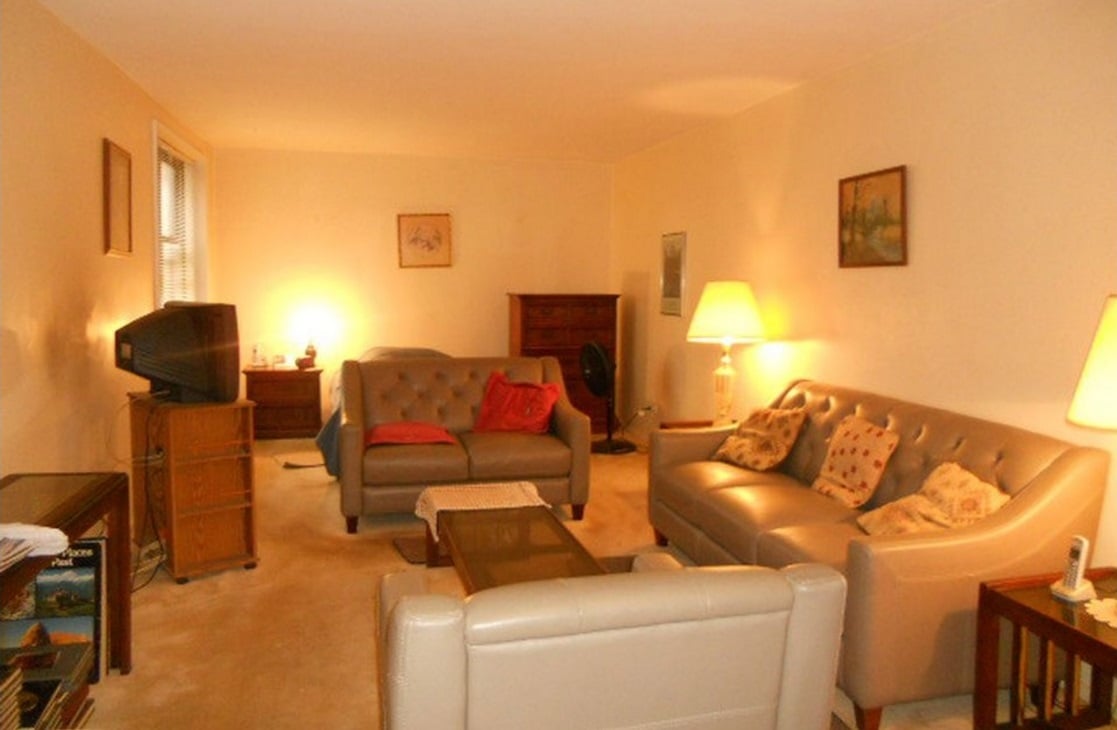 Woodside studio, one-bath co-op, $180,000: Features of this bright studio unit at 65-15 38th Avenue between 65th and 69th streets include hardwood floors (currently underneath carpeting) and lots of closet space. The co-op building has a live-in super, porters, a laundry room, and a parking garage (with a waitlist). The kitchen and bathroom are in need of some updating.
Brick Underground articles occasionally include the expertise of, or information about, advertising partners when relevant to the story. We will never promote an advertiser's product without making the relationship clear to our readers.