You can often tell how small an apartment is by how strange the angles are on the listing photos, and considering the fact that it appears as though the broker took some photos lying down on the floor, we feel safe assuming that this $3,500 Upper West Side two-bedroom is on the smaller side.
But small shouldn't necessarily be a deal-breaker. The apartment has a significant outdoor space and is smack in the middle of the Upper West Side.
So is it worth considering? We asked our experts (and veteran renters), real estate research and analytics firm NeighborhoodX founder Constantine Valhouli and freelance writer Lambeth Hochwald, to weigh in with me on this week's Take It or Leave It.​
The apartment:
Size: Two-bedroom, one-bath
Location: 330 West 84th Street (between West End Avenue and Riverside Drive) 
Monthly rent: $3,500/month
Flexible layout: No
Days on the market: 21
Subway: 1 at 86th Street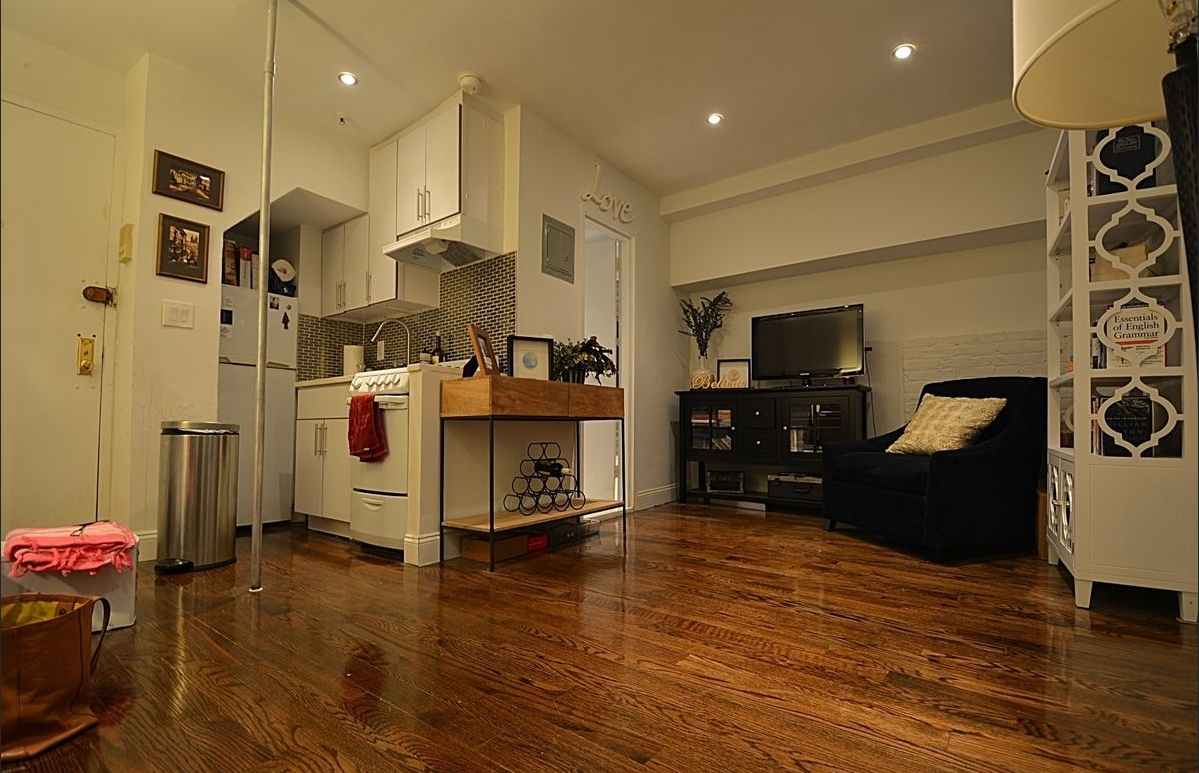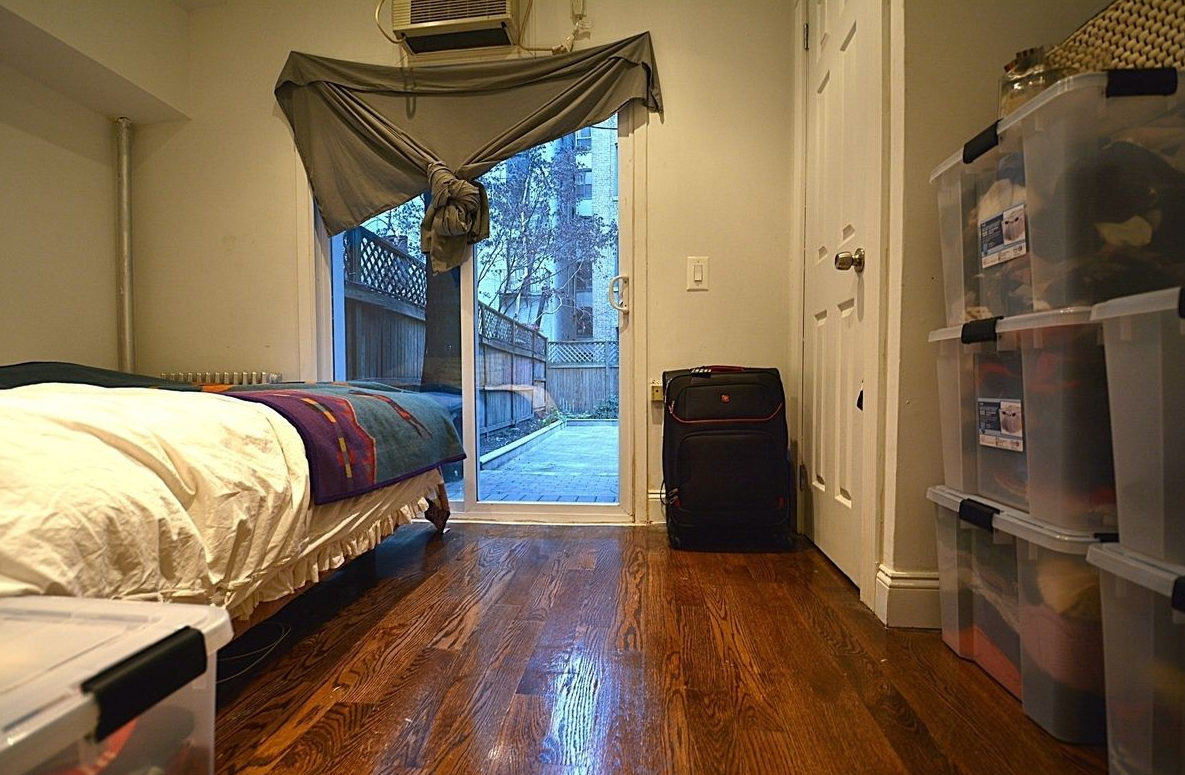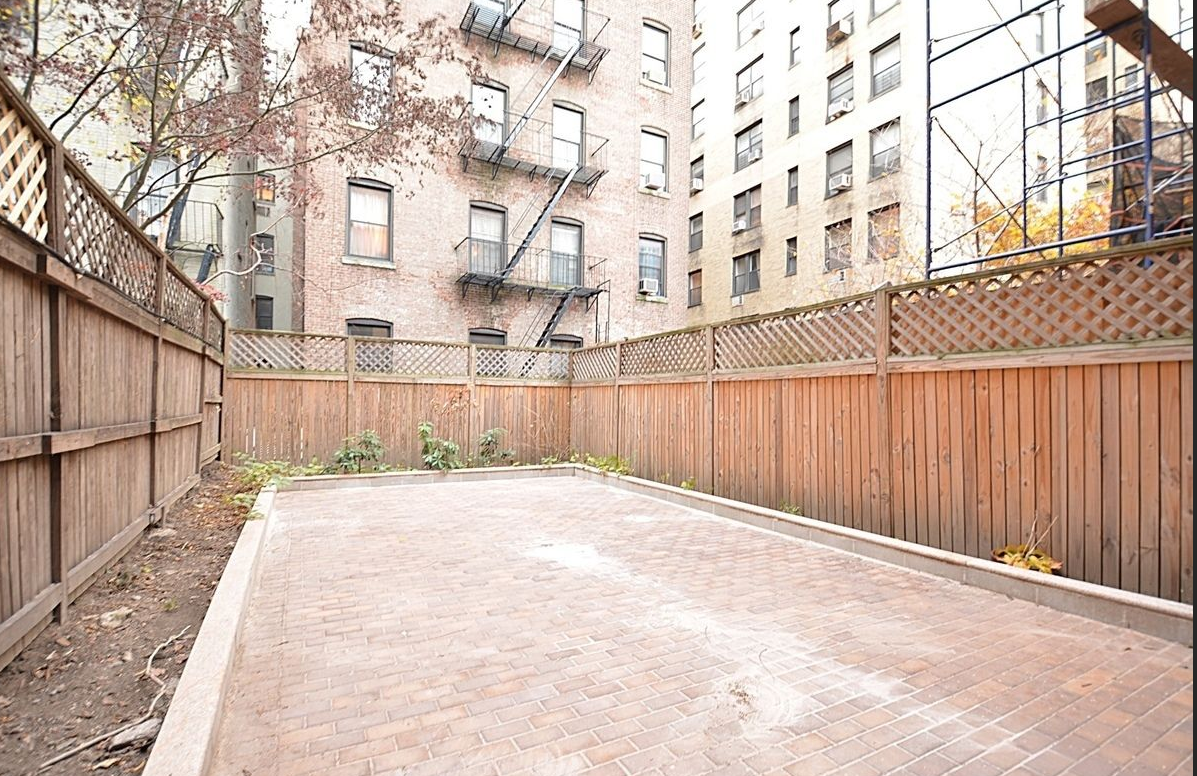 Pros and cons:
"I've seen a lot of apartments like these in my time in NYC—they're small but sort of charming, in good locations, and their outdoor spaces are what tempt you most. That said, the living room is teeny-tiny, as is the kitchen, and the outdoor space will require a bit of time and financial investment to make really great." —Lucy
"First, as usual, the pros: Proximity to Zabar's, Riverside Park, and Central Park—and the rarest of all things, a proper backyard in Manhattan itself. But it looks like the backyard is only accessible through one of the bedrooms, which is a bit of a drawback. There doesn't seem to be a window in the living room, from the photos. And the listing does not include square footage, which also makes it tough to make in informed decision as to whether the price is fair. Lastly, while a ground-level, rear unit can be insulated from street noise, depending on how the building was built (and insulated), there can be considerable noise from the floor immediately above." —Constantine
"There's something pleasantly quirky about this Upper West Side two-bed and you'll have all winter to plan out that back garden which is big enough to grow crops! Unfortunately, a ground-floor apartment isn't always the most appealing for many would-be renters." —Lambeth
Who this apartment would be perfect for:
"A couple of close friends who don't mind a darker apartment in return for a space to host parties outside." —Lucy
"Someone who really likes barbeques, lawn sports, or urban camping." —Constantine
"A creative couple with a penchant for gardening who don't mind living next to a townhouse under construction (we're talking bugs, vermin, and hammering) galore." —Lambeth
The verdict(s):
LEAVE IT: "Unless the charm outweighs the downsides in person, I just can't get excited about this one." —Lucy
TAKE IT... MAYBE: "If the apartment has sufficient light and no upstairs noise, it seems to be well-priced for the neighborhood." —Constantine
LEAVE IT: "In today's market, I can't justify the $3,500-plus-broker-fee price tag." —Lambeth