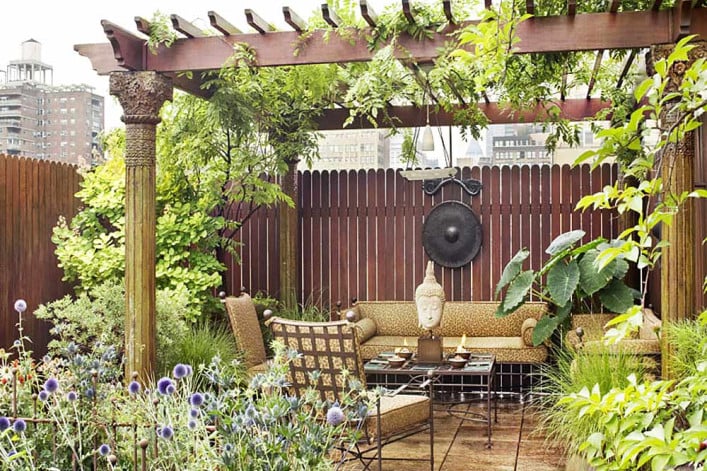 Whether it's a roof deck, terrace, patio or backyard, private outdoor space is among the most coveted amenities in New York City real estate.
But along with the fun, sun (hopefully) and bragging rights, an outdoor space of one's own presents some additional risks to property and people.
"Fortunately, areas immediately contiguous to your apartment are generally considered part of your apartment for insurance purposes," says New York City apartment insurance broker Jeff Schneider of Gotham Brokerage. 
Here are a few outdoor perils that, if they happen to you, will make you glad your co-op, condo or renter's insurance is up to date:
1. Barbecue fires: If your grill flares out of control or tips over and ignites your deck, you're covered—even if, under the rules of your building or the city, you weren't supposed to have a barbecue in the first place.
"Insurance companies by and large are not concerned with building rules or legal codes," says Schneider.
2. Windblown objects: Gusty summer thunderstorms are no joke, and the higher your space is, the more turbulent the winds can be. If your furniture, potted plants, etc. are swept away and injure a passing pedestrian or smash through a neighbor's window (or your own), your insurance will cover you if you are sued or legally liable.
3. Parties: Outdoor spaces in the city tend to attract crowds. If one of your guests accidentally knocks a glass or bottle off the railing and it strikes and injures a pedestrian, you're covered if you are sued. If someone drinks too much and has a car or bike (or pedestrian!) accident injuring someone else, and you are sued, you're covered.  
If someone--sober or soused--trips and falls over a crack in your cement patio, you're covered.
4. Leaks: If your rooftop irrigation system breaks and leaks into the apartment below you, and you're sued, you're covered.
5. Theft: Property abducted from your outdoor space is covered by your insurance just like anything inside your apartment. Note, however, that items damaged by weather exposure are not covered.  
---
Gotham Brokerage Co., Inc., an insurance brokerage, has been serving NYC renters, co-op and condo owners for over 45 years. For a free quote, click on over to Gotham Brokerage or give them a call at 212-406-7300.
More from Gotham:
4 insider tips for big savings on your apartment insurance
There's an apartment INSURANCE blacklist too. Here's how to stay off of it.
8 questions you MUST ask before buying renter's insurance
The ultimate co-op and condo insurance checklist
10 things you didn't know were covered by renter's insurance
The foul-weather guide to apartment insurance: What you need to know about tornados, ice storms, blizzards and more
Got kids? Here are 10 reasons you need apartment insurance too
Apartment insurance coverage for mold: Here's what you need to know
Brick Underground articles occasionally include the expertise of, or information about, advertising partners when relevant to the story. We will never promote an advertiser's product without making the relationship clear to our readers.