You'll have to be willing to make a three-story climb at least once a day to rent this $2,275 one-bedroom in Greenpoint. At the top of the stairs, you'll get an apartment with an eat-in kitchen, and a bedroom that's separated from the living room by French doors. The apartment is steps from the G train (so you won't be too badly affected by the upcoming L train shut-down) and it also happens to be about $400 less than the median price for a one-bedroom in the neighborhood.
So is it worth considering? We asked our experts (and veteran renters) to weigh in with me for this week's Take It or Leave It is Constantine Valhouli, founder of real estate research and analytics firm NeighborhoodX and freelance writer Lambeth Hochwald.
Size: One-bedroom, one-bath
Location: 970 Manhattan Ave. (at India St.), Greenpoint, Brooklyn
Price: $2,275
Flexible layout: No
Days on the market: 6
Subway: G at Greenpoint Av.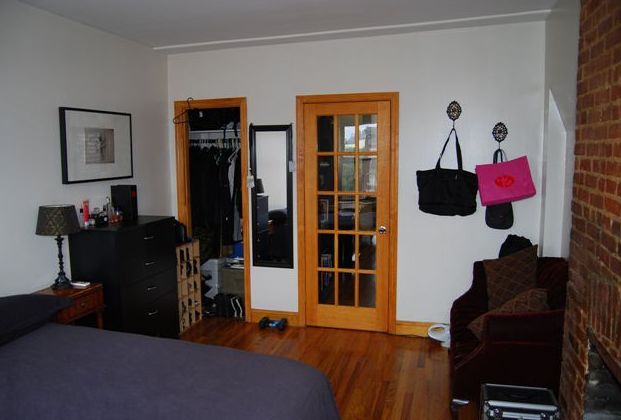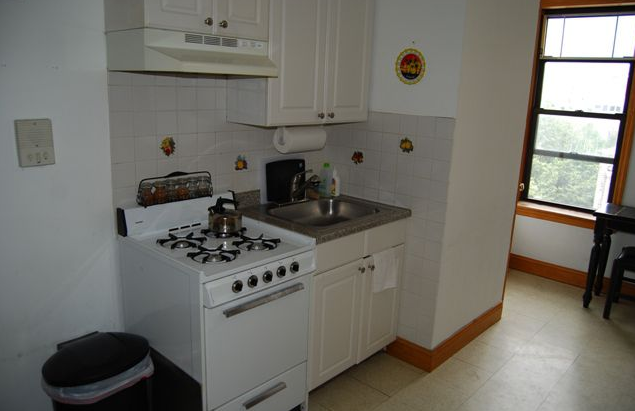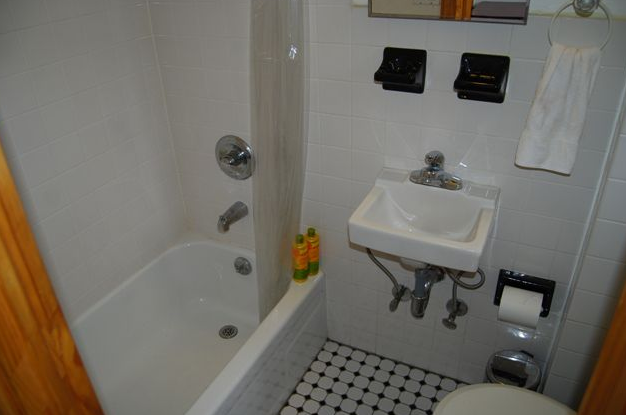 Pros and cons:
"To me, exposed brick is always a plus, and the eat-in kitchen is a nice (and rare) touch, but said kitchen has old appliances and the whole apartment just feels uninspiring. Plus, it's a fourth-floor walk-up. For that, I'm going to need to have a bigger pay off when I get upstairs." —Lucy
"It's not too far from the G train, and it is about 30 minutes to Union Square. And the neighborhood itself is amazing. Champion Coffee has quite possibly some of the best iced coffee I've ever had in NYC. The Italian restaurant Naked Dog is amazing, too.That said, the apartment itself looks bland. Also, 'Application fee and broker fee'? Their market assessment seems as out-of-date as the flooring in the kitchen.  Plus, the property is in Hurricane Evacuation Zone 2 (which is the second-most vulnerable). Also, it's a fourth-floor walk-up. Also, dogs aren't permitted. Try explaining that to this pup." —Constantine
"There's something quite charming about this Greenpoint one-bed. Could it be the endless amounts of exposed brick and wood framed doors, windows and moldings? That might be it. On the other hand, that living room is super small and the bathroom faucet leaves no room for even a single toothbrush." —Lambeth
Who this apartment would be perfect for:
"A single person who's looking for a relative bargain and insists on being in Greenpoint/on the G line." —Lucy
"Someone who doesn't mind overpaying for a bland apartment in a great neighborhood. " —Constantine
"A cat owner (no dogs allowed) and regular cooker/baker (the eat-in kitchen is appealing) who wants to get to know Greenpoint." —Lambeth
The verdict(s):
LEAVE IT "Unless you can get the landlord to pay the broker fee, this is a hard pass for me. And even then I might still say no." —Lucy
LEAVE IT "I'd ordinarily say take it, but ask for the application fee to be waived and the broker fee covered by the owner. But the fact that some of these bad design decisions were just put in with a new renovation ... smdh." —Constantine
LEAVE IT "At almost $3K per month, when you include gas and electric (plus application and broker fee), for a walk-up? I say skip it."—Lambeth