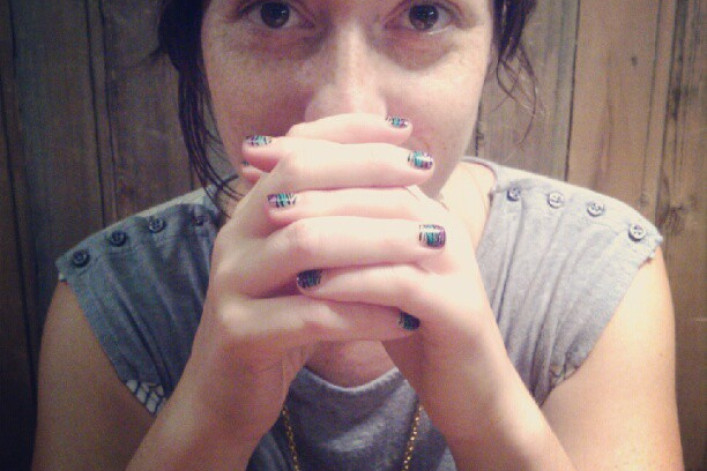 Born-and-bred New Yorker Jen Galatioto is the latest to add her voice to BrickUnderground's Confessions of a Neighborhood Blogger series.  
Galatioto grew up in Middle Village, Queens, but when she moved to Greenpoint, Brooklyn in 2010 she found a real sense of community and home and wanted to blog about it. So a year later she bought the blog Greenpointers from Justine Carroll, who founded it in 2007.
She  redesigned Greenpointers and built it into a local resource for the community and its surrounding areas in North Brooklyn--Williamsburg, Bed-Stuy and Bushwick--covering art, music, food, culture, local news and community events. Greenpointers got about 3,000 unique visitors per month in 2011 but that number has grown to over 20,000 under Galatioto's stewardship.
Galatioto says she really knew her investment in the blog was the right decision when she saw the impact it had on the community. Greenpointers was able to raise over $11,000 for Sandy relief efforts. The site has also become lucrative enough to pay writers for their creative content.
Though she recently purchased an apartment in nearby Ridgewood, Queens, Galatioto still maintains a work-studio in Greenpoint.  And Greenpointers isn't just a pet project for Galatioto—it is her job. This year she quit her full-time job as a product/interiors photographer for Polo Ralph Lauren to focus on Greenpointers and work on her freelance photography career.
1. What would you tell someone moving in?
Be friendly. Greenpoint is the kind of place where you walk down the street and you see friendly faces. Smile. Running into friends is the best part of being a Greenpointer. Buy local--especially food--and support local small businesses and makers. That's what neighborhoods are all about!

2. Where are the best deals in the neighborhood in terms of real estate? What about in terms of dining/entertainment?
Greenpoint rents are getting higher and higher, so if you are in a great apartment then stay there! You can get more affordable deals near McGolrick Park, which is on "the other side" of McGuinness.
As far as restaurants, there are plenty of great options. Polish food here is delicious, authentic and very inexpensive. Try Lomzynianka on Manhattan Ave or Northside Bakery on Nassau. We have a ton of great pizza places, like Vinnie's, Franklin Pizza and Triangulo and Paulie Gee's. Meat pies from Diamond Bar are delicious and the Korean food in the basement of No Name Bar is a really good deal. Calexico and Manhattan Ave happy hours are also steals.

3. What's the most coveted location within the neighborhood to live?
The most beautiful blocks are Russell Street, across from McGolrick Park and the historical blocks, like Milton Street. and Kent Street. A lot of the action in terms of shopping and nightlife is by Franklin Street, near the waterfront, too.

4. Is there a dream building in the neighborhood?
Any of the old brownstones and historical homes on Milton Street or Kent Street are very dreamy. If you can live in an entire old firehouse--that would rule, too!

5. Any buildings that feel out of place with the feel of the neighborhood?
All of the new construction. Big glass modern structures definitely don't fit in among the aluminum siding wood frame houses, which are very characteristic of Greenpoint.

6. Any real estate-related controversy brewing or currently happening in the neighborhood?
There is a plan to build what is called Greenpoint Landing--10 highrise towers on the waterfront that could be 30-40 stories high.
The PR team behind the development angered the community when it said they are planning to "create a community" on the waterfront--as if a community does not exist there already.
The strain on Greenpoint's infrastructure and transportation, with the little engine that could G train, is of major concern as well as enough affordable housing for low income families. Also--most buildings in Greenpoint top out at six stories, so these monsters certainly won't fit into the aesthetic and the "stoop" culture we have here.
7. Is the G-train really as bad as they say? Any advice for using it?
If you are a commuter it's NOT that bad during commuting hours. It can be crowded and it doesn't come as often as the L train, but it is reliable. 
If you are traveling on the G line late at night--take a cab instead. That is when the wait times are longer than usual. 
I like the G train. It's much better than it once was, but still has a long way to go especially if they plan on continuing to build more residences in Greenpoint.
Note: The G train will NOT be running for a bunch of weekends this summer between Greenpoint Avenue station and Long Island City because of repairs to the tube they need to do that was badly damaged during Sandy. Check the MTA website to be safe.
8. How has the neighborhood changed in the past five years? Any projections on how it will change in the next five?
Greenpoint went from being the affordable neighbor of Williamsburg to a destination in its own right, thanks to tons of amazing new bars, restaurants, art galleries, parks and improved transportation with the East River Ferry.
While tons of new young residents have moved in, the old Polish community is still very alive here. If we increase the population by 25% with the new developments on the waterfront, then there will be even more new residents, which will bring in even more new businesses, schools and hopefully open spaces. Greenpoint is no longer, and most likely won't ever be as affordable, as it once was. It is prime real estate.

9. What do you think your "sister" neighborhood might be?
Probably Ridgewood has a similar feel to how many people describe Greenpoint--quiet, with lots of families, plus lots of Polish people, who are moving from Greenpoint to Ridgewood, lots of creative people looking for large studio spaces, and a gorgeous historical district.

9. Which neighborhood feels like the opposite of your neighborhood?
Long Island City, which seems more like a place for commuters to get to Midtown quickly. I don't live there, so it's not fair for me to say, but I don't get the same sense of community there. It seems more transient, perhaps a step toward or away from Manhattan.
There are lots of new big high-rises there, too, which Greenpoint doesn't have--not yet. High rises create a vertical landscape that is very different from the landscape of old railroads that Greenpoint has. Here you know everyone on your block.

10. Would you stay in this neighborhood forever if you could?
I actually don't live in Greenpoint. I recently moved to Ridgewood because I found an amazing deal on an apartment to buy, which has always been a dream of mine.
I bought a two-bedroom with a basement, second bathroom and yard. The price was SO UNBELIEVABLY LOW. It needs some work but was well worth it. I bought it out of foreclosure for $175,000. 
By bike Ridgewood is about 20 minutes from Greenpoint. It's a nice ride until you have to travel through Bushwick via Flushing Ave, Metropolitan Ave or Morgan Ave. They need to work on a better connection between Ridgewood/Bushwick & Williamsburg/Greenpoint since there are way too many ghost bikes along Morgan Ave & Metropolitan Ave. Ghost bikes mark the spot where bikers have been hit and killed by cars.
I have a studio in Greenpoint where I work. I pay $330 per month for the studio space which is a shared co-working space that I can also use as an event space for classes / art shows / screenings, etc.
I think it's important to recognize that a lot of people live in other areas and work in Greenpoint and still make positive contributions to the neighborhood. The ironic thing is that the savings of moving to Ridgewood afforded me the opportunity to quit my day job and work on Greenpointers full-time.
Being a born and raised New Yorker, I think I might become crazy if I stay in the city forever--although it may be too late!
11. Where else would you want to live?
I dream of living in a place with fresh air surrounded by gorgeous trees. So if I were to leave the city altogether, I would need to move to a place where I could see huge gorgeous mountains every day, but would have a cool creative downtown where I could be part of a community and there MUST great food. I should probably visit the Pacific Northwest--I hear that's what it is like out there.

12. What is one of the biggest misconceptions about the neighborhood?
It's filled with "dirty trust fund hipsters." The word hipster is a strange derogatory term and some feel that "they" are "taking over" the neighborhood. The same reason young (perhaps creative) people settled here is the same reason "original" Greenpointers' moved in--because it was affordable and a nice place to live. That being said, for those moving in there are a lot more friendly and embracing "original" Greenpointers than there are hipster-haters.
---
See all Confessions of a Neighborhood Blogger
Related posts:
Moving to NYC? Here's a crash course in finding an apartment here
A move-by-move neighborhood guide for the people, by the people
10 of the best NYC neighborhoods for recent college grads
Brick Underground articles occasionally include the expertise of, or information about, advertising partners when relevant to the story. We will never promote an advertiser's product without making the relationship clear to our readers.