Brick Underground supports our readers with product recommendations specifically curated for New Yorkers. If you buy something through our links, we may earn an affiliate commission.
This Upper West Side two-bedroom, one-bath co-op, 588 West Side Ave., #7B, isn't living up to its potential, in the opinion of architect Benjamin Andres. He says that another full bath could easily be added to the junior four, which is asking $999,000, if you shave a few feet off the kitchen.
In this week's Reno Ready, Andres explains that adding the second bath would "really maximize value for potential new owners." He also outlines how he would improve the efficiency of the kitchen, add storage, and brighten the apartment. Read on to find out how he would get all of that done.
Brighten the floor in the living room
Floor: Andres would replace the flooring throughout the apartment with white oak in order to "make things as bright as possible." This should cost around $15,000.
Walls: The apartment doesn't get a ton of light, so Andres suggests going with a bright white on the walls. He'd choose Benjamin Moore's White Dove. "It's a traditional white that will play well with the architecture of the space," he says. A gallon is $80.
Media unit: Since there isn't a ton of storage space in this apartment, Andres would add a media unit along the wall to the left of the room. "It could be a piece of furniture or custom-made," he says. This modular media center with drawers is $2,095 at Crate and Barrel.
Dining area: Andres thinks there's enough room in here for a separate dining area in the corner. But instead of a typical table and chairs, he'd go with a table and a built-in banquette. He thinks that this will keep the space looking clean and clear at all times since you won't ever have to worry about pushing chairs back under the table. "It could be a main feature of the apartment," he says. This banquette should cost around $10,000. Prices for this Paloma aluminum rectangular dining table start at $2,695 at Restoration Hardware.
Lighting: The living room has concrete ceilings, so floor and table lamps will have to do. Andres would, however, drop the ceiling a bit atop the dining table so he can mount a chandelier. This Magdeburg Arch floor lamp is $291 at YLighting.com. This Silver Slice LED chandelier is $690 at YLighting.com.  
Window treatments: Since the windows are pretty big, Andres suggests installing decorative curtains made from a heavy material that'll draw the eye. Prices for these Ripple Fold drapes start at $540 at The Shade Store.
Closet: There's a small coat closet when you first walk into the unit. Andres would make it bigger as it's a good opportunity for additional storage space. This larger closet will also create more of a foyer so as to properly welcome people to the apartment. This should cost around $4,000.
Maximize space in the kitchen
Cabinets: Andres would reduce the size of the kitchen, but still offer as much storage as possible. He would add custom wood cabinets that utilize every single inch of space. He'd paint them a light color since there won't be any natural light, since the window will now be in the new bathroom. These cabinets should cost around $12,000.
Countertops/backsplash: He'd also opt for light-colored countertops and a pale backsplash made of marble or Caesarstone as these are durable and easy to clean. These should cost about $3,000 or so.
Floor: Andres would bring the wood floor into the kitchen, too. "It's a bit removed from the main living area, but having the same flooring will connect the spaces," he says.
Appliances: Andres still thinks you'd be able to fit full-sized appliances in here, possibly even a dishwasher. This Frigidaire 30-inch slide-in gas range with five-burner cooktop is $893 at AJMadison.com. This 33-inch freestanding LG top-freezer fridge is $1,219, also at AJMadison.com. This 24-inch built-in Frigidaire dishwasher is $509, also at AJMadison.com.
Lighting: Since there isn't a window in here anymore, "we should put in as much lighting as possible." In addition to under-cabinet lights, he'd install three recessed lights up top. The recessed lights should cost about $800. These Bazz Lighting puck lights are $27 each at build.com.
Walls: The leafy wallpaper needs to go, of course. Andres would paint any visible walls the same White Dove as the living room in order to tie the two spaces together.
Sink/faucet: A new sink and faucet are in order. Andres recommends an Elkay undermount sink, $281 at build.com. This Grohe faucet is $215, also at build.com.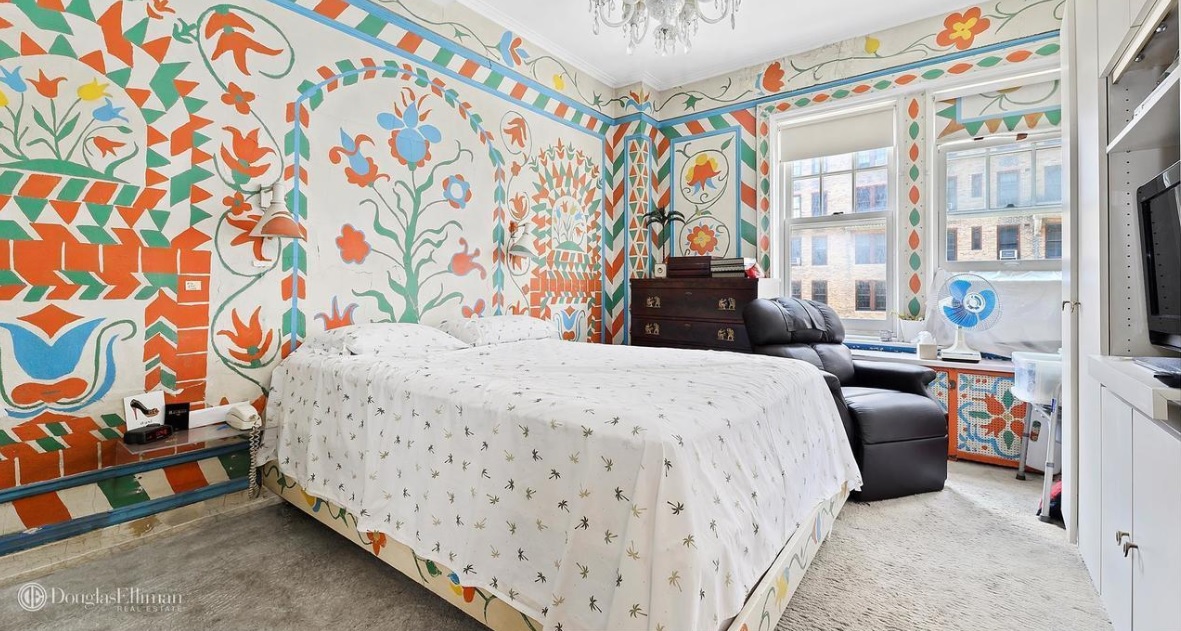 Paint the walls in the bedroom
Floors: He'd extend the wood floors in here, as well, in order to connect the bedroom with the rest of the apartment.
Closet: It might be unconventional, but Andres would remove the closet and put in a piece of millwork with drawers, shelves, and hanging rods, instead. "I think it's a more efficient way of storing clothes," he says. This should cost around $5,000.
Walls: He'd lose the wallpaper in here, too, and paint the walls gray or blue in order to bring a splash of color in here. A gallon of Benjamin Moore's Gray Owl is $80.
Window treatments: Andres would put up heavy curtains in here, too, but, since it's a bedroom, he'd also add blackout shades. Prices for these blackout roller shades start at $255 at The Shade Store.
Seating area: He'd also add a seating area by the window with a small table and a couple of comfy chairs in case the new occupant wants to read a book in here somewhere other than the bed. Prices for this 1950s Italian shelter arm swivel chair start at $1,995 at Restoration Hardware. This Graydon Shagreen nesting table is $1,095, also at Restoration Hardware.
Lighting: As there are concrete ceilings in here, too, floor and table lamps will have to suffice.
Extend the wood floor into the second bedroom
Andres would bring the new wood floors in here, paint the walls light blue or gray, and get a floor lamp or two.
Closet: Andres would reorganize the closet in here in order to make room for the new banquette in the living space, which is on the opposite side of the wall. There should still be enough room for a good-sized walk-in closet, though. This should cost around $2,000.
Desk: He thinks the niche next to the window would be a perfect place for a desk/home office space. This St. James desk is $1,995 at Restoration Hardware.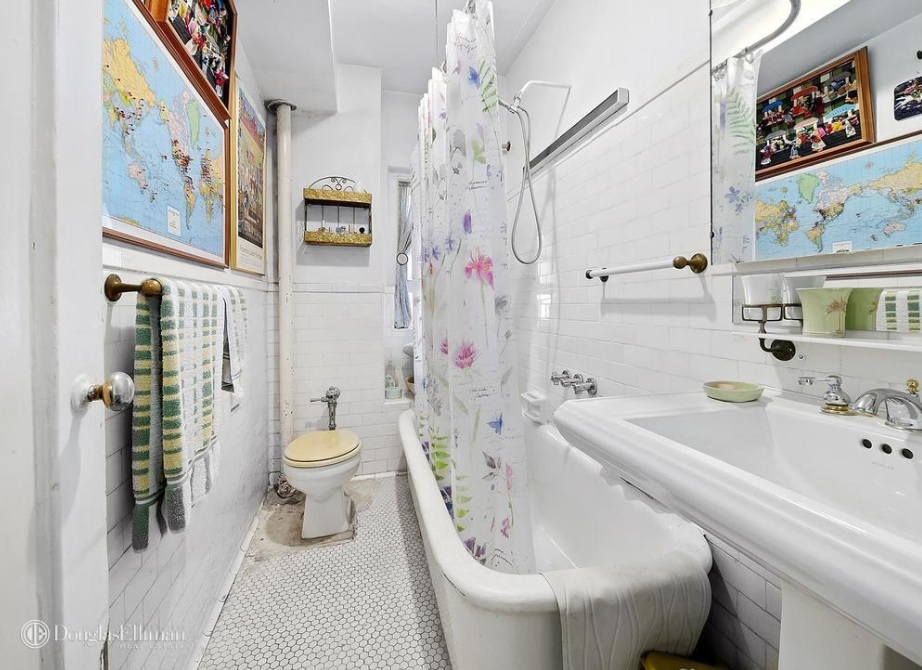 Keep the tub and reglaze it
Bathtub: He'd hang onto the "nice, old cast-iron tub," but would reglaze it to bring it back to its former glory. This should cost around $800.
Toilet: He'd get a new toilet. This one-piece Toto toilet is $386 at build.com.
Vanity: A new vanity is also in order. This Eleanor bathroom vanity with a Carrara marble top is $850 at houzz.com.
Floor: He likes the penny round tiles in here at the moment as he feels that they're in keeping with the traditional look of the rest of the apartment. But he thinks there "was probably a leak at some point," as there looks to be water damage near the toilet. As such, he'd have new penny round tiles installed. These should cost around $1,200.
Shower controls: Andres likes shower controls that look like exposed pipes as they too go well with the unit's traditional look. This Grohe shower system is $497 at build.com.
Walls: Andres would opt for simple white subway tiles that go about four feet up the wall "to simulate wainscoting and make the room feel bigger and taller." These should cost around $2,000.
He'd paint the remainder of the walls a dark green. "There's a little bit of a wow factor with that," he says. "It's a little bit unexpected… Plus, it's only half the walls, so it won't be too overwhelming." A gallon of Benjamin Moore's Emerald Isle is $80.
Lighting: The bathroom is rather large, so "I'd take the opportunity to drop the ceiling in here and install some recessed lights," Andres says. These should cost around $1,500.
Create a second bath
Andres would carve a second full-bath from the kitchen that will include a toilet, a vanity, and a full-sized shower. He'd also add in a small closet with a washer/dryer. This should all cost around $15,000 or so.
He adds that now that there's an en suite bath for the second bedroom, the buyer use this room as the master.