Brick Underground supports our readers with product recommendations specifically curated for New Yorkers. If you buy something through our links, we may earn an affiliate commission.
There are lots of simple ways to add value to this Sutton Place one bedroom, 400 East 56th St., #10C, says architect S. Lindsay Klein of Manhattan's Lindsay Architecture Studio. That's a good thing, because buyers in this neighborhood would expect something more upscale than what this apartment currently has going on.
 "This is supposed to be a luxury apartment in the UN area? Then it should feel like one," she says, remarking that the 933-square-foot co-op unit, which is listed for $820,000, should signal lavishness, starting with a brand new kitchen. As for the rest of the space, lots of small fixes, such as paint, window treatments, and refreshing the floor will go a long way to making this a more cohesive and luxurious space.
---
[Editor's Note: In Brick Underground's Reno Ready column, an architect looks at a listing for a NYC fixer-upper currently on the market and suggests how to improve it.]
---
In this week's Reno Ready, Klein explains exactly how she'd add a more high-end feel, which includes, among other things, installing in-unit laundry, putting a breakfast bar in the kitchen, and reworking the closets to make them more user-friendly.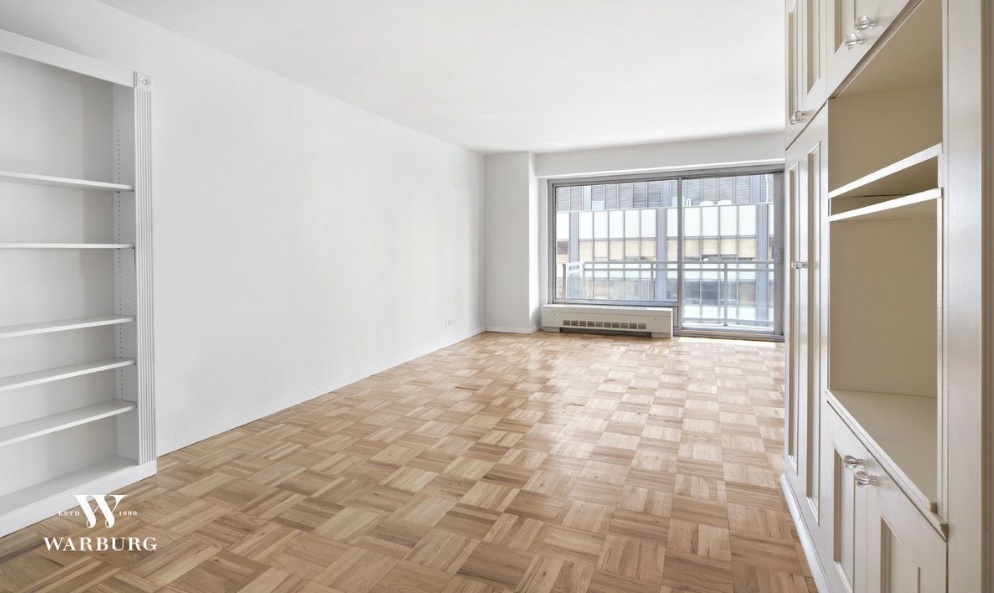 Add solar shades to the living/dining room
Washer/dryer: There's a closet on the other side of the half-bath, right near the kitchen, and Klein thinks that it would be a perfect place to install in-unit laundry since it's close enough to other wet areas that it shouldn't be a problem. "I'd work pretty hard to convince the building to allow a washer/dryer," she says. This stacked LG washer/dryer is $1,925 at AJMadison.com.
Window treatments: She'd go with a two-pronged approach—elegant, textured curtains atop solar shades that'll keep things private and filter out light. Prices for these Ripple Fold Drapes start at $540 at The Shade Store. And prices for these solar shades start at $255, also at The Shade Store.
Floor: "It needs refinishing," Klein says simply. She'd also add a little white pigment to lighten and brighten it. This should cost around $3,000 for the entire apartment.
Built-in cabinets: Klein isn't a fan of the "slightly yellow" shade of the built-ins in the dining area, so she recommends painting that whole wall one color, possibly hunter green so it feels "like a garden." A gallon of Benjamin Moore's Hunter Green is $80.
She'd also get rid of the white stripe between the cabinet and the single strip of crown molding above that which oddly, only exists just above the cabinets. The stripe and the molding should all be one color, she says, so that it feels like one continuous wall.
Paint: She'd leave the rest of the room white so that the accent wall stands out more.
Lighting: "The ceiling is a concrete slab, so you can't put any lights up there," she says. She'd therefore choose an assortment of floor and table lamps. She also likes the idea of the candle chandelier that's in the dining area at the moment, so she'd get a new one of those, as well. This Nina Floor Torchiere is $350 at Lumens. This Fatboy Edison the Petit lamp is $80, also at Lumens. This wrought-iron hanging candelabra is $50 on Amazon.com.
Walk-in closet: "The walk-in closet near the front door has an awfully small door in the foyer," she says. She'd change out the frame and install a larger door to make the closet more easily accessible. This Jeld-Wen pre-hung interior door is $117 at The Home Depot.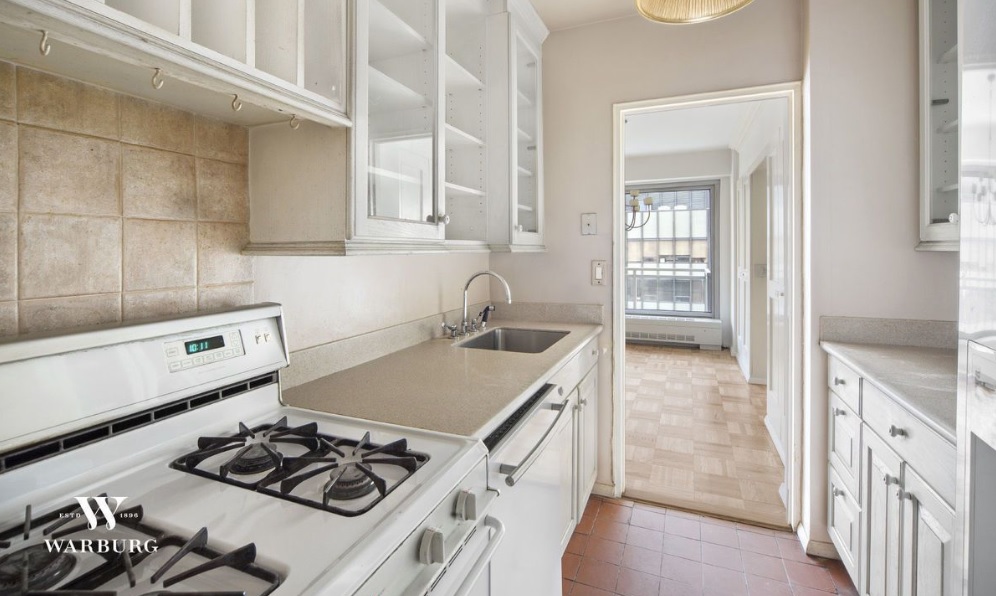 Gut the kitchen and add storage and new appliances
She'd gut the entire thing to make a "compact, yet elegant kitchen."
Walls/doors: In order to make the kitchen feel more open and expansive, Klein would knock out the walls/door at both ends. She'd then be able to effectively elongate the kitchen, and would add a breakfast bar with a couple of stools that'll extend into the dining area. This should be a fraction of your contractor's overall demo quote.
Countertops: "I'd probably go with quartz," Klein says. "It's as expensive as marble and granite, but it doesn't require cutting into a hillside and transporting something a long way." She'd opt for bluestone, which, she says, "is almost an outdoor material," and should make the apartment feel more light and airy as it'll "emphasize the light coming from the balcony." These countertops should cost around $150 per square foot.
Backsplash: She'd put up some metallic tiles that look like mini bricks above the stove and sink. These silver stainless steel square tiles are $19 per square foot at Tile Bar.
As for the other side, she'd go with a long, skinny mirror that'd reflect the light from the balcony. This rectangular wall mirror is $32 on Amazon.
Appliances: In order to make this a "sleeker space," Klein would get all-new appliances. She'd install a microwave with a fan, an 18-inch dishwasher, and a narrow stove and cooktop. This Frigidaire 18-inch built-in dishwasher is $593 at AJMadison.com. This Smeg 24-inch gas range is $1,999, also at AJMadison.com. This 30-inch Blomberg over-the-range microwave oven with convection and two-speed fan is $529, also at AJMadison.com.
She'd also get rid of the full-sized fridge, which she believes, "would barely be able to open in this small kitchen." It might be unconventional, but she'd replace it with under-counter fridge drawers and under-counter freezer drawers. This 24-inch Monogram double-drawer compact fridge is $3,000 at AJMadison.com. These Summit 24-inch freezer drawers are $1,720, also at AJMadison.com.
Cabinets/pantry: "You need more storage space in here," Klein says. She'd choose simple flat-panel cabinets that go all the way up to the ceiling, and would put a row of deep upper cabinets atop the new fridge/freezer drawers. She'd also add in a large pantry closet—around 18 inches deep—to the right of the fridge/freezer drawers. These cabinets should cost around $10,000.
Floor: She'd replace the current flooring with large-scale limestone pavers because they, too, look like an outdoor material, and would play well off the countertops. These are $15 per piece at Stone Tile Depot.  
Lighting: "I don't think track lighting is the most elegant solution," Klein says, but here, she thinks that an LED track that will illuminate whatever it is that you want illuminated would be useful. Prices for this Lianello LED spotlight track by Eglo start at $236 at Lumens.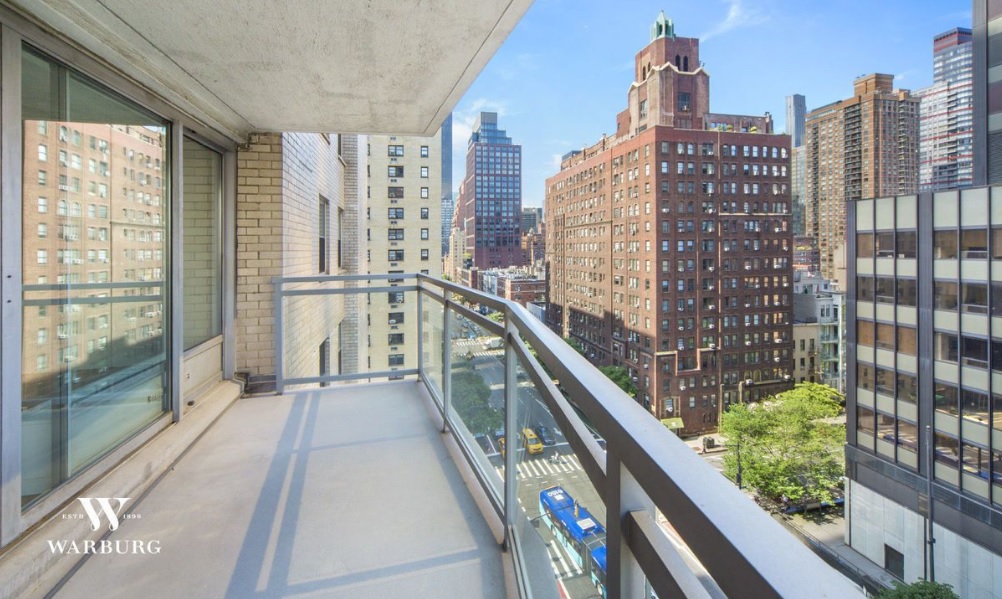 Spruce up the balcony
"The balcony is the best thing in this apartment," Klein says, "but it looks a little sterile at the moment."
Planters: Klein would "green up" the terrace by adding a pair of boxwood planters that'll reach up to the height of the railing. A boxwood hedge with a planter box is $300 at FenceScreen.com.
Furniture: She'd also get a small outdoor table and some chairs to make this area a place where people would want to hang out. This Arlford three-piece bistro set is $153 at Wayfair.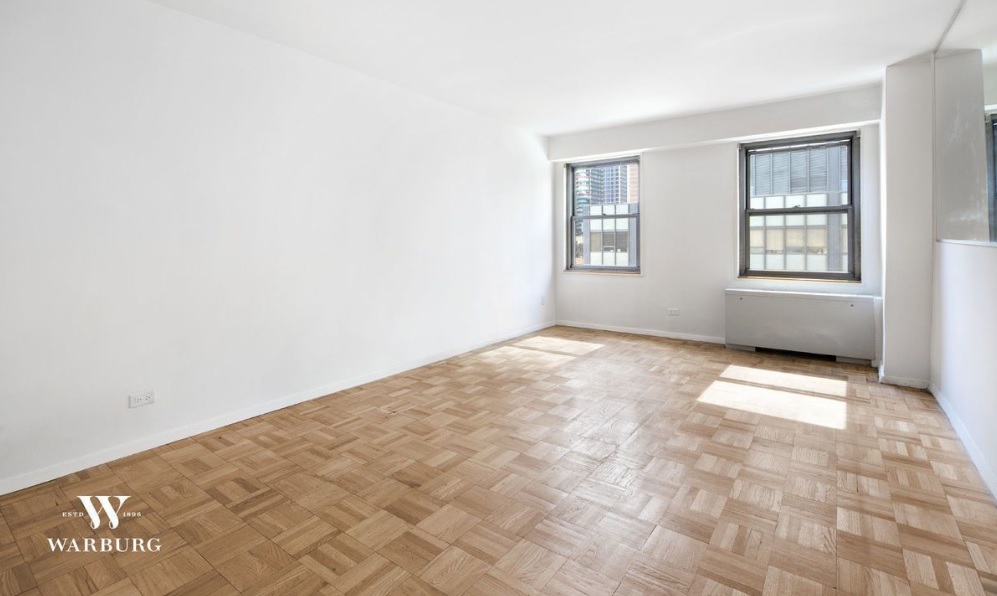 Move the door to the bedroom
Door: Klein feels that the door going into the bedroom is much too narrow, and hates that it slams right up against a wall. She'd get a new door and move it to the end of that heavy wall so that it'll swing open into the room, instead. "It'll just feel more generous," she says. This Jeld-Wen pre-hung interior door is $117 at The Home Depot.
Closets: "They're not very deep," she says of the bedroom closets. She'd therefore make extend them to the end of that heavy wall to the right and add deep drawers, as well as shelves large enough to hold suitcases. This closet work should cost between $1,500 and $2,000.
Window treatments: She'd go with two types of shades here—blackout shades to keep the light out, as well as curtains "because you need some softness." She'd prefer silk curtains that touch the floor in "a beautiful blue or gray, something very natural-looking with a sheen." Prices for these blackout roller shades start at $255 at The Shade Store. These floor-length silk curtains are $145 at Pottery Barn.
Paint: Klein would paint the room "a lovely white that's not too cold." Benjamin Moore's White Down has a slight gray undertone to it that she feel will look beautiful in this room. A gallon is $80.
Lighting: Since you can't drill into the ceiling, Klein would opt for bedside lamps to light up the room. Prices for these Tolomeo lamps start at $332 at YLighting.
Bathrooms are a mystery
There aren't any photos of the bathrooms, which leads Klein to believe that they'll probably need to be gutted completely.
The smaller half-bath near the kitchen will probably cost around $12,000 or so to update, she says. The full bath will be more, around $25,000.