Brick Underground supports our readers with product recommendations specifically curated for New Yorkers. If you buy something through our links, we may earn an affiliate commission.
Architect and Feng Shui expert Anjie Cho loves the high ceilings in this Greenwich Village fixer-upper, 808 Broadway, #4H, which, she says, make the already spacious apartment look even larger than it is. Other pros include its location and the fact that it was designed by architect James Renwick, Jr., who also designed nearby Grace Church and St. Patrick's Cathedral.
Her beef with the unit, which is listed for $875,000, is that there are windows only at one end of the apartment, meaning that despite having "quite a bit of square footage, you can only have one legal bedroom in the space," she says.
In this week's Reno Ready, Cho explains what she'd do to update this apartment, including leveling the floors, gutting the bathroom, and integrating the kitchen into the living space.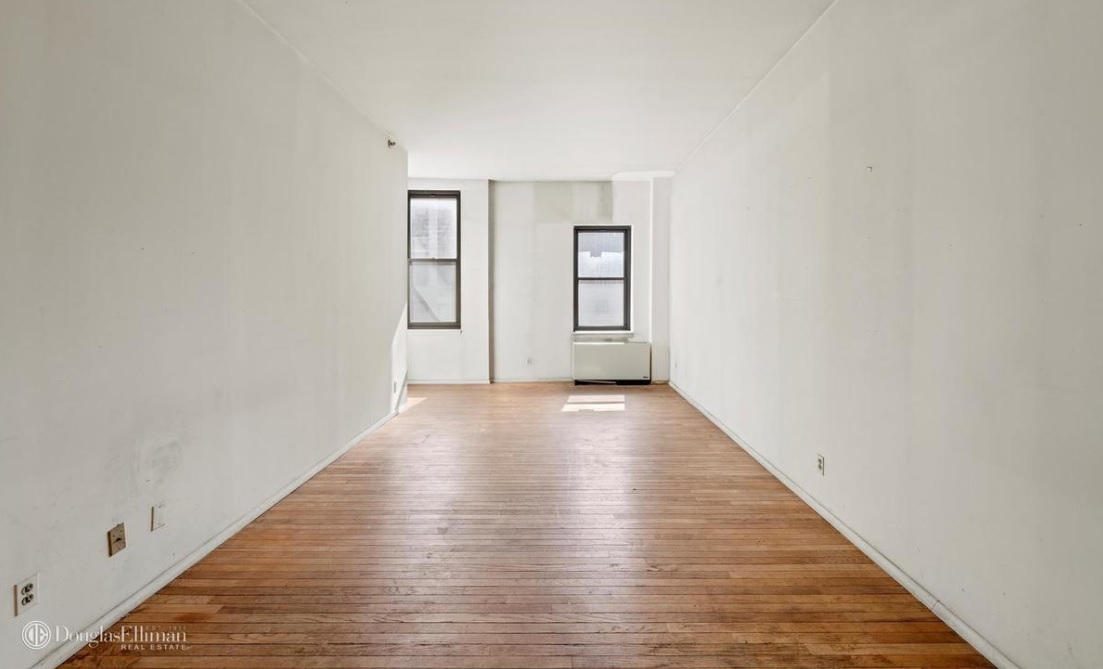 Level the flooring in the living room
Floor: Cho can't exactly tell what's going on with the flooring from the photos, but she assumes it's in bad shape like the rest of the unit. She'd replace it with herringbone- or chevron-patterned floors in a light-colored white oak, which will make the unit appear brighter.
But the floors don't look perfectly even to her. As such, she recommends leveling them before installing the new wood boards.
"Normally, just changing out the floor would be around $20 per square foot," she says. "It'll probably be double that because of the leveling."
Electrical: Since the unit looks like it hasn't been renovated in some time, Cho advises bringing the electrical system up to date and up to code. This should cost around $15,000.
Lighting: There aren't any lights in the ceiling at the moment, which means it's probably a concrete slab that can't be drilled into. Therefore, Cho suggests dropping a soffit along the perimeter of the room and putting in recessed lights. "That way you'll still have the height throughout most of the room," she says. This should cost about $10,000.
Radiator cover: "That radiator is an eyesore," Cho says. Because it's the first thing you see when you enter the apartment, she proposes building a custom radiator cover to hide it from view. These typically cost around $1,000.
Window treatments: The windows in this room are of differing heights—the one on the left reaches almost to the ceiling, while the one above the radiator is shorter and squatter. Cho recommends mounting Roman shades on the ceiling above both of them in order to give the illusion that they are of similar heights. These should cost around $2,000 each.
Walls: "The walls are not smooth," Cho says. "You can see all the imperfections." She'd have them skim-coated to even them out, then paint them white, beige, or light gray to keep things light and bright in here. Skim-coating the unit will cost between $10,000 and $20,000. A gallon of Benjamin Moore's Snowfall White is $80.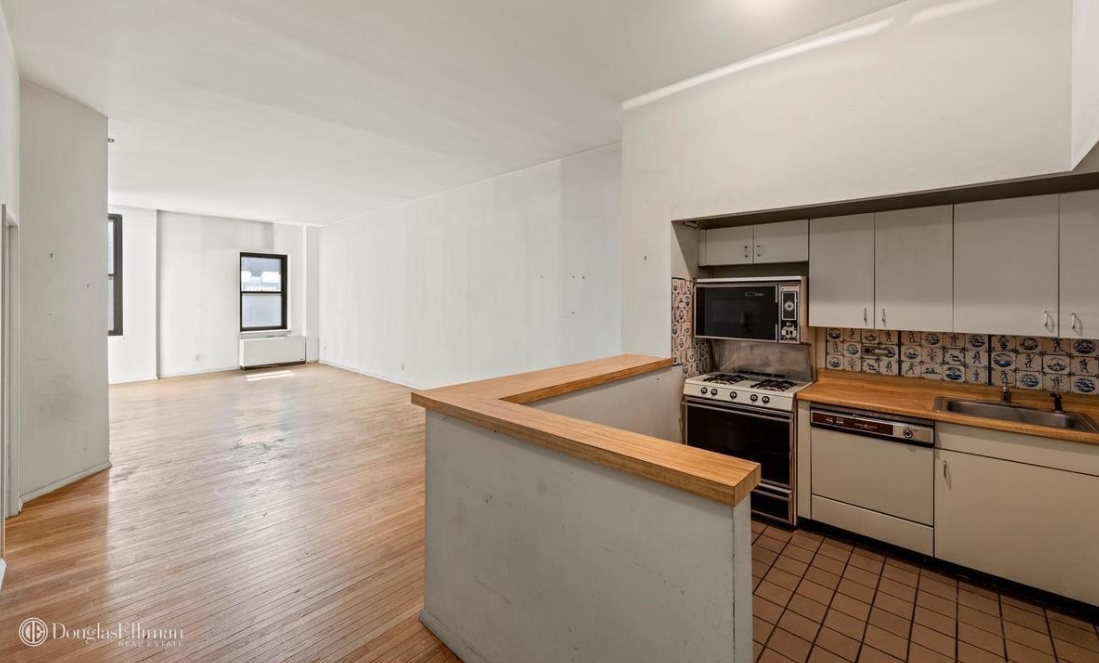 Break down the wall in the kitchen
Island: Cho would expand the kitchen into the living space by eliminating the useless low-height wall and building an island there instead. This should cost around $5,000 to $10,000.
Flooring: Since the kitchen will now feel like an extension of the living room, she recommends simply continuing the new wood flooring into here.
Cabinets: She'd install new cabinets in a dark ebonized wood that will reach all the way up to the ceiling in order to maximize storage space. She'd go with a combination of closed cabinets and open shelves below to make things feel more open and airy in here. Lower-end IKEA-type cabinets should cost around $10,000. Custom cabinets will be between $30,000 and $40,000.
Countertops/backsplash: Cho would choose Caesarstone Cloudburst Concrete, which she says "has a nice texture and a nice mellow, concrete look," for the countertops. She'd then run it up the wall for the backsplash. "It won't have any grout lines, and will have a really nice, modern, clean look," she says. This should cost around $15,000.
Appliances: Because the kitchen will now be fully open to the living room, she recommends going with panel-ready appliances that'll lend a more seamless look to the kitchen. This panel-ready Bosch dishwasher is $939 at AJMadison.com.  This panel-ready Bosch 30-inch bottom-freezer fridge is $6,099, also at AJMadison.com. This Bosch slide-in range is $2,424 at build.com.
Lighting: She'd drop the ceiling to put in a few recessed lights up top. She'd also add a pendant over the island and under-cabinet lights to provide task lighting. The recessed lights should cost around $5,000. This Aluminum Tolomeo two-light kitchen island pendant is $675 at Wayfair. These SlimEdge LED under-cabinet lights are $64 at Lamps Plus.
Sink/faucet: A new under-mount sink and faucet will also be in order. This Franke Pescara under-mount stainless steel sink is $712 at build.com. As for a faucet, she'd go with this Franke Plus pull-out faucet in granite onyx, which she feels would look great next to the new, dark cabinets. It's $410 at Wayfair.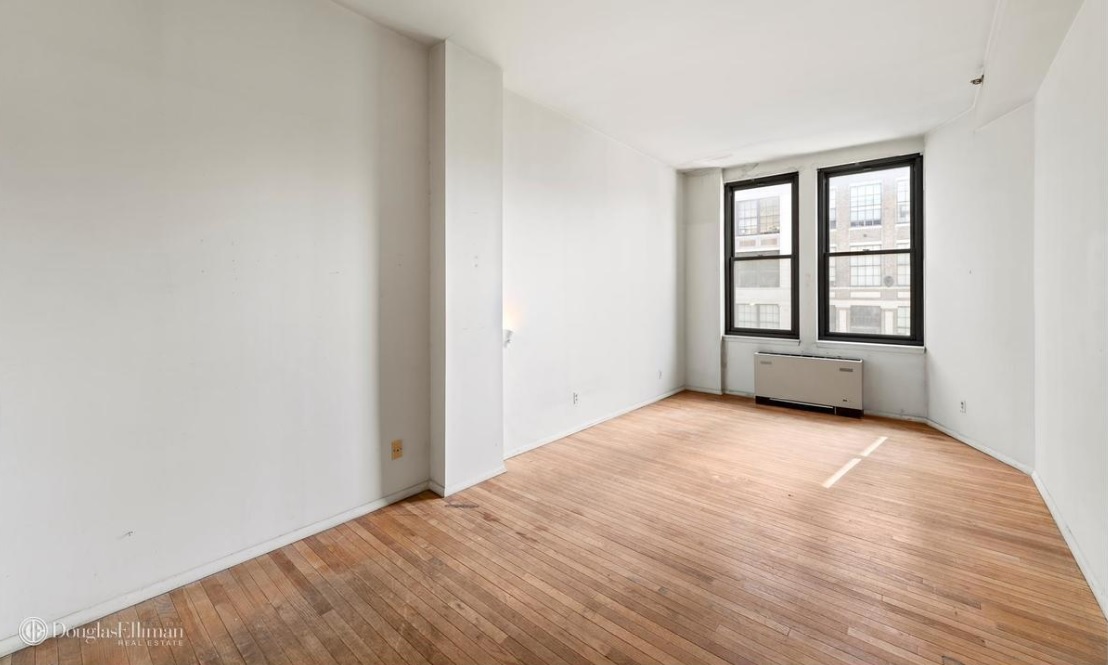 Hide the radiator in the bedroom
Radiator cover: Here, too, she'd add a radiator cover to hide the unsightly heating element. This should cost around $1,000.
Flooring: She'd extend the new wood flooring in here, too.
Walls: She wouldn't mind a little color on the walls in here, so she'd go with Benjamin Moore's Gray Owl, $80 per gallon. "It's not too warm and it's not too cool," she says.
Window treatments: She'd go with Roman shades in here, as well, to keep things feeling continuous, and would once again mount them to the ceiling to make the windows look bigger.
Lighting: She'd go simple in here—one light over the bed—"because people never want to drop the ceiling in a bedroom," she says. This Nico Glass Globe Chandelier in bronze is $359 at Pottery Barn.
Closet: She'd make the walk-in closet a bit larger so that it fully incorporates the smaller closet across from it and have it outfitted by a company like California Closets in order to make things more organized overall. This should all cost around $5,000.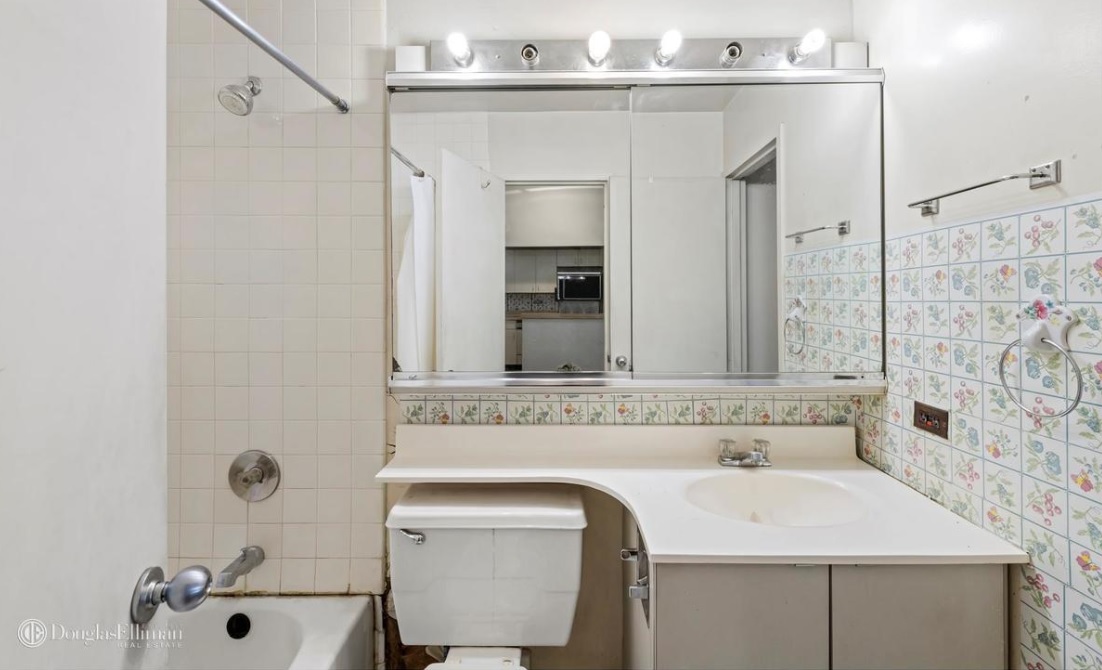 The bathroom needs a complete gut
She'd gut the entire room, and thinks it should probably cost around $25,000 to redo it all.
Vanity: She'd lose the current vanity and replace it with a larger double vanity as she thinks there's definitely enough room in here to accommodate it—especially if you push the bathroom out a bit and lose that weird sink just outside the bathroom (as depicted in the floor plan). This Piedmont double-sink vanity is $2,374 at Pottery Barn. She'd also get new faucets. This Jason Wu for Brizo single-hole electronic lavatory faucet is $952 at brizo.com. 
Tub/Toilet: She'd get a new tub and toilet for this space, as well as new shower doors. This Kohler tub is $771 at build.com. This two-piece Toto toilet is $487 at supply.com. The doors should cost between $1,000 and $2,000.
Floors/Walls: Cho would get off-white, concrete-look, large-format tiles for the floor and part of the walls—just behind the sink and in the shower. She'd paint any remaining visible walls white. These tiles should cost around $8,000.
Lighting: She'd drop the ceiling and install a few recessed lights. This should cost around $5,000. She'd also add a new light above the vanity. This WAC Lighting bathroom sconce (in black) is $349 at build.com.