Brick Underground supports our readers with product recommendations specifically curated for New Yorkers. If you buy something through our links, we may earn an affiliate commission.
Architect Carl Shenton of Brooklyn's Shenton Architects loves that this Forest Hills fixer-upper, 70-20 108th St., #2G, is "generous spatially" and is "very linear, aligned, and organized," meaning lots of layout changes won't be necessary. He also likes that there's a separate dining room that can easily be turned into a second bedroom.
That said, he hates the low ceilings in the $540,000 co-op, and thinks the kitchen was "last renovated circa 1970."
In this week's Reno Ready, Shenton explains how he'd jazz the place up, including banishing the garish wallpaper from the apartment, opening the kitchen up to the living room, and closing off the opening between the kitchen and the former dining room to make that space into a proper second bedroom.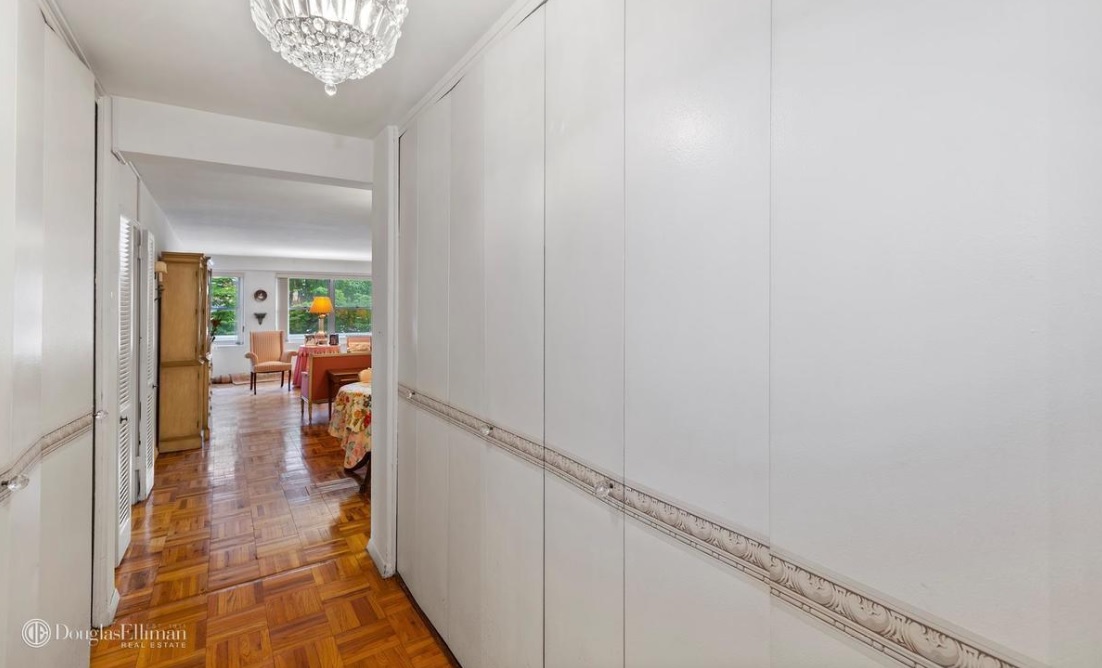 Sand the floors in the entryway
Flooring: The parquet floors are in "reasonable condition," Shenton says. He recommends keeping them, and sanding and refinishing them so they look brand-new. "They're a little orange-looking, so I'd make them more blonde-looking, as well," he says. This should cost around $3,000.
Closets: Shenton loves that there are tons of closets along the right-hand side of the entry foyer, but he can't stand that they have bi-fold doors on a cheap-looking sliding track. Tracks like that "get tired over time," he says, and the doors "never actually stay in place." He suggests ripping out the track and replacing the doors with medium-density fiberboard that your contractor can paint white. "The doors will be completely flat and flush," he says. He'd also install some nice-looking handles, and put up some new shelves and hanging rods inside. This closet work should cost around $4,000.
Lighting: He'd lose the rather ornate chandelier in here and replace it with a more modern surface-mounted light fixture. Prices for this Bola ceiling and wall lamp start at $395 at Design Within Reach.

Take advantage of the large living room
Since he'd prefer to turn the dining room into a bedroom, Shenton wants the living room to double as a dining room. "The living room is quite large, though, so that's doable," he says.
He would configure it pretty much as it is at the moment with the living room furniture closer to the window and the dining table near the entry foyer.
Flooring: He'd sand the refinish the flooring as he did in the entryway.
Rug: Shenton feels that it's important to add an area rug to the living area to better "define the living space." He wouldn't add one to the dining area. Prices for this Pigment Color Block rug start at $349 at CB2.
Trim: He'd replace the baseboards and trim around the doors since they're probably pretty beat-up. New baseboards and trim for the entire unit should cost around $2,000.
Lighting: "You're limited in what you can do in terms of ceiling lighting options," Shenton says, noting that the ceiling is likely a concrete slab that can't be drilled into, and he wouldn't want to drop the already low ceiling any further in order for recessed lights.
He thinks the room would do fine with "one good floor lamp," "one decent table lamp," and a more modern pendant above the dining table.
"Living spaces don't always want to be well lit," he says. "You want more ambient lighting."
Prices for this Anglepoise floor lamp start at $324 at Design Within Reach. Prices for this Anglepoise task lamp start at $245, also at Design Within Reach. This Smithfield S pendant is $1,095, also at Design Within Reach.
Paint: He likes the white on the walls at the moment, but would repaint the entire unit so as to be able to repair any imperfections on the walls. His favorite white is Benjamin Moore's Snowfall White, which "has a little bit of warmth to it" and will coordinate nicely with the newly refinished floor. He'd use the same white for the walls, ceiling, and trim throughout the unit, but use different finishes for each—flat for the ceiling, matte for the walls (since it's a little more durable), and satin for the trim and doors (to make them pop). A gallon of the paint is $80.
Window treatments: Shenton would put up roller shades with some transparency so that they can be used both for privacy and solar control. "Simple white always looks very crisp," he says. Prices for these solar shades start at $230 at The Shade Store.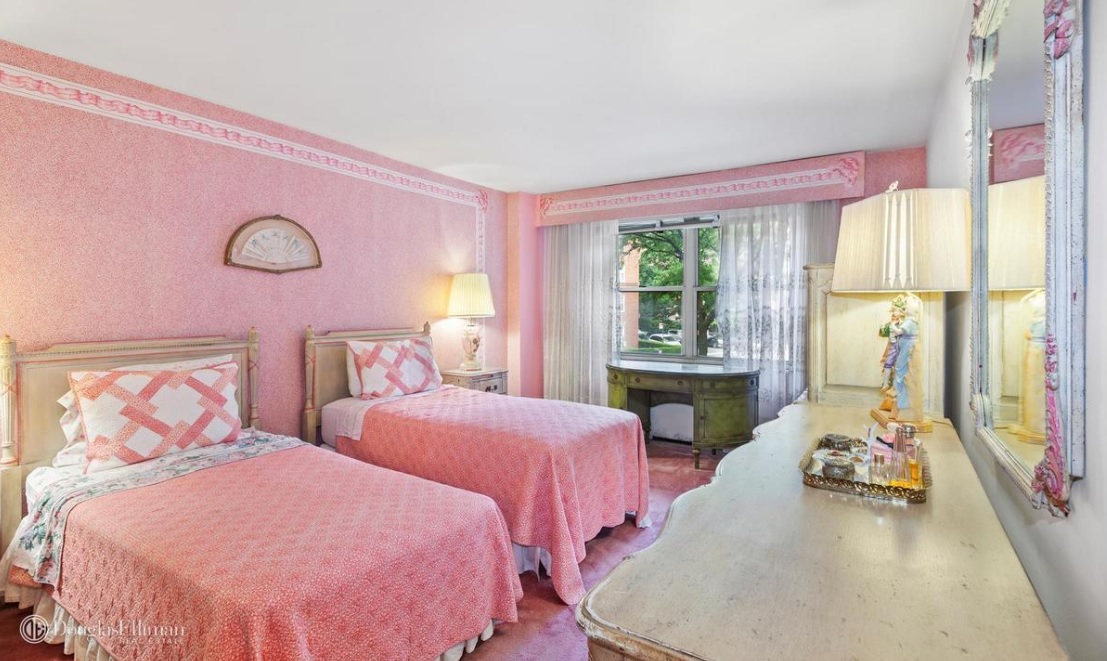 Strip the pink from the bedroom
Walls: He'd strip the candy-pink wallpaper off the walls to quiet things down considerably. But then the walls will need to be skim-coated to make sure they're flat and smooth before being repainted with the same Snowfall White as the living room. Skim-coating the walls in here should cost around $2,000.
Flooring: There looks to be pink carpeting in here at the moment. Shenton advises pulling it up to see what's underneath. If you're lucky, it'll be the same parquet as the rest of the apartment. If that's the case, you could simply sand and refinish them as you did in the rest of the unit. If not, and you need to add new parquet flooring to match, that should probably cost around $3,500.
Lighting: Shenton would put wall-mounted sconces on either side of the bed that can be controlled from two locations—the entrance to the room, as well as by the bed. This Lampe Gras Model 304 Sconce Lamp is $360 at Design Within Reach. Rewiring the room for multiple switches should be around $1,500.
Window treatments: Since this is a bedroom, Shenton would put up blackout roller shades to keep out the light. But he'd top them with sheer curtains to add a softer touch to the space. He'd also run them wall to wall. "It looks cleaner that way and it leaves the windows and views unobstructed" when open, he says. Prices for these blackout roller shades start at $230 at The Shade Store. Prices for these sheer curtains start at $56 at Pottery Barn.
Closets: They aren't pictured here, but Shenton assumes that they have similar bi-fold doors to the ones in the entryway. If that's the case, he'd swap them out for simple MDF boards that he'd paint white. He also suggests investing money in fixing up the interior of the closet in order to make the space more functional.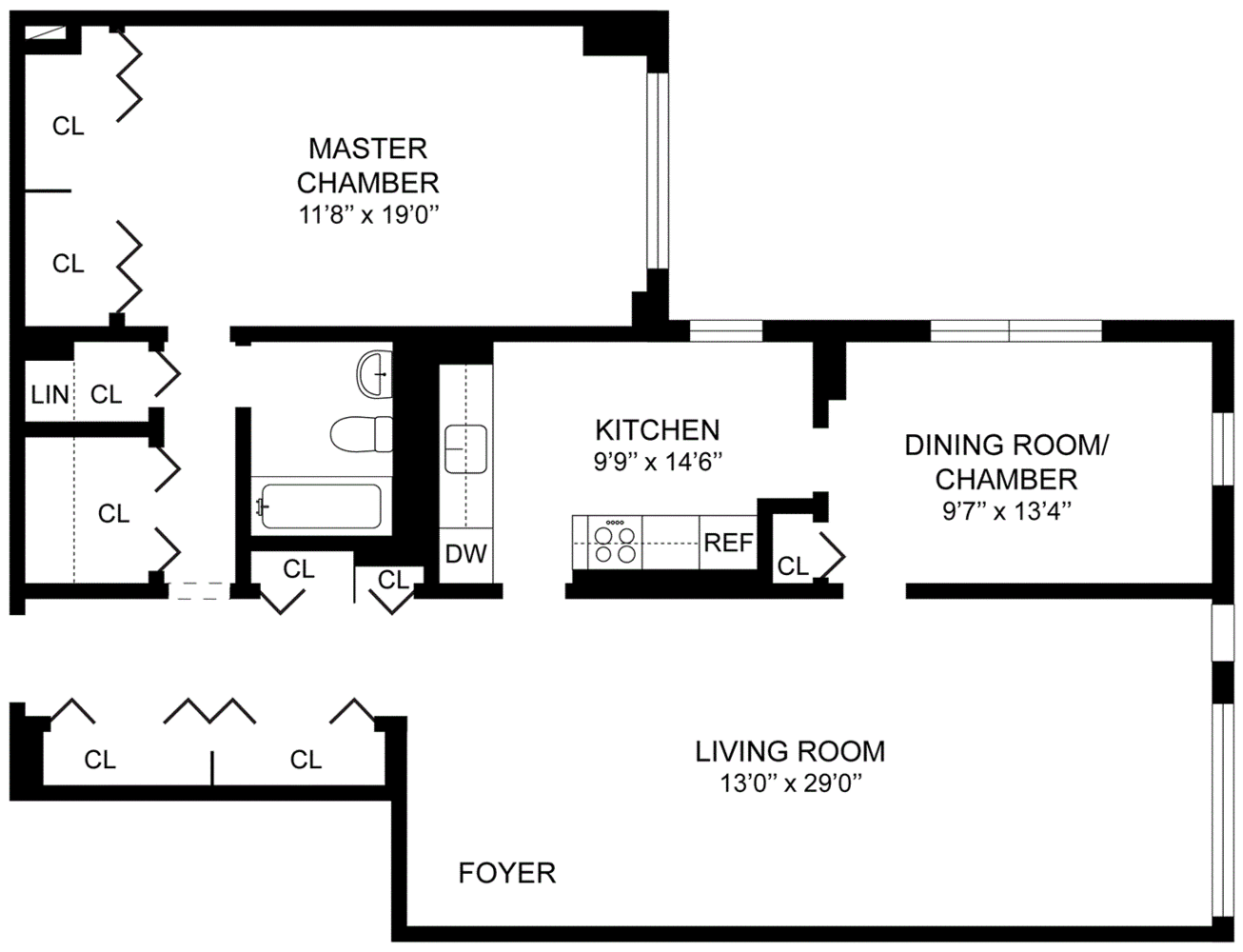 Fix the suspected water damage in the second bedroom
Walls: There aren't any pics of the second bedroom (the dining room on the floorplan), but you can catch a glimpse of it in one of the living room photos. And Shenton doesn't like what he sees there. "I think they didn't show it because there's some kind of water damage," he says, noting the brown streaky lines that are clearly noticeable on the walls. He'd therefore recommend skim-coating and repainting the walls in here, as well.
Floors: Assuming that the floors are in ok shape, he'd sand and stain them to match the rest of the unit.
Doorway: The floor plan shows a doorway between this room and the kitchen—which would make sense if one was using this room as a dining room, but makes zero sense when it's a bedroom. For that reason, Shenton advises closing up the opening. This should cost a few thousand.
Doors: There are double doors leading to this second bedroom. It's hard to tell what they're made of, but Shenton says that if they're thick solid-core doors, he'd hang onto them.
Closet: There's a small closet in here, as well. Shenton would replace the bi-fold doors with MDF and put up shelves and a hanging rod.
Bring the kitchen up to date
"This was clearly last renovated circa 1970," Shenton says of this floral-wallpapered paradise. He advises taking everything out and starting over to make it more modern.
Open it up: "The kitchen's badly organized," he says, adding that it "turns its back on the living room." He'd therefore take out the wall behind the fridge and oven so that the kitchen will be open to the living space. "This is one thing that'll really transform the apartment and add a lot of value."
If there's plumbing or a gas line in the wall that needs to stay there—meaning he can't simply take out the entire wall—he'd lose just the top half of the wall and extend the countertop into the living room to make an island. He'd also move the fridge to wall next to the second bedroom. This should cost a few thousand dollars.
Cabinets: He'd lose the upper cabinets atop the stove, but would add more to the opposite side, which is currently bare, as well as to the wall that previously separated the kitchen from the second bedroom. To save money, he'd go for Ringhult cabinets from IKEA. "They have a white gloss finish, are very durable, and look pretty high-quality," he says. These should cost around $6,500 for the entire kitchen.
Countertops/Backsplash: Shenton feels that white Caesarstone or Carrara marble with gray veining looks "kind of timeless." He'd also recommend folding it all the way up the walls to the cabinets to serve as a backsplash. This should cost around $70 per square foot.
Appliances: He'd replace all the ancient appliances in here. This stainless steel Bosch dishwasher is $894 at AJMadison.com. This built-in Bosch oven is $1,344 at build.com. This 30-inch Bosch gas cooktop is $1,029 at AJMadison.com. And this 30-inch Liebherr bottom-freezer fridge is $2,600, also at AJMadison.com.
He'd also install an island hood above the new island. This Futuro Jupiter Series hood is $1,895, also at AJMadison.com.
Flooring: Shenton would get rid of the linoleum, and replace it with porcelain tiles that are "durable and cost-efficient." These should cost around $8-$10 per square foot (before installation).
Lighting: "Since the ceiling is a concrete slab, we might have to look at a track light system," Shenton says. An eight-foot track with three heads, like this one from the Lucifer Lighting Company, should cost around $1,100.
He'd add under-cabinet lights, too. These GE Enbrighten 24-inch direct-wire under-cabinet lights are $60 each at The Home Depot.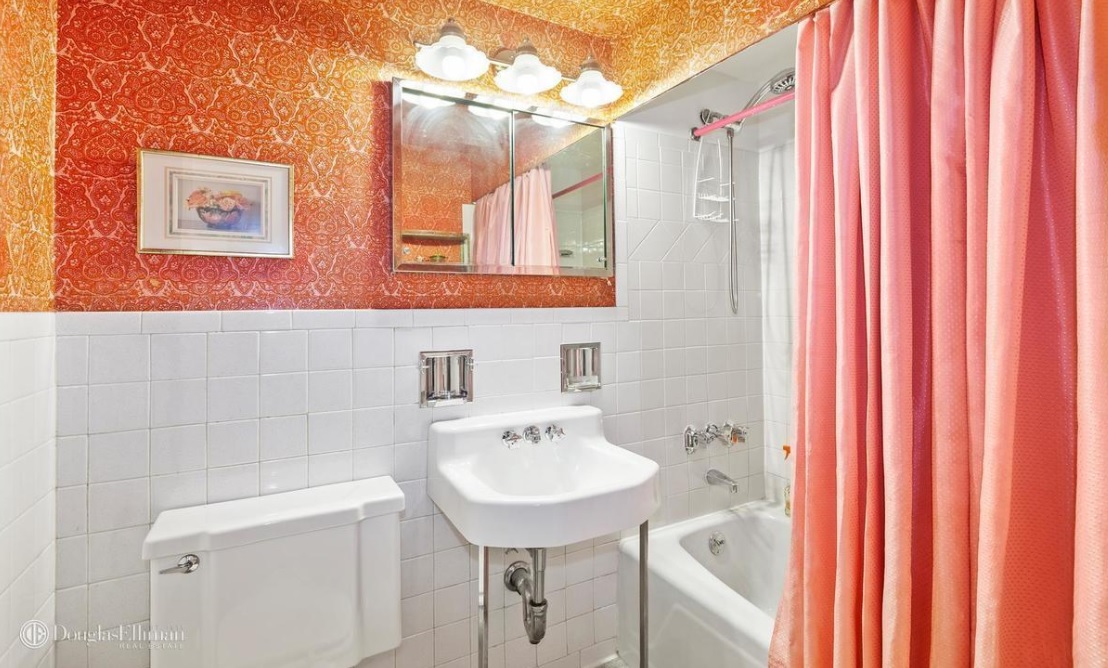 Bathroom needs a complete overhaul
"This is going to be a gut renovation," Shenton says of this overly orange space. "I'm talking taking everything out down to the studs."
Walls: He'd tile the walls all the way up to the ceiling, including the areas behind the toilet and vanity. "It will really elevate the space," he says. He thinks that white porcelain tiles in a matte finish will look nice in here. These typically cost around $4 to $5 per square foot.
Floor: If he's going so simple on the walls, he'd opt for more ornate flooring. "Possibly Carrara marble tiles," he says. These should be around $20 per square foot.
Toilet/tub/sink: He'd get a new toilet, a new tub, and a sink with a vanity cabinet (which will replace the rather useless pedestal sink that's in here right now).
This Duravit DuraStyle dual-flush one-piece toilet is $371 at build.com. This Duravit drop-in soaking tub is $611, also at build.com. This Godmorgon sink cabinet with two drawers is $169 at IKEA.
And if you want something more unique for the vanity, he recommends taking an off-cut from the countertops in the kitchen and adding it to the top of the bathroom vanity. "It's an easy way to add a little value," he says.
He'd also get a new faucet, a new tub spout, and new shower controls from AF New York. Themostatic shower controls should be about $670, a wall-mounted widespread faucet should be about $375. A single-level deck-mounted faucet should be around $250. And a new tub spout should cost $95 or so.
Medicine cabinet: Shenton suggests getting a taller, built-in medicine cabinet for this bathroom. "You can even get one with integrated lighting if you'd like," he says. This single-door Kohler lighted medicine cabinet is $846 at efaucets.com.
Lighting: "You really want lighting on your face in a bathroom," Shenton says. So he'd put up sconces on either side of the mirror, like these Chip Sconces, $580 each at Rich Brilliant Willing.
But you also want some light from above. As such, he'd drop the ceiling two inches and install two lights up top. Dropping the ceiling should be around $1,500. These Crisp White Sconces are $280 each at Rich Brilliant Willing.  
Shower door: "Architecturally, glass is better," Shenton says, explaining that he'd opt for a fixed glass panel in here instead of the curtain. This should cost around $2,500 to $3,000.
But if you have small children or pets and the panel will make it harder to bathe them, he recommends sticking with a curtain. He'd just get a nicer one than is up at the moment. He'd also get a shower rod that screws into the wall so there's no danger of it falling down. This rod should cost around $200 or so. This Antique Stripe Shower Curtain is $79 at Pottery Barn.