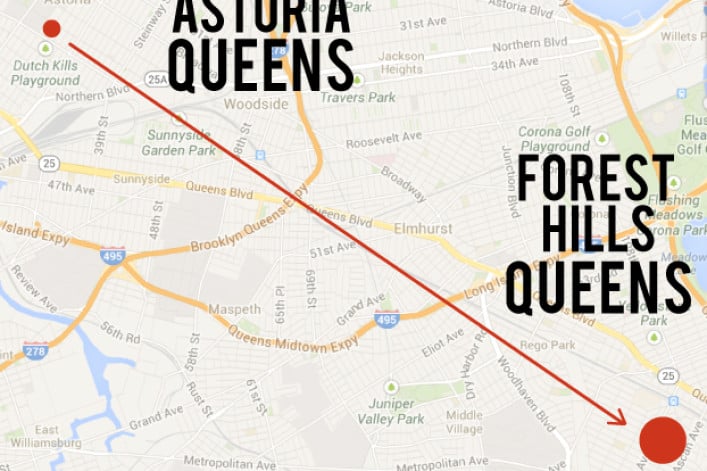 My husband and I moved in March 2013 from a $1,300, one-bedroom apartment on 35th Street and 35th Avenue in Astoria, Queens to a $1,900 per month, two-bedroom apartment on Booth Street at 67th Drive in Forest Hills, Queens.
We just had a baby girl so we definitely needed more space.  
We really wanted to stay in Astoria but couldn't find the amount of space we wanted for the price we were willing to pay… which was $1,700. But when we saw the space in Forest Hills we were willing to pay $1,900 (plus $125 per month for parking). We also really wanted outdoor space. All of the Astoria places with outdoor space were over $2,000 and much smaller. 
I loved everything about Astoria, so many great trains, a great donation-based yoga studio called Agora in Astoria. It has beautiful windows and is packed every class! There is also amazing food—and cabbies love going there from Manhattan because most of them live in Astoria. 
Astoria was really fun to walk around and explore. There were secret little bars and places to eat like Basil Brick Oven Pizza or the new shop called Lockwood (formerly SITE.) 
I miss the Astoria Park with the skate park and pool under the bridge and all the cute shops.
That said, I like Forest Hills, too. There are a lot of other families here so I don't feel out of place with a baby. It's a very safe neighborhood, although there aren't a lot of great restaurants. Not like Astoria where there was a much more eclectic array.
Food-wise, Forest Hills has a few gems. I really like Corfu Grill for Greek food and there is also a great little old-fashioned ice cream parlor called Eddies Sweet Shop.  I also like Jade Asian bistro in Station Square because it's so pretty…the building is amazing.
In Astoria there were too many restaurants to name, but I loved the Arepas Café, Monikas Cafe Bar, Il Bambino, Sweet Afton, Hell Gate Social. Studio Square tends to attract obnoxious crowds but it is a really nice outdoor beer garden, the old beer garden.  Bohemian Hall Beer Garden is nice, too.  Our old apartment in Astoria was above Sunswick Bar -- that place had amazing homemade mozzarella sticks, so good drunk or sober! 
Forest Hills needs some good pizza. The pizza at La Bella Russo Pizzeria is pretty good pizza, but it's not the awesome thin, brick-oven kind. Their sauce is amazing, though, so dishes like lasagna and ziti are worth getting.
As far as going out, Forest Hills is limited mostly to Queens Blvd and the "downtown" area is Austin Street. Unlike Astoria, where everywhere was fun and entertaining, Forest Hills is mostly residential. 
But I love the family community feel in Forest Hills. I am part of a parent mailing list and people really look out for one another.
We are also right down the street from a nice park that the baby will love when she is a little older.
Forest Hills is a little further from Manhattan than I had planned BUT I don't mind giving that up for more space. I work in Manhattan so it is important for me to be close;  I also still enjoy going to museums, restaurants and visiting friends there. 
The rush hour commute is not that bad but in the evenings and on the weekends the trains are always re-routed or going express--so unless you live right off of the 71 Street/ Continental stop commuting during off-peak hours is not great.
Also, taking a taxi home is so expensive...around $50 plus. The majority of the people who live in Forest Hills have a car.
Overall I would not recommend moving to Forest Hills until you are 30-plus. If you're into going out in Manhattan the commute is so long.
All that said, if I had to do it again I would definitely make the move. Our apartment is huge and the neighborhood feels so safe and family friendly.
---
Transitions highlights New Yorkers' first impressions as they transition from one neighborhood to another. Want to tell us your transition story? Drop us an email.
Brick Underground articles occasionally include the expertise of, or information about, advertising partners when relevant to the story. We will never promote an advertiser's product without making the relationship clear to our readers.