Brick Underground supports our readers with product recommendations specifically curated for New Yorkers. If you buy something through our links, we may earn an affiliate commission.
You probably can't tell from looking at the strange kitchen of this Carnegie Hill one bedroom, 1040 Park Ave., #7H but the 715-square-foot apartment has lots going for it, including tons of closet space and an extremely large bathroom, says architect Greta Weil of Weil Friedman Architects.
Still, the $699,000 co-op could use more than a little bit of TLC. It's being sold as part of an estate sale, and is in abysmal condition.
In this week's Reno Ready, Weil outlines her plans for overhauling the unit, including gutting the rainbow-colored kitchen (which she calls "almost mid-century in its clunkiness"), opening it up to the living space, and turning the "strange and unusable" dining room in the living room into closet space.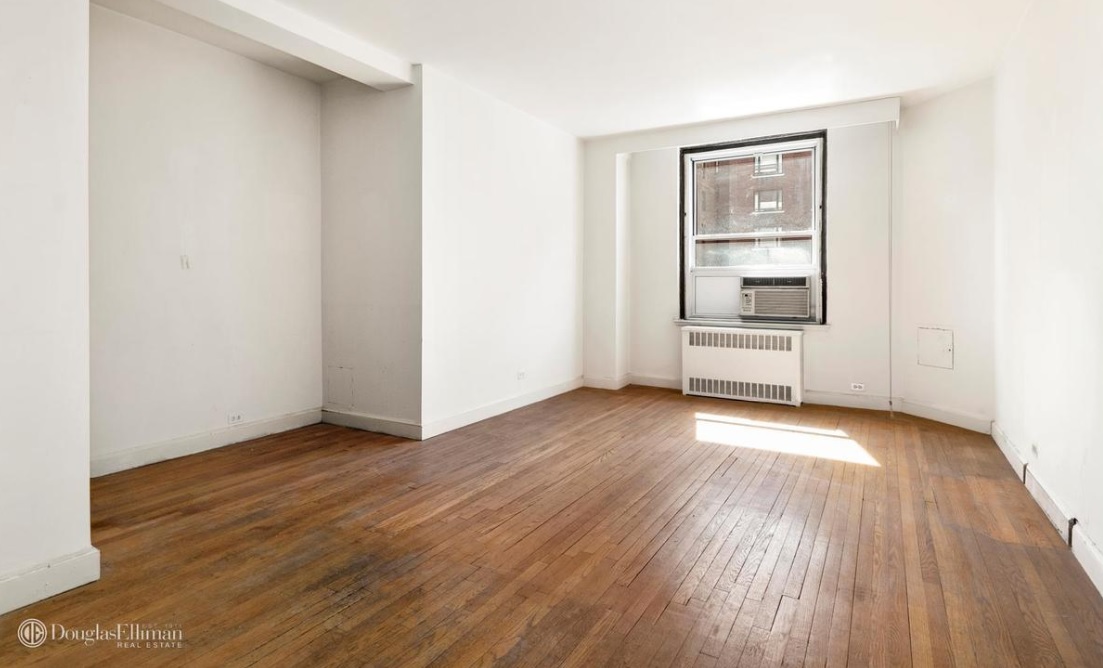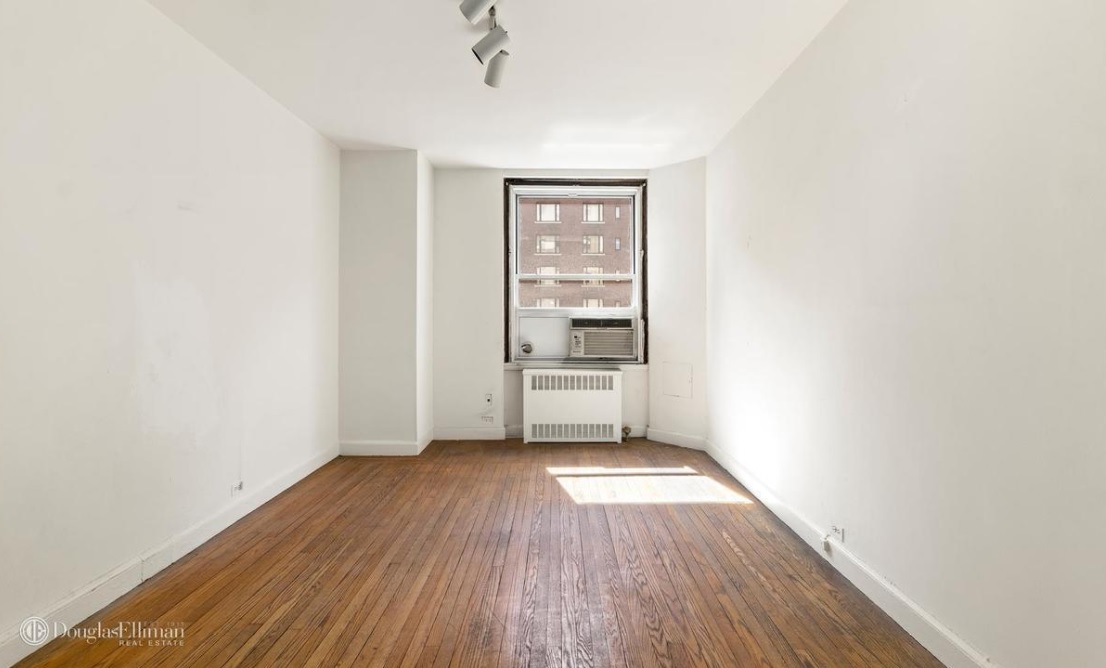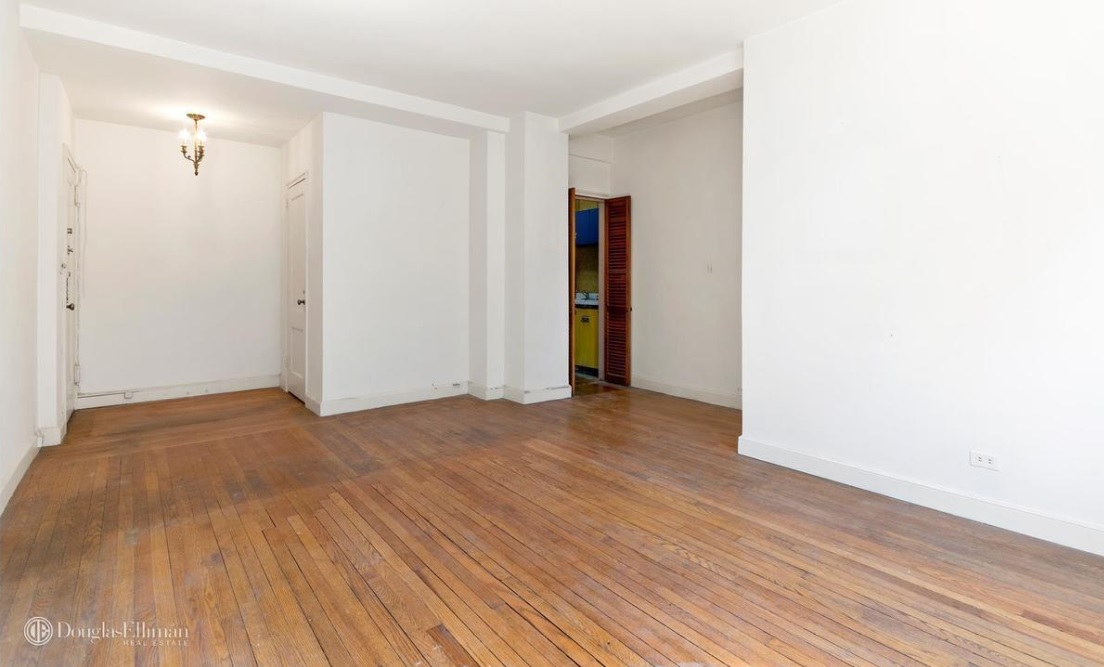 Close off the dining alcove in the living room
Dining alcove: Weil feels that the "awkward," shallow space being touted as a "dining room" on the floor plan is actually a terrible place to put a table as it "breaks up the room" and "makes the living room seem smaller." She'd do away with the alcove by putting up doors and turning it into a closet or a pantry instead.
She'd also close off the entrance to the kitchen here (she'll build a new opening elsewhere), and move the refrigerator so that it backs up to the newly built closet.
This should all cost around $5,000 or so.
Walk-in closet by front door: She'd remove the walk-in in the foyer area—it's less necessary now that there's a new closet where the dining area once was—and open up a new entrance to the kitchen here. This will extend the kitchen into the living area and introduce some natural light into the rather dark space. This demo work will be a portion of your contractor's overall price.
Radiator: "It's a little high and off center," Weil says. So she'd either get a smaller radiator that she feels will fit in better in this room and/or have a custom cover with grilles built for it so that the eye won't be drawn to it immediately. This should cost around $3,000 or so.
Paint: Weil doesn't mind the neutral color on the walls at the moment. "I like white paint," she says, noting that it's simple and classic. A gallon of Benjamin Moore's Simply White is $80.
Moldings: "The room could definitely benefit from a simple crown molding in here," she says. "There's a lot going on and it could really bring everything together." This eight-pack of finger-joint crown molding is $103 at Lowe's.
Lighting: Since there's just the one window and there isn't a lot of natural light flowing in, Weil thinks that the best route is to recess the ceiling and put in a series of can lights to illuminate the space from above. "I like the can lights because they're small," Weil says, so they'll be easy to recess.  It should cost a few thousand to recess the ceiling. Each of the can lights is around $200.
Floors: "I wouldn't spend any money on replacing the floors," Weil says, explaining that they look to be in ok shape, but could definitely use a thorough sanding and staining. She'd go with a dark walnut color because "it's more forgiving," she says. "It doesn't show wear and tear as much and will look nice against the white walls." A gallon of Minwax Dark Walnut wood stain is $45 on Amazon.com.
Windows: If the building allows it—some co-ops won't—Weil would replace the windows, which she believes to be in bad shape. Prices will vary based upon the vendors that the building chooses.
Window treatments: Weil isn't crazy about shades in general, but if the apartment's new occupant wants some, she'd recommend going with simple white roll-up shades, $255 at The Shade Store.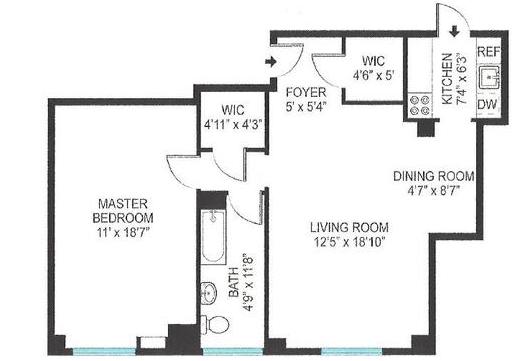 Extend the kitchen into the living area
She'd lose the walk-in closet just inside the front door in order to extend the kitchen into the living area and make it feel less closed-off.
Countertops: She'd extend counters on both sides into the area that used to be the walk-in closet, and use the counters to the left of the oven as a breakfast bar (with a couple of bar stools). She'd go with soapstone or Corian for the counters because of its durability. These should cost about $100 per square foot.
Backsplash: If the counters are a simple pattern, she'd suggest going with an "exotic mosaic" for the backsplash. If, on the other hand, the countertop itself is exotic, she'd instead go with a simple tile for the backsplash. Prices for tiles will vary.
Cabinets: Weil would happily lose the blue and yellow cabinets in favor of simple white ones. "I prefer white in small spaces," she says, noting that it makes things feel larger. And now that the kitchen will be extended, she'll add both base and upper cabinets to the left-hand side—and extend them all the way to the ceiling in order to maximize storage space. The right-hand side—with the new breakfast bar—will only have base cabinets. Custom cabinets for this space will be around $20,000.
Appliances: She'd get all-new appliances, and make sure that the dishwasher and fridge be fully integrated into the space so that they essentially disappear. She'd also get a new range. This panel-ready Liebherr bottom-freezer fridge is $4,999 at AJMadison.com. This Bosch panel-ready dishwasher is $939, also at AJMadison.com. This Wolf four-burner range is $7,255 at Subzero-wolf.com.
Flooring: Since the kitchen is now going to be somewhat integrated with the living room, she suggests matching the wood flooring and continuing it in here. "That might require a little bit of waterproofing underneath," she says. These wooden boards should cost around $10 to $20 per square foot.
Lighting: "We always use recessed lights in a kitchen," she says. "They're much more task-oriented." She'd also install under-cabinet lights. These Halo integrated LED recessed lights are $25 each at The Home Depot. These GE Enbrighten 24-inch direct-wire under-cabinet lights are $60 each at The Home Depot.
Sink: She'd leave the sink where it is, but would get a more modern one, such as this Standart single-bowl undermount sink, $270 at The Home Depot. A new faucet will also be in order. This Kohler one with a pull-out sprayer is $223 at Build.com.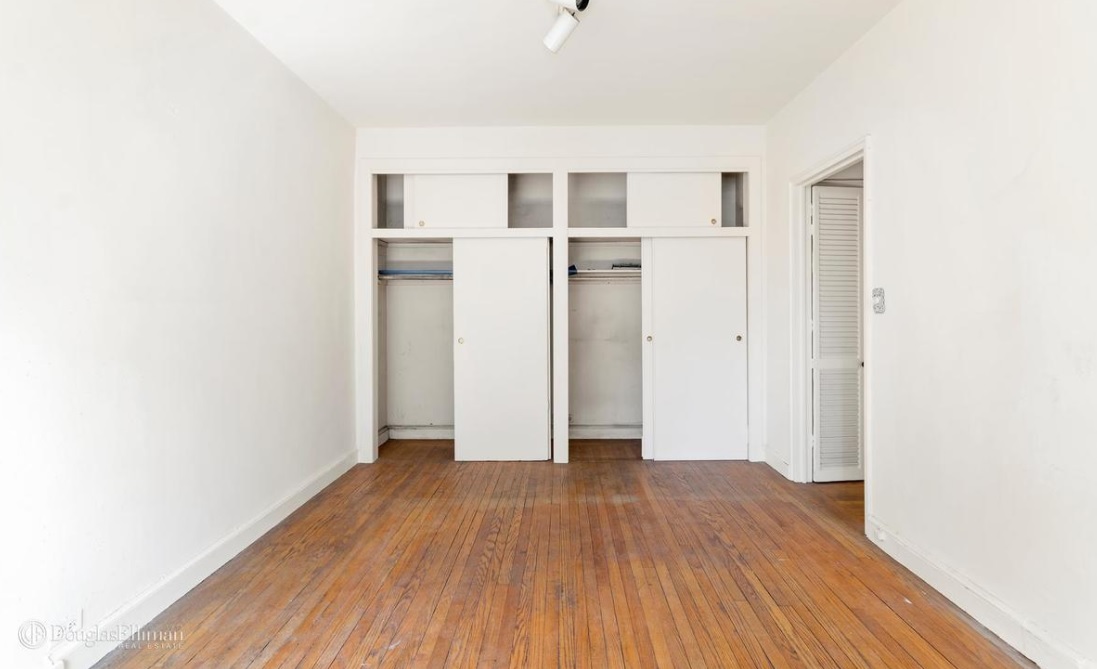 Fix the floors in the bedroom
Flooring: She'd have the wood floors sanded and stained in here, too.
Radiator: Weil would cover this heater with a custom cover that matches the one in the living room.
Walls: "Paint is a pretty personal choice," she says, noting that she's partial to "cooler colors" in bedrooms. A gallon of Benjamin Moore's Gray Owl is $80.
Closets: There aren't any closets in here in the floor plan, but the photo definitely shows closets, which means they were probably added by the current occupant. She'd expand them a little as she feels there's definitely enough room in here for walk-in closets. This should cost a few thousand dollars.
Lighting: "You don't really need a lot of harsh overhead lighting in a bedroom," she says, explaining that she would never have put in the track lights that are in here at the moment. As such, she'd suggest going with a combination of a single flush-mount up top and a pair of bedside lamps. Prices for this Geos LED ceiling light start at $99 at YLighting.com. This Stand Cylinder Shade Table Lamp is $279 at Rejuvenation.
Window treatments: Shades will be necessary in here, too. Prices for these roll-up shades start at $255 at The Shade Store.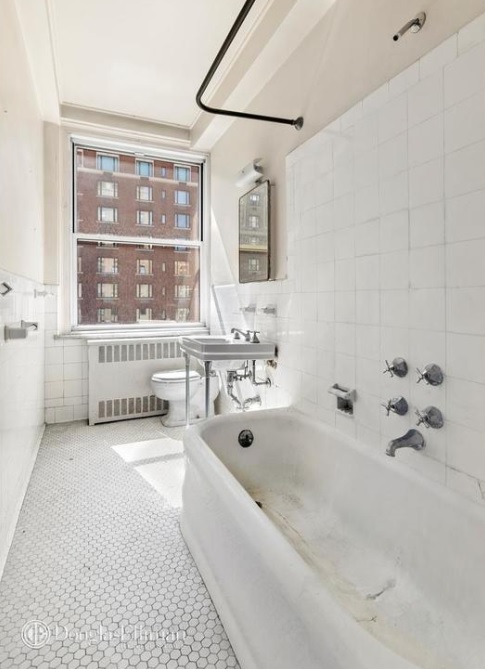 Move the door to the bathroom
Move entrance: "It's quite a large bathroom, but the door is right near a column," Weil says, explaining it all feels a little more cramped than it should. She would close up the wall where the door is at the moment and add a new opening for a door in the bedroom—making it an en suite bath—behind the sink (which will be moved). This should cost a few thousand dollars.
Bathtub: She doesn't think that a full-sized tub is necessary for most people—unless they have small children or pets—so she'd lose it and replace it with a standing shower that she'd relocate to the far end of the bathroom—where the original entrance was. This Kohler shower base is $379 at build.com. These Fleurco frameless shower doors are $906 at Décor Planet.  
Sink: Weil would get a vanity with some storage space instead of the pedestal sink that's in here right now. She'd also move the sink closer to the new shower in order to make room for the new entryway. This Classic Sink Mini Vanity is $999 at Pottery Barn.
Radiator: She isn't a fan of the look of the radiator, so she suggests having it removed and replacing it with radiant heat flooring. "It'll make things feel cozy," she says. These SunTouch Radiant Heat floor mats are $147 each at The Home Depot.
Lighting: Weil would choose a simple wall sconce above the sink, as well as a recessed light in the shower. This Hudson Wall Sconce is $252 at YLighting.
Walls: Weil prefers half-height tile as "it can feel too claustrophobic" when the tiles go all the way up to the ceiling. She likes simple large-format subway tiles, such as these Loft Super White 4x12 tiles, $17 per square foot at Tile Bar.  
Floors: Since she's going so simple on the walls, she'd opt for something with some personality for the floors—maybe some marble with an interesting pattern mixed into it. Prices will vary based upon whatever tiles are chosen.