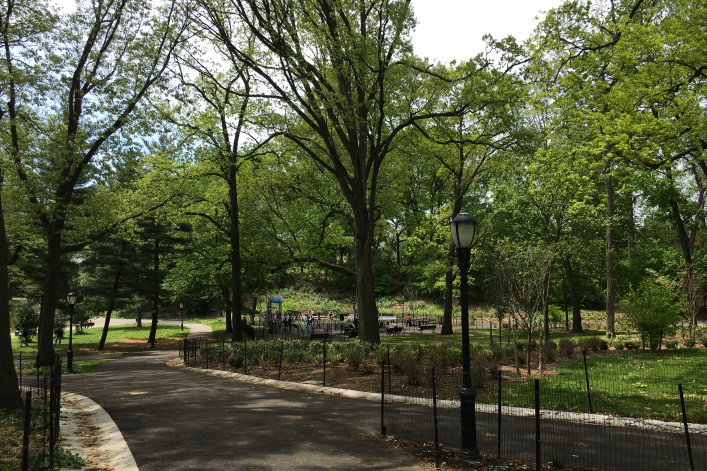 The allure of New York City's parks is legion: Greenspaces are what make living in the city that much more bearable. (There are more than 1700 of them dotted throughout the five boroughs, according to the New York City Parks Department.) But for the most part, the biggest parks—Central Park, Riverside Park, Prospect Park, Van Cortlandt Park, and Flushing Meadows Corona Park—are often the ones that get the glory.
And yet, says urban planner John Karras, founder of UrbanScale.com and an economic development consultant at the Austin, Texas-based TIP Strategies (and former New Yorker), "for the most part it's the little parks that make the neighborhood...They're gathering places, and help bring cities together." NYC's smaller parks are especially vibrant, he says, because they're an extension of the neighborhoods in which they sit. "It's the city and the surrounding neighborhoods that make a park a great space," he explains. 
Here, we celebrate the city's comparatively lesser-known—but equally beloved—oases:
Straus Park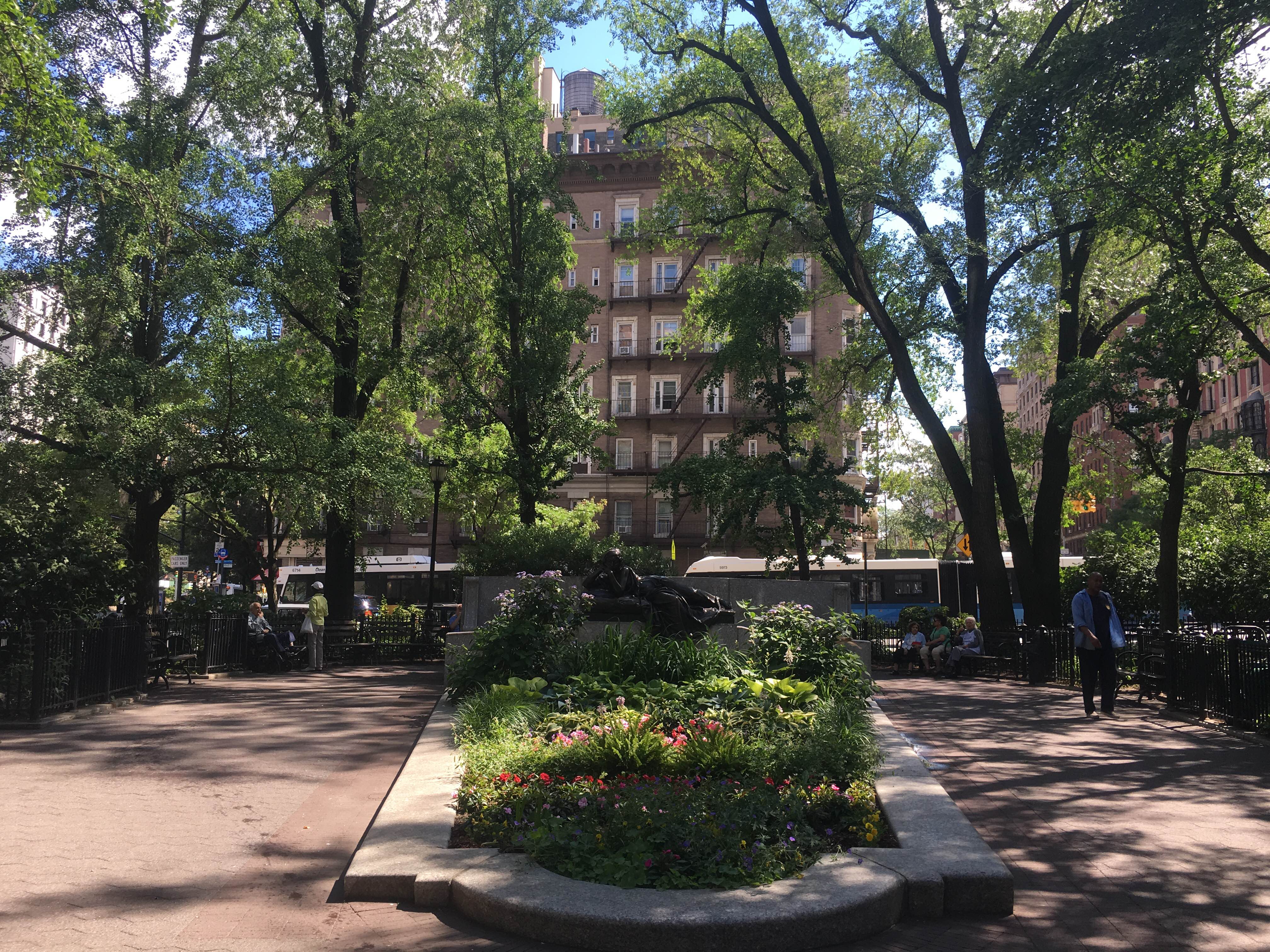 Straus Park is beloved among Upper West Siders. (Photo by S. Jhoanna Robledo)
This micro-park has a direct link to the Titanic: It's named after Isidor Straus—former co-owner of Macy's—and his wife, Ida, who lived nearby and died on the Titanic, and who were lovingly rendered in the film version as locked in an embrace in the final hours of the disaster. (Reports have Ida refusing to board a life boat when told she'd have to go without her husband.) Straus Park is so small it could be overlooked, but provides a welcome respite for residents living in this section straddling Morningside Heights and the Upper West Side. Though it sits right next to Broadway, it often feels blocks away, the landscaping providing a separation between bustle and bucolic; a fountain at its center—with a graceful sculptural rendering of Memory designed by Augustus Lukeman, according to the NYC Parks Department website, as its main fature—adds to the ambiance. 
Ewen Park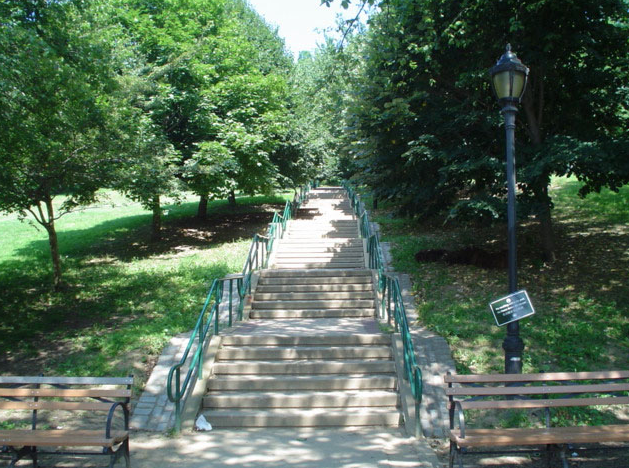 Ewen Park's staircase connects two neighborhoods: Kingsbridge and Riverdale. (Photo from the NYC Parks Department)
For many Bronx residents, Ewen Park provides a brief-but-welcome break from city life, as well as a more picturesque route from Riverdale to Kingsbridge and to the more retail-heavy thoroughfare of Broadway. According to the Parks Department website, it's named after a National Guard brigadier-general who fought for New York in the Civil War. In winter, its steep slope has been known to attract sledders, and in the summer, sun-worshippers looking to catch some rays. (On the day we visited, a kids' soccer game was brewing.) Dog owners love to visit, too, and a playground is being installed in the northern section. 
Alice Austen Park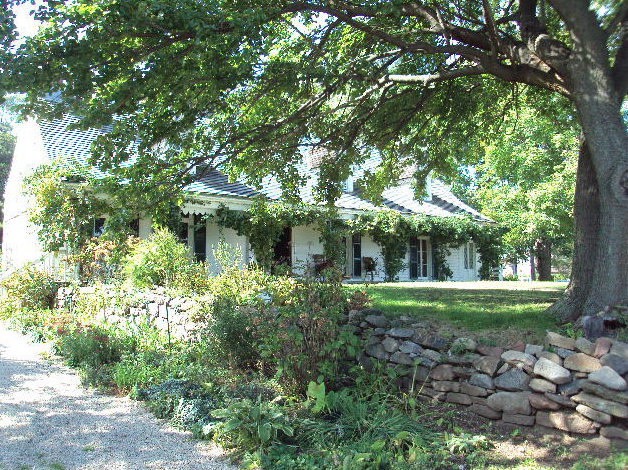 Alice Austen's house in Alice Austen Park. (Photo from the NYC Parks Department)
Talk about a gem hiding in plain sight: Staten Island's Alice Austen Park is a must-visit for fans of NYC and photography history, who can visit the landmarked 17th-century home at the heart of this greenspace. It's the former home of Alice Austen, who, according to AliceAusten.org, was a landscape designer who was also "one of America's earliest and most prolific female photographers." (Some of her photographs are on permanent exhibit at the house.) Beyond this fantastic feature, the park itself is a treasure: Given its waterfront location next to Buono Beach, it offers postcard views of Manhattan and gardens restored to their 17th-century grandeur, per the Parks Department website, thanks in part to Austen's pictures. 
Sunset Park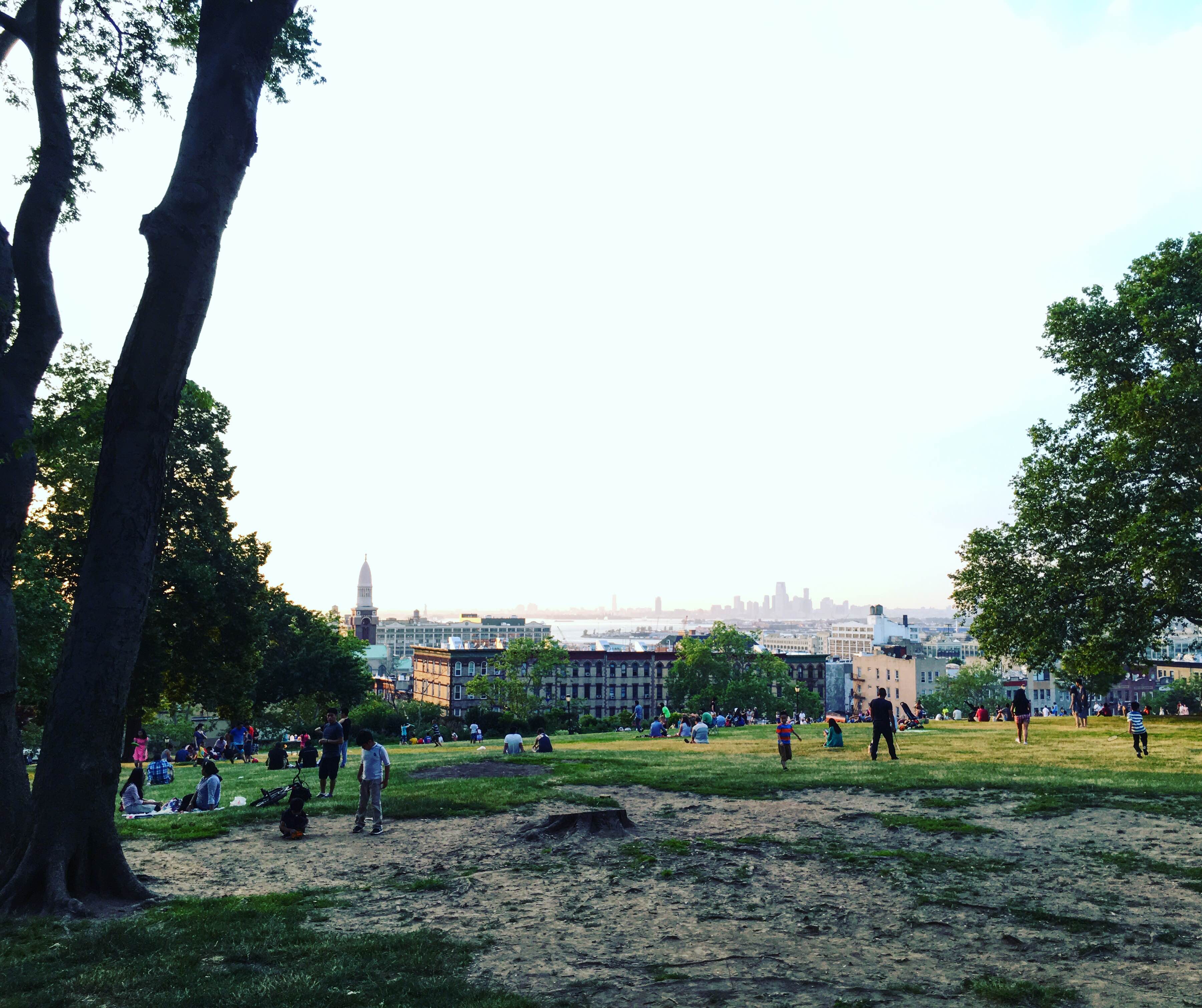 Sunset Park at dusk, with Manhattan on yonder. (Photo by S. Jhoanna Robledo)
It's not exactly under-the-radar, especially to those who live in the neighborhood that shares its name, but Sunset Park deserves even more love than it already gets from locals in the know. First, with its position on top of a hill, it may have one of the the best perches in all of Brooklyn for catching a sunset (hence the name). (Its peers include the Brooklyn Heights promenade and its piers, as well as Greenpoint's Transmitter Park, pictured below.) More important, though, is the joyous buzz of locals that make the most of it, lending it an almost celebratory vibe (at least when we visited). Jump into one of the exercise classes that take place under its tall trees, or hit one of its playgrounds. 
WNYC Transmitter Park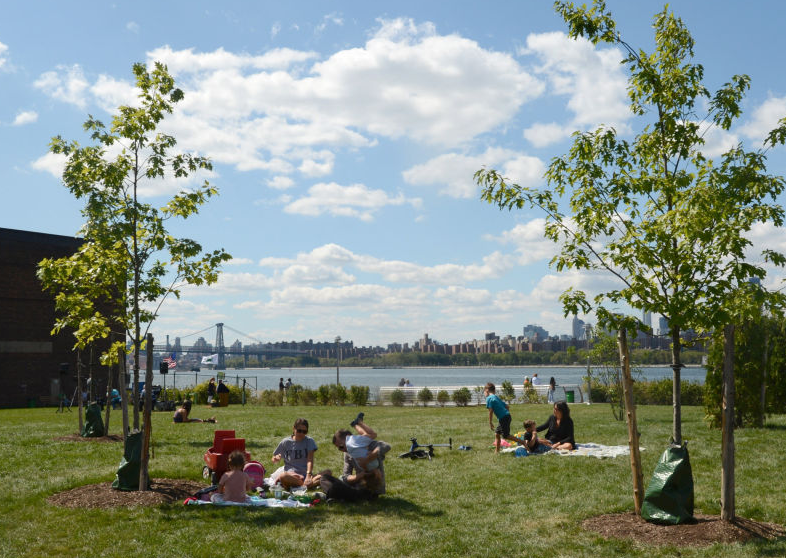 Picnicking with a gorgeous backdrop. (Photo from the NYC Parks Department)
If it's views you want, it's views you get at this waterfront oasis. WNYC Transmitter Park—so named because it's where public radio station WNYC had its first transmitter–serves Greenpoint and gives locals a place to relax, stroll, cool off (thanks to spray showers) and even fish. During the summer, it's home to "Films on the Green," a series co-hosted by the French Embassy that includes screenings of independent films at various parks; WNYC's Transmitter Park's offerings include Luc Besson's Subway (on tonight) and Francois Truffaut's The 400 Blows (scheduled for July 1).
Inwood Hill Park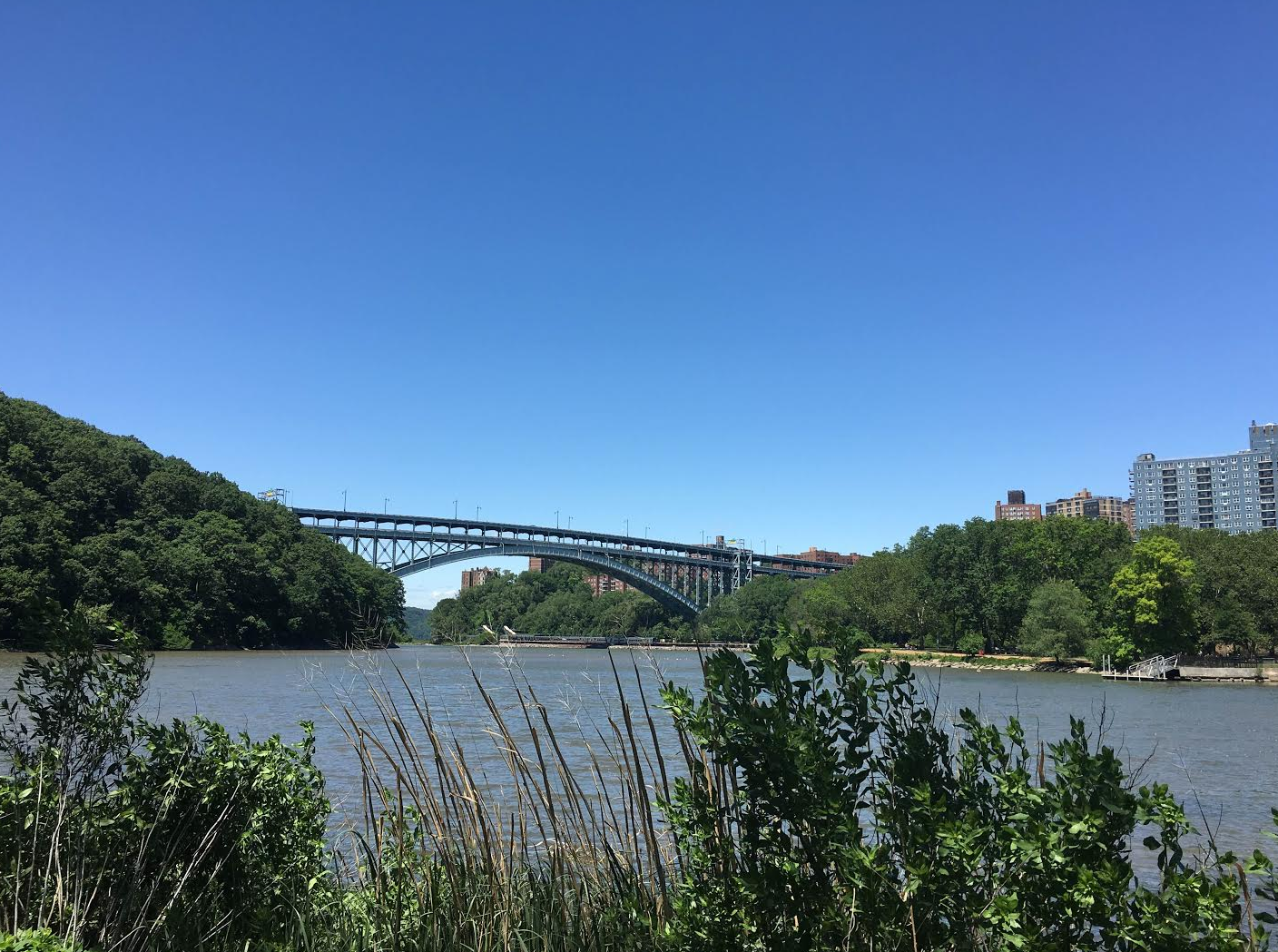 A view of the Henry Hudson Bridge and the Harlem River from Inwood Hill Park. (Photo by S. Jhoanna Robledo)
Again, Inwood Hill Park is not exactly unknown to those who live in the northernmost reaches of Manhattan, but it deserves far more accolades than it gets, considering its varied offerings: capoeira classes; walking and running trails that could convince New Yorkers they're daytripping somewhere else; cultural events like the Inwood Shakespeare Festival; even camping! It's also one of the most beautiful spots in the borough, with trees that are some of NYC's oldest. 
[This story first ran in June 2016.]
Brick Underground articles occasionally include the expertise of, or information about, advertising partners when relevant to the story. We will never promote an advertiser's product without making the relationship clear to our readers.