Our recent article on residents living in Trump-branded buildings on the Upper West Side's Riverside Boulevard trying to get the Republican candidate's name off their towers touched a nerve on Facebook, Twitter, and other sites who picked up the story. For the most part, readers shared mostly the same reaction: a variation on "we're not surprised and it's about time." 
One famous resident, in fact, had already voted on the matter this summer with his feet: CNN Money reports that political pundit Keith OIbermann moved out in July. On Twitter, Olbermann noted that his property had depreciated in value by 10 percent: 
In short: it's now my FORMER @RealDonaldTrump apartment! Sold! Got back 90% of my money and 100% of my soul! pic.twitter.com/8khyzF9fc7

— Keith Olbermann (@KeithOlbermann) July 14, 2016
A StreetEasy search seems to confirm that the Trump brand is sending property values plummeting. Check out the price decreases on this 200 Riverside Blvd penthouse now on the market: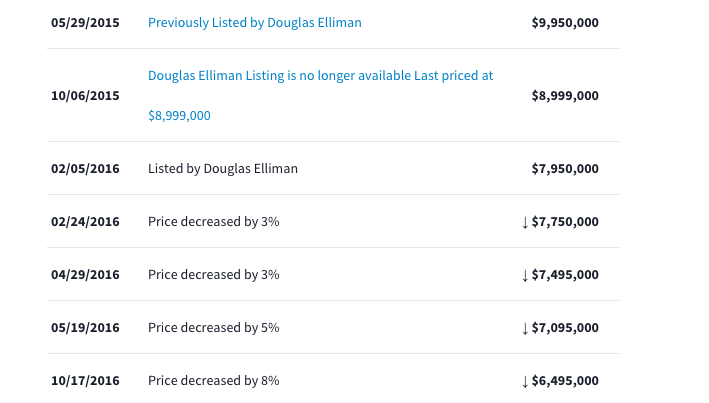 Rentals at Trump Place neighbor 180 Riverside are also down in monthly cost almost across the board: 
Meanwhile, the commentariat had much to say about the prospect of a Trump Place re-naming: 
@HawkinsUSA NYC Trump Place residents petition 2 spend huge $ to remove Trump name from building. Big liability https://t.co/BqA9joEWME

— Jerry Lerman (@JerryLerman) October 24, 2016
The collapse of Trump the brand has begun: Trump Place residents are working to change the building's name. https://t.co/Syr24kBA9m pic.twitter.com/2wDVrGCwNQ

— Mark D. Levine (@MarkLevineNYC) October 23, 2016
This is what happens when your brand becomes toxic. Residents of Trump Place petition to change building name.https://t.co/ZxfIw075Y0

— Jeff Brown (@WJeffreyBrown) October 22, 2016
Many others thought the brouhaha much ado about nothing:
One commenter on West Side Rag, which shared the story, had no sympathy for residents: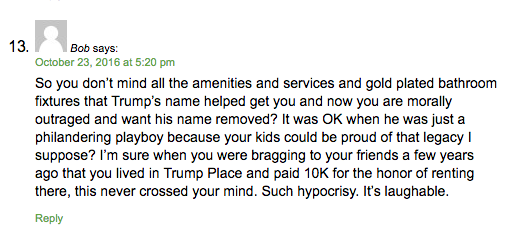 And yet another had an interesting suggestion for a possible renaming, pointing out the history behind a nearby street's name: 
These readers also had suggestions:
How about twerp tower or rump place... Trump Place residents are petitioning to change the name on their building https://t.co/iOESykO9ps

— Rikard K-l Lindstedt (@karl_ludvig) October 21, 2016
Many others found the whole situation to be fodder for testing out their best zingers, to some success:
And this poster has a suggestion for a possible buyer or renter, should any Trump Place residents decide to vacate:
Brick Underground articles occasionally include the expertise of, or information about, advertising partners when relevant to the story. We will never promote an advertiser's product without making the relationship clear to our readers.