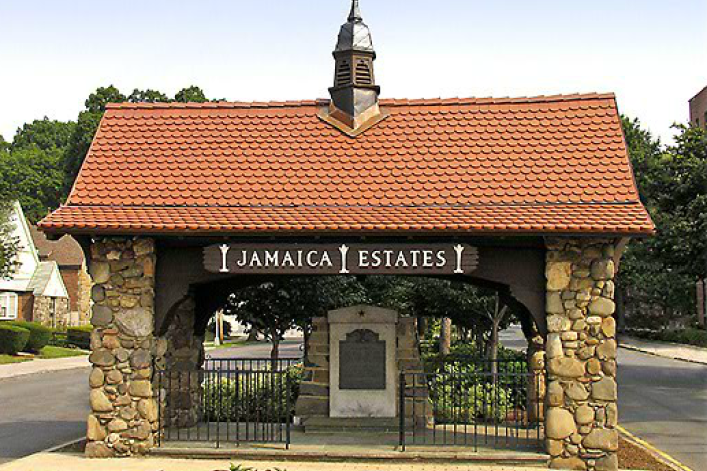 Winding streets, grassy hills, and freestanding homes on massive lots: This may sound like an idyllic suburban neighborhood far away from New York City, but it's actually right in the middle of Queens. Jamaica Estates is an enclave that was planned by developers in the early 1900s to be a luxurious, suburban escape from Manhattan. This so-called "planned" development—meaning any community carefully crafted from its inception and typically constructed over large plots of undeveloped land—isn't the only one in Queens. Sunnyside Gardens was built from 1924 to 1928, and Forest Hills Gardens was constructed as an English-style garden city between 1910 and 1912.
While Sunnyside Gardens and Forest Hills Gardens typically get more attention than Jamaica Estates, the area offers some of the most impressive architecture in the borough. Unlike the rapid development, busy streets, and transit hubs that dominate the adjacent neighborhood of Jamaica, Jamaica Estates is a predominantly residential area full of historic mansions in a carefully designed, park-like setting. (It's also home to some unique religious institutions and the childhood house of Donald Trump.)
For this Take Five installment, we spoke with Adrienne Onofri, author of Walking Queens, as well as Joan Lebowitz and Claudette Dukas, brokers with Terrace Sotheby's, a firm that specializes in the area, on what makes this under-the-radar residential neighborhood unique.
1. Jamaica Estates was originally designed as an exclusive—and affluent—residential suburb
In the early 1900s, two real estate developers—Timothy Woodruff, the former lieutenant governor of New York and Michael Degnon, the engineer who help build the first New York subway in 1904—purchased 500 acres of forest land in the middle of Queens. Their goal: to develop an affluent community in an English style that felt like it was in the country but came with easy access to the city, according to the Jamaica Estates Association.
The Jamaica Estates Company, as the team was known, set a strict building style that only allowed for one-family, two-story detached homes built on a minimum of two lots, according to the Association's history. The result? "Massive property sizes," said Lebowitz. "The average lot is 40 to 60 feet wide, 140 to 150 feet deep. That's larger than many lots in Forest Hills Gardens." Lebowitz said that the most prestigious homes in the neighborhood occupy as much as a third of an acre, "unheard of in Forest Hills Gardens." To ensure that the neighborhood would be affluent, builders were required to spend at least $6,000 on the homes. There wasn't much of a focus on commercial development, as the adjacent land was kept a park (now known as Forest Park). The idea was to keep the neighborhood as exclusive, quiet and park-like as possible.
The "English" style of the community is most reflected in the architecture, dominated by Tudors. The streets have names meant to be evocative of an English village, too: Avon, Kent, Tudor, Chelsea, and Aberdeen. And it really was exclusive, with an Elizabethan-style stone lodge with giant pillars and gates that marked the entrance along Midland Parkway. The gatehouse, still there, now houses the Jamaica Estates War Memorial, although this is no longer a gated community. But it's still home to an affluent, middle and upper class community, with properties costing an average of $432 per square foot, according to Streeteasy. The mostly-white demographic hardly reflects the diversity of the rest of the borough, or even the neighborhoods directly next door, like Jamaica.
2. It's also the former home of Donald Trump
Yes, before he moved onto flashy Manhattan mega-towers, America's most talked about presidential candidate grew up in Jamaica Estates. "He lived in a magnificent brick mansion on Midland Parkway," said Lebowitz. Trump's father, Fred Trump, was a developer and actually built this home in 1948. He lived here with his wife and five children, including Donald. They moved here from a modest Tudor Revival house close by, and Fred also developed a few apartment buildings in the area.
A recent article in the New York Times focused on the exclusionary nature of this exclusive suburb, especially when Mr. Trump lived there: "The Jamaica Estates of Mr. Trump's boyhood was an exclusive and nearly all-white place, resistant to outsiders and largely impenetrable to minorities," the Times writes. Mr. Trump called the neighborhood an "oasis" in a previous interview, at a time when "different parts of Queens were rough."
3. Maintaining the forest-like setting was important
The Jamaica Estates Company wanted to preserve the hilly land, which closely resembled current-day Forest Park, creating a community of mansions nestled in a park-like setting. "This is a sprawling, hilly, windy road community," said Dukas. Unlike other developers, the Jamaica Estates Company decided against leveling the land, keeping elevation levels that ranged from 65 to 100 feet. They also decided against building a rectangular street grid, instead creating windy streets that wouldn't interrupt the landscape.
Because the developers worked to preserve as many trees as possible, the neighborhood is now dominated by 200-year-old maple, oak, elm and chestnut trees, according to Dukas.  "They really had a vision of a residential park," said Onofri, "Residents today maintain the vision of the original plan developed 100 years ago." To further solidify Jamaica Estates' reputation as a park-like neighborhood for the wealthy, the developers built the Hillcrest Golf Course, spanning 100 acres, along the border of the neighborhood. (Forest Park bordered the other side.) St. John's University purchased the land in 1936 for for $550,000 and developed it into its main campus, which remains today.
4. The neighborhood is home to interesting religious institutions
Jamaica Estates is primarily residential, with no main commercial drag. But what it does have, according to Onofri, are a number of unique religious institutions that reflect the pervasive diversity of Queens. "There are convents, a Hindu Ashram, a synagogue of Iraqi Jews," she said. What stands out in the bunch is the Passionist Order of the Catholic Church, occupying one of the largest parcels in the neighborhood. Michael Degnon, one half of the Jamaica Estates development team, built himself a sprawling mansion over 16 acres in the neighborhood. He donated it to the Passionist Order of the Catholic Church, who celebrated their first mass inside his former home in 1924. The church remains today, operating both a school and a retreat house on its grounds.
5. You can still get a freestanding home for under $1 million
Although Jamaica Estates is primarily comprised of freestanding English Tudor homes, there is a mix of size, style, and prices. Smaller detached homes start around $800,000, according to Lebowitz and Dukas. (This four-bedroom Tudor, for example, is on the market for $899,000.) "You can definitely find a nice home for under $1 million," said Dukas. The larger historic homes are priced around $1.5 and $1.6 million, the brokers said. Last year, approximately 28 homes were sold in the half mile radius vicinity of the heart of Jamaica Estates, according to the brokers at Terrace Sotheby's.   
Jamaica Estates also has its share of newer construction, as there is no landmark protection in the neighborhood. Although there was some talk of pushing for landmark status in the neighborhood years ago, local opposition kept it from happening. While the Jamaica Estates Association works to keep the neighborhood in good shape, many of the original mansions have fallen into disrepair or have been demolished. Because of the large lots, developers often build huge homes -- "often double the size of the original houses," according to Lebowitz. These properties command the highest prices in the neighborhood, over $2 million. Case in point: this "European villa" constructed in 2012 on one-third of an acre, asking $3.388 million. Overall, there's a limited market in Jamaica Estates, with only 16 apartments and homes currently listed on Streeteasy. "There's not a huge inventory here,"  said Lebowitz. "The turnaround on houses is slow."
Related: 
Ridgewood is still a middle class haven (and is making a return to its boozy roots)
Wallabout: 5 things you probably didn't know about one of Brooklyn's most interesting streets
Brick Underground articles occasionally include the expertise of, or information about, advertising partners when relevant to the story. We will never promote an advertiser's product without making the relationship clear to our readers.