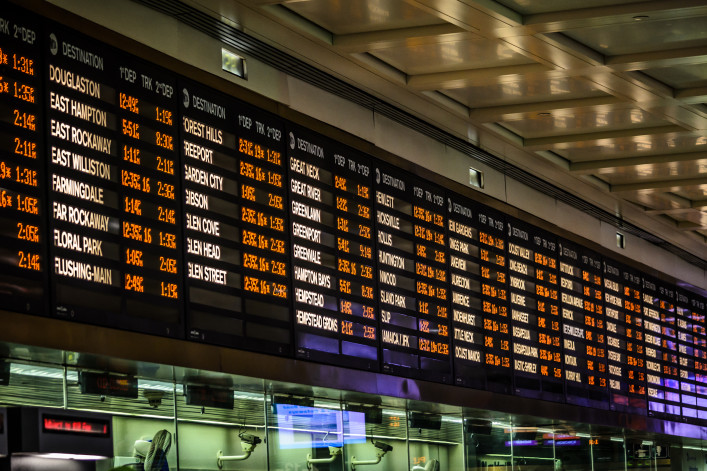 Yesterday kicked off the so-called "Summer of Hell" for commuters who must pass through Penn Station. Amtrak has begun the urgently-needed maintenance work that will close down several tracks, impacting all three of the train lines that leave the station—Long Island Rail Road, New Jersey Transit, and Amtrak. The event—whose name was coined by none other than Governor Andrew Cuomo—is expected to change schedules all summer and impact thousands of travelers, according to DNA Info.
But it hasn't exactly been smooth sailing until now. For New Yorkers eager to get out of Dodge once the weekend rolls around, the trip out of the city to Long Island's beaches has been tricky. Lyss Stern was heading to the Hamptons on a recent Friday and found herself on a lengthy trek: her two-hour trip from Penn Station to Southampton turned into a four-hour one. 
"The train was jam-packed, and it made several random stops for 15 to 20 minutes each. They didn't even tell us anything—they just stopped," she says. 
Earlier, one NJ Transit commuter from Maplewood told us about the transit nightmare she's living thanks to her Penn Station commute, with delays and dangerous overcrowding having become a near-daily reality on her journey to work in Manhattan. And according to Bloomberg, NJ Transit's Morris and Essex lines have been struggling for years to keep up with population booms in the communities they serve. 
Unfortunately for Jersey-dwellers, Morris and Essex commuters may have the hardest go of it in the coming months, as daily trains will be diverted to Hoboken after 7 a.m., from which point passengers can take the PATH train or ferry to Manhattan. Other NJ Transit riders, depending on their lines, "may need to adjust their schedules," the service notes rather ominously. LIRR customers can expect extensive service changes as well, with supplemental bus and ferry service; options are outlined here. 
The reviews of the first morning commute of the Summer of Hell are in, and some are reporting that tensions are high already: 
Live look at my station platform this AM #LIRR #SummerOfHell pic.twitter.com/f3lzBNjmsR

— LIRR DELAYS (@LIRR_Delays) July 10, 2017
The Summer of Hell is expected to end on September 1. Expect the long days of summer to feel even longer for those turning to public transportation. Some tips: DNA Info notes that Morris and Essex line passengers diverted through Hoboken can get up to a 63 percent discount on their train fares; one regular commuter told us that he took the ferry from Hoboken to Manhattan yesterday morning and had a pleasant, stress-free trip. LIRR riders have the alternative of commuting into Atlantic Terminal, Hunterspoint Avenue, or Jamaica, where the MTA will let them transfer to the subway for free. (See the story for more commuting tips.) 
Brick Underground articles occasionally include the expertise of, or information about, advertising partners when relevant to the story. We will never promote an advertiser's product without making the relationship clear to our readers.