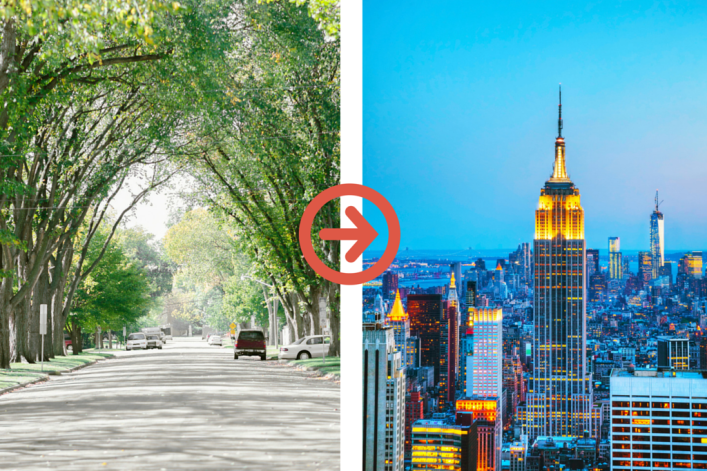 Sometimes outdoor space and suburban "conveniences" aren't all they're cracked up to be. Michele Collett shares her story with Brick Underground senior contributing editor Lucy Cohen Blatter: 
We were living in Park Slope with our young daughter, and our neighbors were a nightmare. They were so loud, and would keep us all up at night. We knew we needed to move away from the situation and just wanted some quiet. We figured it was time to try the suburbs. We honestly just all needed to sleep.
[This story first ran in July 2016.]
My husband is from the Jersey Shore, and we both love the beach and the liked the idea of being near the water. We decided to move to a beautiful, picturesque town in Monmouth County, near Rumson. We rented a three-bedroom house with a backyard on a cul-de-sac that was the same price as our one-bedroom apartment in Park Slope. You could walk to the dock where kids would go crabbing, and my husband could kayak from there, too. We seriously thought we'd found paradise.
Paradise lost
The novelty faded quickly. This whole idyll of kids playing together on the cul-de-sac just didn't exist. Our neighbors didn't speak to us, and the town just didn't have that warm, neighborhood-y feel. After moving there, I'd heard that it can take a long time to break in. A lot of people who live there were born there, too, and it feels very insular.
Having a backyard was great, sure, but the novelty wore off there, too. How much can kids really do in a backyard? I found myself taking my daughters to the mall all the time. There was no cultural richness, no diversity in any way. I grew up in a town in New Jersey that wasn't diverse at all, and I didn't want that for my kids.
A NYC kid at heart
I was six years old the first time I came to NYC, when I came in to see Annie. I remember saying to my mom "Why don't we live here?" This was New York in the 1970s, which is rougher than it is now, but I was in love with it then. I went up to the usher and asked, "How can I be in this show?"
I was just always excited and inspired by the city. I started taking the train into NYC alone when I was 13, and I'd walk around and shop. I hardly ever went to high school parties, and would go to clubs in the city instead. I just loved the energy of it all. The suburbs, to me, felt limited, and the city felt limitless. I knew that by living in the city I could be a part of something big.
Moving back... and never looking back
Once my husband and I decided we were going to leave the suburbs and go back to the city, we looked for the best schools for our daughters, and decided on the Upper East Side. The fact that we were moving into a smaller space didn't even register to me. I was just so happy to be back in New York City.
The thing about the city is it forces you to get out of your apartment and experience life. In the suburbs, it felt like everyone had their own kingdom, their own world. People just didn't interact with other people the way I want my family to. Living in New York City, there are opportunities all over. Anything that our daughters are passionate about, they can do here.
People say the suburbs are easier with kids, but I didn't find that at all. Just going to get milk is a whole production, getting them in and out of their car seats. It was always exhausting. Here, the deli on my corner has everything I need, and they'll deliver it to me, too. If we want to, we jump on the subway and can go to Governors Island, or go to a show... we can do a a million things. And when my kids go to the suburbs, they ask, "What do people do there?" 
Sometimes my girls will run down the street, yelling, "We're city kids!"
It makes me so happy.
Brick Underground articles occasionally include the expertise of, or information about, advertising partners when relevant to the story. We will never promote an advertiser's product without making the relationship clear to our readers.