TV Land's show, Younger, about a fortysomething woman posing as a twentysomething has brought the December-May relationship back into the forefront. And as with most NYC-based shows, real estate plays a supporting role or at least acts as a significant backdrop. (Read our first check-in with the show that we posted last year.)
The sitcom centers around Liza (played by Sutton Foster) who is working at a Manhattan publishing company as an assistant and dating a tattooed millennial, while living with her bestie in a huge Williamsburg loft. Most episodes revolve around the travails of dating and working while pretending to be something you're not (sounds complicated), but many also cement the unofficial motto of NYC real estate: location, location, location.
To wit: The latest episode of Younger,  called "P is for Pancake," centers around Liza's colleague and friend Kelsey (Hillary Duff) who is beginning to get back into the dating game. A friend sets her up on "Handlebar"—a dating app for people who can't handle meeting in bars—and soon she is head-over-Louboutins for a guy she deems perfect. After seeing his gorgeous pictures, she sets up a lunch date and is happily surprised by his wit, charm, education, success, and manners.
This should be a perfect love story and happily-ever-after, if not for real estate woes intervening. Sadly, in both dating and real estate, things that seem too good to be true, generally are.
Friends point out that she should wait a while to date someone so perfect because rebounds rarely work (she's just emerging from a break-up). In millennial-speak, supposedly, it's called "the bad pancake theory" because, as with the first pancake always getting burned, the first person you date after a serious relationship is also likely to be a flop.
When she points this out to her eager suitor, he agrees to put their budding relationship on the back burner and give her some time. However upon getting ready to leave Kelsey for the night, he explains he needs to catch the next tram home to Roosevelt Island.
"Like you live there full time?" Kelsey asks incredulously.
And when he explains he actually owns his place (a coup in most of the country) and got a great deal, Kelsey realizes her seemingly perfect gent lives in a not-so-perfect nabe, making all his other winning traits fall by the wayside. He is declared the bad pancake simply because of his undesirable real estate situation.  
Nearby partygoers chime in: 
"Is it true it was a leper colony?"
"Is it true there's a curfew?"
"Do Ubers even go there?"
Seeing that it's clear she can't have any sort of long-term or meaningful relationship with any guy that lives on the dreaded Roosevelt Island (clearly the Edsel of NYC neighborhoods in the writers' minds), she decides to have a little on-tram sex before dumping him (see photo below). As the tram doors open, he expects her to exit and come home with him. When she sheepishly refuses, he is struck with the realization that he has become the bad pancake.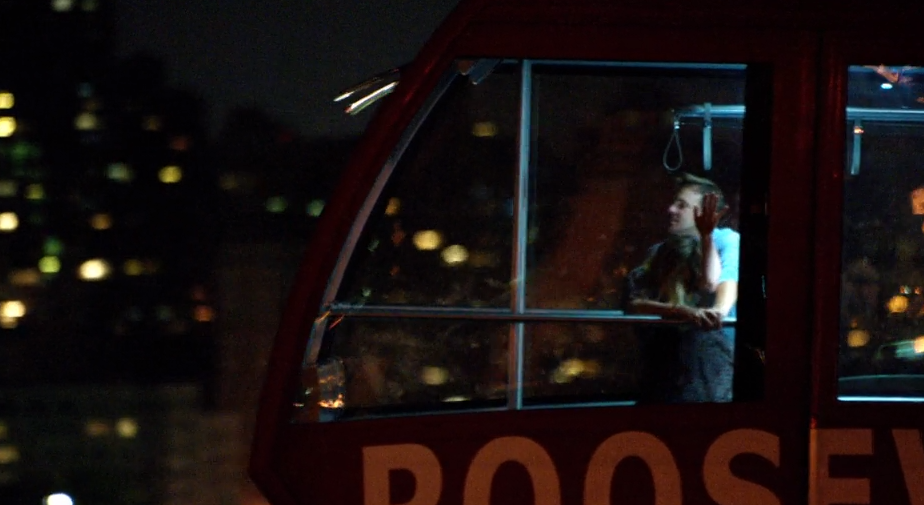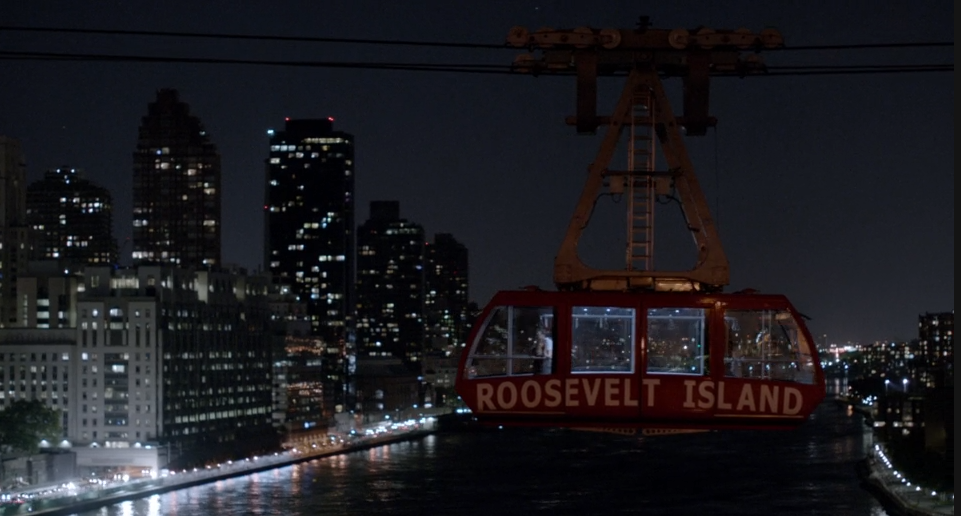 Try as he might in a last-ditch effort to save his budding relationship, he attempts to hype his nabe. "It's not that bad here," he says. After adding, "It's like the Ile St. Louis of Manhattan," and a pathetic, "I have a great Mexican place near me that also serves sushi," she still won't bite.
Even his promise that "there's even talk of us getting a Whole Foods," isn't enough to keep them from being on two trams passing in the night.
Moral of the story? The only thing harder than finding a good job and good apartment is finding a good relationship. In our city, the three are inevitably forever tied together.
Then again, Kelsey might be the one with regrets once Cornell opens its satellite campus on Roosevelt Island and property values go up (or so it has been surmised; the proof will be in the proverbial pudding). Besides, any true New Yorker knows Roosevelt Island is actually a quicker commute into the city—and not just by tram—than many other, supposedly hipper neighborhoods.
Brick Underground articles occasionally include the expertise of, or information about, advertising partners when relevant to the story. We will never promote an advertiser's product without making the relationship clear to our readers.