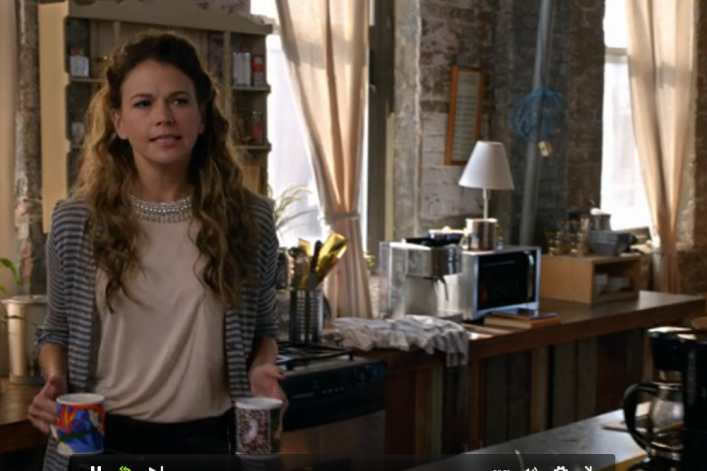 When a movie or TV show is set in New York City—and if the people making it are savvy—real estate becomes part of the story itself. In Reel Estate, we look at some of the more memorable domiciles to grace the screen.
We've seen identity makeovers on TV before, but it's not often you see a character blithely shaving more than a decade off their age. On Younger, the latest offering from Sex and the City creator Darren Star,  40-year-old Liza (Sutton Foster) finds out that her husband has been cheating on her and has pissed away all their money gambling. So she leaves their house in Jersey, shacks up with a friend in Williamsburg, and re-enters the workforce by telling everyone that she's actually 26. As you do.
Questionable premise aside, the show is surprisingly on point at moments, particularly when it comes to the real estate. What with her newfound financial ruin—and the four mortgages her husband secretly took out on the place—Liza finds herself trying to sell her family's classic, suburban home in New Jersey.  The place is full of bright colors and tasteful, but unremarkable, furniture:
As she tries to regain a foothold in the publishing industry, Liza shacks up indefinitely with her friend Maggie (Debbie Mazar), an artist who happens to have a giant apartment in Williamsburg. Maggie claims she moved in years ago because she was broke and is now being priced out, but it looks like she lives pretty well:
Her place is also in a seriously prime location within Williamsburg, right next to beloved movie-theater-slash-bar-slash-restaurant Nitehawk Cinema:
In real life, this building at 140 Metropolitan Ave seems to be divided into six full-floor units, and Maggie's place looks like a fixed-up version of this studio that was listed for $4,500/month (though the price was eventually reduced) back in 2013. Let's hope she's selling a lot of pieces —or actually bought the place back when the neighborhood was cheap.
As TV tends to do, the show takes some liberties with the neighborhood geography. Liza's love interest and "neighbor" has a studio (the unfortunately titled "Inkburg") that appears to be right next to East River Bar, a south Williamsburg watering hole a solid half-mile walk from Liza's temporary loft set-up. Similarly, the "neighborhood" bar they meet at is Matchless, which is all the way over in Greenpoint.  But then, maybe they just both like long walks.
Our one big reality gripe here: When a buyer gives Liza a laughably low offer for all the family furniture she's trying to sell, Maggie nixes the deal and takes her to the Brooklyn Flea, where her antiques and "normcore" pieces sell like hotcakes. People would snap them up, sure, but you can't just show up and start selling at the Flea! (There's a whole application process, not to mention booth fees that we're guessing aren't cheap. All the vendors are serious retail enterprises handpicked by the powers that be. It is no. joke. )  Convincing us that they'd ever take on a couple of randos with a few couches to unload is a much tougher sell than the idea that everyone unquestioningly believes that a 40-year-old is 26.
Related:
Reel Estate: Kimmy Schmidt actually has a pretty great apartment
Reel Estate: Empire let's Chicago stand in for Bushwick
Whatever happened to the house from Eternal Sunshine Of The Spotless Mind?
9 reasons to move to Jersey City right now (sponsored)
Brick Underground articles occasionally include the expertise of, or information about, advertising partners when relevant to the story. We will never promote an advertiser's product without making the relationship clear to our readers.