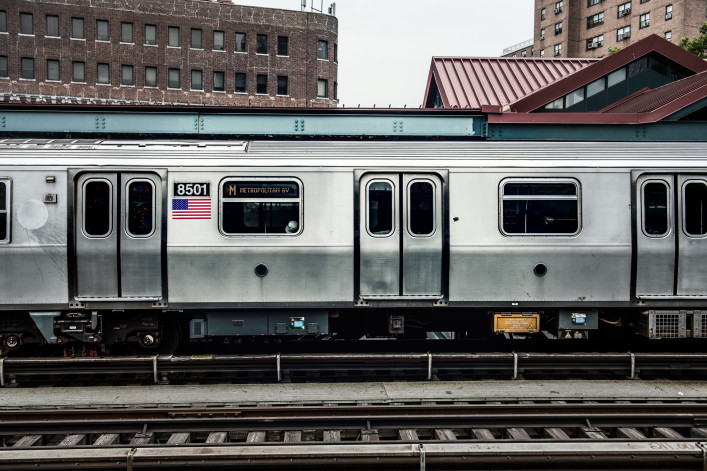 While the more typical New York City commute is from the outer boroughs into Manhattan, there are plenty of city-dwellers who do it the opposite way. Among the advantages: a less packed train and a different vibe. We checked in with New Yorkers who are spared the typical transit grind to find out how it impacts them:
Time for downtime
"I have about 15-20 minutes at the end of my 45 to 50 minute commute when the train empties out," says Ilana Bander, who travels on the 5 train from the Upper East Side to Winthrop Street in Brooklyn. "The beginning of my commute is packed, then I can usually find a seat around 14th Street," she says. "It's not until about Barclays Center or Fulton that it really empties out and I become one of a couple dozen passengers left on the train."  
That down time is much appreciated. "It's often the only time in my day I have to myself, when I can pull out a book or magazine. Sure, about 50 percent of the time I'm on my phone catching up on emails, both personal and work, but I still feel productive," she says. "Being in the car wouldn't afford me that opportunity. It's a good chance to unplug before—or after—I am thrown into or out of the hustle of work and raising three young kids."
So why the office in Brooklyn, then? For Bander, who runs her own tech company, the incentive for opening up an office there was financial. "The rent for office space is much cheaper than when we were in Midtown. And you get more space available," she says. Also, her company is part of Start-Up NY, which is the state's tax incentive program for new or growing companies that requires a Brooklyn location.
A change of scenery
For Madeline Rudin, who works at Camp David, a co-working space in Industry City in Sunset Park and lives near Union Square, the change of scenery when she gets off the train in Brooklyn is welcome.
"It's completely different. When you get out at Sunset Park, you feel like you can breathe; the streets feel wider," she says. "And you can see Lower Manhattan across the water when you walk to Camp David. It's nice to leave the city and look back. It makes me want to live in Brooklyn."
Kayden Horowitz, who also works at Camp David but travels from his apartment on the Bowery, says the change in vibe is especially noticeable for him since he lives on one of the busiest blocks in Manhattan.
"Most people have a home life that's quieter and they go to Manhattan that's bustling for work; for me it's the opposite." In a way, working in a quieter place is more productive, he contends."People are really focused on their work, they're not really going out for lunch as much or running errands," he says.
While the D train is never completely empty—"This is New York, people are always around; if you go to a restaurant during the middle of the week at noon it'll be busy," he says—he never has to deal with hordes of people getting on the train. 
Rudin takes the N train four stops and it takes her about 25 to 30 minutes. The train, however, isn't as empty as it used to be. "I started working here two years ago, and when I started, my train would empty out at Canal and now, there are a lot more people," she says. "There are definitely more offices, specifically at the 36th Street stop (near Industry City). That said, I think I take it for granted that I always get a seat. I've forgotten what it's like to ride the 6 train at rush hour."
It's not easy for everyone
Now, as far as opposite commutes go, Lana Bortolot's is much longer and more involved. Everyday, she travels from her home in Washington Heights to her office in Valhalla, a town in Westchester. Her commute involves a subway, a crosstown bus, a Metro-North train, and a shuttle. All in all, it's about two hours each way.
It's not for the faint of heart, she says. "It costs about $375 a month, and there's stress to make all the connections," she says. Bortolot explains that she decided not to get a car, despite the fact that "reverse commuting works better when you're driving," largely because of the high cost of parking in the city.
The way home, she says, is more fun, because she and her colleagues (who work for a wine magazine) travel home together and usually share a bottle. (Yes, drinking alcohol is allowed on the Metro-North.) "We call it the Westchester Mobile Happy Hour," she jokes.
On the plus side, she says,  the long commute allows her the chance to catch up on emails on the train. She even usually gets to finish the newspaper, "which I was never doing before."
As for advice to others considering an out-of-city vibe, she says to really look into all possible routes before deciding one, and to ask those who do the same commute which ways work best.
"The commute really kicked my butt from an exhaustion level the first week, but I've gotten more used to it," she says. That said, she does find herself with less time to run errands and catch up with friends: "There are 20 hours of my week every week just eaten up by transportation."
Brick Underground articles occasionally include the expertise of, or information about, advertising partners when relevant to the story. We will never promote an advertiser's product without making the relationship clear to our readers.