Queens—along with Asian actors—are finally getting a long, overdue moment. "Awkwafina Is Nora From Queens," the newest comedy about Asians that's set in the borough (see also: "Sunnyside"), premiered this week on Comedy Central. The semi-autobiographical show stars rapper/actress Awkwafina as Nora, a millennial with a string of dead-end jobs, and who at 29 years old is still living at home while she tries to find her purpose.
Home is a single-family, shingled house near the 67th Avenue subway station in Forest Hills, and the show is peppered with Queens references and destinations, like the opening credit shot of the intersection of Northern Boulevard and 67th Avenue. (Fun fact: Awkwafina, whose her real name is Nora Lum and who grew up in Forest Hills, was the voice of the 7 train this month to promote the show's debut.) 
---
[Editor's note: When a movie or TV show is set in New York City—and if the people making it are savvy—real estate becomes part of the story itself. In Reel Estate, Brick Underground reality checks the NYC real estate depicted on screen].
---
The house that Nora and her extended family—she lives with her widowed father, grandmother, and brother, has a lived-in feel. It's what you might expect for a middle-class, immigrant family: solid, safe and in an area with fairly good schools. (The show plays off the Asian overachiever stereotype. Nora's neighbor Teddy, who goes to a local high school, feverishly studies to ace the SATs.) The house has older appliances, plastic-covered sofas and blue carpeting. Her father Wally (played by BD Wong) drives a modest car and so does Nora, well sort of. Hers has flames painted on the side—you get the sense she bought it cheap and used, possibly from a deliveryman. 
This sort of flashiness—driving a car a rapper might drive—works. It fits in with her alter-ego Awkwafina's brash form of comedy: Street references that allude to her near-constant weed smoking; offering drugs to her nerdy neighbor (she asks if he wants a "dab," then clarifies, "it's sativa because it's daytime"); awkward small talk with passengers at her ride-share job (she says her high school should have been called "bi-school" because she was into both men and women then); and strings of uncomfortably long pauses. It all fits her brand of "TMI" comedy—the type of verbal diarrhea that can make you cringe but is also so relatable. 
Nora's own room is so messy—the rather large bedroom is full of garbage and piles of clothing—that her foul-mouthed grandmother (played by Lori Tan Chinn) accuses her of being a hoarder. Her grandmother namechecks a popular Korean-owned grocery store, H Mart, when she notices several shopping baskets in Nora's room—a very funny and realistic bit. Who doesn't use IKEA bags for their laundry? Nora claims she is just being frugal. 
Nora, ever the slacker, spends her days vaping, getting high, and getting fired from jobs. Considering NYC's sky-high rents, it's not so farfetched that she's still living at home. But her family and neighbors ridicule her for it—her father compares her to her successful cousin, Edward, who works in tech, who just bought a multi-family property and paid all-cash. And so, she decides to move out.
Not able to afford to rent on her own, she heads to her friend's two-bedroom apartment. Chenise, we are told, is a very successful young lawyer who just bought a "big ass" two-bedroom apartment nearby. She invites Nora to stay with one caveat: Do not open the locked door to her second bedroom. It has black mold under the floorboards and is being renovated. (Sure, that could happen.)
Chenise's apartment looks like what a successful millennial would buy. It is spacious, light filled and decorated in a mid-century modern fashion: fur-covered chairs, a stylish sideboard, nicely framed artwork. It's not so great for Nora, who has to sleep in the bathroom because of the work being done in the guest bedroom.
But when Nora decides to go into the locked room, she finds something more shocking than black mold; it turns out her friend has failed the bar exam and for that reason, she's become a "420 cam girl" to support herself and uses the bedroom for filiming. (It's shocking unless you're used to 20-somethings and their risqué choices.) After a brief stint at being a cam girl herself to earn money, Nora burns down Chenise's apartment by mistake when a dragon costume she is wearing for her viewers catches on fire from a candle she lit for ambiance. And it turns out Chenise's fancy apartment was a rental. (Hopefully she had renter's insurance). Sadly, Nora is forced to sleep in her car. That is, until it is towed. 
At the end of the first episode, Nora is picked up by her dad and has to move back home. At least she Marie Kondo's her room and makes it seem less of disaster.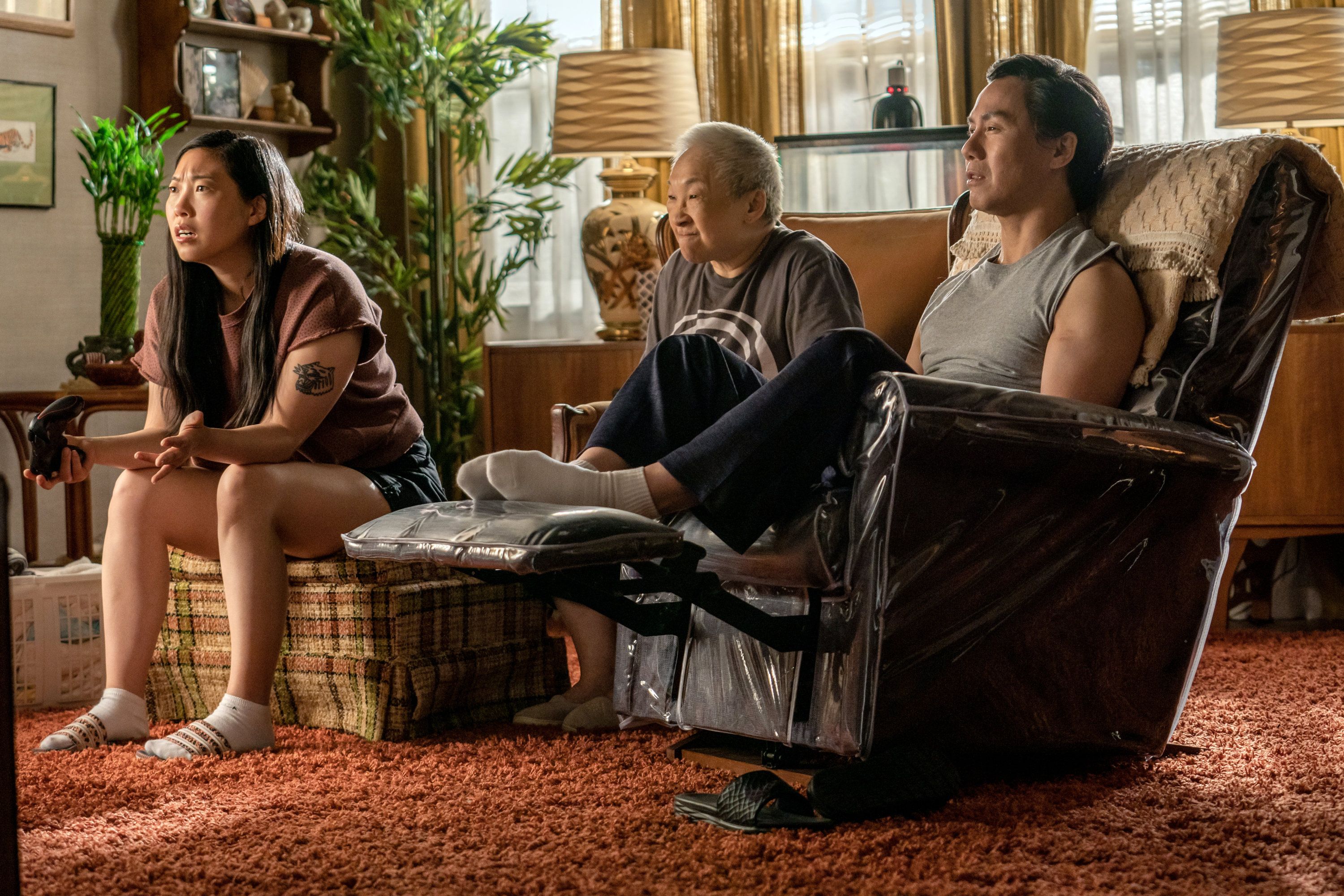 The brief glimpses of Nora's family's and friend's apartments are very realistic, as are her struggles to make ends meet, and the places she hangs out at are spot on as well.When she meets up with Chenise at a cafe filled with hipsters, she quips that it smells like a combination of "BO and tofu water." She should know, according to Time Out, Awkwafina once worked in vegan bodega.  
Food plays a big role in the series, and most of the spots shown are real Queens eateries and bars. (Fun fact #2: her real great-grandfather's former restaurant, Lum's—one of the first Chinese restaurants in Flushing—located at 128-28 Northern Boulevard.)  
And there is even more of a real estate hook to "Nora from Queens." Spoiler: in a future episode Nora will get a job working for a small real estate firm, according to the Washington Post, and becomes "so willing to please her new boss—a small-time real estate agent saddled with a vacant apartment building nicknamed 'the Chinese Death Trap'—that she snorts Adderall to boost her office efficiency to manic levels." Ouch.
Still, not as far-fetched as it may sound: Awkwafina explained to USA Today recently that she worked for a shady real estate company in the past. 
While the show itself is filled with purposely awkward and shaky jokes (would we expect any less from Awkwafina?) its take on living in Queens is surprisingly solid. Comedy aside, "Nora from Queens" works best as a love letter—or at least a tweet—to her hometown. 
Brick Underground articles occasionally include the expertise of, or information about, advertising partners when relevant to the story. We will never promote an advertiser's product without making the relationship clear to our readers.