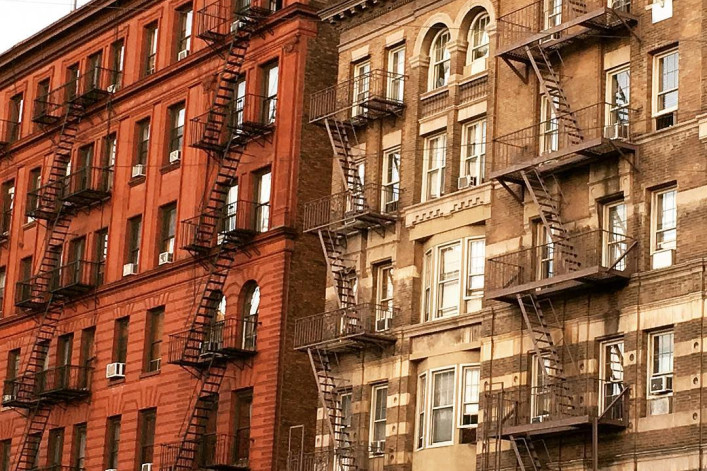 New York City's job market is notoriously competitive, but that doesn't stop thousands from flooding its boroughs annually: According to the mayor's office, the city's population grew by 55,000 last year. New York has long been seen as a place where there's something for everyone, with opportunities for every personality type—if you have the energy and resilience to seize them. 
A new study from WalletHub that looks at the best and worst American cities for jobs, however, seems to puncture that image. NYC ranks poorly on a startling number of metrics, including job opportunities (122nd out of 150 urban areas), industry variety (141st), and median starting salary and median annual income (147th for both). And perhaps less surprisingly, New York is at the very bottom—in 150th place—in the category "Time Spent Working & Commuting." (Brick previously wrote about how New Yorkers are suffering through the longest commute times in the country.) 
WalletHub pulled data from Indeed and the Bureau of Labor Statistics to calculate their job opportunities ranking, weighing the number of job openings against the population in NYC's work force. Of New York's inauspicious grade, WalletHub analyst Jill Gonzalez says, "Although New York might be perceived as the city that offers the most opportunities, realistically, job opportunities are scarce and competition is high."
According to the Department of Labor, the unemployment rate in NYC is 5.2 percent, a bit higher than the national rate, which is 4.6 percent. That said, there are some conflicting reports as to the state of the city's job market. Last year, AM New York reported that New York is actually a good choice for job-seeking millennials, citing a Bankrate study that ranked NYC first in the nation for career advancement potential.
Another study the article looked at, though, from the office of the Manhattan borough president, was more measured. It found that while young adults might be able to find jobs here, odds are high that they'll be underpaid at them, as wages fell precipitously from 2000 to 2014.
It makes sense, then, that median annual income here, when adjusted for the cost of living, places New York toward the bottom of the list. Per Indeed, the average starting salary in NYC is significantly higher than the nationwide average. But when it's measured against the cost of living—WalletHub took into account the cost of groceries, utilities, transportation, health care, and other goods and services—that edge over the rest of the country just isn't enough. 
Indeed pegs the average entry level starting salary here at $53,000, but Ramirez says that with New Yorkers' daily expenses taken into account, it's actually much lower. "The city's median annual household income (adjusted to the cost of living) is $26,647 - this low number is mostly due to the fact that New York has the highest cost of living index in the country," she explains. 
Furthermore, Ramirez adds that the low median income makes high housing costs even more of a burden. And many New Yorkers seem to be in agreement with the gloomy assessment of the city job market. When WNYC and Public Agenda surveyed locals last year, 65 percent expressed serious concern about the lack of well-paying and secure jobs in the city; 80 and 86 percent, respectively, said the high costs of housing and living are major problems. 
So should young job seekers drawn to NYC look elsewhere? WalletHub's report found that the best city for job opportunities is Orlando, Florida, which isn't exactly similar in lifestyle, culture, or climate to New York.
Austin, on the other hand, ranks high for both high starting salary and low unemployment, and the Texas capital, with its much-touted food, music, and art scenes, may be alluring to millennials. 
But for those committed to making it work here, there may be a bright spot to focus on: New Yorkers' attitudes. The WNYC/Public Agenda survey found, in addition to locals' many worries, an eagerness to collaborate with neighbors, advocate, and take action to solve the city's economic and affordability challenges. 
Brick Underground articles occasionally include the expertise of, or information about, advertising partners when relevant to the story. We will never promote an advertiser's product without making the relationship clear to our readers.