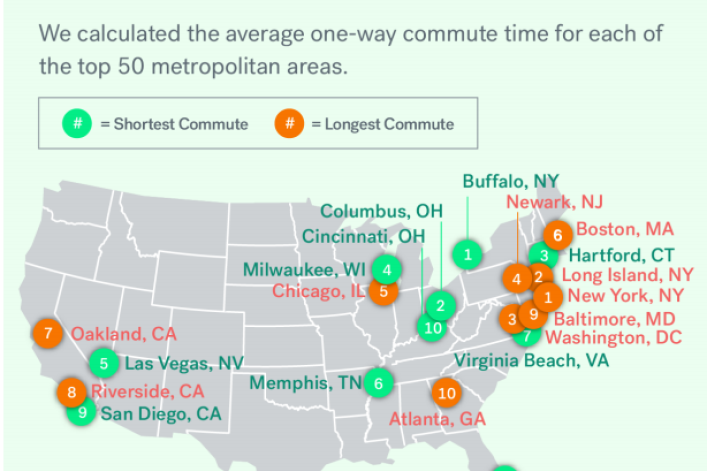 If you suspect that the time you spend crammed against sweaty strangers in a subway car is becoming increasingly interminable, you're probably right. A Trulia report released Thursday reveals that throughout the country, commute times are getting longer. And for those of us who have become accustomed to the tinny voice announcing, "We are being held momentarily by the train's dispatcher," it may come as no surprise that New Yorkers experience the lengthiest average commute nationwide, at 34.8 minutes.
Across the country's 50 biggest cities, over the past five years commute times increased by an average of a little under a minute—which may sound insignificant until you consider that throughout the course of a year, those minutes accumulate into hours spent in transit. The Trulia report posits that the shift could be attributed to several factors: Many have returned to work since the economy began recovering from the 2008 recession; infrastructure has not kept pace with population growth; and more people have relocated further from the city centers.
The latter is certainly the case in NYC, where population growth in the outer boroughs is outpacing that of Manhattan—last year, Brooklyn, Queens, and the Bronx were among the top 50 counties across the U.S. to gain the most people, but Manhattan didn't make the list. The outer boroughs are also adding jobs at a higher rate than Manhattan, which means many commuters don't actually head to the city center every day; but at the same time, public transit in their areas is insufficient, with limited subway access and sluggish bus service, according to the Regional Plan Association.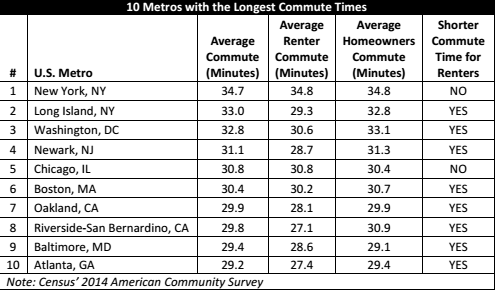 No wonder, then, that NYC loses when it comes to commute times. Another finding of the Trulia report is that renters tend to have shorter commutes than homeowners: Among city dwellers who rent their homes, a quick commute is a top priority, and they seek out neighborhoods convenient to their jobs. On Long Island, for instance, the average commute for renters is 3.5 minutes shorter than that of their owner counterparts, an advantage that is mirrored in almost all the metro areas Trulia studied—except for NYC, where both renters and owners suffer through the same time-consuming journey to work.
And the winner for shortest commutes? Buffalo, NY, where residents spend an average of 20.3 minutes on the road. Given that 22 percent of millennials say that a short commute is their top consideration when choosing where to settle down, it makes sense that many are moving to the affordable, and more sparsely populated, city in western New York.
For those of us committed to staying in NYC and braving a brutal commute, what can be done in the meantime? The RPA has a few suggestions for strengthening transportation in the city, including a new subway line linking Brooklyn, Queens, and the Bronx, and Mayor Bill de Blasio is pushing for a streetcar that would run from Red Hook to Astoria.
Until then, it seems the best New Yorkers can do is stay informed of what to expect as far as commute times. Take a look at Trulia's interactive map that estimates how long it will take to get from any point in the city to another—and plan ahead how much reading material to bring with you while you wait.
Brick Underground articles occasionally include the expertise of, or information about, advertising partners when relevant to the story. We will never promote an advertiser's product without making the relationship clear to our readers.