Neighborhood Intel
Williamsburg developers are already planning shuttle buses for that L train shutdown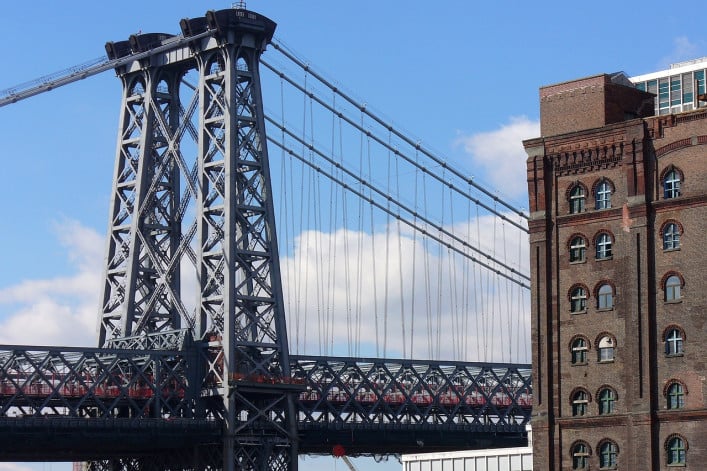 While Brooklynites have been busy freaking out about the potential upcoming L train shutdown, some developers and landlords are already busy reassuring residents (or prospective residents) that, in the event of a real shutdown, they won't be totally stranded in Williamsburg: There will be shuttle buses.
"We've let all of our residents know that if there is disruption in the L train, we will be providing a shuttle from the front door of the building to the Marcy stop of the JMZ during peak rush hours," Douglaston Development President Steven Charno tells us. (He also expressed skepticism about the efficiency of the MTA's proposed buses going over the bridge and into Manhattan.) The shuttle bus Band-Aid isn't without precedent: Douglaston also ran shuttle buses at Ohm on the west side while residents awaited the arrival of the 7 train extension. In terms of logistics, Charno notes that the bus would just run in a continous loop from the building to the Marcy stop (meaning it'd probably pick up every 15 minutes or so), and that the added service won't affect rents.
Similarly, Dave Maundrell, EVP of New Developments for Citi Habitats, says he's advising clients in the neighborhood to start pricing out options for a shuttle service so they can be prepared once the MTA announces its plans. "They should find out how much a shuttle would cost, and work from there," he tells us. "There's very little else you can do about this, service-wise, if you're the owner of a property [in Williamsburg]." This is an option, obviously, that would be limited to larger and more moneyed buildings—good luck convincing your mom-and-pop building owners (or your absentee slumlord) to implement a daily bus for your commuting convenience.
For other L train dwellers, take comfort in the fact that rents are likely to fall during this period of troubled transit—most likely by around 5 or 10 percent, as we've reported previously. But if you've been living comfortably along the relatively affordable safe haven that is the JMZ line, brace yourself: Besides the onslaught of new riders on your daily commute, Maundrell says, "We're expecting the rents along the JMZ to go up, not just in South Williamsburg but way out into Bushwick."
Some experts have also predicted more companies moving into Brooklyn's recent boom of office space (thus elminating the need for a Manhattan commute altogether). "People are going to have to re-train how they get to work," says Maundrell. "You're going to see more people commuting by bike." But if the source of your paychecks is unquestionably Manhattan-based, and you can't afford a high-end building that'll be running shuttles, plus the thought of a sweaty bike ride or a packed J train doesn't appeal, fear not: Uber and Lyft are already salvating to escort you over the Williamsburg bridge.
Brick Underground articles occasionally include the expertise of, or information about, advertising partners when relevant to the story. We will never promote an advertiser's product without making the relationship clear to our readers.