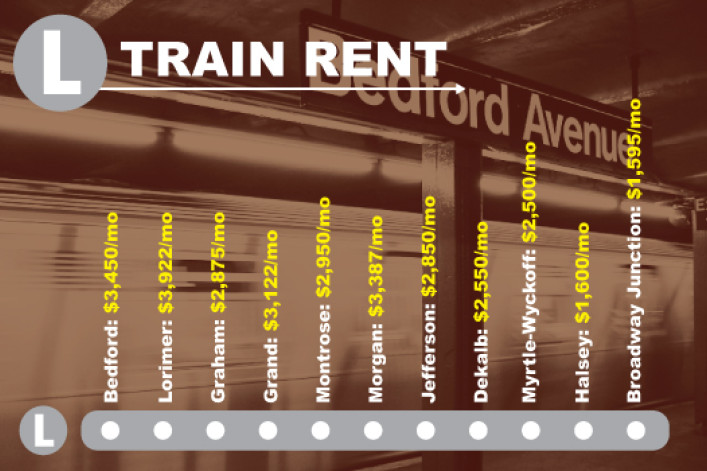 A lot can happen over the course of a year; roommate relationships can sour, brokers can invent entirely new micro-neighborhoods, and of course, your rent can skyrocket. So after last year's check-in on rental prices at each stop along the L train, we thought we'd check in to see what's happened to prices in north Brooklyn neighborhoods since last summer, and if it's still true that prices reliably drop the farther east you look. 
As with last year, we asked Streeteasy to look at median rents and price-per-square-foot at every Brooklyn stop on the L train between Bedford Ave and Broadway Junction. We also asked them to give us the percentage difference between this year's numbers and and median rents for the same time period last year. Since so many of the train's stops are so close together, they stuck to listings within a five-block radius of each station that were active on the site as of May 1st. This also has the effect of eliminating the uber-expensive waterfront rentals, as well as bargain basement apartments that are a hike from the train. (One quick note: there were fewer than 10 available rentals near Halsey and Broadway Junction, which means that the median prices were pulled from a smaller—and very possibly less representative—sample size.)
Unsurprisingly, rental prices have  almost uniformly crept up over the past year (or in a couple of cases, dramatically leapt up). "While it is generally true that the further east you go into Brooklyn, the cheaper the rents, prices have increased in nearly all of the stops along the L train," StreetEasy data scientist Alan Lightfeldt tells us. "As far out as the Myrtle stop, the median asking rent increased by nearly 10 percent from last year." And over at the Jefferson stop, prices spiked by nearly 20 percent.
Let's dive in and take a look at the cost of renting (and how much it's changed since last year) along Brooklyn's most trend-pieced train:
BEDFORD
Median rent: $3,450/month  
Change from 2014: Up three percent
Commute to Union Square: 8 minutes
Rents seem to have held relatively steady right around the Bedford stop, the jam-packed, borderline-cartoonish epicenter of Williamsburg. (A lot of the neighborhood's priciest rentals are in luxury buildings by the waterfront, and therefore not within our search range here, otherwise we suspect the numbers would be even higher.) If you're willing to elbow throngs of European tourists out of the way, you'll have endless options for bars, restaurants, and entertainment, and a lightning-fast commute to Manhattan (provided the L is actually running, that is.)
LORIMER
​Median rent: $3,922/month 
Change from 2014: Up 19 percent
Commute to Union Square: 10 minutes
While we stand by last year's characterization of the Lorimer area as "the laid-back neighbor to Bedford" (and its access to both the L and the G train is a nice plus), the area's seen an influx of fancy new rental buildings, hence a nearly 20 percent spike in median rents. "Buildings like 431 Grand Street have elevated the East Williamsburg rental market to one of the most expensive areas in Brooklyn," says Lightfeldt.
GRAHAM
Median rent: $2,875/month 
Change from 2014: Down seven percent
Commute to Union Square: 11 minutes
While the small decrease in prices here is probably a fluke of the market more than a bona fide trend, we'll take it. (We might even get sentimental and assume it's a reaction to the recent loss of beloved local sandwich shop Graham Avenue Meats & Deli.) Like the area around the Lorimer stop, the streets in the vicinity of Graham are relatively laid back but with easy access to every part of Williamsburg, if you find yourself getting tired hitting up the same few bars and restaurants along Graham every night.
GRAND
Median rent: $3,122/month 
Change from 2014: Up six percent
Commute to  Union Square: 12 minutes
For those of you trying to wade through listings full of Brooklyn-y broker babble, this is the first stop along the L that could reasonably be deemed "East Williamsburg." The area's main artery on Grand Street still maintains a good mix of new-ish bars and restaurants, delicious, authentic Mexican restaurants, and serviceable delis and grocery stores. This one's just far enough out that if you dare to venture to your favorite neighborhood bar on a weekend, the place will probably be packed, yes, but not totally insane.
MONTROSE
Median rent: $2,950/month
Change from 2014: Up 12 percent
Commute to  Union Square: 13 minutes
The area around Montrose saw one of the larger price hikes on the list, and honestly, it makes sense. The area's seen a huge influx of new bars, restaurants, and venues over the past couple of years, with new watering holes like Tradesman and The Graham opening up shop, along with long-awaited venue The Wick. It's still more affordable than most parts of Williamsburg (or even nearby Bushwick), but prices were bound to start climbing sooner or later.
MORGAN
Median rent: $3,387/month
Change from 2014: Down eight percent
Commute to  Union Square: 15 minutes
While purists will shout you down that the Morgan stop is technically still East Williamsburg, for all intents and purposes, this area is to Bushwick what the Bedford stop is to Williamsburg—in other words, as filled with tourists as it is with restaurants, bars, natural grocery stores, and galleries. Roberta's is still the neighborhood stalwart around here but it's long since been joined by plenty of other options, like newcomer Forrest Point. In spite of the eight percent decrease between May 2015 and May 2014's rental options, expect the apartments around here to be pricey, chopped-up lofts.
JEFFERSON
Median rent: $2,850/month 
Change from 2014: Up 19 percent
Commute to  Union Square: 19 minutes
Last year, we were surprised that prices around the Jefferson stop weren't higher, and lo and behold, they jumped up nearly 20 percent over the past year. (Be careful what you puzzle over.) We'd argue the area has surpassed the neighborhood around the Morgan stop in the realm of restaurant options—unless you love nothing more than a two-and-a-half hour wait for pizza, that is—with a new neighborhood joint opening seemingly every other week. (Just in the past month, Faro and HiHello opened their doors in the area.) Yes, you might be paying more than you'd like to live here, but on the flip side, you'll likely never want to leave.
DEKALB
Median rent:  $2,550/month 
Change from 2014: Down five percent
Commute to  Union Square: 20 minutes
Last year saw a major uptick in prices in the vicinity of Dekalb, in large part thanks to a few high-priced new rental buildings. Things seem to have evened out a bit this time around, with median rents actually taking a slight dip. You'll still see more families around here than in the parts of the neighborhood where there's a bar (or three) on every block, and its options in the realm of good grocery stores, coffee shops, and restaurants have steadily improved even in the past year. One of the better deals in Bushwick.
MYRTLE-WYCKOFF​
Median rent: $2,500/month
Change from 2014: Up nine percent
Commute to  Union Square: 25 minutes
Don't be fooled into thinking the area around Myrtle-Wyckoff is just an extension of what brokers would call "prime Bushwick"—it's pretty far out there. That said, it's something of a destination in its own right, with access to both the L and M trains, as well as all the food and entertainment options in neighboring Ridgewood. Over the past year, several new cafes—and notable boob-themed bar, the Boobie Trap—have opened up in the area. Add to that a large grocery store, drug store, and Planet Fitness all nearby, you'll find yourself pretty well set.
​HALSEY
Median rent: $1,600/month
Change from 2014: Insufficient data
Commute to  Union Square: 30  minutes
While sources tell us that the area surrounding Halsey is becoming a popular choice with fresh-out-of-college renters, there aren't that many apartments on the market at the moment, making it tough to tease out any larger trends or takeaways in the area. Based on the $1,600/month median pulled from the few available apartments, though, it's still a reliable place to find a relative bargain.
WILSON:
Median rent: Insufficient data
Commute to Union Square: 32 minutes
Unfortunately, as with last year, there weren't enough apartments near the Wilson stop to come up with a definitive median. Any apartment here is going to be just a few blocks from the Trinity Cemetery (so maybe look elsewhere if you've got strong feelings about ghosts or headstones), and it's a relatively quick trip over into Ridgewood.
BUSHWICK AVE-ABERDEEN​
Median rent: Insufficient data
Commute to  Union Square: 33 minutes
Again, not enough data to draw any definitive conclusions. But we'd point out that in a quick search for listings in the area (which, in spite of the name, is closer to the Ocean Hill section of Bed-Stuy than it is to anything in Bushwick), we found a surprising number of nicely appointed (and newly renovated) options, like the above two-bedroom. This stop's just a couple of blocks from the Evergreens Cemetery, and an easy walk to the JMZ as well as the transportation hub around Broadway Junction.
BROADWAY JUNCTION
Median rent: $1,595/month 
Change from 2014: Insufficient data
Commute to  Union Square: 35 minutes
Unsurprisingly, Broadway Junction (on the border of Bed-Stuy and East New York) is still the cheapest stop on the line, in spite of a $100/month increase in the median rent since this time last year. Current listings seem to be slim pickings, but if you do find an apartment out here, the main bonus will be transportation; you'll have easy access to the L, J, Z, C, and A train (the better to take a quick weekend day trip out to the Rockaways), as well as the LIRR.
Related: 
Renting off the L train: what does it really cost, and what do you get?
The 10 best NYC neighborhoods for college grads in 2015
An affordable rental in Williamsburg? Now's the time to prepare
The 8 best websites for finding a no-fee apartment in New York City
Brick Underground articles occasionally include the expertise of, or information about, advertising partners when relevant to the story. We will never promote an advertiser's product without making the relationship clear to our readers.