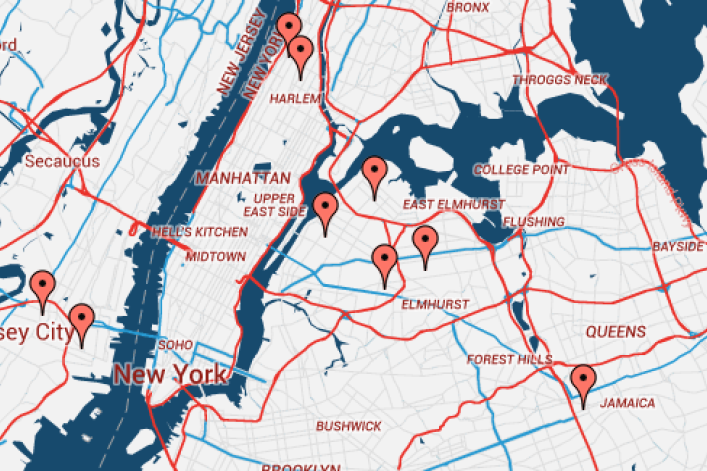 The importance of transportation options (and your potential commute times) shouldn't be underestimated in an apartment hunt, as anyone who's jumped at the chance for a Brooklyn apartment, only to realize to realize the commute to midtown is a circle of hell when you live off the G train, can attest.
So why not put transportation times front and center in your apartment search? Such is the idea behind Somewhere Ideal, a recently launched site that factors in the commuting habits of the whole household along with the rest of your search criteria, and finds neighborhoods with the most viable options and convenient commute times. "The problem is that first field you enter to search for properties on real estate websites seems to always be the area," site founder Matthew Fulcher tells us via email. "What if you don't know which area? How do you decide?" 
Fulcher also notes that since you can add an unlimited number of commute destinations—multiple offices, weekend homes, etc.—the tool is well suited to families with kids and multiple careers, roommates who work in different areas, etc. (That said, while it covers various suburbs and vacation towns upstate and in Jersey and Connecticut, the Hamptons don't seem to be accounted for here, something to keep in mind if you've got a Long Island beach house you'll be commuting to on warm weekends.)
For a relatively simple example, we plugged in a search for a one-bedroom under $500,000, for a couple who commute by train, one working in Midtown, the other in the Financial District (click to enlarge):
In this case, Jersey City shows up as the most viable option, with Harlem and parts of Queens as the next in line, and a lone option in Brooklyn—Sunset Park. (Consider this a reminder that for all its cultural cache, much of Brooklyn is highly inconvenient for the typical commuter.) 
The only hitch here is that if you do click on a pinpointed neighborhood, you're just directed to the general search options for that neighborhood on either Zillow or Trulia, rather than pre-selected listings that fit your criteria. (The site also has an option for rentals, though keep in mind that the price metric there is by the week, likely a function of the fact that the site was launched in Australia, and also operates in the UK as well as the U.S.)
For now, this site seems best suited to someone moving to an unfamiliar new city or sussing out options in nearby suburbs, and used in tandem with other search sites. In other words, you'll need to pinpoint a few appealing neighborhood options on Somewhere Ideal, then take your search to StreetEasy to find actual property options. Check out a demonstration video below:
Related:
WeWork's co-living space raises the question: do you really want to live at the office?
An amenity trend we can get behind: car sharing for the whole building
4 things you need to know before you move to the 'burbs
Suburbs in the city: buy a house, get a yard, save majorly on taxes
Brick Underground articles occasionally include the expertise of, or information about, advertising partners when relevant to the story. We will never promote an advertiser's product without making the relationship clear to our readers.