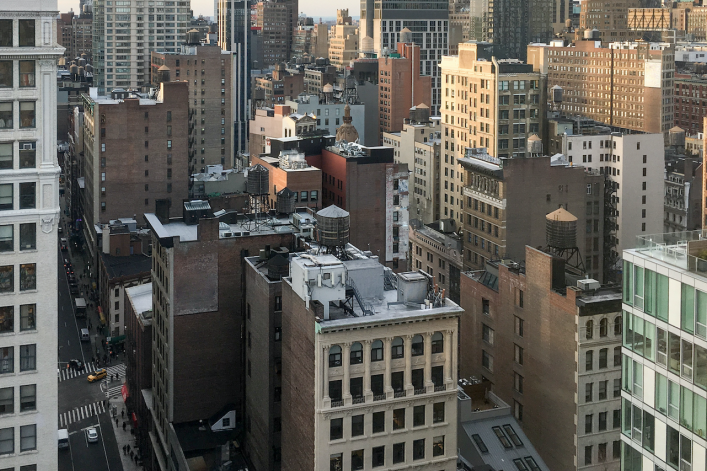 There's a big emphasis on housing in New York's State budget, which was passed this weekend. Governor Kathy Hochul says safe and affordable housing is the "cornerstone" of both her administration and the new budget includes funds for renters who have struggled with payments during the pandemic, landlords who are owed rent, and as well as preserving and upgrading affordable housing across New York.
State spending on housing will total $25 billion over five years, and the plan puts $5.7 towards capital resources, $8.8 billion towards tax credits, and $11 billion to help shelters, supportive housing, and the provision of rental subsidies. 
The Legal Aid Society, a non-profit helping low-income tenants, welcomed the additional funding for public housing and those who have struggled during the pandemic but in a statement said they were "disappointed that the Hochul Administration scuttled efforts to fund and create the Housing Access Voucher Program, legislation that would thwart evictions and combat New York's burgeoning homelessness crisis." 
One contentious issue—the reauthorization of the 421-a tax abatement for developers—was excluded from the budget. This was welcomed by the tenant movement, Housing Justice for All. The 421-a program was designed to incentivize developers but critics say it's a giveaway to the rich and costs the city millions in lost tax revenue.
In a statement on the budget, Housing Justice for All vowed to "ensure that 421-a is killed once and for all when it sunsets in June, and critically, to pass the urgent eviction protections that New Yorkers desperately need." That's a reference to the good cause eviction bill which would increase protections for market-rate tenants and ensure everyone has a right to a lease renewal unless there is good cause.
Here's where some of the $25 billion will be spent.  
Emergency Rental Assistance Program gets $800 million
The Emergency Rental Assistance Program (ERAP) has supported New Yorkers who are at risk of being evicted or experiencing housing instability as a result of Covid. The fund will receive $800 million. Since the end of last year there's been no money to distribute, making this injection of aid well overdue. 
An additional $150 million will be used to help with the distribution of federal funds. According to government figures, $2.1 billion in federal funding has so far supported more than 160,000 low and moderate-income New Yorkers who have struggled to make rental payments because of the pandemic. 
Helping with utilities to the tune of $250 million
For those who have struggled to pay for utilities because of the pandemic, $250 million will be set aside to help New Yorkers make payments. This is in addition to an estimated $100 million to be paid through ERAP to reduce utility debt. Governor Hochul is also launching a new initiative to automatically enroll more low-income households in utility discount programs helping them save hundreds of dollars per year on utility costs. 
Landlord Rental Assistance Program gets $125 million
An additional $125 million has been given to the Landlord Rental Assistance Program, helping landlords who haven't been paid by tenants during the pandemic. Lack of funding for this program saw it close towards the end of last year. According to government figures, by then at least 15,000 payments totaling more than $160 million had been paid out to struggling landlords. 
$220 million for Mitchell-Lama developments
Mitchell-Lama buildings provide affordable rental and co-op housing and the developments are overseen by the Division of Housing and Community Renewal. The budget provides $220 million to make sure Mitchell Lama buildings remain available as paths to ownership for moderate- to middle-income families. The money will also go towards upgrades to the buildings. 
$350 million in capital improvements for NYCHA
The New York City Housing Authority is home to roughly 1 in 15 New Yorkers across over 177,000 apartments. Mold, leaks, and power outages are common complaints from NYCHA residents. $350 million will go towards capital improvements for its 335 buildings.
$85 million for additional apartments in buildings
There have been efforts over the years to increase the number of rentals in certain neighborhoods by converting basements, garages, and backyard cottages into safe places to live. An amount of $85 million will go towards improving safety for these alternative living spaces, known as "accessory dwellings." The money will support owners with code compliance to make sure the apartments are safe and habitable. 
$35 million to provide legal help to tenants being evicted
A new Eviction Prevention Legal Assistance Program will be funded by $35 million, making free legal counsel more readily available to low- and moderate-income tenants to defend themselves against eviction proceedings. New York City already offers a right to counsel to tenants who meet specific criteria so they are represented by at attorney when facing eviction in housing court, however it was reported recently by Politico that the program is being stretched to its limit by a surge in evictions.
$2 million to investigate housing discrimination
The federal Fair Housing Act, the New York State Human Rights Law, and the New York City Human Rights Law all prohibit housing discrimination. However, in a recent lawsuit, 88 landlords and brokerages were accused of bias against renters with vouchers, raising questions about how these laws are enforced. The state's Fair Housing Testing Program will be provided an additional $2 million to increase its ability to proactively investigate suspected housing discrimination. The money will also be used to improve education and outreach efforts on fair housing rights to landlords, tenants, brokers, and local governments.
$50 million for the purchase of vacant land
Money allocated to land banks allows non-profits to buy and redevelop vacant or abandoned properties to better serve the public interest. Rather than sell property to a developer with the promise of a percentage of the apartments remaining affordable for a limited time, a land bank keeps the title of the land and works to create permanent affordability within the neighborhood. The budget allocates $50 million to these efforts. 
Brick Underground articles occasionally include the expertise of, or information about, advertising partners when relevant to the story. We will never promote an advertiser's product without making the relationship clear to our readers.