Central Harlem has had several distinct lives: It was a Dutch village in the 17th century, played a major role in the Revolutionary War, and then, for the next 200 years, existed as a sleepy, sparsely populated stretch of farmland, woods, and rolling hills. Harlem's bucolic era came to an end at the turn of the 20th century when developers realized there was money to be made in the undeveloped tip of Manhattan island and began to build housing on spec. Prospective buyers were lured northward with the irresistible promise of suburban-style living combined with an easy commute to Downtown.   
Since the 1920s, the neighborhood has served as a major residential and cultural center for Black Americans who moved northward during The Great Migration. In "Harlem: The Four Hundred Year History from Dutch Village to Capital of Black America," author Jonathan Gill describes the area then as "a crucible of African-American arts and intellectual development," a place so vaunted that African Americans "wanted to go to Harlem the way the dead wanted to go to heaven."
---
[Editor's note: An earlier version of this post was published in June 2018. We are presenting it again with updated information for April 2021.]
---
But, as in many neighborhoods in NYC, Harlem is continuously changing. When the 2010 census was taken, 65 percent of the neighborhood identified as black and 12 percent as white. When the next census is released, those figures are expected to change.  
Today's Central Harlem is a neighborhood of stark contrasts. Some blocks have swagger and a 24/7 vibe; others are almost pastoral. Some look much as they did back in the 20th century, tree-lined with well-preserved brownstones that belonged to a mix of Black professors, doctors, artists, activists, and musicians. On other blocks, the housing stock has deteriorated or been replaced by multi-story luxury rental and condo buildings. Walk down one block and you'll see a litter-filled vacant lot, turn the corner and there's a well-tended community garden with grills, picnic tables, gazebos, and a koi pond.
Pro Tip:
Did you know you can receive a buyer's rebate from your broker? Buying with Prevu you'll pocket a rebate of two-thirds of the commission paid to the buyer's broker at closing. On a $1.5 million condo, you'd receive up to $30,000. Click here to learn about Prevu's Smart Buyer Rebate.
Some of Harlem's swagger was a bit muted during the height of the pandemic but it's on its way back. Erin Harting, who shares an apartment with her boyfriend in a large, mostly rent-stabilized apartment complex, says that at the beginning of the pandemic there were a number of announcements in her building of long-term residents passing away. "More than I had seen in previous years. I have also seen more funeral processions and notices in general posted in the community in the past months," she says.
But now the gloom is lifting. "Last weekend there were more people out on the street than I remember seeing in a long time. Optimism is increasing among the older population now that the vaccine is out...but the mood is more pessimistic among the middle aged and younger people because so many are still out of work or juggling jobs, having to balance childcare and homeschooling. It's a lot," Harting says.
Deb Miller, an agent with Brown Harris Stevens, who lives and works in Harlem, has seen her neighbors' moods improve with the onset of spring—boosted by federal aid that has brought both "help and hope" to the area.
Both Harting and Miller say that although there were some store closings in the neighborhood, their personal favorites stayed open. Miller was able to continue going to her favorite grocery store, her dry cleaner, and her local cafe where she is able to satisfy her "croissant habit." 
"My boyfriend and I have been trying to support our favorite businesses as best we can. That includes local restaurants and stores such as Ponty Bistro, Wat's on your Plate (take out and delivery), Pompette Wine Shop, and the local grocery stores like Key Food and Whole Foods," Harting says.
Miller characterizes the Central Harlem real estate market by paraphrasing a famous quote from Winston Churchill: "Never waste a catastrophe." She says the area has already bounced back after the pandemic slowdown. "In December, right after the election, it was clear that we were back in business and for that we are very grateful. I've been very, very busy."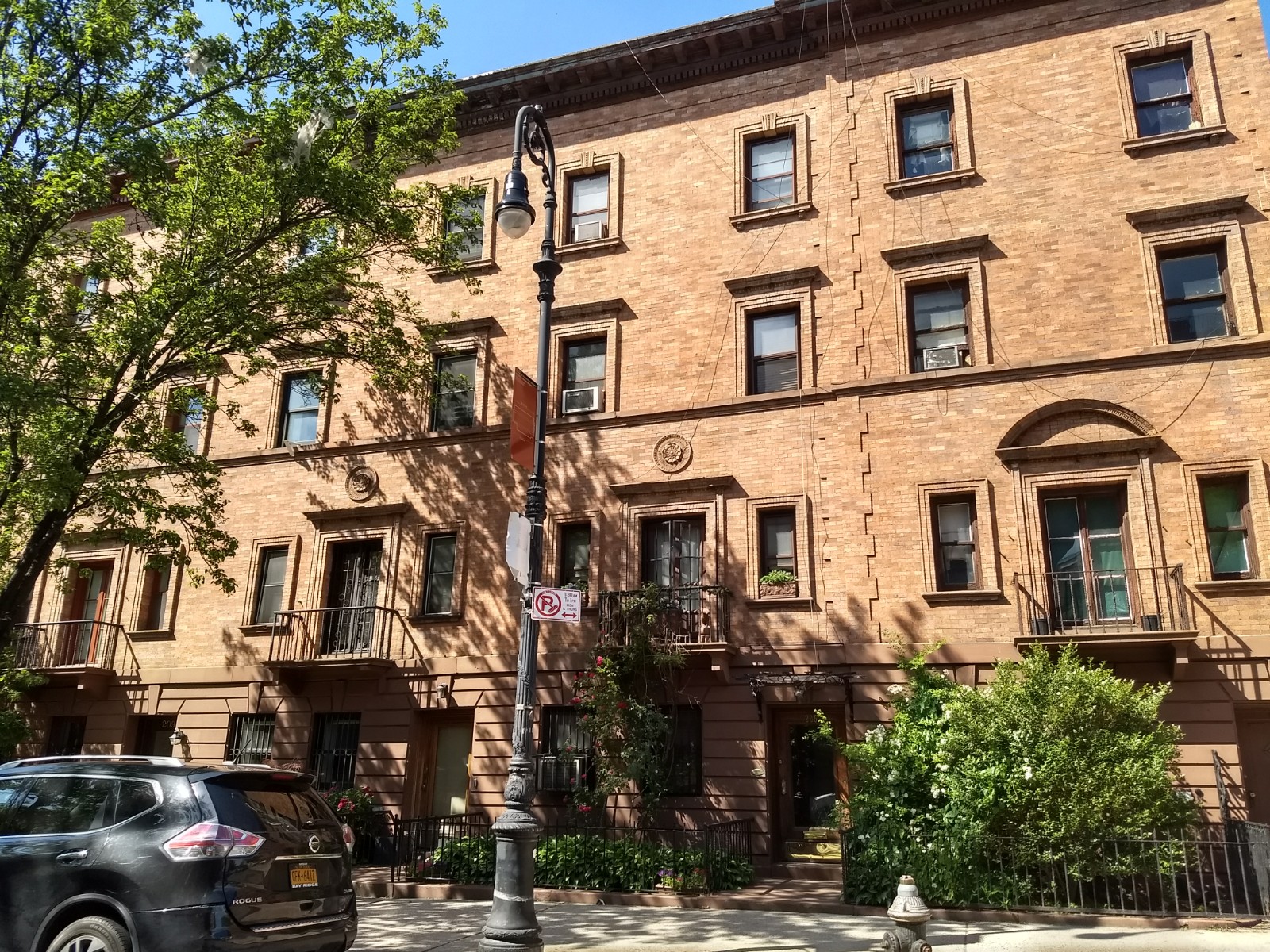 Three years ago, Harlem preservationists celebrated a victory when the New York City Landmarks Preservation Commission designated the blocks from West 130th Street to West 132nd Street, and Lenox Avenue to Seventh Avenue, as the Central Harlem Historic district. The commission explained that it chose these blocks for landmarking not only because they represent a "significant enclave of residential architecture," but also because they played such a significant role in the history of the African-American community in the U.S. Here was where the first labor organization led by African Americans—the Brotherhood of Sleeping Car Porters—was established, and where the 1963 March on Washington (an event that spurred the passage of the Civil Rights Act of 1964 and the Voting Rights Act of 1965) was organized.
Chef Marcus Samuelsson, one of the neighborhood's best-known residents and business owners, describes his neighborhood like this: "Harlem is not a playground for rich bankers and consultants. It's got students of all colors. It's got old people who keep history and tell tall tales."

Boundaries: West 110th Street on the south, the Harlem River to the north, Fifth Avenue to the East and Morningside, St. Nicholas and Edgecombe avenues to the West. (Want to sound like a native Harlemite and not just a visitor? Then, say Seventh Avenue, not Adam Clayton Powell Jr. Boulevard; Lenox Avenue, not Malcolm X Boulevard; and Eighth Avenue; not Frederick Douglass Boulevard.)
Median rent: $2,292
Median price: $848,000
Here's what some Harlem residents want you to know about their neighborhood—where to eat, what to do and what to expect if you're considering moving there. 
Neighbors friendly?
"Harlem is such a friendly neighborhood, which is why I love it. We all seem to know each other. It's normal and expected to say 'hello' and smile at neighbors, even those you don't know. I like that a lot. It's where my business is based—Land Yoga—and it's an amazing place to have it. There's so much collaboration and support. It is very special and unusual in New York." —Lara Land, owns
"I've lived here 30 years and love it here—I love the community, the people. Whenever I leave Harlem, I am so glad to come back. I grow vegetables in the community garden on my block—tomatoes, zucchini, beets, and this year I'm trying garlic—and I always give them away to the people coming out of church on Sundays." —Veronica Jacobs, rents
"We know the people on our floor but not on the other floors of our building. But when I walk down the street with my mom and our dog, everyone says 'hello.'" —Grace Podniesinski, 13, lives with her family in a rental
"People are outside all the time. Everyone always says, 'hello—how you doing?'" —Nicole Williams, 39, rents
Transportation is 'awesome and great'
"We've got all the buses and all the trains you could want. Transportation is awesome and great. But right here is prime for walking. We can walk to just about anywhere we want to go." —Nicole
"I take the subway—we've got the 2, the A, B, and C—when I'm in a hurry. When I'm on my way home and not in a rush, the bus is fine." —Veronica
"We are so close to Metro-North, which is great for visiting the Botanical Garden or heading out to the Hudson area or Connecticut. Delete: Right now, my stop at 110th Street is closed for construction, but they say it will be back in September." —Lara
"I use my bike [motorcycle]. Finding a parking space for a car up here isn't too bad either." —Lloyd Griffin, 54, rents
"I take the train. Faster than the bus—no traffic lights." —Younis, 32, rents
Tourists come from thousands of miles away
"West 125th Street is the center of the Harlem universe." —Melissa, 26, rents
"We've got great food, movies, churches, and great shopping on 125th Street and West 116th Street. No need to go anywhere else. Harlem is great. There's no place like it in the world." —Nicole
"There's lots to do. 125th Street is like the Times Square of Harlem. I bought this dress there at Old Navy. The Apollo (programming online for now) is there and the Schomburg library (temporarily closed) is a few blocks north of my house. My brother and I took swimming lessons at the Harlem Y." —Grace
"We are surrounded by parks—Morningside, Central, Marcus Garvey—take your pick." —Lisa
"I'm blocks from the legendary Apollo Theater and Melba's, and Sylvia's (delivery and takeout only) two very well-known restaurants. So many greats come to Harlem to speak and support the rich cultural community. I feel so lucky to have access to that." —Lara
"My favorite thing to do in the neighborhood is to just sit in the park and read. Sometimes I go to the movies or to the library to use the computers or take out books." —Melissa, 26, rents
"Lots of people like to shop on 125th Street, but I don't. I don't want to look like everybody else. Also, it's too expensive. I bought a scarf there for $30 then saw it online for $9." —Veronica
"Most people who come to our museum aren't necessarily serious jazz fans—they come because they're curious. Our new location puts us right in the center of Harlem—close to the Apollo, the Studio Museum, (closed for now) Maysles Cinema, (documentary films are streaming) and so many churches." —Loren Schoenberg, senior scholar, the National Jazz Museum in Harlem (closed for now, programming online).
A good place to bring up kids? That's debatable
"There are lots of young families here, lots of parks and libraries. This is a really exciting place to live and bring up kids—I like the diversity and the resources. The problem? The prices. We would like to buy but can't." —Meredith, 42, rents
"I have a son and I don't think this is a good place to bring up kids. I hear a lot of cursing on the street, and the teachers come into my store to complain about the kids in their schools. I send my son to a school outside the neighborhood." —Younis
"I am planning on moving to Pennsylvania. I don't want my daughter growing up here. There seem to be more addicts near my house in the past few years. I want to go where it's calmer, not so noisy." —Melissa
"My son goes to PS 180. He's doing great. And there are a lot of good charter schools to choose from, too." —Nicole
"I brought my kids up here. When I first came to Harlem, I went to the local clinic to have my kids vaccinated and someone asked me why I didn't stay in the Caribbean to raise my kids. He thought that would be a better place. Now one of my sons is a nurse. You have to bring up kids the way you want to, no matter where you live." —Veronica
"I don't have children, but one of the first things I noticed when I moved here was how filled with children the neighborhood was and continues to be...there are so many services for kids. We have kids yoga at my yoga studio, the JCC (programming online for now) has kids activities, there are kids' gyms, and Harlem Tavern and so many other restaurants are family friendly." —Lara
"I like to roller skate up and down the block and see the super pretty brownstones." —Grace
Brick Underground articles occasionally include the expertise of, or information about, advertising partners when relevant to the story. We will never promote an advertiser's product without making the relationship clear to our readers.