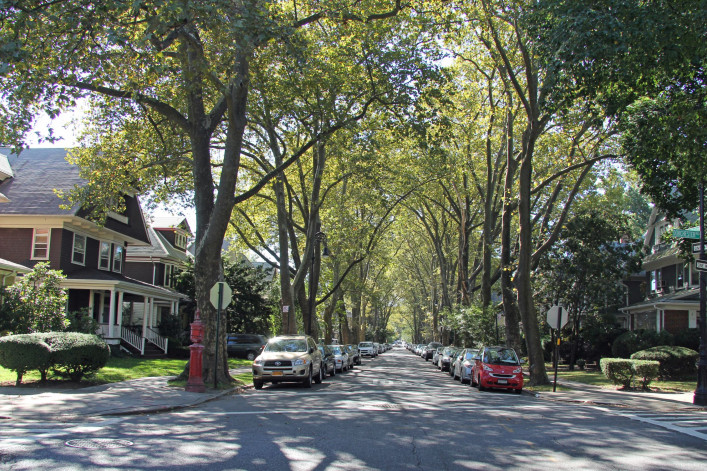 Sleepy, stately Ditmas Park grabbed headlines in recent months for a series of unfortunate events, including several armed robberies at local eateries, a fatal home invasion on Argyle Rugby Road and a fire that shuttered neighborhood stalwart 773 Lounge. Some attributed the crime wave to a dearth of police patrolling an area drawing wealthier newcomers.
Still, this south Brooklyn enclave remains a neighborhood filled with its particular charms, among them picturesque, tree-lined streets graced with Victorian houses; a population as diverse as any part of the city; and suburban-style living—lawns! kids playing in the street! fireflies in summer!—a train ride from Manhattan. Residents frequent Sycamore (for craft beer), The Farm on Adderley (for locavore cuisine) and the weekly farmer's market, all on Cortelyou Road, while places like Brooklyn Industries, Element Beauty Lounge and a new Pilates studio are bringing a decidedly Park Slope flare to the area (much to neighbors' chagrin).
So, what's it really like to live there? We spoke to Ditmas Parkers to get the rundown:
---
Neighborhood boundaries: From Coney Island Avenue to Ocean Avenue and from Avenue H to Caton Avenue
Median rent: $1,800 per month
---
Beware the nouveau riche: "The money that is moving in is also causing people to see us now as a target for crime, apparently.  With this recent slew of armed robberies it feels like we are becoming something that we're not, a swanky neighborhood that flaunts its wealth." - Harmony, rents a four-bedroom  "The cost to own something, the cost to rent something--it's probably not too bad now, but it [will probably get] much worse, hopefully not, in the next couple of years." - James, rents "If you'd asked me two years ago [what is the best part of living in Ditmas Park], I would have said that it was still an affordable part of Brooklyn that has sort of everything that you want in terms of being close to the subway, and having a nice mix of restaurants and bars that are great options. It's becoming a lot more expensive lately. The affordability part isn't there anymore." - Sabita, owns a one-bedroom co-op
Your place for pizza, Tibetan food and wine: "I don't know if the pizza place Wheated is known outside of the neighborhood. But I think it's really, really great pizza, comparable to Roberta's." - Sabita "The greatest place to eat is Cafe Tibet! … But you have to come early otherwise it gets crowded." - Estelle, has lived in the area since 1978  "Our kids are addicted to momos, so Cafe Tibet is in regular rotation. ... Ox Cart Tavern on Newkirk is our comfort food." - Liena, owns an apartment and runs the Ditmas Park Corner blog "Castello Plan on Cortelyou is one place we frequent. The wine list is short and sweet, the servers have a well of knowledge and always describe the wine in a way that gets us excited about what we're drinking. The small plates of cheese and meats are one of our favorite meals. The ambiance makes me feel like I'm inside an old ship with old Dutch tiles lining the wooden walls." - Harmony
But not for chains: "We sustain two health food stores, the Flatbush Food Co-op and Natural Frontier. … For [prescription] drugs, go to Greenfield, not Duane Reade. The service is quite as good, the price is sometimes lower, and we like to keep private, non-chain pharmacies in business, otherwise competition goes under. … Bomb Domino's, we don't need Domino's." - Estelle "I like the Flatbush co-op a lot, although they can be a little pricey, they have great cheeses and bulk selections. … T.B. Ackerson is a fantastic place for buying wine. Everyone who works there is a little quirky but always has great recommendations." - Harmony "We have two incredibly well curated gift stores that complement each other: Collyer's Mansion for home goods and Brooklyn ARTery for a wide range of gifts. There are outlet stores on or near Flatbush Avenue--Gap, Old Navy--and assorted shoe and clothing stores that our kids have been known to get their clothes from. I tend to do most of my shopping in Park Slope and South Slope." - Liena
When the Q runs, it's great: "If you live here, you need to accept that the days that the subway runs as expected will be few. ... Those living by Church and Newkirk express stops are in better shape than folks by Cortelyou and Beverley. That said, when the trains run, it is just over half an hour to Union Square if you go north, or to Coney Island if you take southbound. Express buses are the real secret to getting to the city though. Best spot for a taxi hail is either Beverley or Cortelyou and Coney Island Avenue." - Liena "The distance between Beverly Road and Cortelyou Road [subway stops] is the shortest in the whole NYC subway system." - Estelle "Apart from the, what seems like, constant construction on the Q, I find it very reliable, and for going into the city the most convenient. The buses are fantastic, when they run on time." - Harmony
Check the obits for apartments: "If they are looking for real estate, people are dying off. They stay in their homes many till they die so maybe they could look there." - Estelle
The Flatbush Food Co-Op is one of two options for natural groceries in the area
Related:
Astoria, Queens to Ditmas Park, Brooklyn: more space, inside and out
NYC's 10 best nabes for young families (including 5 you may not have considered)
Brooklynites are getting a new network of neighborhood blogs
Brick Underground articles occasionally include the expertise of, or information about, advertising partners when relevant to the story. We will never promote an advertiser's product without making the relationship clear to our readers.