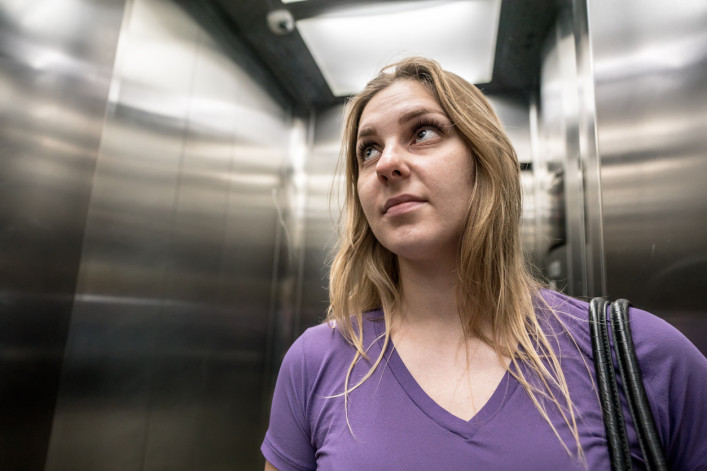 I am moving from a house to a large apartment building in New York City. I'm not from the city, and I'm kind of worried about "elevator etiquette." What are the rules? Are there tips you can give me? Signed, Small Talk Scaredy Cat
Dear Scaredy Cat,
Welcome to living with bunches of people who are not related to you. The good news is that you no longer have to mow the lawn or shovel the snow. The bad news is that you may find yourself riding in a confined space with your neighbors.
As far as elevator etiquette is concerned, being polite is always the best way to proceed. Enter and say good morning or hello, and then turn around and keep quiet. If anyone else speaks, answer nicely. You may want to introduce yourself and say that you are new to the building. 
I am a real people person so when I moved into my place, I announced my name and apartment number to all who would listen. A few did but most just rolled their eyes. New York is not known for being the friendliest place on earth, you may have heard.
Basic considerations are obviously a must. Hold the elevator for someone approaching, especially if they have difficulty walking. Smile at someone if you feel like being approachable. Feel free to tell anyone with a dog or a child how gorgeous they are—parents of both adore that sort of thing. But the good news is that you don't have to make small talk if you don't want to.
But if you do want to become friendly with someone in your building, invite them in for a cup of coffee. It is always nice to have someone in the building that you can go to in case of an emergency or just for the local gossip. Unlike living in a house, there will be no chatting over the fence or across the driveway. Take your cue from others. Some may take you up on that cup of coffee, but some may not. Many New Yorkers like to preserve their illusion of privacy, despite living in one of the most crowded places on earth, so don't take it personally.
I'd take a cold shoulder over snow shoveling any day of the year.
Ms. Demeanor
---
Dianne Ackerman is the new voice of reason behind Ms. Demeanor. She has lived in her Upper East Side co-op for the past 20 years and is the vice president of her co-op board. She is filled with opinions that she gladly shares with all who ask—and some who do not. Have something that needs sorting out? Drop her an email.
Brick Underground articles occasionally include the expertise of, or information about, advertising partners when relevant to the story. We will never promote an advertiser's product without making the relationship clear to our readers.