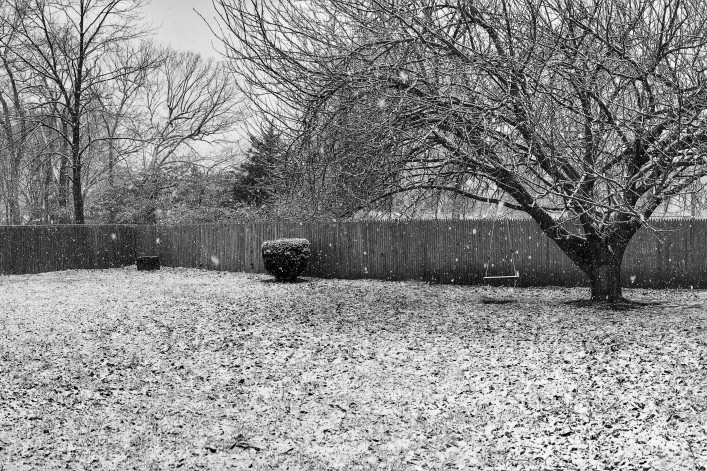 Jesseca Stenson/Brick Underground
Sometimes a move is a long time in the planning. Other times, it's thrust upon you. The latter is the case with our interview subject. For nine years, Jesseca Stenson lived in a duplex rental in Middle Village, Queens with her husband and daughter. And then their landlord decided to sell the building. Suddenly, the idea of "someday" buying a place was fast-tracked.
After a mad scramble, the family landed in Selden, in Suffolk County. It's been six months.
We asked Stenson to walk us through the process, give advice based on what she's learned, and tell us about life in the 'burbs.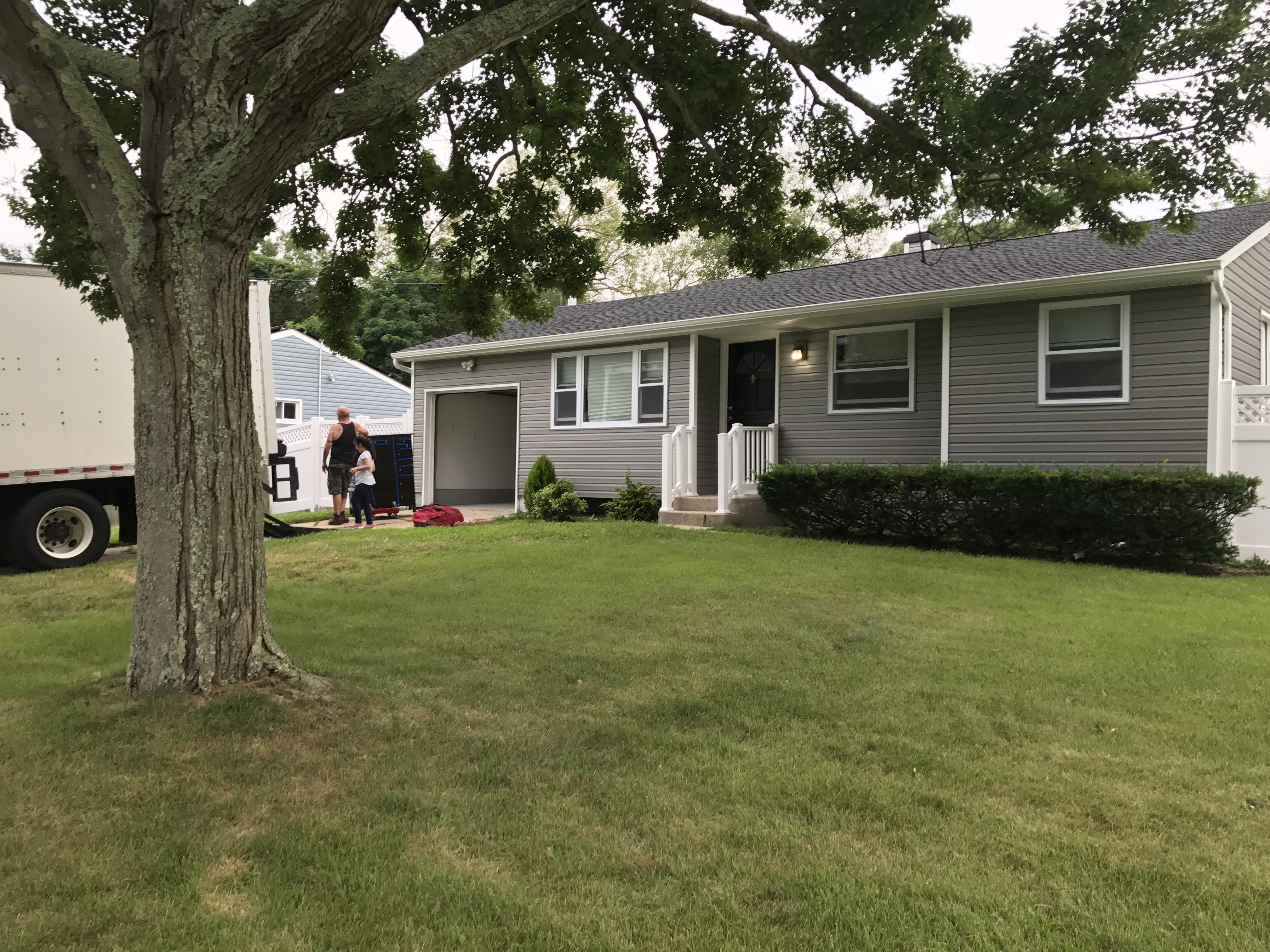 How long did you live in New York? Where? What types of places did you live?
My husband and I were both born and raised in Queens. I grew up in an apartment, while his family lived in a single-family house in Elmhurst. When we moved in together, we sort of combined the two: a duplex apartment in a two-family attached house in Middle Village. We lived there for nine years. It's where we lived when we got married, and where we brought our daughter home from the hospital.
What did you like about it?
We enjoyed the family-friendly aspect of the neighborhood, but what we really liked was the proximity to Juniper Valley Park. Oh, and the fact that there wasn't alternate side parking rules to deal with.
Why did you decide to move? Had you considered it before?
Our move wasn't actually our decision. Our landlord decided to sell the building, and we were basically forced out. We had talked about wanting to eventually buy our own place, but we weren't ready to have it happen so soon. But as with most things in life, this major life change appeared while we were busy making other plans.  
Where did you look? How long did you look?
We started to look for both apartments to rent and houses to buy, primarily because we had a hard move deadline and couldn't be sure we'd find our home in time. Start to finish, it took about 10 months. Since we knew we wouldn't be able to afford anything in our beloved Queens, we started looking in Levittown, Huntington, and Deer Park. Then that turned into Ronkonkoma, Sayville, and Oakdale.
The market was insane. There wasn't enough inventory to meet buyer demand. Like many of those in the boroughs, we were priced out and had to expand our search. That's ultimately what pushed us further east.
What was the process like?
The process was stressful. Like, super stressful. It seemed as though the deadline was coming without us having a place to move.
We used a broker for six months. The further east our search went, the less knowledgeable and useful he became. After we realized he wasn't understanding what we were looking for, and that as first-time home buyers we needed some extra explanations on how the whole process worked, we switched to a different real estate agent. She was amazing. She really listened and hustled to help us meet our deadline.
We also had some issues with our chosen financial institution. They were unorganized, and didn't successfully communicate with each other internally, let alone with us. The straw that broke the camel's back was my husband was told by one employee handling our loan to do something, and I was told by someone else there also handling our loan to do the exact opposite. We languished in underwriting for at least  two months before we decided to switch to a mortgage broker.
The broker got it done in under two months, start to finish. She really pushed to make sure the deal went through and the seller stayed with us. We ended up putting in offers on four houses along the way, and were outbid on three.
How did you find the real estate process different from that in Queens?
Time is money in Queens. Commissions on rentals are way lower than a sale. The agents we dealt with on rentals in the area weren't willing to waste their time with us unless we committed to the place on first walk-through. It was really an uncomfortable experience.
The agents who were selling the building for our landlord were also not pleasant. We endured 14 open houses [at our apartment] in a six month period.
What were you looking for in a house/place to settle?
We were looking for the basics in a house: minimum of two bedrooms, a basement or garage for storage, a fenced-in yard area for our dogs, and a family room. Our apartment search was even more basic: two bedrooms, near public transportation, and dog friendly. That last requirement eliminated probably 90 percent of available places, though.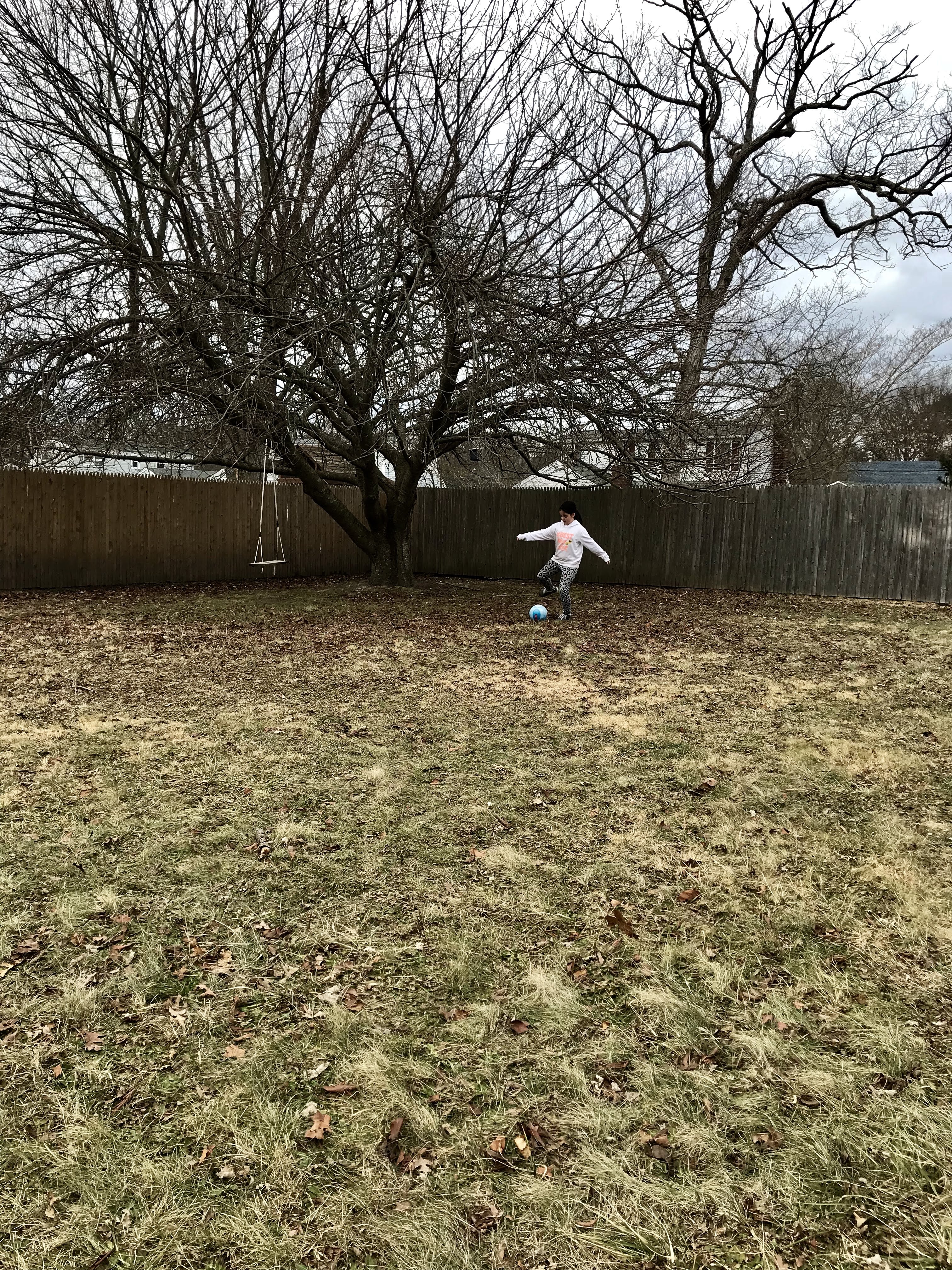 What were your anxieties about moving? What's the reality?
Our number one worry about moving was uprooting our [nine-year-old] daughter in the middle of the school year. Definitely was not ideal. (Nothing about the whole experience was.) We ended up commuting back to Queens so she could finish out the school year and summer camp. She started her new school in September. Not only did she adjust well, her teachers actually told us it's like she has been there from the beginning.
She made friends quickly, got into a rhythm regarding the flow of the classroom and rules, and was even chosen to read aloud at a recent Board of Education meeting. Kids are way more resilient than we give them credit for.  
We also had a two-month gap between when we moved out of our apartment and when we moved into our house. We luckily had family we could stay with, but the added expenses of having two storage lockers and a dog in a long-term boarding situation was not what we planned. But we got through it.
What surprised you?
What most surprised me is how many steps are involved once you find your house. It seemed like a never-ending series of paperwork submissions and signatures. And how intimidating it can feel. That was unexpected.
How has your life changed?
My husband still works in the city, so his commute has changed some. We had to get a second car so he could drive to the LIRR station. But ironically his train ride is only an extra 20 minutes. Since we were in Middle Village, he took the M train, which took an hour to get him into Manhattan anyway.
When we first moved, I was working at Queens College. I did the commute for three months, and it really takes a physical and mental toll. Depending on traffic on the [Long Island Expressway], my ride would be anywhere from 60 minutes to over two hours. One way. At the end of last year, though, I accepted a position at Stony Brook [University], and now my commute is 12 minutes, 20 with traffic. My quality of life has improved tenfold. And as a result, we're more relaxed as a family.  
I'm also surprised at how well we've adapted to Long Island life. It's actually very different from Queens. Mostly there's more space. Which you don't realize you're missing in New York City, because you don't know just how awesome it is to have. Our daughter plays soccer in the backyard and has a tree swing now—two things that were unimaginable a year ago. But we're still adjusting to Long Island wildlife. Two words: spider crickets.
Do you have any regrets?
I regret not trusting my gut more, and not feeling confident during the process. Since we weren't prepared to be making this giant leap at the time, we hadn't done our homework, and had to scramble to educate ourselves as we went. We ended up taking a first-time home buyers course, and it was incredibly helpful. Our second real estate agent also patiently answered all of our questions, put us in touch with others who could help if she couldn't, and really guided us.
What advice would you have for someone thinking about making a similar move?
Find all of the resources available to you and take advantage of them. Don't be afraid to ask questions, even if you have to repeat yourself until you get it. Don't let the pressure of the situation intimidate you. You have more control than you think. And don't underestimate the importance of having good chemistry with your agent. This isn't just a search for a house. It's where you'll make a home.
Brick Underground articles occasionally include the expertise of, or information about, advertising partners when relevant to the story. We will never promote an advertiser's product without making the relationship clear to our readers.