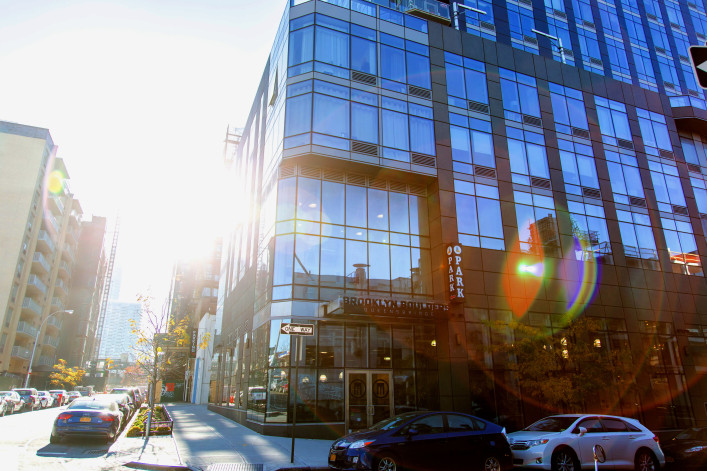 Peter Bullen, a doctoral student at Columbia University, is one of the dedicated rock climbers that has recently moved to Long Island City. 
After years in the Upper West Side, he and his wife now live in a new construction building just a block away from The Cliffs, one of two climbing gyms in the neighborhood. "We really wanted to climb more often, and being close to the climbing gym has made it much easier." He adds that climbing wasn't the only reason for the move, "Our new apartment has a larger kitchen, our old apartment had cockroaches, and we're now a bit closer to my brother." 
Sure, he's further from work, with a 45-minute subway commute to Columbia, rather than his previous 30-minute walk, but the trade-off is worth it. Whereas they used to climb only once or twice a week, they now climb at The Cliffs at least three times weekly, and are there even more frequently for its general fitness facilities.
Long Island City has been on the cusp of cool for years, and for the city's small but growing rock climbing community, it has become the unofficial mecca. 
Rock climbing popularity scales new heights
According to the Climbing Business Journal, an industry publication, by the end of 2015, there were 388 dedicated commercial climbing gyms throughout the United States, with an annual growth rate of 10 percent. Partial credit for rock climbing's ascendance into the mainstream goes to social media. When professional outdoor climbers Tommy Caldwell and Kevin Jorgeson made the first-ever free ascent of the Dawn Wall at Yosemite's 'El Capitan' in 2015, their real-time social media updates garnered over 13 billion impressions. 
The New York climbing scene is older.  A number of gyms have offered smaller climbing walls for years, but it was in 2009, when Brooklyn Boulders (BKB) opened its original location, a 18,000 square foot converted warehouse in Gowanus, Brooklyn, that the sport began to take off in earnest in the city. 
Today, new and avid rock climbers have a number of options: Chelsea Piers Sports Center in lower Manhattan, Manhattan Plaza Health Club in midtown, Steep Rock Bouldering on the Upper East Side, DUMBO Boulders in Brooklyn Bridge Park (owned and operated by The Cliffs), as well as the wall at Columbia University, the natural boulders in Central Park, and even the increasing number of walls offered by individual apartment buildings as amenities. 
But none of these facilities are quite like The Cliffs and Brooklyn Boulders Queensbridge in size, number of routes, and variety of offerings.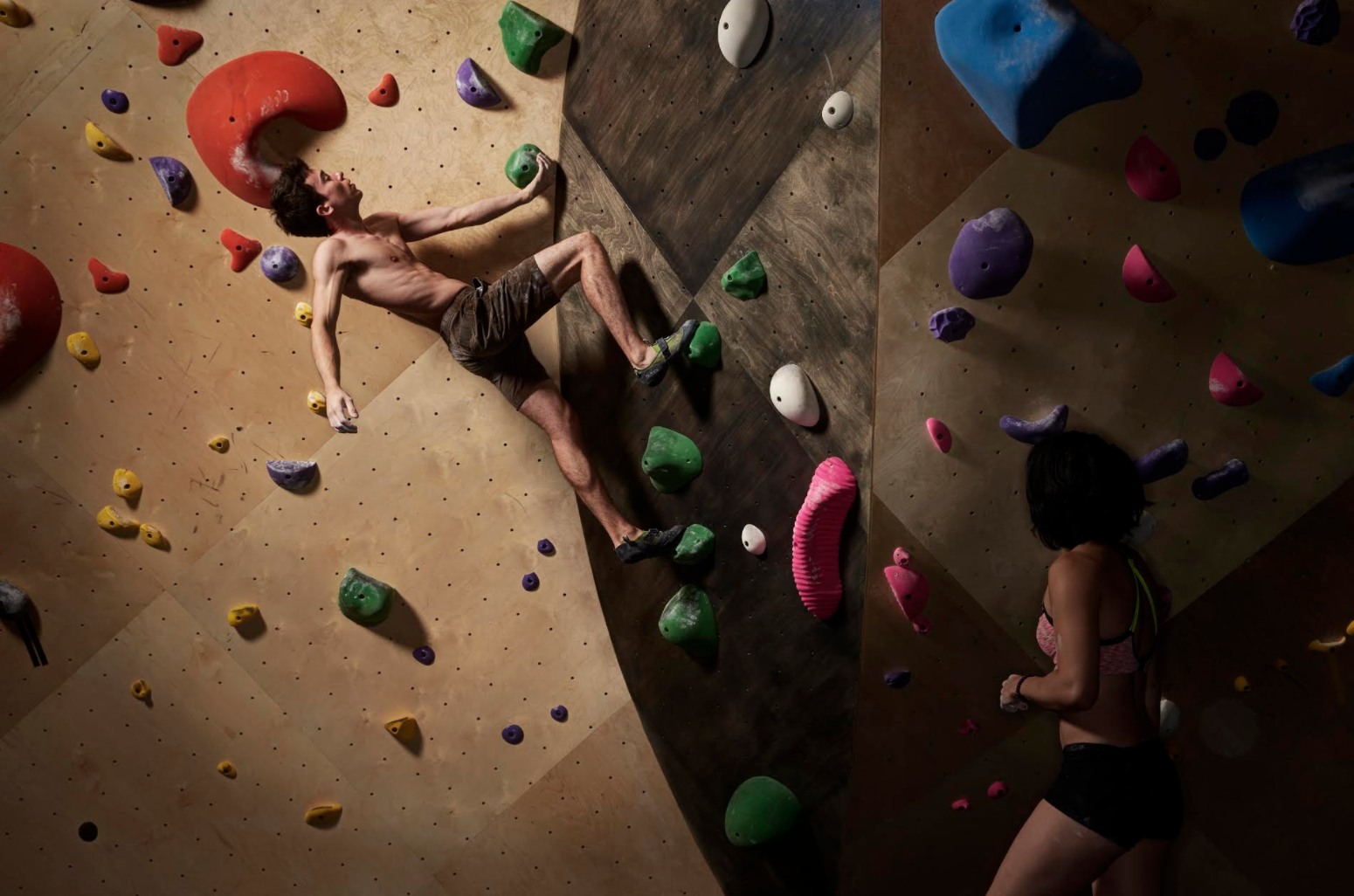 Long Island City's recent history of climbing 
The same factors that are drawing New Yorkers to Long Island City—more space, cheaper rents, proximity to transit hubs—are also what lured Mike Wolfert, the owner of The Cliffs, and Lance Pinn, the co-founder of BKB, to the neighborhood. 
Wolfert had been considering Long Island City as a location since 2011. "The neighborhood already had some good things going for it, like the Citi building and MoMA PS1," he said. "But back then, Vernon Boulevard [Long Island City's main street of restaurants and bars] was just developing."
The Cliffs at LIC opened its doors in 2014 in an old cell phone warehouse on 44th Drive, while Brooklyn Boulders Queensbridge opened the next year in the lower levels of Q41, a mixed-income rental building just north of Queensboro Plaza. Both facilities are branches of already existing climbing gyms; Wolfert also operates The Cliffs at Valhalla and has since opened DUMBO Boulders in Brooklyn Bridge Park, and in addition to its original Gowanus location, Brooklyn Boulders also has locations in Somerville, Massachusetts, and Chicago. 
Wolfert says having two major climbing facilities in one neighborhood is unique: "There's nothing like it in the United States." But he and Pinn stress that their gyms are not in competition for members. 
And if Jeff Tai is any indication, this might be true. Jeff climbs regularly at Manhattan Plaza Health Club, which is within walking distance to his apartment, as well as at The Cliffs and BKB-Queensbridge. In fact, he has been known to visit both gyms in the same evening to climb with friends that are members at one or the other. 
A convergence of factors makes LIC popular
According to Eva Kalea, the Membership and Creative Director at The Cliffs, nearly 40 percent of the gym's membership base lives in Queens, with almost 30 percent in Long Island City or neighboring Astoria; the others are evenly split between Manhattan and Brooklyn. 
At BKB Queensbridge, around 25 percent of its members call Long Island City home. According to Pinn, BKB's co-founder, around 30 percent of the building's residents are also gym members. "Because it's mixed-income, apartments rarely come on the market and when they do, we share the news with our members, and it goes pretty fast."
Besides Q41, a number of Craigslist rental listings in Long Island City now advertise their proximity to indoor climbing. Indeed, of the 532 rental units that turned up in a recent search, 44 of them included 'climbing' as a keyword, and one of them mentioned The Cliffs by name. 
Of course, not all all climbers relocate to LIC. For the dedicated, the commute is worth it. Jonathan Angelilli, a Chelsea-based personal trainer and fitness entrepreneur, sees clients at Chelsea Piers Sports Center and was a regular at Manhattan Plaza Health Club's climbing facility for years. 
But he switched to The Cliffs as he got more serious about the sport: "It was so small and even though the people there are great, I felt I needed more space, routes, and people to be inspired and take my training up a notch… It's seven stops, about 25 minutes door to door, and it's totally worth it."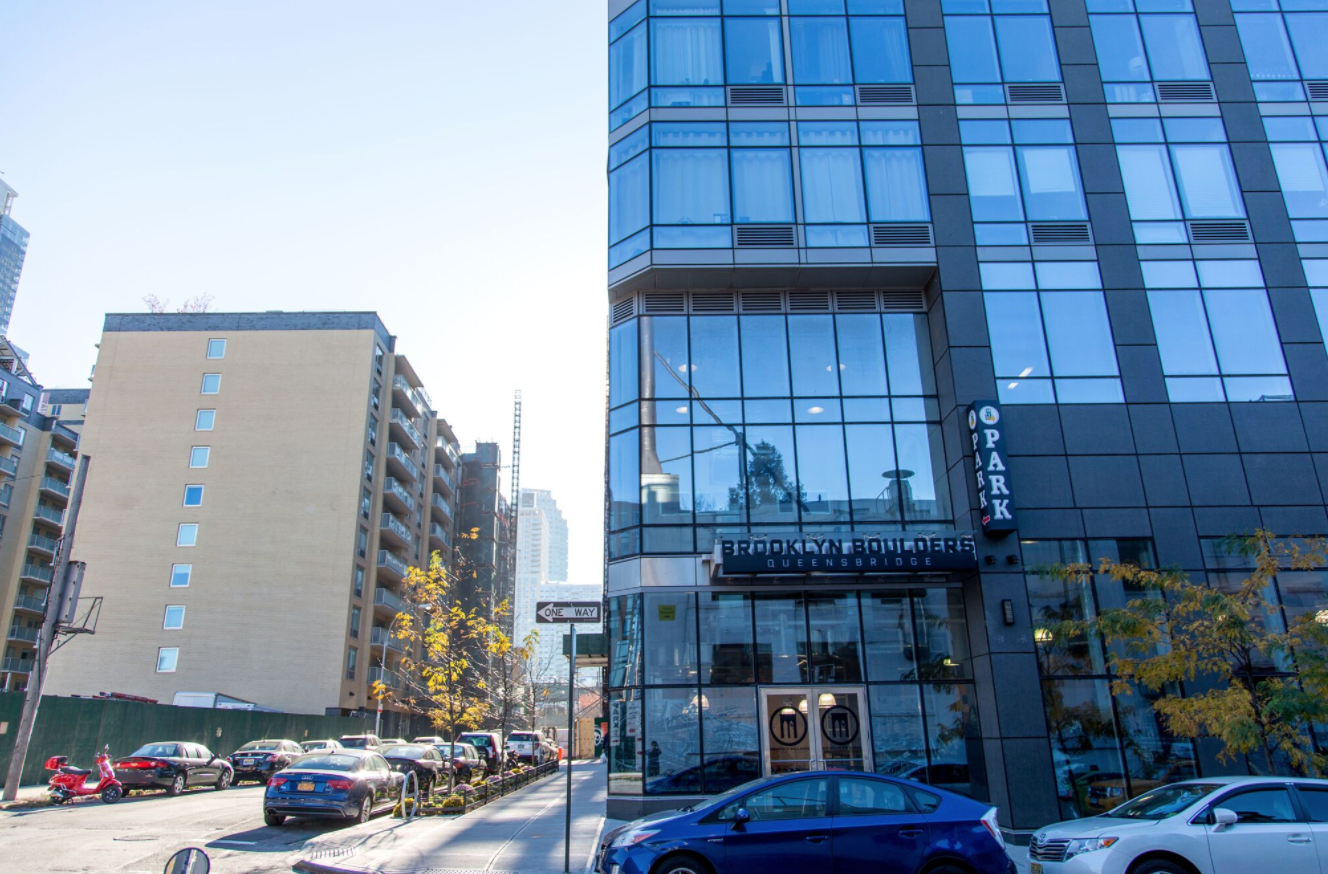 New Yorkers don't come for the climbing, but they stay for it
The Cliffs' and BKB Queensbridge's easy-to-access location was meant to attract climbers like Jonathan and Jeff, who come from all over the city to climb. That the facilities have also contributed to the residential make-up of Long Island City was an unintended consequence. 
And I happen to be one of those unintended consequences. When I moved to New York a year ago, I had been climbing for only a few months. I landed in Long Island City without knowing of the rock climbing gyms at my doorstep, but The Cliffs has become my second home. Though I've considered moving to a neighborhood that feels more like a neighborhood, and to escape the constant construction, I can't imagine giving up my 10-minute walk to the climbing gym and the luxury of popping in for a quick off-hours session. 
Pinn, a native of New York, thinks my desire to be closer to the climbing gym makes perfect sense: "New Yorkers wouldn't travel out of their daily pathway if they didn't have to." 
In this, it seems, I've become the average New Yorker.
Brick Underground articles occasionally include the expertise of, or information about, advertising partners when relevant to the story. We will never promote an advertiser's product without making the relationship clear to our readers.