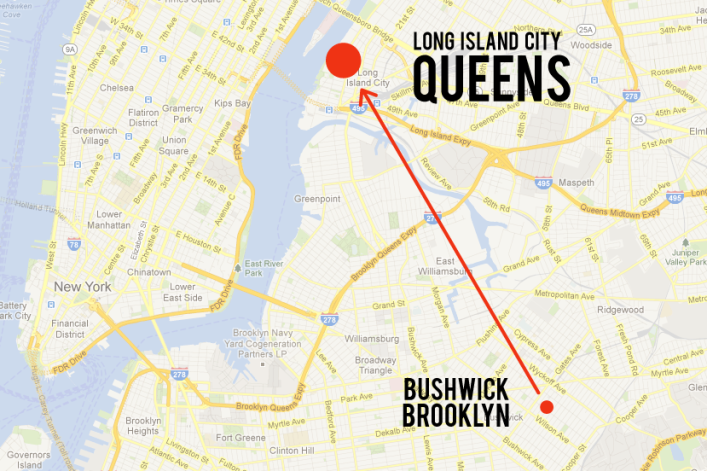 When I first moved to the city I was living in a very trendy (i.e. expensive) neighborhood known as the Lower East Side, in a small (i.e. miniscule) room in a crappy apartment with four other people (i.e. 3 too many). By the time our lease was up, I was dying for more space.  
I moved into a room in an apartment in Bushwick along with a few friends. I had more space, for sure. And paying just $700 in rent for more space was a bonus (I was paying $950 for my half of the rent on the Lower East Side). 
Though we were not what I'd call really close friends, my roommates were ok.  Just okay. I probably felt the same middling level of comfort with Bushwick: It wasn't bad. It was just okay. 
For starters, I never went out in our neighborhood. There was an odd mix of people there. Overwhelmingly, there were families, especially Spanish-speaking families who had already formed a tight community and then there were the "überhipsters" and artist types. In other words, I had nothing in common with any of the people in my neighborhood -- I had nothing in common with my neighborhood. 
As with many people, I worked and played in Manhattan. I work in account management at an advertising agency in SoHo. I jog in Central Park. My friends and I like hanging out in Manhattan but I was looking for something else when it came to a place to live.  
I wanted just a bit more quiet, and again, just a bit more space.  And now I knew I also wanted more from my immediate neighborhood. After a year in Bushwick, I was ready to begin the search for another living situation.  
Actually, months before I even decided to begin "the big search," I had asked around with friends if they knew of any interesting options for me. 
I've found that in NYC,  if you're not 100% happy where you are living,  you invariably end up talking to just about anybody about it. And as it invariably turns out, somebody always knows somebody else who is looking for a roommate.
It just so happened one of the friends I contacted was looking for a new roommate for this two-bedroom in Long Island City. 
His apartment was nice enough and I think we would have been okay living there, but soon after we agreed to live together, another friend contacted me to say I could take over the lease for her apartment in Long Island City.  
Her apartment was around the corner from where I was going to be moving.  And her apartment was better than ours. It was much bigger. It had a better kitchen, and better lay out -- there is even space for a full dining table. The rent was more, too. But after my mediocre experiences with living situations, I felt I could pay a bit more for -- by the looks of it -- what promised to be instantly better. 
And it's all worked out better than I thought it would.  I'm paying $880 for my half of a great apartment with a great roommate. We have a spacious apartment, and the neighborhood itself feels very spacious as well. It's very urban and green at the same time. 
LIC is definitely more my speed -- a happy medium, considering my experiences thus far. There is a great mix of people here.  Friendly, laid back, interesting. 
I've actually struck up conversations with people about books they are reading. That actually happened. 
I'd say people here are people who are leaving Manhattan for more space for their dollar, like me. So there are lots of young families, but also young professionals. 
My commute to work is easy: I only have to take one train from my apartment to my office in SoHo.  I live right at the first stop on the E in Queens so door-to-door it's about 25 minutes. 
I still find most of my life is in Manhattan including restaurants, bars, movies, social events, gym, running, etc.  That's why I love living at the first stop in Queens.
The E train is never really a problem. And the walk from the subway to my place is only a well-lit block-and-half long. Sometimes, if I feel like taking a cab home, I do. It's only about a $10 ride from the Clinton/Midtown area, for example.
But I do enjoy and partake in what my LIC neighborhood has to offer.
My roommate and I often eat out. El Ay Si is one of our favorite places. But because I'm in such a great space with a spacious kitchen and dining area, I've started to stay in a lot, too,  cooking for friends and enjoying a night in. The grocery situation is very convenient. Key Foods is right next to the subway station so I am just a block and a half away. Although I must say, I wish there was a Trader Joe's closer by.

And one of the biggest bonuses of moving out here has been the running. I love to run here.  I run down along the East River in Gantry Plaza State Park a lot!  I love that park and the views from there. It's where that iconic "Pepsi Cola" sign lives, which is pretty cool. Running over the Queensboro Bridge is great for a workout.  Depending on the length of run I will continue on to Central Park or along the East River in Manhattan or the Pulaski Bridge, and into Brooklyn a lot as well.
I feel like Long Island City, like many parts of Queens, often gets a bad rap. People think its boring and too suburban -- a "city wannabe". But I don't think there's anything wrong with wanting to strike a balance and LIC has a vibe that is the perfect mixture of being in the city and being outside of it.
---
Transitions highlights New Yorkers' first impressions as they transition from one  neighborhood to another. Want to tell us your transition story? Drop us an email.
Related posts:
Moving to NYC? Here's a crash course in finding an apartment here
An expat's view of 8 NYC neighborhoods (in 6 months)
Brick Underground articles occasionally include the expertise of, or information about, advertising partners when relevant to the story. We will never promote an advertiser's product without making the relationship clear to our readers.