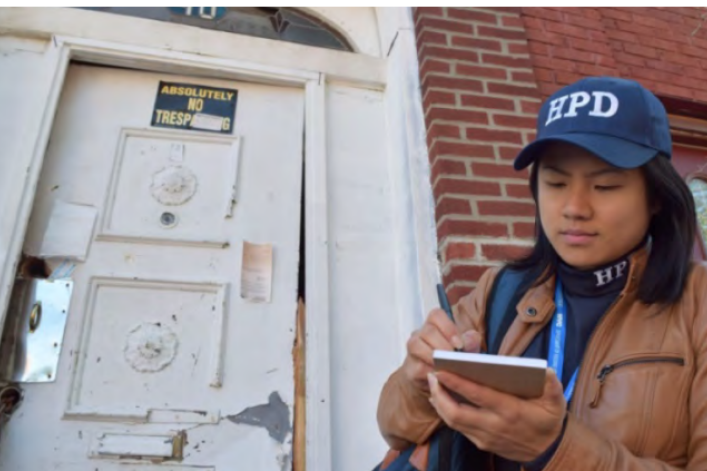 In New York City's feverish real estate market, you may be surprised to learn that "zombies"—vacant, derelict properties stuck in legal limbo—are a significant problem.
A new report by the Local Initiative Support Corporation and the Urban Institute assesses the effectiveness of New York State's 2016 "Zombie Law" (also known as the Abandoned Property Neighborhood Relief Act). With an uptick in owners behind on their mortgages as result of the pandemic, New York's experience with zombies underscores the numerous benefits of keeping people in their homes.
Zombies, which are defined as one-to-four family houses with a mortgage in delinquency or in the foreclosure process, are more challenging to deal with than other types of vacant properties—and are more common as a result of the wave of foreclosures initiated in the years after the Great Recession.
Under the Zombie Law, banks that hold delinquent mortgages or mortgages in foreclosure are required to maintain the properties and comply with exterior housing code and property maintenance requirements. If they don't keep up the property, they can be hit with a penalty of $500 per day per house.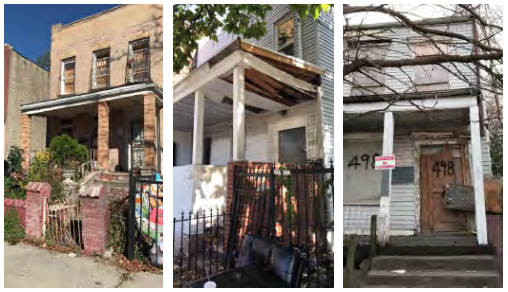 The report explains that zombies are created as a result of a bank initiating a foreclosure, but not seeing it through to completion. Typically families vacate the properties for one of two reasons after getting a notice of foreclosure—either because they expect to lose the house or mistakenly think it has already been foreclosed upon. When the vacant property deteriorates—because the bank doesn't yet have the title (giving it the ability to sell it off to someone who will fix it up)—you get a house that's stuck in a half-dead limbo like a zombie.
In addition, shortly before the Zombie Law passed, New York's Attorney General's office settled litigation with several banks for their role in the national mortgage and financial crisis. Proceeds from that settlement were earmarked for housing initiatives and nonprofits, including LISC, which committed $12.6 million to work with municipalities across the state to remediate and prevent zombies. The result: Over the past two to three years there's been a statewide reduction of 11,152 distressed vacant and/or zombie houses—a decrease of 43 percent (from 25,752 to 14,600).
NYC used its grant money to compile data and develop statistical models to predict which properties were likely to be zombie houses. According to the report, the city's Housing Preservation and Development's Zombie Homes team conducted over 500 exterior surveys and took photos. After identifying zombies, the team chose 10 cases to litigate where loan servicers failed to remediate code violations. These were properties that were in very bad shape and had liens from an array of different major banks.
Brick spoke to Helene Caloir, senior director of the Housing Stabilization Fund at LISC and lead author of the report, to find out more about how NYC is dealing with its zombie problem.
Does NYC have a big problem with zombies?
I was surprised by how significant a problem NYC was considering how hot the real estate market is. I think people have this idea that all NYC properties, no matter what the condition, are hot commodities, but that's not the case. There are thousands of zombie properties, and NYC is working very hard to figure out where they are.
What parts of NYC have the most zombies?
In southeast Queens, central Brooklyn, and north central Bronx, where you have communities of color that were hard hit by the mortgage foreclosure crisis and where you'll find high numbers of one-to-four family houses.
What's the impact of having a zombie property on your block?
They're more than just eyesores. They can affect the property values in the surrounding area, lower the tax base, and become crime hot spots.
What has been the result of New York State's Zombie Law?
The law has been pretty effective. The $500 fine per day per house for external violations has been a powerful tool to bring banks to the table and say, 'You have to do something about these properties.' NYC did this with some of the properties that were in egregious condition, where banks were doing nothing, and now there isn't a need to do this as often because the banks know the city is enforcing the law.
Who can a New Yorker call to complain about a zombie property?
New Yorkers can call 311 and ask for HPD or you can contact the New York State Department of Financial Services through its portal and file a complaint.
Can a New Yorker buy a zombie property?
The Zombie Law also created a statewide registry: Banks are required to provide notice if they have lien on vacant, deteriorating properties with code violations. The registry is confidential, so the public cannot take a look. There was a concern if it was public there could be some speculation.
Unfortunately, what this does is prevent municipalities from sharing data and learning who the bad actors are, in effect shielding them.
However, some houses do come on the market. The whole point of finishing the foreclosure process is to sell after there's a judgment of foreclosure or the bank takes title.
Have any advice for someone who receives a foreclosure notice?
What has happened when owners who are struggling financially get a foreclosure notice: They think, 'Uh oh, I lost the house, I need to move.'
But until the court orders you to leave, you don't have to. Banks have been more strategic about understanding that it can be financially better for everyone—including them—to keep people in their homes. And owners should understand they can sell even after they are in a foreclosure, if the bank agrees to it—or they can do something called a deed in lieu of foreclosure, which is when an owner is not able to pay the mortgage. In some situations, the bank will accept the deed as full payment and not continue the foreclosure. It is better for the owner's credit in the long run.
A big issue in the last financial crisis was the banks' reluctance to offer mortgage modifications. In the current crisis, the moratorium and mortgage assistance are providing more tools for keeping people in their homes. But now the moratoria are or have been lifted and we will see how this plays out since there's not enough mortgage assistance for everyone. My hope is that banks will sit down and help people stay in their homes. 
Brick Underground articles occasionally include the expertise of, or information about, advertising partners when relevant to the story. We will never promote an advertiser's product without making the relationship clear to our readers.