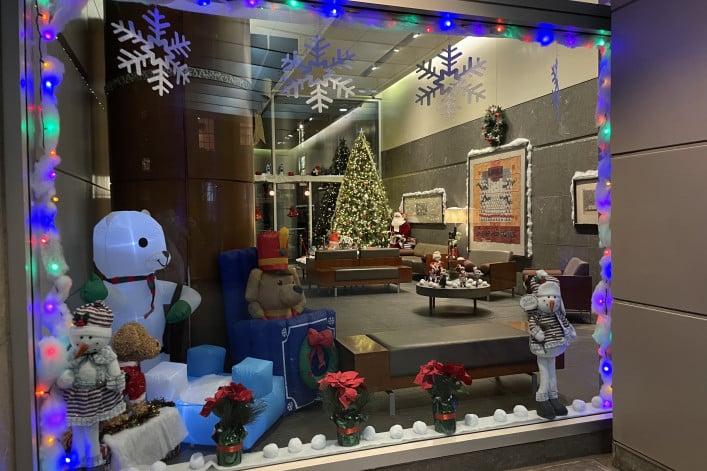 Does your doorman dress as Count Dracula on Halloween? Is he Santa a couple of months later? For the residents of a condo tower at 360 East 88th St. in Yorkville, their doorman Jaimie Rodriguez is both of these and much, much more.
Talk about spreading cheer: For nearly every major holiday, Rodriguez and building staff at Leighton House go to extreme lengths to decorate the lobby, backyard, and the plaza in front of the building. And decorations are only the start of it.
"He offers the type of experience families wait hours on line at department stores to get. Red velvet rope included!" says Devon Clark, one of the building's residents who reached out to Brick Underground to tout Rodriguez's efforts and pitch an article about his holiday heroics. 
If you walk into the lobby right now, it's been turned into a winter wonderland. There are piles of faux snow on the picture frames and a miniature snow scene with glittery gingerbread-style houses. There's an inflatable polar bear, and wrapped presents at the foot of a sparkling 12-foot Christmas tree. 
A big hit with the neighbors
The festive decor is not just appreciated by the building residents alone.
"We have people from the neighborhood come by as if they are looking through the Macy's window," Rodriguez says. He has been the doorman at Leighton House for 16 years.
In addition to the Christmas decorations, there is a station for children to leave letters for Santa and he often serves cookies and plays holiday music.
"For Hanukkah there were decorations, menorahs, dreidels, and plates of fresh donuts and chocolate gelt every night," Clark says.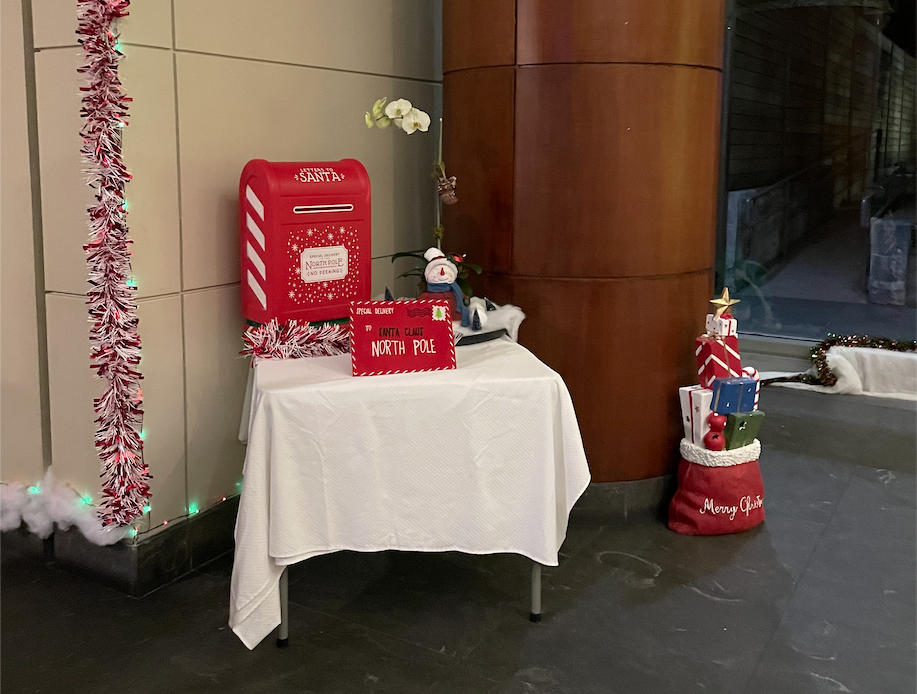 For Thanksgiving, the decorations include a giant inflatable turkey surrounded by fall decor. A large poster tree with leaves encourages the building's children to write what they are thankful for.
If a gratitude poster sounds like something you've seen in an elementary school classroom, Rodriguez has plenty of experience with that. A father of eight, he comes from a big family where the importance of gathering and sharing with loved ones was instilled in him early on by his grandfather and parents. 
"Usually people have to go outside to trick-or-treat or try to see a winter wonderland or see a Thanksgiving parade. Why not have it in your own home?" he asks. Seeing the families come together with all the employees for every occasion, he says is "magnificent."
Rodriguez says decorating was something that evolved naturally.
"It's a very family-oriented building, and I want to make every occasion special," he says. He typically decorates on a grand scale and the pandemic pushed him to go even bigger. At the height of the lockdown, when no one could really go out or be in contact with anyone, decorating the lobby was his way of bringing the celebrations to the residents.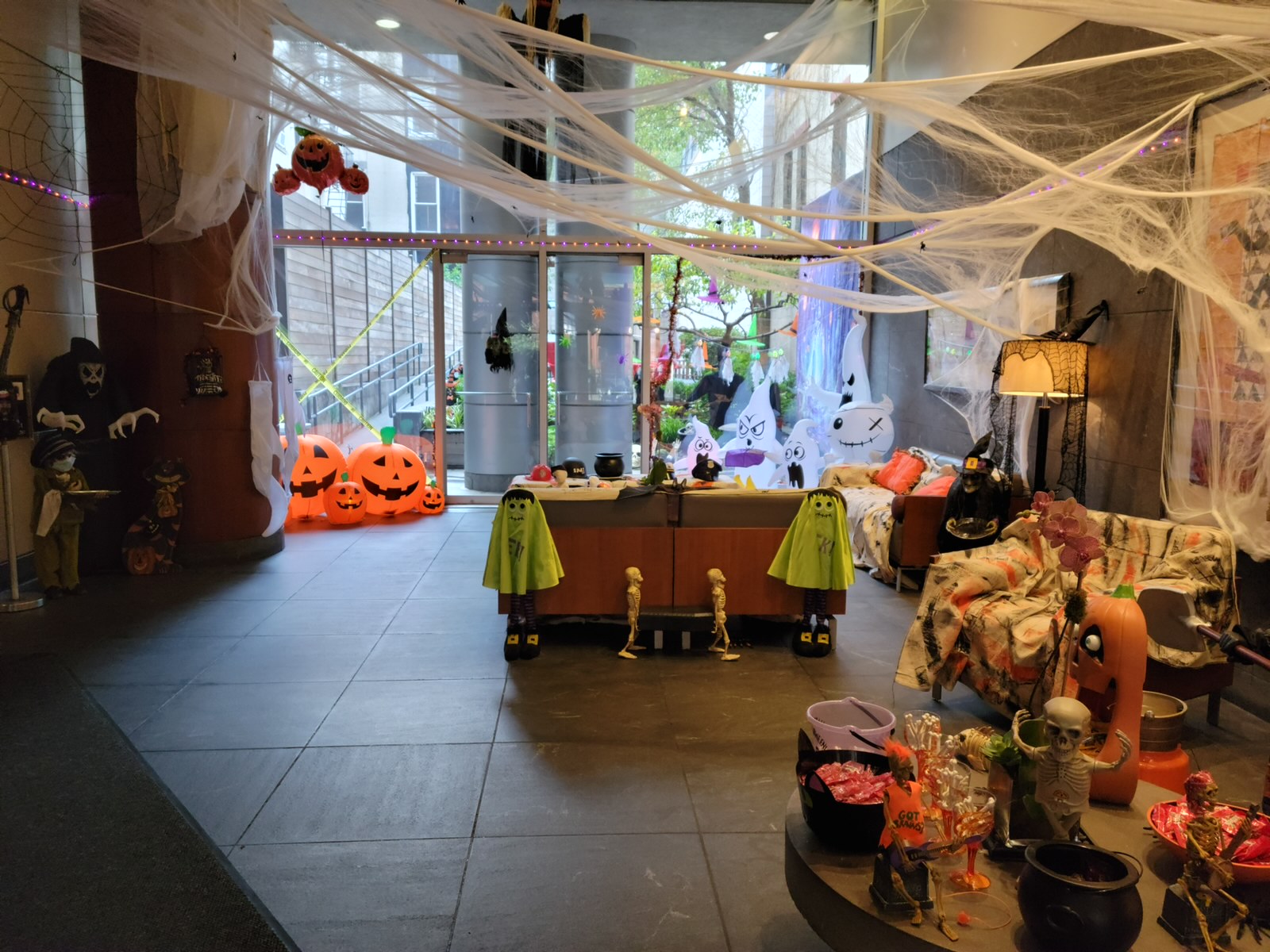 "Even if you didn't go trick or treating, you still felt that warmth. Thanksgiving doesn't go away. Halloween doesn't go away. We bought the celebrations right to the lobby—and it was good for the kids. We had residents teary-eyed because we were doing all this through Covid," Rodriguez says. 
At Halloween, Clark says there was a giant cobweb overhead, a gathering of inflatable ghosts, pumpkins, a haunted house, witches, zombies, bats, and a scarecrow. Bowls of candy were refilled every day for the entire month of October.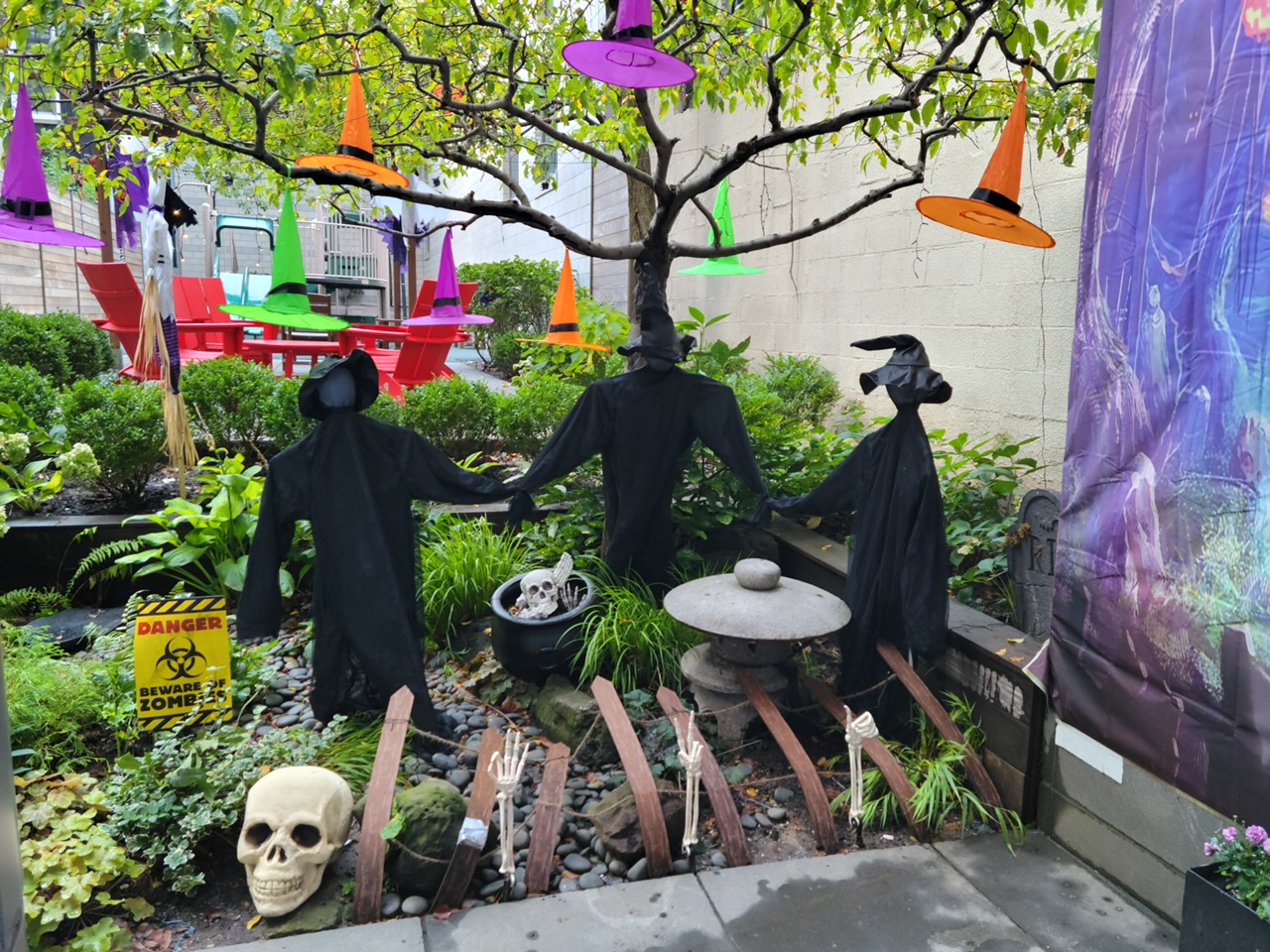 Rodriguez himself makes a very impressive Count Dracula.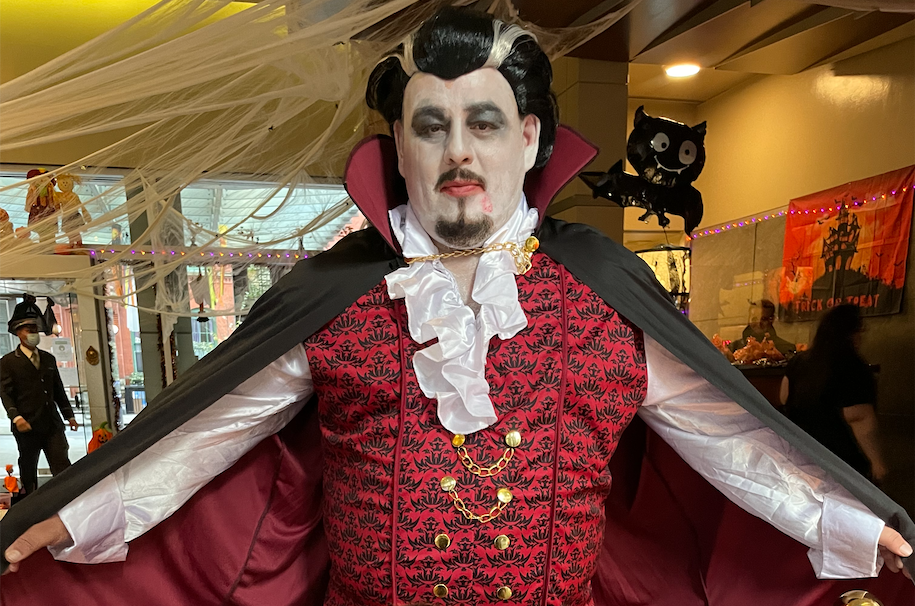 Celebrating milestones
There are also less obvious, yet highly personal celebrations. When the building turned 30 years old in 2018, the lobby was decked out in lights, decorations, and old pictures of what the neighborhood used to look like. A huge poster listed those who lived in the building from decades past to newcomers. The staff wore custom t-shirts and there was a ribbon cutting ceremony and party. 
When building residents run the New York City marathon, Clark says, signs are made and posted along with balloons in the lobby to encourage the runners.
When an older, well-liked resident died, a memorial was organized in the lobby to honor him. 
For his part, Rodriguez says he tries to make every moment special. "Without memories we don't have anything," he says. 
Is it a stretch to say the mind can store infinite memories? Storing holiday decorations in New York City is a different matter.
Rodriguez says off-season decorations are stashed wherever he can find some space, including his own attic, basement, and shed. He lives in Throgs Neck in the Bronx, and typically drives to work so he ferries the decor back and forth. The small office of Leighton House's resident manager also provides some extra storage space. 
A group effort 
Decorating involves the entire building staff. Rodriguez particularly likes making use of the lobby's high ceilings and that requires a team effort. 
"All the staff are a great help, climbing ladders when decorations fall down, finding the right tape to stick on metal, on concrete, on sheetrock," he says.
His work results in unifying the building in spirit.
"Doing this made the staff, made the residents, as one," he says. Clark says his efforts have meant so much, particularly during the pandemic.
The advice Rodriguez gives to anyone wanting to copy his efforts is as expansive as his holiday cheer: "Do what your heart tells you to do. Do it from the heart. Make sure it's your passion and if it is, follow your passion and dream bigger," he says.
Brick Underground articles occasionally include the expertise of, or information about, advertising partners when relevant to the story. We will never promote an advertiser's product without making the relationship clear to our readers.