Due Diligence
The Gotham Writers Workshop's Kelly Caldwell on Stuy Town, transit sharing, and why flu shots are a must for New Yorkers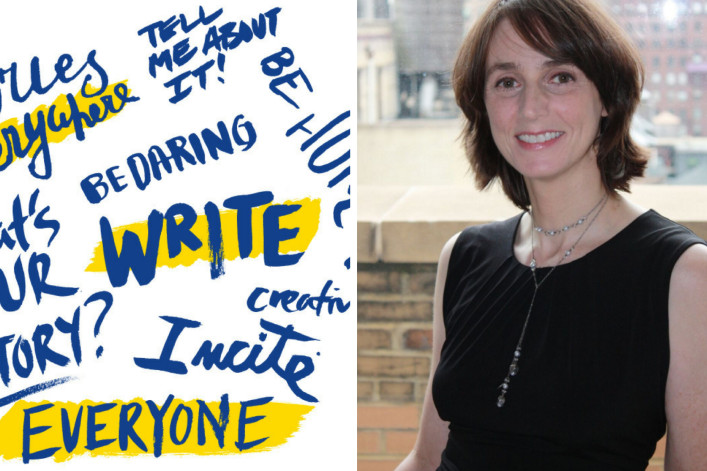 In addition to being an accomplished journalist and essayist, Kelly Caldwell has shared her passion for, and insight into, creative writing with countless New Yorkers. As an instructor and dean of faculty for the Gotham Writers Workshop, Caldwell guides students through the craft of non-fiction, as well as oversees dozens of teachers specializing in poetry, screenplays, blogging, and novel writing. 
As a writer, Caldwell has had work anthologized in a collection called If These Walls Could Talk: Thoughts of Home, and has covered everything from PTSD among 9/11 survivors to how to transform painful personal experiences into works of art. 
She's also a longtime New Yorker and has lived in several of the city's neighborhoods; of late, she and her husband reside in Stuyvesant Town. It's fitting that Caldwell settled in the famed downtown development, given that it has been home to a number of writers (including Mary Higgins Clark and Frank McCourt), and likely, plenty of great stories too. 
1. What neighborhood do you live in? 
Stuyvesant Town.
2. Is this your dream neighborhood or is there someplace else in NYC you'd prefer to settle in?
I love it and can't see myself leaving except under duress.
3. Do you own or rent? 
Rent.
4. How'd you find it? 
Elaine Greene, who I wrote for when she was features editor at House Beautiful, lives in Peter Cooper Village and encouraged me to check out both Stuy Town and PCV. I was nervous about the litigation, but she reassured me.
5. What's the one thing you love the most about it?
The greenspace—we hear birdsong in the mornings and crickets at night.
6. If there's one thing you could change about your apartment, what would it be? 
When my husband Kent and I were first married, we lived on the far Upper West Side in a one-bedroom that had a loft with an office and extra half-bathroom—I still really miss that extra half-bath, especially when we're entertaining out-of-town guests. 
7. In three words, describe the first apartment you've ever lived in.
One word: Microtopia.
8. Do you dream of old New York or prefer the current version?
Neither. I dream of a future New York that has solved its affordable housing crisis.
9. Tell us about your favorite apartment you've ever had.
A three-bedroom Victorian townhouse in Michigan, complete with moldings, wainscoting, and both stained and leaded glass windows. And a claw-footed bathtub in the bathroom! It was centrally located, as well as beautiful, so my two roommates and I entertained all the time. People felt at ease just dropping in and staying for dinner, which we totally encouraged. It was a bit drafty in the winter, but totally worth wearing the extra sweater.
10. And the worst?
A cramped one-bedroom that Kent and I rented because it had a view of the Hudson River, and about two minutes after we signed the lease, the owners began constructing a new building that wrapped around ours. (A project the landlord failed to mention when we asked at the lease signing about the vacant lot next door.) Our apartment filled up instantly with noise and grit, and of course, the first thing the workers did was erect scaffolding that blocked the river view.
11. Name one NYC service you couldn't live without.
The transportation sharing network—bike share, car share, Uber/Lyft, etc.—as well as trains and buses, both within and out of the city. I lived for one year in Los Angeles a few years back, and it brought home for me how incredible and important it is to not be forced to rely on a single mode of transportation. The more options we have, the more mobile we all are, and the more accessible the city is for everyone. It's essential.
12. What's your favorite spot in the city?
Sakura Park, especially when the cherry blossoms are in bloom.
13. Which would you rather: Brooklyn brownstone or a penthouse in a shiny, new condo?
Brooklyn brownstone.
14. If you could live elsewhere, where would it be? 
I realize it's a cliché but—Paris. I've never lived abroad, and would love to try it, and friends who have lived in Paris have spoken highly of the experience.
15. Any advice for a recent New York transplant?
Flu shots. No, really—I came down with the flu five times in my first year in NYC. You can get a flu shot for $25 to $30 at pretty much any of the big chain pharmacies, and if we're going to have more of those than we are coffee-and-bagel carts, we might as well make the best of it. Subways, buses, elevators, schools—they're all petri dishes teeming with an exotic array of viruses. And you didn't move to NYC to hide out in your apartment all winter. Get a flu shot and enjoy the city. 
Brick Underground articles occasionally include the expertise of, or information about, advertising partners when relevant to the story. We will never promote an advertiser's product without making the relationship clear to our readers.