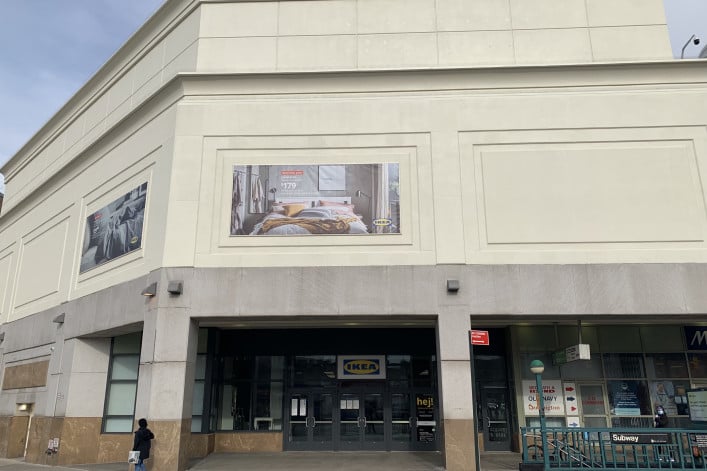 Austin Havens-Bowen for Brick Underground
When IKEA recently opened its first Queens location in Rego Park, my boyfriend and I were excited to have someplace unique in our otherwise boring neighborhood—and that we no longer have to schlep to Red Hook or Hicksville when we need something from the Swedish furniture giant. 
The format is the first of its kind in the U.S.: It's much smaller than other locations (unlike the Upper East Side planning studio, you can still shop for smaller items). It's easy to access by car, train, or subway (if you don't live within walking distance like us), and it's designed with an open layout and other features that make it easy if you just need to get one or two things (typically a hard task at IKEA).
Before we started our inaugural shopping spree to buy new covers for our throw pillows and a couple of kitchen items, we were greeted by an employee offering hand sanitizer. Once we got downstairs, there were cute, yellow IKEA shopping baskets that I've never seen before, and a lot more employees offering help then I've experienced at other locations. And, of course, there are Covid protocols like hand sanitizer stations, free gloves, and signs about social distancing.
It's definitely different from other IKEAs, but what it's missing, it makes up for in other ways, like how there are multiple check-out areas with self check-out kiosks (more about that later). It made it easy to find the cushion covers we needed plus some things we didn't but couldn't resist: A frying pan, glass food container with bamboo lid, rug for our front door, cinnamon rolls…and I'll just stop there.
Here's what else I discovered at the new IKEA that sets it apart from other locations.

A more open layout
Unlike other IKEA locations, where you follow a maze that winds around room displays and then enter a huge warehouse, this new location has an open format that's more like a department store. Since it was my first time, it was a bit confusing to figure out where to go, but I think this layout is better. Once you know where things are you can head right for them.

Planning studios 
One of the biggest differences between this smaller location and other IKEAs is that you cannot buy and take larger furniture home immediately. But, there are planning studios where you can schedule an appointment with someone to plan your kitchen, living room, and bedrooms. They have areas with desks (above), and shoppers can also order with IKEA employees in the display rooms. You can arrange home delivery for these products for a flat-rate fee of $49 if you live in NYC.

A much smaller food court (and it's closed for now)
There is a cafe, but it's much smaller than what you expect from IKEA. And right now, because of Covid, the cafe is closed. Apparently, once it's opened, it will serve more to-go options, and there are a few tables if you can't fathom leaving IKEA without indulging in a few meatballs. Plus, there's still a small freezer section with IKEA's signature meatballs and a couple of other items, but it's much less than other locations. Don't worry, you can find the Kaffereps and cinnamon rolls nearby. 

Displays geared towards NYC apartments
Just like all IKEA stores, they have room vignettes for inspiration, and the displays at this location are catered towards realistically sized NYC apartments. There are several setups with names like "Rego Park basement apartment" and "Astoria condo." There's a screen that highlights the square footage, apartment floor plan, and budget for the project. My boyfriend commented on small size of the rooms and I had to remind him, "It's like our apartment!" 

Multiple checkout areas…with self checkout
One of the biggest perks of this new location is the multiple checkout areas with self-checkout kiosks. They're in different areas of the store near entrances, so whether you're catching the M or R back to your neighborhood, heading to the parking garage, or you're a local running errands and need to go to the other side of Rego Center for Costco or Aldi, there are checkout areas near different exits for everyone. Even on a busy Sunday, the lines were tolerable and went fast.
Brick Underground articles occasionally include the expertise of, or information about, advertising partners when relevant to the story. We will never promote an advertiser's product without making the relationship clear to our readers.